1. McCaffrey really is a running back
Before Sunday, Christian McCaffrey never had more than 15 carries in a single game. His 28 carries in Week 3 is an indication the Panthers are comfortable using him in workhorse role. While I don't expect to see that kind of ground usage on a consistent basis, he's barreling towards 320 touches for the season which would lock him into low-end RB1 value regardless of format.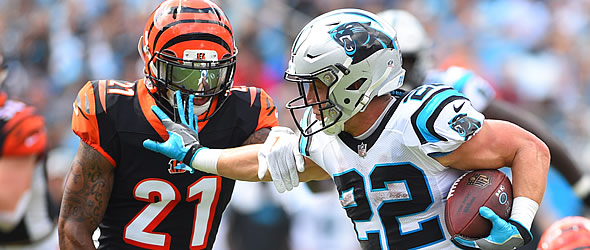 2. The Hunt for receptions
With Kansas City having great success throwing the ball downfield, Kareem Hunt continues to be a zero in the passing game, killing his PPR value. The Chiefs starting running back has 3 targets and 1 catch through three games which is a big reason why he ranks as low-end RB2 (No.23) in PPR leagues. On the bright side, the Chiefs may be forced to use their running backs in the passing game a little more over the next two weeks against the strong secondaries of the Broncos (Week 4) and the Jaguars (Week 5).

3. Target god

Alvin Kamara saw a whopping 20 targets against the Falcons on Sunday making it twice in three weeks that he's seen double-digit targets in a game. Kamara's 38 targets rank him 4th among wide receivers. The Falcons have gave up the most receptions to running backs (107) last season and are on pace to do the same in 2018. Giovani Bernard is next up on the schedule and makes for a great play this week in any full PPR leagues including DraftKings.

4. What the hell is going on in Arizona?
David Johnson owners are up in arms over his usage thus far and for good reason. It appears the coaching staff is becoming Browns-esque with their curious decisions. On Sunday, David Johnson was pulled on a crucial third and 2 late in the fourth quarter for failing to make a blitz pickup. Insert Chase Edmunds who promptly loss three yards. Perhaps that wasn't the best time for a teachable moment? Your struggling offense could likely use your best player on the field with the game on the line. Perhaps Week 3 will turn out to be a teachable moment for head coach Steve Wilks.

4. The TE position continues to be a dumpster fire
Week 3 saw only 12 tight ends with more than 4 receptions and only ten players were really viable options for fantasy lineups before lock on Sunday. And with the Giants Evan Engram (knee) likely out for the next couple weeks, this position isn't going to get any better for fantasy owners. The Bills, Lions, Chargers, Rams, Dolphins, Jets, and Titans don't have a single TE with more than 10 targets. Cross them off your list when looking for streamers in Week 4.

5. We should've seen Cooper's dud coming
One of the more low key takeaways from early in the 2018 season is that the Dolphins secondary is legit. We got word on Saturday night that Xavien Howard (X-Factor) would shadow Amari Cooper on Sunday and with Howard quickly becoming one of the best cornerbacks in the league, Cooper's projections should have been lowered. It was my intention to do just that on Sunday morning but I got wrapped in other web site duties and simply forgot to adjust Cooper's ranking. Apologies. Cooper posted 2 catches for 17 yards while Jordy Nelson saw 8 targets, 6 catches 173 yards and 1 TD. It remains to be seen if Howard will shadow No.1 receivers moving forward but Chris Hogan (Week 4), A.J. Green (Week 5) and Allen Robinson (Week 6) owners should take notice.

6. Three-way RB committee in Green Bay
Aaron Jones returned from suspension this week and head coach Mike McCarthy suggested before the game that Jones would fill a secondary role behind blitz-pickup extraordinaire Jamaal Williams and pass-catching maven Ty Montgomery. He was true to his word with Williams (7 touches), Montgomery (10 touches) and Jones (7 touches) all sharing the workload and it doesn't appears things are going to change in the near future. "I really like the rotation of having all three guys because they're distinctly different, but all three can play all three downs, and that says a lot. We've never had this situation where you have three guys that can play three downs like that, so this will really help us moving forward."

7. Luck is still limited
If you've watched the Colts over the first few weeks, you've probably noticed that Andrew Luck (QB21) isn't going down the field with any sort of regularity. He's averaging 5.3 yards per attempt. To emphasis the point, he was pulled so strong-armed(?) Jacoby Brissett could come in an attempt a Hail Mary. Head coach Frank Reich insisted that the dink and dunk style his offense has demonstrated over the first three week has nothing to do with Luck's shoulder. Whether he's being completely truthful or not, Luck owners should be seriously considering other options giving the strength at the QB position this season.