1. QB Dilemma in Tampa



Another week, another 400-yard, 4-TD passing performance from Ryan Fitzpatrick and don't look now, but the Steelers are on the schedule for Week 3. Regardless of Fitzmagic's stellar on-field performance, the Bucs have been cautious when discussing Winston's role ever since training camp with both GM and the head coach declining to comment. So, while Winston is eligible to return to the team in Week 4, it's unclear if the Bucs view him as the starter. For now, we get to enjoy this…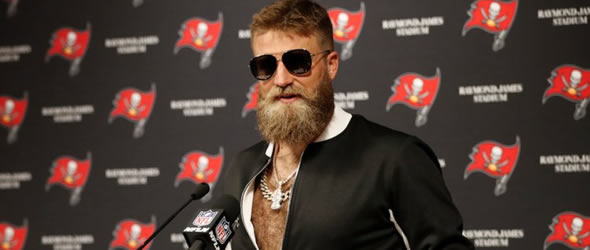 2. Record-Setting Season

Speaking of 400-yard passing games we've seen six such games through two weeks of the 2018 season. For context there were eight 400-yard games during the regular season in 2017. Considering the rule changes put in place that favor the offense, it appears we're heading for a significant uptick in quarterback and wide receiver production in 2018.

3. Don't listen to Pete Carroll
I guess you can listen to what comes out of his mouth, but if you believe what he says and take fantasy action based on his comments, you'll regret it. Remember when Seattle's head coach said last week that Chris Carson "really took the lead at that position" and that Rashaad Penny "looked a little rusty"? Carson was apparently benched in the second half of Monday night's game on offense because he was gassed from playing on special teams. Why is your starting running back playing special teams? Given offensive coordinator Brian Schottenheimer's stale play-calling and Carroll's way with words, fantasy owners should be avoiding the Seattle running backs moving forward.

4. Throw it to the RB

After two games, four running backs (Christian McCaffrey, Saquon Barkley, Chris Thompson, Melvin Gordon) already have at least 20 targets. Last season, only one running back (Giovani Bernard) saw double-digit targets during the first two weeks. This season, we've seen 7 instances of running backs getting double digit targets including Barkley (16), McCaffrey (15), Thompson (14) and Theo Riddick (12) just this week. It seems offensive play-callers are warming up to the fact that passes to the running back will provide better results than a simple handoff.

5. "Hot Hand" Approach Continues in Denver
Last week we heard Broncos head coach Vance Joseph state he's using the HH approach with his running backs. This week, he double-downed on that statement after Philip Lindsay rushed for 107 yards on 14 carries while Royce Freeman saw 8 carries for 28 yards and a goaline TD. Fantasy owners can assume Linsday is the lead back, but can also expect some volatility at the position moving forward. Devontae Booker (7 touches through two games) is on the outside looking in.

6. Darnold's Favorite Target
The Jets passing game has been somewhat conservative the first couple weeks and Quincy Enunwa has been the beneficiary. He's seen 21 targets to lead the team which is ten more than Terrelle Pryor (11) and 15 more than starter Robby Anderson (6). With Jets breaking in a rookie quarterback and focusing on shorter throws, it's safe to assume Enunwa will be the Jets wide receiver to own moving forward.

7. The Cardinals Offense Stinks
At one end of the spectrum we have the Fitz-Patrick Mahomes fireworks. At the other end we have Sam Bradford and Cardinals. Bradford has thrown 243 passing yards and 0 TDs in his first two games, leading Arizona to a grand total of 6 points for the season. Ben Roethlisberger threw for 278 yards in the first half against the Chiefs! The Cardinals offense has looked putrid with David Johnson being slammed into the line far too often instead of utilizing his speed and quickness on the outside. With the new and improved Bears defense on the schedule next week and meetings with the Vikings and Broncos coming up, things may get worse for Johnson and Larry Fitzgerald before they get better.

8. Eagles Receiving Options Dwindling
With Alshon Jeffery still on the shelf and Mike Wallace injuring his ankle in Week 2, it looks Kamar Aiken (remember him?) could get some more run as a starter Week 3. Regardless, Nelson Agholor should again see double-digit targets like he as over the first two games (10, 12) and remains a viable option in PPR leagues.
9. Another prime spot for Mahomes
10 TD passes in the first two games. Wow. The young Chiefs quarterback has displayed great command of Andy Reid's offense and with weapons like Tyreek Hill, Travis Kelce and Sammy Watkins at his disposal we could be looking at the No.1 fantasy quarterback at season's end. For the immediate future, Mahomes gets to come home and play against a beatable 49ers secondary that's given up the 8th most fantasy points to quarterbacks over the first couple weeks. With the Chiefs defense worst in that category, we could be looking at another top-five finish for Mahomes in Week 3.