Rest assured someone at some point during each of your drafts will utter some variation of the words ďvalue pick.Ē But what exactly is a value pick? What is value? Value is a relative term that changes based on public perception. When I consider value, Iím looking for a positive return on my investment. Just because a player has an a fourth round ADP and is still sitting there in the sixth round does not make him good value. At the same time, taking a player a round or two above his ADP is not necessarily bad value. Again, everything is relative.
My goal in every pick I make is to take a player I believe will perform at a level above where I drafted him. Last season, Lamar Jackson had a ninth round ADP. This year, he has a second round ADP. Jackson gave owners one hell of a positive return on investment. On the flip side, Baker Mayfield had a sixth round ADP. This year, he has an 12th round ADP. Thatís the type of pick we all hope to avoid.
Letís take a look at which QBs I expect to outperform their ADPs and which I expect to fail.
Undervalued
Matt Ryan, Falcons
ADP: 8.02, QB8
The case for Ryan being undervalued: He is as reliable as they come and is on one of the leagueís most pass heavy offenses.
The case against Ryan being undervalued: The best QBs in fantasy all have rushing upside that Ryan does not.
Verdict: In six of the past eight seasons, Matt Ryan has attempted more than 600 passes, consistently amongst the league leaders in pass attempts. The Falcons are typically near the top in pass-to-run ratio (they were first and third the past two seasons). Ryanís WR1 is Julio Jones and the Falcons play in a dome. The quarterback has been with the Falcons for 12 years and has no concerns about playing in poor weather or having to learn a new scheme.
The Falconsí defense is terrible, which keeps the offense throwing. Their running game canít possibly be worse than it was last year with Ito Smith, Brian Hill, and Qadree Ollison, but Todd Gurley might not be able to play football at a high level anymore. He was noticeably slower last season and his arthritic knee condition appears to have sapped all of his explosiveness leading to a pass-heavy offense once again.
Ryan was the overall QB10 last season at 19.06 FPts/G. However, in 2018, he was the overall QB3 at 21.71 FPts/G. 2017 was a disaster. He was the overall QB2 in 2016 at 21.2 FPts/G. If you subscribe to the ďevery other yearĒ theory for, this is the year Ryan posts a top five finish. If you donít care about arbitrary patterns with no basis in logic or reason, you can look to Ryanís ability, weapons, and volume as a reason he is poised for a massive season.
He was average or better in a number of efficiency metrics, but 36th in red zone completion percentage. That number is bound to regress. He was 17th in red zone completion percentage in 2017. Ryan was third in red zone pass attempts last season (ninth in 2018). If the completion percentage aligns with the attempts, Ryan will throw more touchdowns which results in more fantasy points. Target Matt Ryan in the late single digit rounds.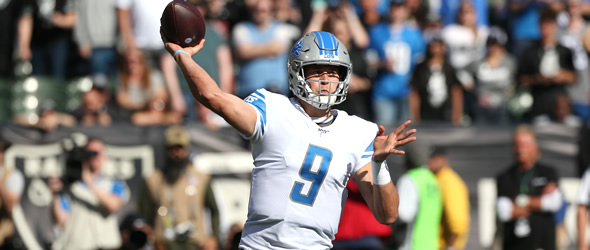 Matthew Stafford, Lions
ADP: 9.01, QB13
The case for Stafford being undervalued: His eight games last season was pacing as the overall QB4.
The case against Stafford being undervalued: His 2018 season was spectacularly bad so perhaps 2019 was an aberration.
Verdict: Stafford is my late-round QB target in every league this year. Prior to 2018, he was good, but not great for fantasy purposes. Then, in 2018, the wheels completely fell off (3777-21-11; 71-0) and he was barely even a QB2.
Stafford has been in the league 12 years, but is still just 32 years old. Last season was the first in which he missed a single game since 2010. Heís has never attempted fewer than 555 passes in a season and averaged 21.45 FPts/G before getting hurt last year, just 0.68 FPts/G fewer than the overall QB2, Deshaun Watson.
Stafford has continuity between last season and this season, which is more important than ever. Heís running the same offense and throwing to the same receivers in Kenny Golladay, Marvin Jones, and Danny Amendola. Stafford is currently being drafted at his floor but his ceiling is exactly what he was on pace for last year Ė a top five finish.
Overvalued
Kyler Murray, Cardinals
ADP: 5.05, QB3
The case for Murray being overvalued: His draft price bakes in expected improvement providing little room for value.
The case against Murray being overvalued: Heís coming off one the greatest rookie QB seasons of all time and now has DeAndre Hopkins.
Verdict: This is going to be very weird because there are a plethora of reasons why Kyler Murray could absolutely explode this year. I love Murray and think heís going to be a mainstay as a top fantasy option for years to come. Murray is a dual threat in an offense that loves to throw - the perfect fantasy setup.
I actually believe Murray has a decent shot at a Lamar Jackson like season. If anyone is going to do it this year, itís Murray. I would love for him to be my QB this season. There is a 99% chance he improves in his second year, finishing significantly higher than QB11 while eclipsing the 20 FPts/G barrier.
So if Iím all in on Murray, why is he overvalued? Because of cost. Jackson worked in 2019 because he cost a ninth round pick. Patrick Mahomes worked in 2018 because he cost a 10th round pick. Murray is currently the third QB off the board. He is going to have a break out year, but youíre paying for it in advance. In order to take Murray, you will have to pass on players like D.J. Chark, DK Metcalf, Tyler Lockett, Kareem Hunt, Courtland Sutton, Terry McLaurinÖ the list goes on. A breakout WR or RB is more valuable than a breakout QB in the fifth round, unless you get that 2019 Lamar Jackson or 2018 Patrick Mahomes season.
For Murray to be worth his ADP, he needs to be a true difference maker at the position. He is going to be great, but even a great season may put him at no more than a point or two per game better than the back end QB1s. While I believe he has the true elite season in him, the chances it happens arenít high enough for me to be willing to pay for it in advance. He simply costs too much.
Aaron Rodgers, Packers
ADP: 8.05, QB10
The case for Rodgers being overvalued: Heís 36 years old and has a weak receiving corps.
The case against Rodgers being overvalued: Heís still one of the most talented QBs of all time and maybe, just maybe, thereís a renaissance season left in the tank.
Verdict: Thereís really no reason to be bullish on Rodgers in the year 2020. He is surviving purely on name value at this point. There was a time when he was the undisputed best quarterback in both the NFL and fantasy. That was a long time ago.
Itís hard to justify spending a mid-round pick on Rodgers given the opportunity cost is too high. Youíre passing up on wide receivers and running backs with actual upside to select a 36-year-old quarterback with one desirable pass-catcher. There was a time when Rodgers could make the receiver, but heís also always had multiple quality pass catchers. Between Greg Jennings, Jordy Nelson, Randall Cobb, James Jones, and Davante Adams, Rodgers typically had at least two receivers he could trust. In 2020, he has Davante Adams. Thatís it. Allen Lazard is the clear WR2, but heís more of a rotational WR3 playing above his skill level. Behind Lazard, thereís no longer Devin Funchess (who isnít very good anyway). Will it be Jake Kumerow? Marquez Valdes-Scantling? Equanimeous St. Brown? Does it matter?

Rodgers is also coming off a season where he finished as the QB14 (10 games played to qualify). Although Rodgers was the QB4 in 2018, itís important to give that finish some context ó he was just 0.58 FPts/G better than the QB8.
He led the league in money throws last season, and he protected the ball well, but heís a far cry from the elite passer he once was. Rodgersí 68.7% true completion percentage was just 17th in the league, and his 72% clean pocket completion percentage was 21st in the league. His weak receiving corps somehow managed to lead the NFL in target separation as a group. His guys got open; he just couldnít hit them.
Thereís just no advantage to be had in drafting Rodgers. He doesnít give you an edge at the position. As such, thereís no reason to pass up on WR or RB depth to take him when you can wait a few rounds and take someone as good or better.