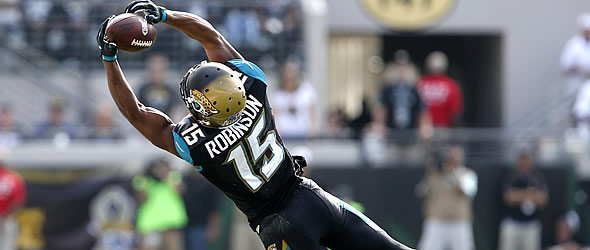 The Bears are overhauling their offense with free agents Allen Robinson and TE Trey Burton.


Mitchell Trubisky struggled in his rookie campaign, but consider all of the factors working against him.

1) His coach was John Fox Ė who is essentially Jeff Fisher 2.0 Ė one of the worst offensive minds weíve ever seen.

2) Cameron Meredith tore his ACL in the preseason. Trubisky was throwing to the likes of Kendall Wright and Dontrelle Inman.

3) Zach Miller, Trubiskyís only truly trustworthy target, destroyed his knee.

Since last season ended, the Bears hired a new head coach, the more offensive minded Matt Nagy, who oversaw the rise of Tyreek Hill and the Chiefsí passing attack; Meredith should be back and healthy this season; and now Trubisky has Allen Robinson and Trey Burton to catch passes. The Bears are the most likely bad team to have a complete turnaround this season but just because itís obvious doesnít mean it isnít true.

No one is doubting Robinsonís talent or that he is capable of being a top receiver in the league. We saw it in 2015, where he posted 1,400 yards and 14 touchdowns with the abomination that is Blake Bortles at quarterback. I am in the camp that believes in Trubisky as one of the best QB prospects in recent memory. The go-to comparison is that the 2018 Bears will be the 2017 Rams. There are a lot of similarities: sophomore quarterback after a dreadful rookie season where he had no receiving weapons and a horrible coach.Trubisky has elite level upside and Robinson makes Trubisky better and vice versa. Trubisky can help ARob return to WR1 status.

As for Burton, heís a no brainer TE1. When Burton stepped in for Zach Ertz as the primary tight end, he excelled. He went 5-71-2 without Ertz in Week 14 last season. In 2016, he had two games filling in for Ertz and he went 5-49-1 and 2-19. He also had two games playing alongside Ertz where he saw 19 targets across two weeks for a combined 12-118 line. Burtonís claim to fame may be his touchdown pass to Nick Foles in the Super Bowl, but heís really a Jordan Reed like talent at the position and should immediately step into the main tight end role. Look for the Bears to run a fair amount of two TE sets with Burton and Adam Shaheen to go along with Robinson and Meredith. Burton will be on the field a lot.

Bearsí quaterbacks only attempted 470 passes in 2017. That number is going to increase significantly. While Robinson is unlikely to duplicate the 151 targets he saw in 2015 and 2016, his efficiency will improve immensely upon his embarrassing 50.6% catch rate over those two seasons. Even if Robinson only sees 130 targets, if we assume a bump up to a 60% catch rate, weíre looking at a near 80-catch season.

Meredith enthusiasts like myself wonít be pleased with the Bearsí adding Robinson and Burton in free agency, but for redraft purposes, itís really not a bad thing. Meredith is an undrafted free agent that broke out in 2016 and had his 2017 ascendant campaign derailed before it could even begin. His value will be severely depressed in drafts as people not only forget about him, but become more focused on Robinson and Burton. Meredith is extremely talented and although his ceiling is capped due to the talent around him, his cost could drop into the double-digit rounds, making him a screaming value.

While it is difficult to imagine that the Bears could have six fantasy relevant players: Trubisky, Robinson, Meredith, Burton, Jordan Howard, and Tarik Cohen, if you think about the best offenses in the league, they are all capable of supporting a number of fantasy weapons. If Trubisky is as good as I think he is, he can make two WRs and a TE work while Howard and Cohen both have value as more teams in the league employ RBBC. The Bears offense, from a fantasy perspective, could look a lot like the 2017 Vikings with Case Keenum, Adam Thielen, Stefon Diggs, Kyle Rudolph, Jerick McKinnon, and Latavius Murray all possessing fantasy value.

2017 was a down year for pass attempts. If we project Trubisky to attempt a modest 525 throws in 2018, we can easily find 130 for Robinson, 100 for Meredith, and 80 for Burton, which are all tepid predictions. Those numbers would give all three fantasy value while still leaving 315 targets for the running backs and the role players. Itís honestly probably too many. The reality is, the path to sustained fantasy value for Robinson, Meredith, and Burton is not that difficult to see. The 2018 Bears should be the type of team that relies heavily on their top two WRs and their TE in the passing game, leaving scraps for everyone else.

To summarize, Robinsonís fantasy value increases, Trubiskyís fantasy value increases, Burtonís fantasy value increases substantially, and Meredithís fantasy value decreases, but it will be offset by what I think will be an overreaction in draft price making Meredith actually become a value once again. The arrow is firmly pointed towards the sky for the 2018 Bears.