Last week we looked at my way too early top 15 at the RB position. The series concludes this week with Wide Receivers. 2017 was an extreme outlier for the position in terms of futility. There is no chance that wide receivers perform that poorly again in 2018. That creates opportunity for value as players capable of high level production will be available later than usual. But it also offers a cautionary tale as the WR tiers are starting to blur as the separation between a mid-WR1 and a low-WR2 continues to shrink.

Running backs dominated wide receivers in 2017 and will dominate the early portions of 2018 drafts. As we continue to inch closer towards the 2018 NFL season, here are my way too early top 15 WRs.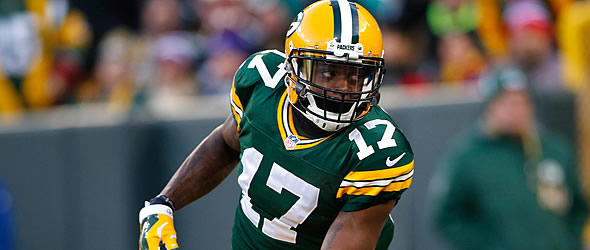 The new No.1 in Green Bay. Davante Adams has posted double digit TDs in back-to-back seasons.
1. Antonio Brown – I am not even going to explain this one. Brown is the best wide receiver since Jerry Rice and I legitimately believe he is the second best wide receiver in NFL history. He is unstoppable and has been the overall fantasy WR1 (FPts/G) for four straight years. No matter where you take AB, he is never a bad pick.
2. DeAndre Hopkins – I did not see 2017 coming. We knew the talent was there, but apparently the only thing that can hold back Hopkins is Brock Osweiler. A healthy Deshaun Watson won't be a bad thing for Hopkins in 2018, even though he was actually more productive with Tom Savage, if that can somehow be believed. Hopkins' body control and ability to toe tap the sidelines is amongst the best I've ever seen. He was far and away the second best WR in fantasy in 2017 and worthy of that spot in 2018.
3. Odell Beckham Jr. – His injury was a random occurrence that happens in a violent game. Beckham will return in 2018 completely healthy and go back to being one of the league's best wide receivers. He was a consensus top three wide receiver in 2017 and a year of injury is not going to change that.
4. Michael Thomas – Congratulations Michael Thomas, you proved yourself in 2017. I've seen enough to know that Thomas just understands the craft of being a wide receiver. He's not the most athletic player, but he knows how to play the position and play it well. Tethered to Drew Brees, Thomas comes with a high target floor and should improve upon the mere five touchdowns he caught in 2017.
5. Tyreek Hill – My crowning achievement in 2017 was projecting Hill as a WR1. Hill only saw 105 targets last season. Although he's the league's best deep threat, he is also very capable of catching the ball underneath. Hill doesn't drop anything and is one of the league's best contested pass catchers, which is surprising for a guy his size (5-10). Hill's floor is certainly lower with Pat Mahomes, but his ceiling is higher. Hill was a top seven WR last year and he is still being underutilized.
6. Davante Adams – Jordy Nelson is done. Adams is the new No.1 option for Aaron Rodgers. Adams finally put it all together in 2017 and had an excellent season, despite spending most of it with Brett Hundley. Adams will continue to improve and a full season of Rodgers should unleash Adams' full potential.
7. Adam Thielen – Another contested catch machine, Thielen is essentially Jordy Nelson 2.0. He's a great deep threat that can run precise routes and make all the catches underneath. He's simultaneously a big play guy and a safety valve. Thielen's 2017 breakout is merely the foundation for a bigger 2018. If Kirk Cousins signs in Minnesota, that only bolsters Thielen's outlook.
8. A.J. Green – It's hard to know what to make of Green's 2017 season. He saw 143 targets, but only caught 75 of them, by far the lowest catch rate of his career. The Bengals are a team trending in the wrong direction, but Green is still in his prime. Given his track record, I'm buying a rebound over a continued slide.
9. Larry Fitzgerald – I am completely done doubting this man. Fitzgerald is an all time great and I firmly believe his offseason conditioning program and work ethic is so high that he won't allow himself to experience a drop in play. As long as he is playing, he will do so at a high level. I am also banking on Arizona signing Kirk Cousins or someone competent.
10. Jarvis Landry – This is another guy that gets no respect. Landry is a PPR monster. He led the league in receptions last season and although he only managed 987 yards on 112 catches, his nine touchdowns bolstered his value. A touchdown regression is just as likely as an efficiency positive regression. Landry's floor is incredibly high and he's proven himself for three straight years now.
11. Mike Evans – Since his rookie season, Evans has alternated boom and bust years. In 2017, not only did the touchdowns bust, but the yardage did as well with Evans barely eclipsing 1000 yards. Evans was a mid-range WR2 last year, but just a couple touchdowns away from being a WR1. Drafting him as a low end WR1 seems pretty safe to me.
12. Julio Jones – I'm giving Quintorris Lopez Jones the benefit of the doubt, even though he probably doesn't deserve it. For a 6 foot 4 elite athlete, Jones has just one double-digit touchdown season on his resume, way back in 2012. I don't think Julio has that 120-catch, 1600-yard season ceiling anymore. We're talking about a guy that didn't even average double digit PPR fantasy points per week in the 15 games where he didn't drop 50+ fantasy points on the Bucs. Simply put, Julio is overrated in fantasy circles.
13. Doug Baldwin – I really regretted owning Baldwin in 2017. His streak of exceeding his previous season's receptions total ended at four as he dropped from 94 in 2016 to 75 catches in 2017. Baldwin was fine. Russell Wilson just had no interest in throwing him the ball. Baldwin had 116 targets, which is more than I thought, but a 10% decrease in catch rate made it look like a lot less. I'm more bearish than bullish on Baldwin in 2018.
14. Keenan Allen – If this seems low, then it's probably a good spot. Allen wasn't nearly as good as people think last season. He had a three game stretch where he went 12-159-2, 11-172-1, and 10-105-1. He finished as the overall WR3 by average fantasy points, but he did it mostly in those three weeks. Allen had nine other games where he averaged around 5-50-0. There were only six times (not counting Week 17) where you were glad you had Allen in your lineup last year. That's fine for a WR2, but not for a WR1, which is why Allen is ranked near the bottom of this list.
15. Stefon Diggs – Yes, the Vikings are the only team with two wide receivers in the top 15! Stefon Diggs' draft stock will undoubtedly see an artificial increase based on the Minneapolis Miracle against the Saints, but Diggs is legitimately a good wide receiver. He began 2017 blazing hot, but had his season derailed a bit by injury. Diggs does not play well when hurt. If he can remain healthy, he has WR1 upside. Like Thielen, Diggs would also be aided by the arrival of Kirk Cousins.

Just Missing the Cut: T.Y. Hilton (if Luck is healthy, Hilton would be in the top 10), Brandin Cooks, Allen Robinson