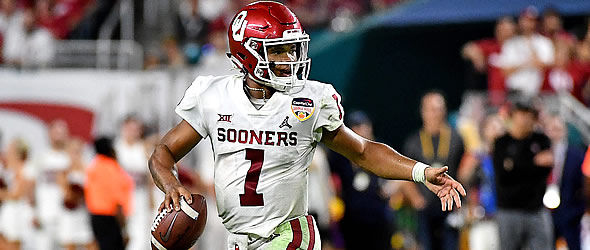 Are the Cardinals serious about pulling the plug on Josh Rosen and drafting Kyler Murray No.1 overall?

1. Arizona Cardinals - Nick Bosa, DE, Ohio State

Nick Bosa is the obvious pick, but that doesnít always seem to happen in the NFL. The Cardinals are a team filled with holes, meaning they can take the best overall prospect. They have one solid defensive end in Chandler Jones with an opening on the other side. Bosa features an NFL body with the ability to utilize speed or power moves to rush the quarterback. There have been reports that heís better at this point than his older brother, Joey Bosa, who has quickly become a premiere defensive player in the NFL. In 2017, Nick recorded 8.5 sacks and 16.0 tackles for a loss at Ohio State. He displayed elite potential in 2018 as well, recording 4.0 sacks and 6.0 tackles for a loss before suffering an injury and shutting down his season to train for the NFL Combine. There are multiple spots Arizona could go with this pick, but Bosa is the safe choice.

I don't fully buy into the Kyler Murray talk, as there were also reports that Arizona refused to listen to offers for Josh Rosen. This may change in one of the next two mocks I do before the NFL Draft, but I'm sticking with the best player in the draft for now.

Previous Pick: Nick Bosa, DE, Ohio State

2. San Francisco 49ers - Quinnen Williams, DE, Alabama

Williams is a versatile player, who has the potential to play either defensive end or slide inside to tackle for the 49ers. It simply depends on whether or not San Francisco wants Solomon Thomas to slide inside or Williams to fill that role. Williams played only one full season at Alabama, recording 8.0 sacks and 19.5 tackles for a loss in 15 games in 2018. Heís a quick defensive lineman for his size, but also comes with bullrush potential. Williams is slightly better against the run, but far from a liability against the pass. As a bonus, Iím willing to predict that San Francisco keeps him inside, making up one of the best defensive tackle combinations in the NFL between Williams and DeForest Buckner.

Previous Pick: Quinnen Williams, DE, Alabama

3. New York Jets - Josh Allen, EDGE, Kentucky

The Oakland Raiders are dying for potential pass rushers after trading Khalil Mack, meaning they could potential unload draft capital to trade up to this spot for Josh Allen. If they donít, heíll likely be the next New York Jet. He has progressively gotten better throughout his collegiate career, breaking out as a senior. In 2018, Allen recorded 17.0 sacks and 21.5 tackles for a loss in 13 games. He has elite burst off the edge, although he struggles at times with hand placement. His athleticism has been enough to get by, but the addition of finesse/power moves will only make him that much more dangerous. While Allen is known for his pass rushing abilities, he is more than capable of dropping into zone when needed. There are some scouts that believe Allen has the potential to slide over a position to middle linebacker, while others say he can add weight to become a 4-3 defensive end if needed. The most likely scenario is Allen stays standing as an edge rusher, but the versatility canít hurt his stock.
Previous Pick: Josh Allen, EDGE, Kentucky

4. Oakland Raiders - Rashan Gary, DE, Michigan

As mentioned above, the Raiders are in dire need of someone to get pressure on the quarterback. Gary is far from a safe prospect, but he comes with tremendous upside as a pass rusher. Jon Gruden and company have proven time and time again that they donít care about media critique as long as they are getting what they believe will help their team. They have holes all across the defensive line, and Gary enters the NFL with the ability to potentially play inside or out. Heís a smart player, who totaled 9.0 sacks and 18.0 tackles for a loss over his last 22 games at Michigan. He has the potential to become a high level run defender, but this is a pick based around his length, versatility, and ability to rush the passer. Similarly to everything Gruden has done since joining Oakland, heíll take a chance on a high upside player, who comes with a bit more risk than some would like this high in the NFL Draft.
Previous Pick: Rashan Gary, DE, Michigan

5. Tampa Bay Buccaneers - Devin White, LB, LSU

It's rare that teams will look at middle linebackers this early in the draft, but White has the potential to be special. He's is a sure tackler, who owns sideline-to-sideline speed. White also comes with strong play recognition and a good first step. He is an average defender in man coverage, while finding significantly more success in zone. Over the last two seasons, White owns 256 tackles, 7.5 sacks, and 25.5 tackles for a loss at LSU. The Buccaneers have plenty of holes throughout their team, but middle linebacker is one of the most glaring. They could reach a bit on White here, but he can hold down their defense for the next decade.

Previous Pick: Ed Oliver, DT, Houston

6. New York Giants - Dwayne Haskins, QB, Ohio State

Personal feelings aside, this is likely the right pick for the Giants. They have rode a terrible Eli Manning for years now, and they need to find his successor. Haskins has only started one season at the collegiate level, but he found plenty of success, throwing for 4,831 yards and 50 touchdowns, while recording only eight interceptions. He also completed 70% of his passes in 14 games. Heís a pocket passer with a solid combination of accuracy and arm strength. Haskins is also a solid decision-maker when throwing from a clean pocket. That may be an issue with New York, as they are in desperate need of help along the offensive line. Jonah Williams would be my first pick here, but New York will likely overdraft a quarterback after selecting a running back over a potential franchise quarterback with the second pick of last seasonís draft.

There have been reports that the Giants aren't even looking into Haskins, which seem like a smokescreen to stop other teams from jumping them. Similarly to the Murray situation, only time will tell.

Previous Pick: Dwayne Haskins, QB, Ohio State

7. Jacksonville Jaguars - T.J. Hockenson, TE, Iowa

The Jaguars are one of the more complete teams picking early in this draft. They recently signed Nick Foles, and will need to upgrade at tight end. Hockenson surpassed Noah Fant in the pass game at Iowa this season, as he totaled 49 receptions for 760 yards and six touchdowns. Heís a sure-handed player, who will help Foles in the intermediate passing game. Most importantly, Hockenson is an elite run blocker. The Jaguars are likely looking to get back to their defensive strengths, while controlling the clock with Leonard Fournette. Hockenson can immediately help turn around the Jaguars, who are only one year removed from the playoffs.

Previous Pick: Clelin Ferrell, DE, Clemson

8. Detroit Lions - Greedy Williams, CB, LSU

Williams has all the makings of an elite CB1 if he hits his ceiling. Heís an athletic corner with plenty of size. He has flashed tremendous press potential, while also displaying the ability to play off of his receiver. His only true knock is his effort in run support, which could change in time. Williams seemingly has the potential to shadow opposing teams WR1ís, which is relatively rare for cornerbacks coming out of college. The Lions need plenty of cornerback help outside of Darius Slay, and even he struggled at times in 2018. Williams is a potential playmaker, who would immediately add value to a position that should be at the top of Detroitís list in this draft.
Previous Pick: Greedy Williams, CB, LSU

9. Buffalo Bills - Jonah Williams, OT, Alabama

The Bills selected their franchise quarterback (Josh Allen) last year, and now they need to protect their investment. They have multiple holes along the offensive line, and Williams is a player that can play either tackle or guard. Heíll immediately slot into the starting lineup and likely upgrade any position he takes over. Heís an extremely technical tackle, who has quick and impressive hands. Williams has also shown the ability to get to the second level, while potentially moving on to other players after his initial block. Williams has some of the most uncertain value in this draft, but itís likely he works his way into the top-10 on draft night.

There are some people that would argue OT Jawaan Taylor would be the best pick here, and I may be one of them, but the versatility of Williams could be what Buffalo is looking for.

Previous Pick: Jonah Williams, OT, Alabama

10. Denver Broncos - Drew Lock, QB, Missouri

Lock is a big quarterback, who owns a cannon for an arm and has no business being selected in the top-10 of this draft. Thatís the exact reason John Elway will pull the trigger on him. Elway loves quarterbacks with size and powerful arms. He tends to ignore the red flags, such as a career 56.9% completion percentage at Missouri. The Broncos recently traded for Joe Flacco, but he simply isnít the long term answer. While he may be a one or two year starter to allow Denver to wait until a better quarterback class, that seems somewhat unlikely. Quarterbacks are generally overdrafted, even in weak classes. Lock has the exact profile Elway tends to look for in a quarterback, and there have already been reports that this pick is a near ďlock.Ē Keep in mind, even though Lock comes with substantial risk, he also comes with quite a bit of upside if he can reach his ceiling.

Previous Pick: Drew Lock, QB, Missouri
11. Cincinnati Bengals - Devin Bush, LB, Michigan

As noted in my last mock, the Bengals need help at middle linebacker. I mocked Devin White to them, but he has since moved up in value. Bush is another athletic middle linebacker, who can play from sideline-to-sideline. He has a few similarities to White, making this pick rather easy. In two full seasons with Michigan, Bush posted 161 tackles, including 10.0 sacks and 18.5 tackles for a loss. Bush likely won't end up being the difference maker that White will be, but he can be a solid starter for years to come.

Previous Pick: Devin White, LB, LSU

12. Green Bay Packers - Montez Sweat, DE, Mississippi State

The Packers have made multiple signings this offseason, but they are still in need of a pass rusher of the future. Sweat was known for his acceleration and athleticism prior to the NFL Combine, but teams are now drooling over his measurables after testing out at an elite level. He's a player that knows how to use his length well, while also utilizing multiple pass rushing moves. Over his final two seasons at Mississippi State, Sweat recorded 30.0 tackles for a loss and 22.5 sacks. Sweat could potentially be a top-five pick because of his measurables, but he reported has a minor heart condition that could bump him down boards a bit.

Previous Pick: Jachai Polite, DE, Florida

13. Miami Dolphins - Kyler Murray, QB, Oklahoma

This is the sexy pick across the industry, and it makes quite a bit of sense. Ryan Tannehill is on his way out and Miami will need to find a replacement. There have been talks that the Dolphins are interested in tanking to find their quarterback of the future in the next draft or two, but thatís a bold proposition for any head coach. Murray started 14 games for Oklahoma this season, throwing for 4,361 yards, 42 touchdowns, and only seven interceptions. He also ran for 1,001 yards and 12 touchdowns on 140 rush attempts. He has game-changer potential, and the NFL is seemingly moving towards dual-threat quarterbacks. Murray could have potentially been the first quarterback taken if he had committed strictly to playing in the NFL sooner or with more conviction, but Miami is a losing franchise that will take a chance on a boom or bust prospect.

I would like to note that I don't truly believe Murray goes in this exact slot, as Miami will have to trade up, but I'm not projecting trades in this draft.

Previous Pick: Kyler Murray, QB, Oklahoma

14. Atlanta Falcons - Ed Oliver, DT, Houston

The Falcons are a team that has a clear need along the interior defense line. Ed Oliver arguably has the talent to be a top-five draft pick, but that may not happen after an injury-riddled season. Through 32 career games, Oliver posted 13.5 sacks and 53.0 tackles for a loss. He's a small defensive tackle, but uses his speed and athleticism to make up for his lack of size. He also owns an elite motor, displaying the ability to chase plays down from the back side. Through his time at Houston, Oliver flashed the ability to be a difference-maker in both the run and pass game. If he isn't getting to the quarterback, he's getting his hands in the passing lanes. We've seen undersized defensive tackles find success in the NFL before, and Oliver could be next.

Previous Pick: Christian Wilkins, DT, Clemson

15. Washington Redskins - D.K. Metcalf, WR, Ole Miss

This pick assumes that Metcalfís medical checks out, as is expected. He missed part of last season with a neck injury, and only played in 19 total games since 2017. In those games, he recorded 65 receptions for 1,215 yards and 14 touchdowns, although he was never truly the WR1 on his team. Metcalf is a player that projects well in the NFL as he features a WR1 body with speed and solid hands. Heíll continue to work on route running as he progresses as a player, but he comes with more upside than any receiver in this draft, including his former teammate, A.J. Brown. This upside was on full display at the NFL Combine, as he posted unbelievable numbers, similar to players like Julio Jones. It doesn't seem like NFL teams are overly worried with his medicals, as well. Thatís exactly what the Washington Redskins need as they have been without a true WR1 for quite some time.

Previous Pick: D.K. Metcalf, WR, Ole Miss

16. Carolina Panthers - Deionte Thompson, S, Alabama

Thompson isnít the safest prospect on the board, but he fills a glaring hole in the Panthers defense. They will be forced to address the safety position this offseason, and drafting the best one in the class is far from a bad idea. He has versatility at the position, as he can play center field or move into the box. He also displayed good ball skills, recording two interceptions and six deflections last season. Thompson is a willing tackler, but needs to find more consistency in that department. While he may not be everyoneís favorite pick here, it makes sense for Carolina to address this position with this selection.

Previous Pick: Deionte Thompson, S, Alabama

17. New York Giants - Jawaan Taylor, OT, Florida

The Giants have been working on their offensive line, adding Nate Solder, Will Hernandez, and Kevin Zeiter since last offseason. They still need to add a right tackle, although they could upgrade Solder, who underperformed last season. Some believe that Jawaan Taylor is the best tackle in this draft, as he displayed dominant traits during his time at Florida. He has solid hands with quick burst, and has flashed the ability to play left tackle in the NFL. Regardless of whether he finds himself on the left or right side of the Giants line, he can help protect their franchise quarterback for years to come, while also helping Saquon Barkley in the run game.

Previous Pick: Dre'Mont Jones, DT, Ohio State (Cleveland Browns)

18. Minnesota Vikings - Greg Little, OT, Ole Miss

The Vikings were considered one of the favorites to win the Super Bowl prior to the start of last season, but a struggling offensive line quickly ended their hopes. They have a relatively complete roster, but will need to upgrade their offensive line if they want to make a run this season. Little is a versatile player, who has the potential to play their tackle position, while also being able to kick into guard. He has the quickness to keep up with speed rushers, while he has enough power to slow down bull-rushers, although he has struggled more with the latter. Little will likely slide into the left tackle position for Minnesota, giving Kirk Cousins a bit more blindside protection.

Previous Pick: Greg Little, OT, Ole Miss

19. Tennessee Titans - Clelin Ferrell, DE, Clemson

Ferrell is a player that is seemingly dropping down draft boards because of question marks about his athletic abilities. He was recently seen as a top-10 pick though, and this would be a relatively large drop off. He was a major part of Clemson's national championship teams, while recording 21.0 sacks and 38.0 tackles for a loss over his last 29 games. He has displayed multiple pass rush moves throughout his career, specifically using great acceleration. Ferrell will need to continue to develop as a run stopper, but he can take over as a 3-4 OLB for the Tennessee Titans.

Previous Pick: Montez Sweat, DE, Mississippi State

20. Pittsburgh Steelers - Mack Wilson, ILB, Alabama

Is this a reach? Most likely. Does it make sense? Absolutely. Wilson found plenty of success in 14 games at Alabama last season, totaling 65 tackles, 4.5 tackles for a loss, and 1.0 sack. He also recorded two interceptions with five deflections. Heís a three-down linebacker that has sideline-to-sideline ability. Wilson should be able to find success in both the pass and run game, as he diagnoses plays well, and trusts his instincts. Heís a safe option for a team that needs inside linebacker help, but doesnít truly come with the upside of some other players available. Regardless, a safe option that will fill a void makes sense over potential upside at this part of the draft.

Previous Pick: Mack Wilson, ILB, Alabama

21. Seattle Seahawks - Byron Murphy, CB, Washington

The Seahawks featured one of the worst secondaries in the NFL last season, and theyíre going to need to address the position in this draft. With Greedy Williams off the board, they will have their pick between Byron Murphy and Deandre Baker. Murphy is a versatile cornerback, who has the ability to play outside or in the slot. He has flashed the ability to press or play off, as well. Furthermore, Murphy has found plenty of success in both man and zone at Washington. In his final collegiate season, he recorded four interceptions and 13 pass deflections. Murphyís ceiling is a CB1, who can shadow opposing WR1s, but his size could be an issue against larger receivers in the NFL.

Previous Pick: Byron Murphy, CB, Washington
22. Baltimore Ravens - Kelvin Harmon, WR, NC State

The Ravens are expected to select a receiver with this pick, but there are a multitude of options for them to consider. NíKeal Harry and A.J. Brown may be the two most likely with D.K. Metcalf off the board, but Iím slotting Harmon into this spot. He has been climbing up the draft boards throughout the season, totaling 81 receptions for 1,186 yards and seven touchdowns in 12 games at North Carolina State. He has a WR1 body with tremendous hands. He wonít necessarily take the top off of defenses every play, but he does come with some deep threat potential. Heíll more or less be a safe intermediate receiver for Lamar Jackson to continue to develop. While Harry and Brown both come with more upside than Harmon, heís the safer pick, who will immediately add to this offense.

Previous Pick: Kelvin Harmon, WR, NC State

23. Houston Texans - Cody Ford, OG, Oklahoma

Deshaun Watson was under pressure as much as any quarterback in the NFL last season, and the Texans are going to need to address that in this draft. Ford is a player that seemingly brings a high floor and an even higher ceiling into the equation. He can immediately slide into their starting lineup as a guard, while cross-training his skills as a tackle. He doesnít necessarily have elite size for the outside, but he owns a great first step combined with tremendous power. Ford also uses his hands extremely well, which is why he projects to play tackle in the long run. He also features the athleticism that can help him get down the field to the second level after his initial blocks. This isnít necessarily a sexy pick, but itís the most logical for Houston.

Previous Pick: Cody Ford, OG, Oklahoma

24. Oakland Raiders - Noah Fant, TE, Iowa

The Raiders are a team looking to ooze upside. They also need help at the tight end position, as Jared Cook looks primed to sign with the New Orleans Saints. Oakland has added multiple pass catchers for Derek Carr, and adding a tight end is the next step for their offense. He needed only 39 receptions last season at Iowa to post seven touchdowns, and he can immediately make a difference in the red zone for Oakland. Fant will also create mismatches for a team that has Antonio Brown to draw double-coverage. Fant needs to improve in the run game, but Oakland will likely be leaning heavily on the pass this season.

Previous Pick: A.J. Brown, WR, Ole Miss

25. Philadelphia Eagles - Andre Dillard, OT, Washington State

Dillard is a player that has as many pass blocking reps as anyone in the draft class. He played for a pass heavy Washington State offense, which has allowed him to nearly perfect his craft. He's arguably the best pass blocker in this class, but he'll need coaching to improve on his run blocking. Still, Dillard has all of the makings of a left tackle, and Philadelphia could be the perfect situation. He could sit behind Jason Peters and Lane Johnson at both tackle positions, learning from two of the best in the NFL. Peters is nearing the end of his career, and this would allow Philly to slide in someone that feels comfortable in their offense.

Previous Pick: Dexter Lawrence, DT, Clemson

26. Indianapolis Colts - Christian Wilkins, DT, Clemson

The Colts aren't a team that has a ton of needs, but the interior defensive line is one of them. Clemson's players were three of the biggest "losers" in my new mock draft, as they fell quite a bit. Wilkins is a massive, NFL-ready player, who can slide into the starting line on day one. Some believe he can slide to defensive end if need be, but he'll likely stay at defensive tackle for Indianapolis. Over his last three seasons, Wilkins has totaled 36.0 tackles for a loss and 14.0 sacks. He isn't a sexy player, but he'll make everyone along the defensive line better for the Colts.

Previous Pick: N'Keal Harry, WR, Arizona State

27. Oakland Raiders - Deandre Baker, CB, Georgia

This hasnít been the Oakland Raiders M.O. in this draft, but with three picks, they donít have to stick to one plan. Deandre Baker isnít seen as a high upside prospect, but he is seen as one of the safest in this draft. He comes with relatively average size, and tremendous speed. He has the ability to play at the line or off coverage, but he has looked significantly better in man. That doesnít necessarily mean he canít play zone, though. He simply uses his speed better in man, which may end up with him generally guarding receivers that are looking to take the top off of defenses. Baker likely will never turn into a shadow cornerback, but heíll be a starter in the NFL for years to come, which is something Oakland needs at this point.
Previous Pick: Deandre Baker, CB, Georgia

28. Los Angeles Chargers - Nasir Adderley, S, Delaware

Adderley is a smaller school prospect, who comes with tremendous upside. Heís a safety that has the ability to play center field, taking away opposing deep threats with his ball-hawking potential. He can also move up in the box and help with run support. As if that isnít enough, Adderley has the potential to slide over to corner with very little issues. The Chargers could certainly use another safety to lean on, and Adderley makes their elite secondary that much better. This is a defense filled with chess pieces, and Adderley will fit right in a potential game-changing role.

Previous Pick: Nasir Adderley, S, Delaware
29. Kansas City Chiefs - Jeffery Simmons, DE, Mississippi State

Simmons was a lock to be selected inside the top-15 of this draft, but off-field issues, including a confrontation with a woman and a recent injury have hurt his stock. He was an elite player over his final 26 games at Mississippi State, totaling 30.0 tackles for a loss and 7.0 sacks over that span. He also added five pass deflections and three forced fumbles in those games for good measure. Heís a potential difference-maker on the defensive line, and the Chiefs are a team that need defensive help. Theyíre also a team that is focused heavily on offense, and will be willing to wait for Simmons to get healthy to incorporate him in their defense. They have also proven that theyíre willing to take chances on players with shaky pasts, and Simmons is a steal at this pick from a talent perspective.

Previous Pick: Jeffery Simmons, DE, Mississippi State

30. Green Bay Packers - N'Keal Harry, WR, Arizona State

The Packers drafted three wide receivers one year ago, and they have flashed some promise. None were high picks though, meaning they donít need to force them into the starting lineup. They have a much larger need at tight end, but with Hockenson and Fant off the board, they may have to settle for a play-maker elsewhere. NíKeal Harry is arguably the best receiver in this class because of his ball skills. He doesnít create elite separation, but generally comes down with contested catches. He needs a confident quarterback like Aaron Rodgers, who will throw him the ball in tight spaces and let him make a play. This pick reminds me a bit of Jordy Nelson, who often times utilized strong hands to come down with receptions. Harry has also posted 155 receptions for 2,230 yards and 17 touchdowns over his last two season at Arizona State, and he could bring that production in the NFL in his first season.

Previous Pick: T.J. Hockenson, TE, Iowa

31. Los Angeles Rams - Dre'Mont Jones, DT, Ohio State

The Rams added to their pass rush by signing Clay Matthews this offseason, but now they need to address the hole Ndamukong Suh is leaving at defensive tackle. DreíMont is an undersized prospect, who wins with athleticism and hustle. Some have compared him to a lesser version of Aaron Donald, and allowing him to learn from the best in the NFL would only help his future ceiling. In his final season at Ohio State, Jones recorded 13.0 tackles for a loss and 8.5 sacks. It may not work having two ďundersizedĒ defensive tackles on the field, but imagine two Aaron Donaldís staring at your quarterback.

Previous Pick: Brian Burns, EDGE, Florida State

32. New England Patriots - A.J. Brown, WR, Ole Miss

The Patriots have a need at tight end now that Rob Gronkowski has decided to retire for the time being but with Hockenson and Fant off the board, they can fill a different void. While they tend to make due, New England certainly has a need at wide receiver. A.J. Brown was seen as the best receiver in this class by some, but he has seemingly slipped down boards a bit. Over his last 23 games, he owns 160 receptions for 2,572 yards and 17 touchdowns. He is an NFL-sized receiver, who utilizes agility and power in his routes and after the catch. He also owns tremendous hands, while flashing the potential to play either in the slot or outside. Brown is another dominant chess piece that New England would be able to create multiple mismatches with.

Previous Pick: Noah Fant, TE, Iowa