For the past decade, I've been attempting to identify which top performers at the quarterback, running back, and wide receiver positions will fail to maintain their elite fantasy status moving forward. I've used a mix of look-back analysis, rudimentary statistical projection or "trendcasting," and some good ol' gut instinct to call these shots, which have been right enough to keep me coming back year after year. Or maybe that's just what I tell myself to justify firing up the laptop and writing the same article every summer, which I thoroughly enjoy and which now seems to mark the unofficial start of football season in my mind. Here's what I'm hoping YOU get out of it, even if the details are quickly forgotten: The top performers in 2021 won't look very much like the top performers in 2020, which didn't look very much like the top performers in 2019...and so on. That's my thesis, it will never change, and I have 10 years' worth of data to prove it.

Without further ado, here's this year's take on the most likely Top 10 dropouts for the coming NFL season.

Note: All rankings are based on FFToday's Non-PPR league scoring.


Who Missed the Cut in 2020 (4/10): J. Winston, D. Prescott, M. Ryan, & C. Wentz
If youíre all in on Josh Allen this coming season, you might wanna consider the following: The last three QB1sóRussell Wilson in 2017, Patrick Mahomes in 2018, and Lamar Jackson in 2019óhave all fallen to QB10 the following season. In fact, only two QB1s since 2010 have placed higher than that (10th) a year after leading the pack (Drew Brees in 2012 and 2013; Peyton Manning in 2014). Even at the gameís most important and stable position, it appears, nothing is guaranteed.

Jameis Winston doesnít need to be told that after firing just 12 total passes a year after tying for the league lead in attempts. Far too many of those 2019 attempts landed in enemy hands, which is why Winston found himself holding a clipboard in New Orleans instead of under center for the eventual Super Bowl Champs in Tampa. On the bright side, he didnít have to suffer the public humiliation Carson Wentz, drafted one year and one pick later, did. Just three seasons after helping lead Philly to its only Super Bowl trophy, the big redhead imploded, leading the league in interceptions and sacks suffered, and tying for third in fumbles. Did I mention he squeezed all that incompetence into just 12 games?

Matt Ryan is now several years removed from his public humiliation (SB LI) and still has some gas left in the tank. What he doesnít have is Julio Jones, which is maybe just as well since the superstar wideout barely played half a season in 2020. Ryan still finished a respectable 12th at his position and could surprise in 2021 if the Falconsí prized first-rounder, Kyle Pitts, can dominate defenders like Jones used to.

The final QB dropout of 2020, Dak Prescott, suffered a gruesome right ankle injury early on, snuffing out what could have been a very special season. Despite the injury and an abbreviated Week 5 appearance, the Cowboysí new $160M man still led the league in FPts/G (31.2).
Most Likely Candidates to Fall from the Top 10 This Year: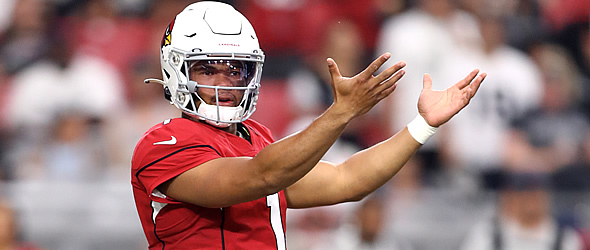 Kyler Murray, AZ: OK, so ďmost likelyĒ is a stretch considering Deshaun Watsonís situation (dicey) and the fact Aaron Rodgers is only a week or so away, potentially, from putting Packer fans on suicide watch. I suspect the former has no chance of playing enough games to retain his Top 10 status, especially since he doesnít want to play any of them for Houston. I still think the latter will don the green and gold this season, though itís less certain how many more heíll spend in Wisconsin. That leaves us with eight more dropout candidates and of those, Kyler Murray feels like the most imperiled heading into 2021.

I significantly overpaid for Murray in my auction league last year and wasnít disappointed in his performance, though it tailed off considerably when the games mattered most. From Week 1 to Week 10, Arizonaís super soph averaged a stellar 34.1 FPts/G. From Week 11 to Week 16, he averaged just 23.1 FPts/G, almost a third fewer. He still finished as QB2, but the reason WHY his numbers fell off that cliff is why Iíd be a lot more hesitant to spend big bucks on him this coming season.

During that torrid 10-week stretch, the Road Runner-esque Murray averaged nearly 10 rushes and over 62 rushing yards per contest, scoring an eye-popping 10 times with his legs. If heíd never scored again, heíd still have led his Top 10 peers in rushing TDs by a healthy margin. Problem is, he almost didnít. From Weeks 11 to 16, he scored just once more and those rushing numbers dipped to 7.3 carries and 35.3 yds/game, respectively. The fear is that Kliff Kingsbury will reign in his undersized QB this season for preservation purposes. Consider me officially spooked.

Tom Brady, TB: Nothing spooks this guy, the most successful field general in NFL history, and Iím likely tempting fate by predicting his long-overdue decline. Heís a true Top 10 anomaly, however, and not just because heís 16 years older than the others, on average (you read that right). The ageless wonder stands apart from his league-leading peers for another glaring statistical reason: He canít run.

Despite Brady tallying only six rushing yards in 2020, the Top 10 QBs combined to run for 4,165 yards and 51 TDs as a group, which are probably all-time highs. Call it the Lamar-ification of the NFL, but those totals are DOUBLE what Top 10 QBs were averaging collectively from 2010 to 2018 (2,046 yards and 22.5 TDs). Simply put, dual-threat QBs are the new lords of fantasy FB and this old gunslinger canít do it...and I can totally relate as someone creeping up on the big 5-0.

Thereís more to playing quarterback than being able to move, naturally, and Tom Terrific makes up for his lack of mobility with that golden right arm (4,633 passing yards and 40 TDs, third and tied for second, respectively). Moreover, he has elite pass-catching options in Tampa, both at WR and TE (Evans, Godwin, AB, Gronk, etc.). If thatís not enough, Tampaís 2021 schedule is projected to be the fourth EASIEST in the league despite a dominating Super Bowl win. Not sure how that computes but maybe we can chalk it up to the fact Brady is and has been living right for the better part of his now decades-long career.

You know what? Iím not sure why I wrote any of that. Heíll probably lead the league in passing, win another chip, and breeze to a Top 10 fantasy finish. Sigh.

Lamar Jackson, BAL: Iíll be honest: I donít really know what to make of Jackson as he heads into his fourth professional season. Heís absolutely an NFL quarterback and not just a glorified running back playing the position, as some have stubbornly suggested (see below). Is he just a really good NFL quarterback, though (last yearís QB10 finish), or a great one (2019ís QB1 finish)?

All we care about for the purposes of this discussion is fantasy production and thereís no question Jacksonís floor is higher than any other signal caller, with apologies to the aforementioned Kyler Murray. Heís averaged 1,100 rushing yards and seven rushing scores the past two seasons, meaning youíre starting with 10 FPts/G before he even throws a pass. All that running comes with an elevated injury risk, however, and thatís just one of the reasons Iíve started to temper expectations with him.

The other has to do with how infrequently Jackson slings it, despite all statistical evidence suggesting he should be doing more of that and not less. The sample size is small, granted (just three NFL seasons), but his career passer rating of 102.6 would rank fourth overall if he qualified (1500 attempts per Pro-Football-Reference.com). I mean fourth overall in the history of the game! Only Patrick Mahomes, Aaron Rodgers, and Deshaun Watson rank higher. Did you know that? One would think a historically efficient QB might get utilized more often than Jackson has been, but he threw over a HUNDRED fewer passes than his next closest Top 10 peer in 2020 (Ryan Tannehill) and 250 fewer than the league leader (Matt Ryan). Heck, rookie Joe Burrow threw 28 more passes and he played in five fewer games! I understand Lamar needs some polish, but something isnít adding up. Careful.



Next: Running Backs