Who's ready to throw some cold water on all those wildly optimistic fantasy projections? I had to chuckle when I reviewed the latest FFToday pre-season rankings, not because I found them unhelpful or even improbable, but because I happen to know firsthand how rudely the math treats projections year in and year out. Should this year's rankings prove completely accurate, only five total QBs, RBs, and WRs would fail to reclaim their Top 10 status in the coming season. Unfortunately, that's ten fewer than have ACTUALLY failed to do so every year since 2011 when I started writing this piece. Math. Never personal, but rarely convenient. Let's take a look at who's most likely to douse our pre-season positivity this fall.

Note: All rankings are based on FFToday's default standard scoring.



Who Missed the Cut in 2018 (4/10): Keenan. Allen, Marvin. Jones, A.J. Green, & Brandin Cooks

It's actually kind of odd/improbable that a season which saw more Top 10 QBs fall by the wayside than any other only produced four dropout wide receivers. No position is more derivative, it stands to reason, than the WR position. The more productive the QB, the more productive his WRs. Similarly, the less productive the QB, the less productive his pass-shaggers. This was somewhat the case for Marvin Jones, the first of my predicted dropouts. Jones' seven missed games obviously doomed him to scroll-down status, but Matthew Stafford's career-worst campaign added insult to injury. Jones' 9.0 FPts/G mark ranked 29th overall, meaning he was only ever a borderline WR2 even when healthy.

Brandin Cooks was the second predicted dropout to make me look good, though I definitely had to sweat it out a full 17 weeks. Cooks checked in as WR12 in 2018, just a couple TD grabs away from his own teammate, Robert Woods, at WR10. If you're wondering why the former Saint/Patriot wasn't able to retain Top 10 status despite the mid-season injury to LA's third amigo, Cooper Kupp, there ya' go. Keenan Allen was just a whisker's width behind Cooks (literally a tenth of a point) at WR13 and we can certainly point to a slight dip in receptions and a larger dip in yardage (almost 200 fewer) as the likely culprits. A more glaring suspect, however, is the 10 TD receptions his running mate, Mike Williams, vacuumed up across the formation.

Our final WR dropout of 2018, A.J. Green, seems to alternate healthy, even-numbered seasons with unhealthy, odd-numbered ones. He missed four, six, and seven games, respectively, in 2014, 2016, and 2018 and has already been carted off in training camp this past week. Are Green's salad days officially behind him?




Most Likely Candidates to Fall from the Top 10 This Year: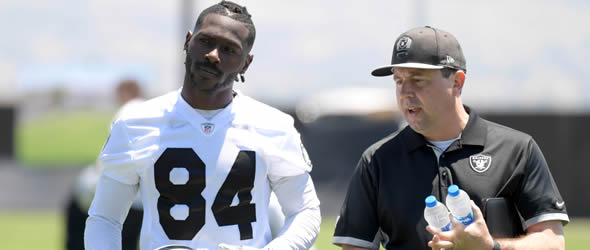 New team, new offense, new QB and bad feet. What could go wrong for Antonio Brown in 2019?



Antonio Brown, OAK: Before you howl me down, consider how few obvious candidates there are for Top 10 demotion this season at the position. Of the ten, only three are working with a new QB or a new coach/system and Brown is the only one working with both of those things, a new QB AND a new coach/system. He couldn't co-exist with Big Ben in Pennsylvania, so now we get to see what he can do with a middling QB out in Cali (for now) and a coach who some think spent too many years in the broadcasting booth.

Projections for Brown as a Raider range from safely Top 10 to the low teens, but FFToday ADP for 12-team leagues currently has him as the 8th receiver off the board, which sounds about right on for a consensus. That's a pretty significant drop from ADP numero uno in 2018, however, and speaks to the hesitation many fantasy GMs have regarding Brown's new switch. Don't Call Me David Carr has really struggled in successive seasons and there's always an adjustment period when a receiver, even a star, hooks up with a new battery mate. It doesn't sound like Coach Chucky intends to play Brown at all in the preseason, moreover, so we may not even get to watch this new duo until early September.

The other thing that concerns me is that Brown's almost certain to command double-teams all game every game. Tyrell Williams, late of the Chargers, is the only other legit WR Oakland has and he's a bit of a deep-ball, one-trick pony. The targets will be there for AB (he could lead the league) but any drop-off in efficiency and TDs could significantly impact his bottom line. I'm expecting both of those things to happen.

Adam Thielen, MIN: It was a tale of two seasons for the Vikes' sure-handed Thielen, easily the most improbable star receiver in the game today. Through the season's first eight weeks, he averaged an eye-popping 16.3 FPts/G and never failed to post double digits. Not a single time. That blistering pace, had it continued, would have resulted in the most productive fantasy season for a WR since Megatron back in 2011 and the best by a Vike since 2003 (you know who). Unfortunately, there were eight more games left to be played and, to put it mildly, that blistering pace slackened. From Week 9 on, Thielen averaged a pedestrian 8.0 FPts/G.

Even more alarming, if you were paying close attention, is how comparatively unproductive Thielen was once the Vikes cut ties with OC John DeFilippo after a brutal Week 14 loss in Seattle. Playing three more games in interim OC Kevin Stefanski's offense, the pride of Mankato averaged a paltry 4.6 FPts/G. Y'ouch. Minnesota's shot callers removed that interim tag from Stefanski's title this past off-season, so the Vikes' O is officially his responsibility in 2019. More time working together should build cohesion and continuity, but that three-game sample size still scares me as it relates to Thielen's prospects moving forward.

So does this: Stefanski and HC Mike Zimmer are reportedly very much aligned on offensive philosophy. When the HC and OC are aligned on offensive philosophy and the HC is a former defensive coordinator...yeah, I start to wonder how wide open the offense can possibly look. Minny ran the ball about 6.5 more times per game in that Stefanski audition late last year, a possible harbinger of things to come for Thielen and his running mate, Stefon Diggs. Be very concerned.

Robert Woods, LAR: Anyone who watched that Monday night fireworks display v. Patty Mahomes' Chiefs in Week 11 late last year couldn't have imagined what would ultimately befall the Rams in early February of this one. After sneaking by the Saints in a surprise NFC Championship defensive struggle, Sean McVay's juggernaut was thoroughly flummoxed by Bill Belichick's Pats in SB LIII. Where'd all that offense go? Whither Todd Gurley? When did Greg Zuerlein become the Rams' offensive MVP, for criminy's sake?

Truth be told, Woods was probably the real, and completely unsung, MVP for the high-flying Rams offense when it was all said and done. He topped double digits in fantasy production eight times during the regular season—just one fewer than Adam Thielen—and spread those double-digit days out more strategically over the course of the whole season. However, he also suffered a two-point FPts/G hit in games not featuring or barely featuring Todd Gurley (Weeks 16/17, NFC Chip, & SB LIII). That's not insignificant when you consider Woods himself was a full two FPts/G better than Calvin Ridley, the WR17, during the regular season.

Gurley seems to raise all boats when he's in tip-top shape and I've already warned you he probably won't be close to that this year. Cooper Kupp very well might be and he almost certainly will eat away at Woods' bottom line this coming season. Goff's most trusted receiver actually outscored Woods on a FPts/G basis and would seem to be in line for even more work if his QB gets panicky in a hotter pocket, as he's been prone to do. I'm fully expecting more hot pockets this coming season as defenses adapt to a greener Rams offensive line and Mr. Gurley's diminished capacity/workload. Also, Hot Pockets...mmmm.

Talk soon, folks!