Sure, many teams rested their starters, but it was great to see actual football being played this past weekend for the first time in six months. Rookies got a chance to show their skills and initial impressions were made. Everything gleaned from the preseason should be tempered, but that doesn't mean we can't give it its proper due. So, here we go with the highlights from pre-season Week 1…

1. Back To Square One in Washington

Washington's backfield was not a place owners went looking for solutions to problmes - aside from some early-season magic from Chris Thompson. The drafting of Derrius Guice was supposed to change all of that and Guice was steadily rising to 3rd round status in early fantasy football drafts. Then, in a moment's time, it was back to a committee of Thompson, Samaje Perine, and Rob Kelley. Perhaps the loss of Guice (ACL) bumps Thompson's value up a bit, but the 'Skins will no doubt be careful not to over-use him this year. Bottom line: The quality RB pool just got a little more shallow as neither Perine or Kelley project as anything more than RB4s for fantasy purposes. Here's hoping Guice makes a full recovery.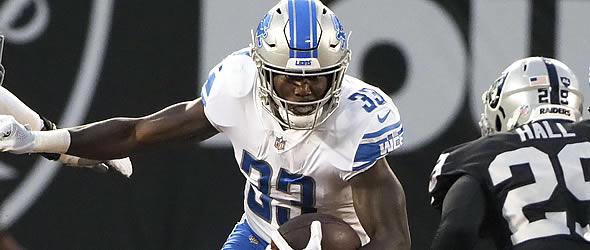 Rookie RB Kerryon Johnson may have turned a few heads in his pre-season debut for the Lions.




2. Rookie Running Backs Look Like an Explosive Crop



How did the rookies look? And, more specifically the rookie running backs as they make the largest impact of any skill position in their debut years. This crop looks like it has tremendous potential in spite of the loss of Guice. Saquon Barkley broke off a 39-yard run in his first-ever game action as a Giant. Kerryon Johnson (DET) looked explosive netting 67 yards on 11 touches. And, he had a run of over 50 yards called back due to a penalty. Finally, Royce Freeman (DEN) looked like a powerful running back averaging nearly 10 yards a carry (4-38) and scoring on a 23-yard TD run. Barkley is probably the back to own beyond the "big five" (Gurley, Bell, Elliott, Johnson, Kamara) with Freeman and Johnson's stock rising rapidly.



3. Spotlight on Mixon and Miller



A couple of running backs to target in drafts are Joe Mixon and Lamar Miller based on initial game action from this past weekend. Mixon took a 24-yard screen pass for the Bengals' opening TD and appears poised for 300 touches in an offense that needs playmakers to take the pressure off of A.J. Green. Meanwhile, Lamar Miller has slimmed down and posted a nice 19-yard run versus the Chiefs. Nineteen yards may seem like no big deal, but it was longer than any run Miller had last season. A lighter Miller combined with a slow recovery from D'Onta Foreman suggests Miller is going to be a solid value in the 4th round of fantasy drafts…while Mixon's touch volume is bumping him into the second. Keep an eye on both.

4. Don't Sleep on Rookie Wide Receivers

Sometimes we get so enamored with rookie running backs that we fail to note when a rookie WR appears to be poised to make an immediate impact. With that in mind, look no further than Carolina and Dallas for a couple of performances this weekend that opened some eyes. Neither the Panthers nor the Cowboys have a true No.1 WR, so D.J. Moore and Michael Gallup have no jumps to hurdle in order to take that mantle and make it their own. Both guys caught touchdowns this weekend; in Moore's case, he also caught three other passes for 75 yards. Gallup only caught one pass, but it was a 30-yard TD strike from Dak Prescott in the first quarter against first-string defenders. If you are trying to decide between Moore/Gallup and DeSean Jackson/Jordy Nelson late in drafts, might I recommend the upside of Moore, then Gallup.



5. Sometimes Two Carries Contain Plenty of Meaning



While a couple of totes may be a small sample size, it was nice to see David Johnson back to being…well, David Johnson. Johnson's first carry went for 14 yards and his next carry went for 14 yards again. Big deal? Yeah, kind of. Johnson is every bit the explosive back that Gurley, Bell, and Elliott are and it's important to remember that in PPR leagues, as he may be the second best back of them all given his receptions (80) in 2016. Unlike leg/foot/knee injuries, Johnson's ailment from last year did nothing to change his long-range outlook. This weekend was just a glimpse into his potential for 2018, but it was a good glimpse just the same.



6. So, The Bills Can Throw the Ball?



There are few teams considered worse in passing game than the Buffalo Bills. And yet, the three-headed puzzle that is McCarron/Peterman/Allen combined for 351 yards passing vs. the Panthers including a whopping seven passes of 20 yards or more. While it may not be time to start putting the Bills on the front burner of your fantasy plans, it's also worth noting that they do appear to be a team that wants to get the ball downfield. It was clearly a concerted effort on their part to do that last Thursday. None of the quarterbacks are worth drafting at this time, but if the team keeps chucking it downfield heading into Week 1 of the regular season, Kelvin Benjamin may end up as one of the steals of your draft. The offensive line took some heavy blows in the offseason and the result may be the team is forced into passing situations early and often, allowing Benjamin to reap the benefits.

7. Not Every Rookie RB is off to a Flying Start

We raved about Barkley, Johnson, and Freeman earlier, but the opening act for Ronald Jones (RB) and Nick Chubb (CLE) wasn't so great. The two combined for 20 yards on 23 carries and while Jones did score a touchdown, the word in Tampa is that he's having some difficulty with pass protection/blitz pickups. As for Chubb, Carlos Hyde appears to be squarely in the lead for carries to begin the season. Proceed with caution on these two. Neither looks poised to do big things early in the fall and both are on teams that struggled to move the chains on the ground last year.



8. The Browns Can't Run the Ball, so it's Njoku to the Rescue



The Browns totaled 50 yards on 33 carries in the preseason's opening performance. Hardly inspiring. What was inspiring, however, was the play of second-year TE David Njoku. Njoku caught a touchdown pass from Tyrod Taylor (36 yards) in the first quarter and another from Baker Mayfield (10 yards) in the second. Early reports out of camp had Njoku struggling with drops, but based on this weekend, it would seem that problem has been resolved for now. With Josh Gordon still absent and Jarvis Landry trying to figure out his role, Njoku may be a frequent target in September and beyond if he is up to the task. His weekend suggests that a breakout year isn't out of the question. Bump him up a notch or two in your rankings.



9. There May Be Competition for Winston's Job in September



Who starts in Tampa Bay while Jameis Winston is suspended is hardly relevant to most water cooler fantasy football discussions. That being said, Mike Evans owners will be interested in this piece of information and Ryan Griffin's effort over the weekend were among the best by a QB all weekend long. Griffin completed 20 of his 26 passes for 179 yards and a TD. Ryan Fitzpatrick is still likely to get the nod in Week 1, but I wouldn't rule out Griffin as a potential last hour replacement. The Bucs have a talented receiving corps, so getting the right guy to throw to them does matter.



10. The "Power Back" Job in New England is Something to Keep an Eye On



Rex Burkhead and Sony Michel continue to nurse training camp injuries, so Jeremy Hill and Mike Gillislee took the spotlight in Week 1. It has been speculated all throughout camp that the Patriots are only likely to keep one of the two on their final roster, but both looked solid vs. Washington and it's a battle worth keeping an eye on in the weeks to come. The goal line/short yardage/clock-killing back in New England is definitely worth a role on any fantasy team- particularly in a non-PPR format. Hill gained 8 more yards on three less carries than did Gillislee, along with adding a TD, but combined the two nearly gained 100 yards and demonstrated their value. Based on performance, Hill has the advantage for now, but the eventual outcome is worth paying attention to for the remainder of this month.

We'll be back next week to review Preseason - Week 2. See you then!