Last week's question: Do you avoid streaming for peace of mind?
In last week's column, I asked readers for their takes on whether their desire for "peace of mind" prevents them from streaming. The bluntest answer came from Jay:
In a word, no. I don't avoid streaming to enjoy peace of mind. I avoid it because it's dumb. Having a quality QB and a quality TE is valuable in itself; but sure, to your point, it brings me peace of mind not to have to shop around for scrubs with "good matchups" every week. Even if there is something to that approach, I don't understand how it applies to the early weeks of a season, when we're all just guessing about how good defenses are anyway. Maybe you could make a case for streaming in the mid/late season, but I want nothing to do with it in the beginning. So I'll draft the QBs & TEs I believe in, & if they get hurt, I may have to resort to streaming. But by that time, at least I'll know which defenses are soft...instead of basing my decisions on [which ones are projected to be] soft.
That's a reasonable argument--and one that many underestimated defenses probably feel vindicated by.
The shortest answer came from Murray: "If I wanted peace of mind, why would I play fantasy football?" Excellent point, Murray.
RS was the reader who came closest to a pro-streaming response:
I play fantasy to win championships, not for peace of mind. If streaming QBs (or TEs) is what I need to do to win, I'll do it. But I don't go into a season determined to stream or not to stream. I go in determined to do the best I can with the options available to me.

"Oh look, here's Patrick Mahomes available to me in the 4th. Too bad I read an article that convinced me to stream QBs in this league" is silly thinking. Making your mind up in advance to stream any position is like making your mind up in advance to spend 25% of your FAAB on waivers in Week 1 before you even know if any of your players will be injured/underperform. You should spend the FAAB necessary to achieve your goals. And you should allow your mind to be however uneasy it needs to be to achieve your goals.
Sound thinking from RS. These are mature and informed opinions on streaming, and I'm grateful to everyone who wrote in.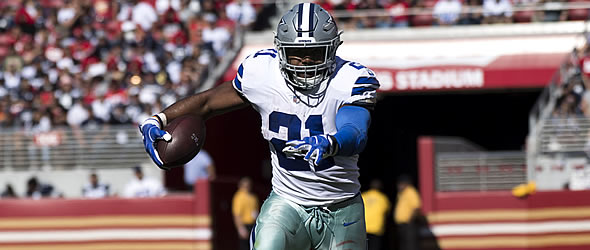 This Weekís Question: How are Zeke owners feeling right about now?
The Week 2 injury toll included Christian McCaffrey (on IR for at least 3 weeks with an ankle sprain) & Saquon Barkley (out for the season with a torn ACL). In most leagues, these were the #1 & #2 overall picks--with Dallasí Ezekiel Elliott as the consensus #3. In the vast majority of leagues, Zeke will be the player with the most draft capital sunk into him who is still active in Week 3.
During the preseason, I heard arguments from some analysts that CMC was being undervalued at the 1.01 slot--because he is so effective as a runner & a receiver that drafting him is like getting 2 players with 1 pick. I donít know that many of his owners feel that way about him right now. With his bye in Week 13, he will be out of his ownersí lineups for a minimum of 4 contests--and could realistically miss 7 (half the games between now and the typical fantasy championship in Week 16). Yikes.
Talentwise, Barkley was the 1 true bright spot on the Giantsí offense. Virtually no one was bothered by New Yorkís change to Jason Garrett at offensive coordinator, since Zeke flourished under him for years. Big things were expected from Barkley in 2020. His injury is a wet blanket on the season for football fans everywhere (but especially in NYC).
So how do Zeke owners feel right now? Are you confident that you will finish ahead of the teams that drafted McCaffrey and Barkley?
But more to the point, how are things looking for the Alvin Kamara owner? The absence of Michael Thomas from the Saintsí offense helps to explain Kamaraís 174-yard outing vs. the Raiders in Week 2, so perhaps he will come back down to earth with Thomasí return. But perhaps not.
Iím especially interested in this topic because I spent the offseason keen on Kamara and feeling a sense of dread about the possibility of CMC wearing down after 2 consecutive years of RB supremacy. As I wrote in my July column:
Iíll definitely go with CMC if I have to make the 1.01 pick in any leagues this year, but I would rather draft from the 4th spot because I love Alvin Kamaraís prospects in 2020Ö. If I take the 4th spot and Kamara doesnít fall to me, that means either Ezekiel Elliott or Saquon Barkley will be available--and Iíll still be picking earlier in the 2nd round than whoever sniped Kamara. That outcome suits me just fine--though, for the record, I have Kamara at No.2 overall.
So the Elliott-Kamara question is the one Iím most concerned about: Do Zeke owners (in general) think they are poised to beat Kamara owners (in general) in 2020? But Iím interested in other perspectives as well. Are you still worried about the CMC owner in your league (especially in the event of a quicker-than-anticipated recovery)? Is it too early in the season for you to have identified your most dangerous opponents? Are the teams that have been hit hardest by injuries at this point (the ones who sank their draft capital into CMC, Barkley, and Thomas) still threats to your success?
I hope to hear from Kamara owners as well as Zeke owners on this one. And since owners of CMC and Barkley may not have anything better to do with their time, perhaps they can respond in the comment section below or email me.
Survivor Pool Pick (Courtesy of Matthew Schiff)
Trap Game (Miami at Jacksonville)

Although I expected a down-to-the-wire contest between the Titans and Jaguars in Week 2, many people are surprised at how competitive Jacksonville looked. Now the Jags find themselves favored at home vs. a Dolphins team that came within a couple of plays of defeating the surging Bills in Week 2. Since home field advantage is worth next to nothing in 2020 & the Dolphins are underrated, Iím giving this one a wide berth.

#3: Arizona over Detroit : 2-0 (BAL, KC)
Kyler Murray has picked up where he left off in 2019. Washington was able to limit the damage he did through the air by holding DeAndre Hopkins to 68 yards and 1 TD, so Murray had to use his legs to find the end zone--twice. Detroitís Matthew Stafford is unlikely to cope as well as Murray with the limitations placed on his favorite target (Kenny Golladay: hamstring). The Cardinals belong to the strongest division in the NFL and must pick up easy wins like this one to remain competitive; Iím betting they will.

#2: Tampa over Denver: 1-1 (ind, AZ)

Tom Brady hasnít looked great in ďTompa BayĒ so far this year, but he did enough to steer the Buccs to a 14-point win over the Panthers in Week 2. Itís true that a good part of his success stemmed from the Tampa defense picking off Teddy Bridgewater twice, but the Bucs may enjoy even more interceptions against a Denver team that will have to start Jeff Driskel for the injured Drew Lock. Donít overthink this one. Itís Brady vs. Driskel. (It may be Brady on the back 9 of his career, but itís still Brady.)

#1: Indianapolis over the NY Jets: 2-0 (KC, GB)
After a heartbreaking loss to Jacksonville in Week 1, the Colts shook off their rust and looked extremely sharp (especially on defense) in their Week 2 victory over Minnesota. They held Kirk Cousins to 113 passing yards (with 3 picks), Dalvin Cook to 63 yards on 14 carries, and Adam Thielen to 31 yards on 3 receptions. Those Vikings all have proven track records of being productive, which is far more than can be said for the Jets. Adam Gaseís crew is a train wreck of injury, incompetence, & inept coaching. Gimme the Colts by mile.

---
Mike Davis has been writing about fantasy football since 1999--and playing video games even longer than that. His latest novel (concerning a gamer who gets trapped inside Nethack after eating too many shrooms) can be found here.