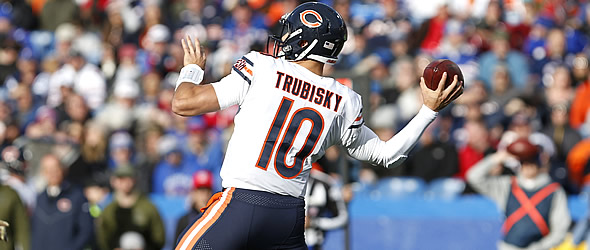 Last Week's Question: Is anyone still afraid to stream QBs?
The short answer to this question is yes. I heard from several folks who report that pickings at QB are ridiculously slim even in their single-QB leagues. As John wrote:
In my main league, there were only 2 of those 9 QBs you mentioned who would be available for week 3: Falk and Bridgewater (Eli Manning and Fitzpatrick/Rosen were the only week 2 starting QBs not rostered). And, Bridgewater was obtained via the WW this week. Backup QBs aren't rostered, but just about every starter is. Streaming QBs isn't a viable option in that league, no matter how many articles/podcasts say it should be.
Not all situations are as dire as John's, but Stefan's 14-team league (with 2 QBs on every roster) does not leave attractive options on the waiver wire with any consistency:
I am not afraid of streaming. On the contrary: I have embraced the idea for DEF and K. But there is no way you can apply the same strategy to TE and QB in our league! We are a 14-team Gold Yahoo League where all managers - without exception - carry 2 QBs (and TEs) in their teams. QBs get drafted early – even though all experts preach each year that the position is as deep as never before. I am glad I backed up Carson Wentz with Dak Prescott! We allow 6 pts per Passing TD and the Free Agent pool is so shallow that you better make sure you have drafted two good ones. You then try to plug-and-play them based on the weekly match-ups. Currently, the options on the FA pool are: Bridgewater, Flacco, Allen, Falk, Rosen and Hill – good luck with those fellas!
Congrats on your QBs, Stefan, but I think Prescott may have earned the starting job at this point. In any case, it is easy to see how being in a league in which 28 QBs will always be drafted makes it imperative to secure solid talent at the position fairly early in the draft. I assume that the Allen available in your league is Kyle (since Josh would presumably have been drafted), and even though the Panther understudy was great in Week 3, I wouldn't have felt comfortable starting him in any leagues.

I also heard from Ted, who regrets his assumption that plentiful QB talent would be available on waivers:
I'm in a 1QB league with 6 points per passing TD. With only four bench spots, I figured waiting would be a good idea. I was stuck with Winston as some teams started snagging their second QBs before I picked my first. The only viable options are Brissett and Josh Allen. I have an opportunity to trade for Lamar Jackson or run with Winston this week and then see what happens or begin streaming. Jackson would cost me Theilen most likely. Other WR are Cooks, OBJ, Jeffrey and Hardman. Thoughts?
If you're astonished that anyone is willing to deal Jackson after his hot start, you're not alone. Another commenter asked about it, and Ted replied that Jackson is the backup QB for the Mahomes owner in that league, so the willingness to part with Jackson makes sense. I replied that I thought Jackson would probably be worth giving up Thielen, especially since the Vikings are so focused on the Dalvin Cook and the running game in 2019. But I'm not down on Brissett or Josh Allen. Brissett has been doing well so far, and there's no reason to think he won't put up solid numbers against KC in Week 5 (if only to keep pace with the Chiefs), Denver in Week 8, and Miami in Week 10. As for Allen, he gets to play the Dolphins in Weeks 7 and 11 and the Redskins in Week 9. That duo therefore seems like the textbook definition of streamable for the foreseeable future to me.
I also heard from Wayne, whose perspective will resonate with the QB streaming crowd:
In my 6 points per passing TD league, everyone seems to take two QBs, but there's still value to be had on the waiver wire. I drafted QB last after kicker and wound up with Cousins with the intent of streaming QBs. Realized right away he was a bust. No problem, enter Josh Allen from the waiver wire. Come Allen's bye in week 6 whichever Washington QB is throwing against Miami will probably be available on waivers and a bad QB against Miami is still better than most of the QBs in the league on that week. Streaming makes people nervous because they can't imagine winning with the likes of Josh Allen and Case Keenum and Matt Stafford in real football. But all we need are fantasy points.
Well put, Wayne. And what you said about Washington's QBs vs. Miami in Week 6 applies to them against the Giants in Week 4. Gimme Keenum if he starts or Dwayne Haskins in his NFL debut if Keenum's foot injury keeps him from playing.
My thanks to everyone for their feedback.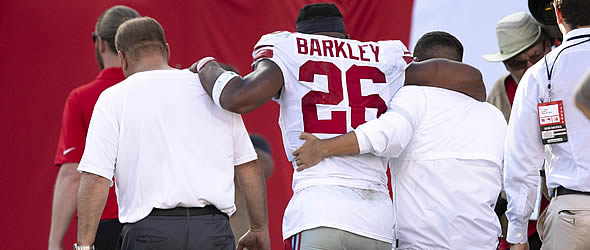 This Week's Question: What do you do when an owner leaves midseason...in a money league...with an unpaid balance?
For the purposes of this question, suppose the following:

1) Your redraft league has a $100 entry fee.

2) Owner #12 in your league has always paid his fee in years past, so the commish let it slide when he said he had forgotten his checkbook at this year's draft party.

3) 3 weeks into the 2019 season, Owner #12 is 0-3.

4) Commish reminds Owner #12 of his $100 fee.

5) Owner #12 reflects on his record and his roster. He is at the bottom of the standings. His top pick, Saquon Barkley, is out of commission. His second pick, Antonio Brown, is out of the NFL. He texts the commish, "You know what? I'm out," refuses to pay, & is banned from the league.

6) Commish gets abuse from other owners for letting owner #12 draft without paying in advance (as everyone else did). Commish tries to salvage the situation by searching frantically for someone willing to pay $100 for an 0-3 team with gaping holes at RB and WR. Unsurprisingly, there are no takers.

7) Week 4 is fast approaching. The league needs to move forward without Owner #12. What should the league do? (Hint: Making an official rule that requires all fees to be collected in advance will not solve this league's current problem, so please focus on what the commish can do now, not what he should have done differently in the past.)
I have heard from readers in leagues with waiting lists. In many cases, the people on these lists would gladly overpay for Owner #12's team just to get into the league for next year. That's a great situation to be in, but it isn't the situation here.
Please let me know how your league would solve this problem in the comments section below or by emailing me.
Survivor Pool Picks (Courtesy of Matthew Schiff whose record is perfect so far in 2019)
#3: Rams over Buccaneers (3-0; PHI, BAL, SF)

The reigning NFC Champions are 9.5 point home favorites over the struggling Buccaneers for good reason. The Rams' three-headed monster of Brandin Cooks, Cooper Kupp, and Robert Woods should tear apart their former division rivals with ease, especially if Sean McVay can remember how effective Todd Gurley is as the fourth head on that monster when allowed to operate as a receiving threat out of the backfield. That said, this game feels like it might be a trap because the Bucs have a chip on their shoulders after losing to Daniel Jones and the Giants on a missed field goal. This one will be closer than everyone thinks. Take this game with caution.

#2: Colts over Raiders (3-0; HOU, BAL, NE)

The 2-1 Colts have already proven that they can beat a team with a good offense (Atlanta) or a team with a good defense (Tennessee). Oakland has neither. We'll never know how good the Raiders might have been with Antonio Brown, but we can see that they aren't very good without him; they are scoring 16 points per game on average & rank 28th in total offense. I would feel even better about this one if not for T.Y. Hilton's injury status (doubtful--quadricep), but Indy's offense has shown nothing but resilience since the unexpected retirement of Andrew Luck, and I expect that to continue (especially against an opponent as weak as Oakland).

#1 Chargers over Dolphins (3-0; NE, SEA, DAL)

Last week, I wrote that you should pick whoever is playing against Miami until further notice. I'm not giving notice yet.



---
Mike Davis has been writing about fantasy football since 1999--and playing video games even longer than that. His latest novel (concerning a gamer who gets trapped inside Nethack after eating too many shrooms) can be found here.