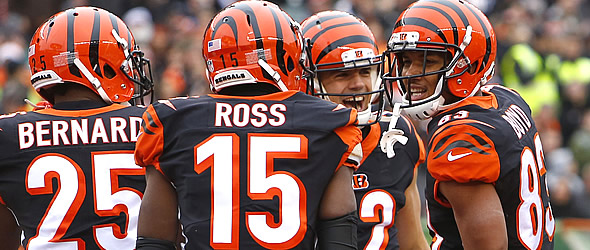 I took a late-round flyer on Cincinnati WR John Ross in one of my 2018 drafts. By the time I gave up on him a few weeks into the season, someone else had already snagged Tyler Boyd from waivers. I think I ended up cutting Ross when my kicker had his bye week.

Ross understands how much of a disappointment he has been so far in the NFL. Even though he scored 7 TDs on just 21 receptions last year, he knows that the Bengals didnít spend the 9th overall pick on him in 2017 to have him catching fewer balls than a backup RB a year later. (Giovani Bernard had 35 catches on the season--66% more than Ross.)

Earlier this summer, Ross decided to change the number on his jersey (from 15 to 11) as part of a project for reinventing himself.

Heís trying to hit the reset button, and I applaud him for it.

Instead of taking the diva approach of most receivers (ďEverythingís great because I have a 1 in 3 chance of scoring any time I touch the ballĒ), heís acknowledging a real problem (ďAfter 2 years in the NFL, Iím averaging fewer than 2 catches per gameĒ).

Of course, Ross has tremendous incentive to reinvent himself in 2019. His career depends on it. But no fantasy owner in a redraft league shares that incentive. Those of us who were burned by Rossí lackluster performance in 2018 are unlikely to give him another chance in 2019. Thanks to ďonce bitten, twice shyĒ logic, weíre generally unwilling to hit the reset button on players.

But should we be so unforgiving?

In the comment field below, please jot down the name of your biggest fantasy bust in 2018 along with a note about whether you are willing or unwilling to give that player another chance in 2019.

My own best example could be either Devonta Freeman or Jerick McKinnon, the nightmare backfield that I selected in the FFToday staff league last year. If I hadnít snagged James White later on, I shudder to think about how dreadful that team would have been. So will I be considering either Freeman or McKinnon in 2019?

Freeman is an intriguing case. His outlook in 2019 is even more promising than it was in 2018. Heís had an extra year to recover; Tevin Coleman is out of the picture; and the Falcon offense could be even more explosive this year with Calvin Ridley in his second season. If Freeman was worth a second-round gamble in 2018 (and I thought he was), then heís definitely worth a third-round gamble in 2019.

I donít know what Iíll do if Freeman is staring at me in the middle of the third round in August. I might pull the trigger. But I think Iíll probably decide that even though heís a better gamble this year than last year, itís a gamble not worth taking. In other words, Iíll have to confront the fact that I was simply wrong to take that gamble last year.

As for McKinnon, heís currently a 10th-rounder, which makes him a no-brainer for me. I have no idea whatís going to happen with Tevin Coleman, Matt Breida, and Raheem Mostert in San Franciscoís crowded backfield, but Iíll be delighted to take my chances on McKinnon at that price.

But what about other positions? Letís look at tight end--if only for comic relief.

The tight end who burned most fantasy enthusiasts in 2018 was definitely Jason Witten--because no one escaped his MNF commentary. But in a post-Gronk era of busted veterans and unproven youngsters, someone in your league is going to forgive Witten for his analysis and draft him in 2019. If thereís any chance itís you, please say so below.

Since I started this column with a Bengal hitting the reset button, I want to return to Cincinnati for my examples at QB and WR: Andy Dalton and A.J. Green.

Greenís 2018 campaign hardly qualifies as a bust. He missed 7 games, but you knew better than to start him when he was injured, and when you started him, he turned in solid performances (averaging 5 catches and 77 yards per game). The missed games shouldnít have been a complete surprise (as heís played only two full seasons in the past 5 years), but itís been a long time since Green reminded us of his elite talent with any consistency.

I believe that will change in 2019. Iím more than willing to hit the reset on Green because I think the Bengals have hit the reset button on their organization with the hiring of Zac Taylor as the new head coach. I donít know what to expect from Taylor in his first year, but I know that the Bengals have been chronic underperformers for years. Green is an elite WR. Joe Mixon could be an elite RB. Andy Dalton is a competent and capable QB. This team has always looked better on paper than it has performed on the field, and I think itís reasonable to expect the coaching change to result in drastic improvements by 2020 at the latest.

But is it worth gambling on Green & Dalton in 2019?

I think so. The three WRs going immediately ahead of Greenís ADP of 3.05 are Antonio Brown at 2.08 (a great receiver on a new team); Mike Evans at 2.10 (a great receiver with a QB who is more comfortable throwing to tight ends); and T.Y. Hilton at 3.02 (a reliable receiver who will probably finish as a low-end WR 1, but has little chance of creeping into the top 5). I think Green is as safe a choice as any of these guys and has a higher ceiling than anyone but AB.

As for Dalton, the three QBs being drafted ahead of him are 14th-rounders Matthew Stafford, Derek Carr, and Sam Darnold--because Dalton is going undrafted.

Letís think about that for a second. Dalton has Joe Mixon and Giovani Bernard in the backfield; he has Green, Boyd, and Ross as his WRs (not to mention Tyler Eifert and C.J. Uzomah as TEs), and yet he is simply going undrafted.

This is why I think itís madness to sink a lot of draft capital into premium QBs. In most leagues (for the first few weeks at least), Dalton will be a streamable option at QB. When you stream him, youíre streaming all the weapons that he has at his disposal (including Mixon and Green). I can easily imagine streaming Dalton early in the season & retaining him as a starter from that point on. How much do you have to hate Zac Taylor to rule out such a possibility?
Additional Reader Feedback Requested
True or false: Standard 12-team leagues should replace kickers with a superflex (2 QB) option to 1) create true scarcity at the QB position; & 2) eliminate the roulette-style distraction of the kicking game.
Whatís your answer and why?
In conventional (1 QB) leagues with shallow benches, I rarely roster more than 1 QB. I had Andrew Luck in my money league last year, and his bye week was the only week I had 2 QBs on my roster.
Some people think I should have carried a backup QB all season just in case of injury to Luck. I disagree. I preferred the bench depth at other positions & felt confident that even if Luck sustained a season-ending injury, I could scoop up a competitive replacement on waivers.
Some of the other owners in that league take my approach. Others keep 2 QBs on hand for ďjust in caseĒ scenarios. Consequently, in any given week last year, only 18 or so starting QBs were rostered in that league--leaving 14 other NFL starters available any time anyone wanted.
Compare that to what happens in superflex leagues, which permit owners to start QBs in the flex spot. In most scoring systems, the playing field is so heavily tilted towards QBs that it would be insane not to start 2 QBs week in and week out. That means everyone will draft at least 2, and many owners will feel compelled to draft 3 QBs just to cover bye weeks (even though in actual practice, backup QBs will usually have emerged as viable waiver pickups before then).
In a 12-team superflex league, there wouldnít be anything surprising about seeing all 32 starting QBs (and even a few gifted backups) taken during the draft. This completely changes the dynamic of the draft in lots of ways, as a reader named Tim seems to anticipate:
For the first time, I am playing in a non-PPR league where you can play a QB in the Flex Position and they get 6 points per TD, and 1 point per 25 yards. QBs also get 6 bonus for going over 300 yards. This "seems" to push their value up to where there might be a QB draft rush in the beginning or they might be going quite a bit earlier than my norm. I typically only draft 1 and rely on free agency. What should my strategy be?
If your league has undergone the transition to a superflex format, what would your tips for Tim be?
Please respond to any of the questions in this column in the comment field below or by emailing me.


---
Mike Davis has been writing about fantasy football since 1999--and playing video games even longer than that. His latest novel (concerning a gamer who gets trapped inside Nethack after eating too many shrooms) can be found here.