QB Kirk Cousins
(2020 QB Rank – No.11, 23.4 FPts/G)
What do you get when you mix a historic rookie receiver with the 29th ranked defense? You get Kirk Cousins having one of the best statistical seasons of his career and a top-12 finish at an extremely deep fantasy position, that's what!

With little defense to speak of and rookie Justin Jefferson putting up all-time numbers for a 1st year player, Cousins and this offense were forced into a fair share of shootouts. Just look at how bad it got during the 2nd half of the year, where in the final eight games Cousins was forced to throw a ton, securing 20 touchdown passes and throwing for over 2,400 yards. The 7-9 Vikings finished out of the playoffs largely because of a porous defense. Very reminiscent of the early parts of his career when he was mainly a stat compiler, what can we expect from Cousins in 2021?

I still believe that head coach Mike Zimmer wants this to be a tough, run-based offense as evidenced at the start of last year when Cousins failed to reach 30 pass attempts in any of the first four games. The problem? The Vikings went 1-3, and eventually the defense broke down so much, that Cousins only had two more games over the final twelve where his attempts were in the 20's. Say what you will about Zimmer's philosophy, but he's going to get his way with the promotion of 33-year old Klint Kubiak to offensive coordinator. The son of former OC Gary Kubiak, Klint is far more experienced than most 33-year old coaches, but has seen scant duty as a play caller, and it remains to be seen how much power he will have to paint outside the lines of his father's offense. The other variable is the defense. If Zimmer wants a run-based attack, he's going to need gigantic improvement from the defense, but I'm not sure the improvements to the D-line (Dalvin Tomlinson, Sheldon Richardson, and the return of Danielle Hunter) will be enough to fix a leaky secondary that really only added an aging Patrick Peterson. In the end, this offense will likely need and should pass more than Zimmer wants, and because of the elite tools at his disposal, Cousins has a shot to return QB1 value as low-investment.
RB Dalvin Cook
(2020 RB Rank – No.3 21.0 FPts/G)
A big write-up here isn't necessary, as if you've been a part of fantasy football in the last few years Cook is a name you've heard plenty. Coming off two straight top-5 seasons, Cook is the prototype elite fantasy back. Explosive from anywhere on the field, dynamic in both the run and passing game, and an absolute ball hog, Cook is that consistent backfield asset every winning fantasy team needs to have. While Cook is a monster in any format due to his ability to score (31 total touchdowns the last two years) and catch passes (97 receptions the last two years) he has been a bit injury prone, which is a much bigger concern as we enter into a 17-week regular season. Something I feel is being overlooked this fantasy offseason is the effect a 17-week season will have on running back load management. For a team like the Vikings, who are truly playoffs or bust, keeping Cook fresh down the stretch is vitally important. Now more than ever, fantasy teams are going to NEED quality handcuffs (more on Alexander Mattison in a second). Look for a bit of regression in Cook's overall numbers, but certainly not enough to remove him from top-3 consideration. Just be SURE you grab the next guy in this preview!
RB Alexander Mattison
(2020 RB Rank – No.50 5.7 FPts/G)
Alexander Mattison is one of the most significant running back handcuffs in fantasy football. Yes, he will sit and rot on your bench while Cook takes 80% of the running back touches, but when Cook gets dinged up, as he's been known to do, Mattison can step in and give you a chunk of that production back. Annually one of the most hyped back-ups in the NFL due to his talent and role when forced into starter's snaps, Mattison is a must have for Cook owners, especially in this lengthened season.
WR Adam Thielen
(2020 WR Rank – No.8, 11.9 FPts/G)
About to be on the north side of 30, Thielen seemed to be supplanted as the team's No.1 option last year by a fella named Justin Jefferson. Thielen, who was coming off an injury marred 2019, was just 24th among receivers in receptions and yardage. So what carried him to a top-10 finish at the position? A career high 14 touchdowns, something that is nearly impossible to duplicate or count on for 2021. Touchdown scoring is always a fickle stat in fantasy, so for receivers, it comes down to targets and receptions, and expect those numbers to rebound some for Thielen. I expect defenses to shift their gaze to Jefferson a bit more this year, and that should open up Thielen for more looks than he's seen in a few years. Sure, he's lost a bit of that downfield explosion, but his elite body control, hands, and rapport with Cousins in the redzone is more than enough to make him a WR1 standard league candidate in an offense with diverse threats.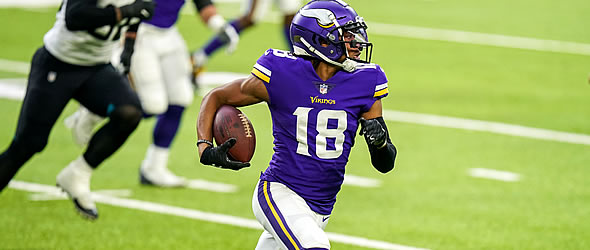 WR Justin Jefferson
(2020 WR Rank – No.6, 11.4 FPts/G)
Normally, rookies in the NFL slowly "move on up" as their career develops, but this Mr. Jefferson seems to have started his career in that "deluxe apartment in the sky", so what could he possibly do as a follow-up to his historic rookie season? (props to you if you are old enough to get the references, apologies if you aren't!) Slaying Anquan Boldin's 16-year old record, and evoking memories of Randy Moss debut season with the Vikes, Jefferson was nearly unstoppable after his 7-175-1 outburst in Week 3. Tagged by many as the most NFL ready receiver coming into the 2020 draft, Jefferson by most metrics, was one of the best receivers in the league. He could get down the field deep (13th in average depth per target), make plays after the catch (14th in yards-after-catch) and score touchdowns (7). An expert route runner capable of the full route tree, Jefferson can, and will be a match-up nightmare in 2021. With a likely regression in receiving yards, the former LSU Tiger should be able to make that up with more receptions and an uptick in touchdowns. Baring a true catastrophe, I can't envision a scenario where Jefferson isn't a WR1 in all formats.
TE Irv Smith
(2020 TE Rank No.23, 5.5 FPTs/G)
With plodding Kyle Rudolph finally gone, according to new offensive coordinator Klint Kubiak, Smith is "going to have more opportunities" to make plays in the offense. But ask his boss Mike Zimmer, and things sound different. ""Honestly I don't think it's a bigger role for him whatsoever - I think it's a bigger role for Tyler Conklin. He's kind of emerged as a guy moving upward." So what gives? In a game of "Will he or won't he", fantasy owners are left to wonder just where Smith fits into their plans in 2021. Despite an abundance of athletic talent, Smith was never able to overcome Rudolph as the main starter, and on a team like the Vikings that run nearly half their offense from the two tight ends, or "12" personnel, this position has fantasy relevance. Part of Zimmer throwing cold water on Smith's chances is the fact the 3rd year pro isn't a fundamentally sound blocker, something this offense needs in the run game. But you don't score fantasy points with blocks, and what both coaches have said might be true. I can see a scenario where Smith gets a bunch more looks in the passing game and becomes the teams #3 receiver, and Conklin gets a snap share as the primary blocking tight end. With so many young, athletic guys at the position, Smith is still someone I'm willing to gamble on later in the draft, as he has a shot to be in the mix as an upside fantasy starter if the Vikes have to throw a ton.