Each year it becomes harder and harder to unearth deep sleepers simply because of the seemingly endless flow of fantasy stats and commentary from all over the internet. Yet, here we are attempting to do just that.

This year, as you know, is going to be a very unique NFL season and if you look at the increased likelihood of players missing time due to Covid-19, you have to acknowledge the odds are better for a guy labeled a "deep sleeper" to become a legit fantasy contributor. Handcuffs, depth, the waiver wire and roster management may be more important than ever, even more so than the draft for the first time in a long time. Finding "sleepers" at this point of the offseason may become more crucial than ever, as you may not only get an advantage in your drafts, but also on the waiver wire when scenarios begin to unravel during the season.

All this being said, the following 5 players are guys that I have honed in on as very cheap bargains (12th round or later ADP) who have the potential to make a significant impact on your roster at some point this season. For reference, the ADP's are for 12 team PPR leagues.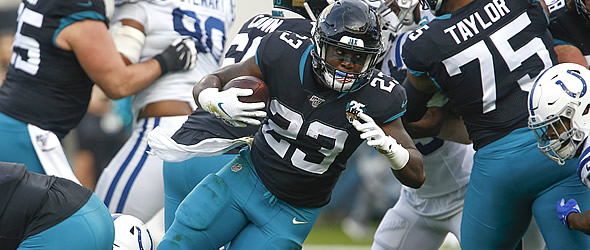 Armstead was gaining a bit of hype last year as a top handcuff to Leonard Fournette, who was coming off a season where he missed over half the games due to injury. In 2019 Fournette proved his doubters wrong and managed to play in all but one game, rendering Armstead nearly useless as anything more than a handcuff on your bench.

This offseason the Jags declined Fournette's 5th year option, meaning 2020 will likely be his last season in Jacksonville. The Jags have made it well known they are not in love with Fournette, with trade rumors flying around and not much public support for their former highly drafted RB.The only other RB on the depth chart of concern is soon-to-be 30 year old Chris Thompson who hasn't played a full season since 2016 and has never had more than 68 rushing attempts in any of his seven NFL seasons.

Armstead is a very interesting prospect as a potential future bell-cow back at 5'11'' 220 lbs with 4.45 speed, decent hands, and an impressive college career. He did not get much of a chance at playing time last season, but did flash, catching 5 balls in two separate games and making a handful of solid runs.

Behind a very young and up and coming offensive line who will return all five starters, the Jags have the bones of a solid offense, with speed on the outside to draw the defense away. Whoever is the main ball carrier for this offense will put up great fantasy numbers, as Fournette demonstrated last season, and I'd be willing to bet Armstead will be the man in Jacksonville before 2020 ends.

Whether it be from injury, a trade, or even a straight benching, Fournette is not long for Jacksonville and Armstead should be given the first crack at filling his shoes. If you draft Fournette early, taking Armstead late is a must, but even if you are not a Fournette owner, Armstead is worth a speculation pick as Jacksonville looks towards the future.
The only rookie on the list this year was drafted in the 4th round out of UCLA after two very successful seasons as their lead back. Kelley is an all-around running back who has power, speed, decent hands and a downhill running style that could lead to a successful NFL career. While not really having any elite traits, he probably isn't capable of carrying an NFL offense on his own, but in a situation like the Chargers have, he won't have to. The Chargers are looking like a team that will rely on a great defense and be on the conservative side on offense, with a revamped and improved offensive line and veteran Tyrod Taylor starting out the season at QB.

Obviously Austin Ekeler will be the Chargers primary back this season, but there are nearly 14 vacated runs per game gone with the departure of Melvin Gordon to Denver. It is unlikely Ekeler will take many of those, as he is a smaller back (5'10'', 200lbs) and a guy that they love to flex out to the slot in a receiving role as well.

While Kelley will not have a ton of PPR upside as long as Ekeler stays healthy, I think the Chargers will be among the league leaders in rushing attempts and I think Kelley will be a big recipient of that workload. With a mobile QB in Taylor, I think anyone rushing the ball for the Chargers is going to find success, and efficiency plus volume is going to mean lots of fantasy points. While you never want to bet on injury, Kelley's stock would obviously skyrocket if Ekeler missed any time and that's certainly not out of the question, as Ekeler has never carried a big load for a full season.

While it is best to treat Kelley as simply a handcuff for drafting purposes, don't be surprised if he provides standalone RB3/Flex consideration within the first few weeks of the season. For Ekeler owners and zero-RB drafters, Kelley is a fabulous value where he is being drafted as an RB flying under the radar that could provide instant dividends.
A quick look at Steven Sims profile would have most fantasy owners quickly dismissing him. Sims is small (5'9'', 185lbs), with small hands, zero NFL draft capital, and below average speed and athleticism for his size (4.61-40). While Sims certainly does not possess the ideal measurables to be anywhere near an elite NFL wide receiver, there is often more to the story than what you see on paper.

Watching Sims play, you get an immediate sense of him having a lot of "juice", as he bursts off the line and reaches top speed rapidly. Sims is shifty and good at finding holes in the defense and turning upfield quickly when he gets the ball. In short, he has the requisite skill set to be a very productive NFL slot receiver. In a lot of ways he reminds me of Julian Edelman in that he doesn't look like much but the next thing you know he has 8 catches for 85 yards and a touchdown just by taking a bunch of "easy" passes and running by the defense.

Sims was used as a runner (9/85/1), returner, and receiver (34/310/4) last season and while these numbers don't jump out immediately, they must be taken in context to get the real picture. First, Sims was an undrafted rookie, so the fact that he got on the field at all was impressive. Second, Washington had a rookie QB (Haskins), who looked overwhelmed at times, as many rookies do. Finally, Sims came on strongest at the end of the season, catching 20 of his 34 balls and all 4 of his touchdowns in the season's final four games.

With a full season now under his belt and one of the thinnest receiving corps in the entire league, Sims is poised to enjoy a potentially large target share in an offense that may have to throw quite a bit. With Terry McLaurin the unquestioned number one receiver, defenses may choose to let Sims dink and dunk his way throughout the game, racking up catches and yards, padding his stats in garbage time as well. Sims is currently going as the 67th wide receiver off the board in PPR leagues, which is exactly where he could thrive, making him an amazing value as a player that could legitimately threaten 80+ receptions this season.
Very little from Sternberger's 2019 rookie season screams "breakout player for 2020" as he was basically non-existent until the playoffs where he caught 3 balls for 15 yards and a touchdown. As rookie tight end's often do, Sternberger found it difficult to get on the field, especially playing behind established veteran Jimmy Graham.

In a draft class deeper than most in high-end tight end talent (T.J. Hockenson, Noah Fant, Irv Smith), Sternberger flew under the radar last season but is actually an excellent prospect in his own right. In his final season, at Texas A&M, Sternberger was a consensus All-American and finished top ten in the SEC in receiving yards, yards per reception, and receiving touchdowns. As a pass-catching tight end, Sternberger runs smooth routes, has super soft hands and excellent contested-catch ability. In a normal draft class Sternberger may very well have been the first tight end drafted and had much more hype, but this is why he will be such a good value now, especially after doing nothing his rookie season.

In addition to being an excellent prospect overall, the main reason I see Sternberger as a great sleeper this year is simply the opportunity that the Packers passing attack presents. Green Bay, much to the displeasure and surprise of their fans, did nothing to address their lack of weapons this offseason, other than letting an aging Graham walk away. Behind Davante Adams, the Packers have no proven targets that have shown any sort of consistency, so there are definitely targets up for grab in this offense.

While the tight end position did not produce much last year for the Packers, I attribute most of that to Graham being ineffective and hobbled, clearly showing signs of a late-career crash. Previous years have been much more kind to Packers' tight ends, even just the year before (2018), when Graham went 55/636/2, and a few years before that when Richard Rodgers went 58/510/8 on a team with both Adams and Randall Cobb.

I would venture to say Sternberger is the most talented tight end the Packers have had in quite some time, and on a team desperate for playmakers, this could very well be the year he makes his mark. Graham's 2018 season is a very realistic benchmark for Sternberger this season, with a likely 3-4 touchdown increase. These numbers should place Sternberger just high enough to be a weekly starter at the position despite being drafted nowhere near the top 15 at the position. When others in your draft say "Who?", you'll be laughing all the way to the fantasy tight end bank.
QB P.J. Walker, CAR
(ADP: Undrafted)
In such a wacky, unprecedented year I wanted to really dive deep and have fun with a prediction here, and Walker is one of my SUPER DEEP favorites this season. For those of you that are not familiar with Walker, he is most known as an XFL standout who went 5-0, leading the league in passing yards and touchdowns, before the season was suspended early.

Walker is a dual threat QB with good mobility, vision, and poise with the ability to make improvisational throws from all sorts of angles. While Walker does not possess traditional QB size at 6'0'', 215 pounds, he shows the ability to scramble around enough to extend plays and avoid big hits.

In Carolina, Walker will be reunited with his college coach, Matt Rhule, who together rebuilt the Temple football program from bottom dwellers to a respectable program by the time Walker and Rhule moved on. While Teddy Bridgewater will be the unquestioned starter going into the season, Walker should be the number 2 right away, especially after moving Kyle Allen to Washington earlier this offseason.

Injury and/or COVID risk potential to Bridgewater aside, there are other paths that could end with Walker as the starter during this season. First and foremost, the Panthers have a new head coach, new offensive coordinator, and new QB, all with a very limited offseason/practice time. While Bridgewater has had some moments of looking like a solid player, he has started just 34 games in a six-year career with just one year starting all 16 games. In that lone year Bridgewater didn't exactly put up big numbers, throwing just 14 touchdowns along with 9 interceptions.

The point is, are we sure Bridgewater is even good? To me this situation is eerily similar to last year in Jacksonville where Nick Foles came in as a high-priced but mostly unproven veteran and was outplayed by a little-known rookie in Gardner Minshew. I believe it is very likely the Panthers do not win many games thanks to their awful defense and new faces on offense (and coaching) and when teams are not winning, right or wrong, much of the blame goes to the QB. Unless Bridgewater is lighting it up I believe there will be a push for Walker to start games sooner than later and with the incredible weapons the Panthers have on offense, the likely game script of having to play from behind, and the familiarity with the head coach all added to Walker's dual threat ability, makes him a valuable weapon for fantasy purposes.

Are you drafting Walker in anything but the deepest 2 QB leagues? Of course not, but keep tabs on the Panthers the first few weeks and if things start to go South for Teddy and the team's record is bad, be prepared to snatch up Walker before your league mates do, as he just might be the late-season savior your fantasy team needs.