Like millions of other NFL fans around the world, I cringed and keeled over in sympathy pain when Cam Newton was inadvertently punched in the family jewels during the first half of Sunday's game between the Bucs and Panthers.
Not only was I sick to my stomach over witnessing Newton getting punched in the junk, but I was also ill knowing that the chance of me winning my cash game matchup went out the window, along with Newton's prospects of procreation.
Luckily for me, Newton was able to play through the pain and saved my fantasy day with a late rushing touchdown to make up for an otherwise dreadful performance. It was also fortuitous that I did not play against Todd Gurley, as he once again proved to be a one-man fantasy wrecking crew in Week 16.
Here is a review of my winning cash game ticket, including a last-minute move to play Dion Lewis against the Bills.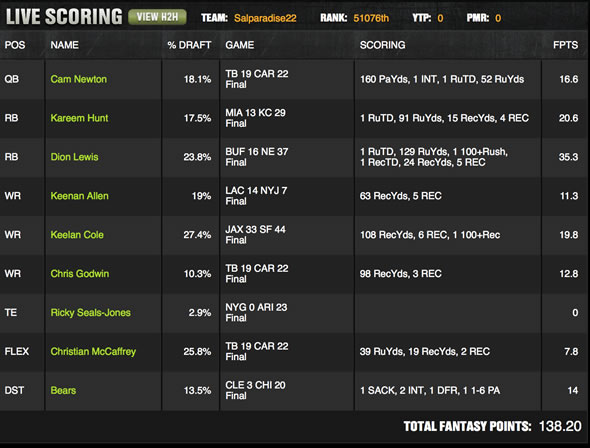 Quarterback: Cam Newton
Fantasy Points: 16.8
Grade: D
Junk punching jokes aside, Newton was terrible for fantasy purposes on Sunday despite the fact that he had a fantastic home matchup against a Bucs team that ranks in the top-10 in points allowed to quarterbacks, running backs, and wide receivers. The fact that this game came down to the wire is shocking, and an indictment of the type of team the Panthers are heading into the playoffs.
Running Backs: Kareem Hunt & Dion Lewis
Combined Fantasy Points: 55.9
Grade: A
It took Andy Reid nearly a month to realize that his Chiefs are a better team when Kareem Hunt is the focal point of the offense. The rookie running back now has three games of at least 20 fantasy points, including a 42.6 monster two weeks ago against the Chargers. I felt confident riding Hunt based on his recent increase in usage and was rewarded with 33 total touches for 116 yards and a touchdown.
I had some concern with Lewis in that Belichick would use Gillislee heavily against his former team as a big screw you to the Bills, but decided to look past those worries with Lewis as my No.2 RB. His $6k salary was a bit more than I wanted to spend, but the lack of Burkhead on the starting 53 roster was too good to pass up. Lewis came through with a season-high 35.3 points and the second best running back of the day, behind the league-winning Gurley performance against the Titans.
Wide Receivers: Keenan Allen, Keelan Cole, and Chris Godwin
Combined Fantasy Points: 42.9
Grade: C-
In cash games, I try to balance my wide receiving corps with one expensive high-floor player like Allen with more risky plays like Cole and Godwin. Cole has become the favorite for Blake Bortles with the Allen boys out with injuries, and his 22 targets over the past two games for a sub-5k player were too good to pass up.

Godwin was a bit of a leap of faith (sorry, I couldn't resist) based on his age, inexperience, and overall terrible play by Jameis Winston this season. Godwin had a great game of 98 yards on just six targets and came one end zone drop away from a 20-point fantasy performance.
Ironically, the wide receiver that I paid the most for based on his apparent high floor proved to be the worst start of the group, as Allen managed just five catches for 63 yards on 10 targets.
Tight Ends: Ricky Seals-Jones
Points: 0
Grade: F
Evidently, Bruce Arians does not like to look at stats and trends regarding his opponents. If he did, he would have known that everyone and their second cousin have managed to exploit the Giants with the tight end in 2017.
I needed a tight end with a salary of 3.5k or less to round out my lineup, and I rolled the dice based more on matchup than recent performance. This proved to be a terrible move that nearly cost me the win.
Flex: Christian McCaffrey
Points 7.8
Grade: D
McCaffrey has been solid against subpar defenses at home this season, averaging just over 22 points in his games at home against the Packers, Dolphins, and Falcons, and he even played well at home against solid defenses like the Saints and Eagles.
The Bucs are the sole team that ranks in the top 10 in points allowed to running backs, quarterbacks, and wide receivers, making a flex player like McCaffrey a no-brainer start at home vs. Tampa Bay.
The injury to Newton threw off the entire Panthers offense, which negatively affected McCaffrey and the other skill position players in the passing game. The Bucs also played an inspired brand of football that has escaped them for most of the season.
D/ST: Bears
Points: 14
Grade: A
A snow game against the worst team in the league and a rookie quarterback that turns the ball over at a greater rate than any other QB seemed like a no-brainer play. The Bears did not get a touchdown, but they did force three turnovers and held the Browns to three points.