For my birthday this year, my wife surprised me with a much-needed getaway to Las Vegas for a kid-free weekend of entertainment, shopping, and gorging on steak at my favorite steakhouse. It has been a long time since our last weekend away and I could certainly use a few days of stress-free living away from the kids and work.

Of all of the fun things in Vegas to do, gambling on slots and playing poker is not something I will partake in, as I am a terrible card player and the odds on slots make them a silly waste of money in my eyes (unless you are looking to get free watered-down drinks while playing penny slots.)

But gambling on football games is something I canít pass up while in Sin City, and I plan on spending a few hours sitting in the Sportsbook at Bellagio, sipping on gin and tonics while the wife racks up the credit card bills at Coach and Louis Vitton. The sports book will also be an excellent place to root on my playoff DFS teams as I look to add to my bankroll in the final weeks of the daily fantasy season.

When building playoff DFS rosters, there are a few things that all fantasy owners should consider as the short slate of games brings new concepts into play.

For example, in the regular season the probability of an optimal lineup containing multiple skill position players from the same team is small. But in a wildcard weekend with only four games, you may end up having two receivers on the same team or a running back/wide receiver combination that you may otherwise avoid. Donít be scared to load up on one team, especially in large GPP pools where you need to shoot for the stars.

Another thing to consider is weather and how it may affect player production, especially quarterbacks playing in windy and snowy conditions. While some QBís do well in windy and cold temperatures, the majority of signal callers donít fare as well when conditions are poor and passer efficiency has a negative correlation to windy, wintery weather. If your decision between two QBís is close, error on the side of caution and go with the one playing in a dome.

In cash games, the importance of targeting volume players for your foundation is important to ensure you build a strong base of consistent players. There are less players to choose from, and you must ensure you do not miss out on the canít miss production in games where consistent production trumps reaching for the breakout play.

Conversely, GPP players looking for that one player to separate from the pack will need to dig a bit deeper, as the probability of finding a sleeper player is much smaller with a small pool. Will Kyle Rudolph come out of nowhere and score two TDís against the Seahawks? Or will Ryan Grant or some other number three wide receiver deliver a career game and put you over the top? In large GPP games with a small player pool to choose from, finding that hidden gem that nobody else uncovers becomes even more of a challenge.

Regardless of what type of contest you choose, be sure not to miss out on the final few weeks of DFS action. It is a long few months until baseball starts.

The following lineup review is from a $50 winning roster from a $10 multiplier on DraftKings. In keeping with the Vegas theme of this piece, I decided to double down on the Steelers and bet that Ben and Brown would not struggle in back-to-back games against conference foes.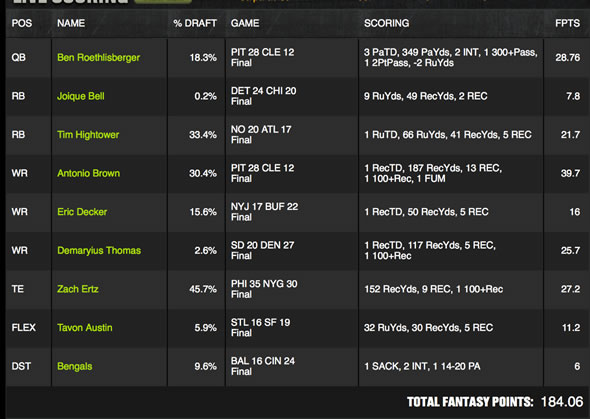 Quarterback: Ben Roethlisberger
Points: 28.76
Grade: B
It should be apparent now that I am hell bent on riding Ben and the Steelers to a DFS victory, even after last weekís debacle. This week my stubbornness paid off as Big Ben and Antonio Brown combined to score nearly 70 points, leading me to a nice $50 payout to end the regular season.
There is a bit more than just stubbornness with this pick, as I decided to use a bit of strategy that I typically use in fantasy baseball. For lack of a better term, I look for players who are due for a bounce back or slump-busting game after struggling in recent weeks. In baseball, I look for talented players coming off a few 0-4 games who have an advantageous matchup against a terrible pitcher. The concept with football is similar, however, due do the shortness of the NFL season you can look for one or two bad games from which the player could break out.
With the case of Ben and his terrible game against Baltimore in week 16, I chalked that up to an anomaly and excellent scheming by the Ravens coaching staff. I decided to bet on the Steelers avoiding back-to-back offensive struggles against division rivals, even if that meant having Ben drop another five point turd. Luckily my assumption was correct and Ben gave me top tier production.
Running Back: Joique Bell & Tim Hightower
Combined Points: 29.5
Grade: C
I opted to allocate a significant amount of my salary to expensive wide receivers, leaving me with a small budget to spend on running backs. Hightowerís emergence as a viable tailback mixed with a nice matchup against the Falcons and a $5,500 price tag seemed like a nice play for a cheap backfield.
Bell was a complete shot in the dark based on a feeling he would post his third consecutive week with a rushing touchdown. This was not a volume play, which is typically what I look for in cash games and multipliers, but I decided to go with my gut. Although he didnít score, he did manage nearly eight points, which isnít terrible for a $3,600 second running back with an ownership percentage of .2%.
Hightower cashed in with 120 total yards and a score for 21 fantasy points. Considering my recent struggles at picking expensive backs who underperform, I was pleased to get nearly 30 from two guys who cost $9,100 combined.
Wide Receiver: Antonio Brown, Eric Decker, Demaryius Thomas
Combined Points: 81.4
Grade: A
I closed out the regular season with my best showing at wide receiver, as Brown, Decker, and Thomas combined for 81 points, with the former posting a ridiculous 39 points on 187 receiving yards and one touchdown.
I decided that I was going to give Ben a shot, it only made sense to double up with Brown as well. The Decker play was based on the fact that he entered the game catching a touchdown in his previous three contests, and the probability of him continuing that streak seemed high. After a terrible first half without much action, Decker responded with one touchdown and 50 yards on five catches. Exactly the type of production you are looking for in cash games like this one.
Of all of my picks this week, the one that made me the most uncomfortable was using $6,700 on Thomas against the Chargers. I liked the fact that DT secured 22 catches in his previous three games and two touchdowns against the Raiders, but he has had an up and down year and could easily give me a stinker. One 72-yard TD pass to open the game, and I was well positioned to place in the money in the contest.
Tight End: Zach Ertz
Points: 27.2
Gade: A+
Death, taxes, and Zach Ertz posting ridiculous numbers to close out the season. Last season he caught 15 balls Week 16 against the Redskins, and he repeated the feat this year with 13 catches for 122 yards against Washington. At a mere $3600 on DraftKings, Ertz was a no-brainer upside play for owners looking for cheap production from the tight end position. 45 percent of owners agreed with the logic, and we were rewarded with 27.2 points.
Flex: Tavon Austin
Points: 11.2
Grade: B-
As diehard 49ers fan I have had the displeasure of watching numerous small and speedy wide receivers like Tyler Lockett beat the San Francisco defense deep on big plays. The assumption here was that Austin would either beat the Niners on an end around for a score or a deep pass. Neither came to fruition, however, Austin did give me 62 total yards and six catches, making his selection as a flex not a terrible play. Not great, but decent double digit production.
Defense: Bengals
Points: 6
Grade: C
As you might have picked up over the course of this season, I am not a very good prognosticator when it comes to selecting fantasy defenses. I rarely get burned for a goose egg, but picking the top defensive play has not been my forte. The Bengals gave me two picks and a sack, but they failed to give me a pick-six that I thought might come from the hapless Ravens.