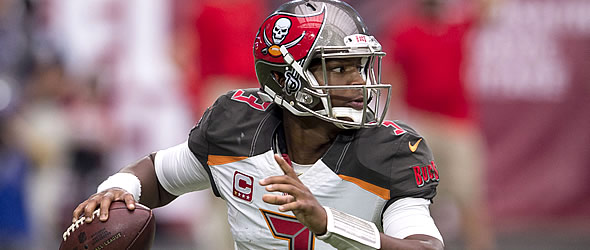 Schwarz: I give Winston the edge over Derek Carr as the most likely to produce Hall of Fame numbers.
Every August, the Hall of Fame game marks the beginning of the NFL preseason, and the entry of new inductees into NFL immortality.

To honor this year's seven new members, I'll highlight their accomplishments and look to the future with guys whose game are similar to these new Hall of Fame entrants and could/should make their way into the "Hall" down the road.

1) Terrell Davis – HOF: Davis was a supernova. He had just four good years, but from his rookie season in 1995 through 1998 when he posted 2,008 yards on the ground and 21 rushing touchdowns he was the best at the position. Over those four seasons he averaged 1,603 yards rushing, 295 receiving and 15 combined touchdowns. A knee injury in 1999 effectively ended his career, though he played until 2001.

Chris Johnson - David Johnson's current backup in Arizona, reminds me of Davis. He arrived from East Carolina and immediately made a huge impact. His six seasons in Tennessee were stellar, including a 2,008 rushing yards, 503 receiving yard, 16 TD season in 2009. Over those half dozen seasons he averaged 1,661 combined yards and nine scores.

Ezekiel Elliott – Elliott's first season was magnificent (and that's coming from a lifelong Eagles fan). He led the league with 1,631 rushing yards, posted nearly 2,000 combined yards and scored 16 times. He'll be tested in Year 2, by a weakened offensive line and defenses who will stack the box and make second-year QB prove last season wasn't a fluke, but there is still plenty to work with and Elliott should be good for 1,200 yards and double digit touchdowns for as long as he stays healthy … and on the field.

2) LaDainian Tomlinson – HOF: Tomlinson is my all-time favorite running back. He was a more versatile back than Davis. Although he never cracked the 2,000-yard mark on the ground, from 2001-08 he was the best in the league. His 2006 season led many a fantasy owner to a title with 1,815 rushing yards, 508 receiving yards and a whopping 31 combined touchdowns. In addition, LT was 8-for-12 passing over his career with seven touchdowns and a 146.9 QB rating!

LeSean McCoy – McCoy is as elusive as Tomlinson and has great hands, but isn't quite the touchdown machine. Still, he's accumulated almost 9,000 rushing yards and 73 touchdowns in eight seasons. He'll need a couple more big seasons in Buffalo to have a good shot at the "Hall" but given he's the Bills' best weapon that shouldn't be an issue as long as he stays healthy.

David Johnson – The Cardinals wasted his first season, trying to make him an all-purpose guy, but figured it out in 2016. Johnson's 1,239 rushing yards, 879 receiving yards and 20 touchdowns puts him in elite territory. His stated goal for 2017, a thousand yards rushing and receiving, is surprisingly not an unreasonable target.

3) Kurt Warner – HOF: The story of the grocery-store bagger at the Hy-Vee in Cedar Falls, Iowa to Super Bowl winning quarterback in 1999 is well known. He was the "field general" for the "Greatest Show on Turf," but in actuality he was pretty inconsistent after his three-year explosion from 99-2001. From 2002-06 he was a ghost before reviving his career in the Arizona desert for his final three seasons.

Eli Manning – He may be the third-best quarterback in the Manning family, but Eli has two Super Bowl rings to lord over father Archie and equal to his more famous brother Peyton. Over the past eight seasons he's averaged 4,199 passing yards and 28 touchdowns. He'll crack the 50,000-yard career passing mark this season and with the best group of receivers he's ever had (Odell Beckham Jr., Brandon Marshall, and Sterling Shepard), if the offensive line holds up he could post career-best numbers in his 14th season.

Jameis Winston – Of the quarterbacks with three-years or less experience, I give Winston the edge over Derek Carr as the most likely to produce Hall of Fame numbers. I was a non-believer after his disappointing final season at Florida State, but I was wrong. He should be even better in his third season with the addition of deep-threat DeSean Jackson and rookie tight end O.J. Howard to go along with elite pass catcher Mike Evans. Four-thousand yards passing seems a given and if he'll use his big body to score touchdowns as he did in his rookie season (unlike last year), and his favorable schedule, he could post top-five QB fantasy numbers in 2017.

4) Morten Andersen – HOF: Andersen was one of the most accurate kickers in history, but he was helped by kicking indoors for most of his career. However, 25 years of kicking in the NFL is a mark not to be trifled with as is his 79.7% field goal accuracy.

Adam Vinatieri – Vinatieri is beginning his 22nd season in the NFL and has an 84.3% accuracy rate on field goals despite playing his first 10 seasons in the cold and windy conditions of New England. He has enough Super Bowl rings to open any doors, including Canton.

Justin Tucker – In today's game there is no better kicker with the game on the line than Justin Tucker. Through his first five seasons he's connected on 89.8% of his field goal attempts and all 166 extra points. He was 10-for-10 on 50-yarders last season too, so it's not just short kicks that he's making. Just 15 to 20 more seasons of this and his trip to Canton is assured.

5) Kenny Easley – HOF: Easley was the 1984 Defensive Player of the Year, an All-Pro three times and a member of the NFL's All-Decade Team of the 1980s for the Seattle Seahawks, but his career was shortened by a kidney ailment.

Kam Chancellor – Another Seahawks safety, Chancellor, is following in Easley's footsteps. In six seasons, Chancellor has already made four Pro Bowls as a strong safety and is one of the leaders of an elite Seahawks defense. It's not a coincidence that the Seahawks defense has ranked No. 1 in points allowed in four of his six seasons and top-seven in all six after finishing 25th in the three seasons before he arrived.

Landon Collins – The Giants selected Collins in the 2nd round of the 2015 draft (No. 33 overall) and it's looking like he was the "steal" of the draft. Collins made his first Pro Bowl in 2016 and was first team All-Pro. He posted 125 tackles, four sacks, five interceptions and a fumble recovery. He is a big part of the reason the Giants went from 27th in points allowed in 2015 (27.6 ppg) to second last season (17.8 ppg).

6) Jason Taylor – HOF: Taylor's 139.5 sacks rank seventh in NFL history. His six fumble returns for touchdowns rank first. Said Tom Brady in recommending Taylor (Taylor sacked Brady 11.5 times) – "He was an explosive, athletic player, but it was his fierce tenacity that made him one of the league's most dominant defenders for 15 seasons."

Cameron Wake – His name doesn't come up as often as Ndamukong Suh or Jadeveon Clowney, but Wake sacks quarterbacks a lot more often. He's accumulated 82.5 sacks in eight seasons and that's despite only playing four games in 2015 (he had seven sacks in those four games!). He's finished top-10 among linemen in fantasy four times.

Aaron Donald – He's the leader of the Rams defense averaging nine sacks in his first three seasons and 17 tackles despite always being double-teamed.

7) Jerry Jones – HOF: A former offensive lineman at Arkansas for Hall of Fame coach Frank Broyles, he turned billionaire oil man and "real life" fantasy GM of the Dallas Cowboys. In truth, he's only been a good GM when he brought in his former Razorbacks teammate Jimmy Johnson to run things. It was Johnson along with Troy Aikman, Emmitt Smith and Michael Irvin who brought on-field success to the Cowboys. They haven't played in a Super Bowl since 1995. However, Jones has made Dallas and helped the NFL become a monster financial success.

OK, there is no other NFL owner who reminds me of Jones. The Yankees' George Steinbrenner was a more successful version of Jones as a "hands-on" owner.

---
Steve Schwarz served as the fantasy sports editor of The Sports Network and is the 2014 FSWA Football Writer of the Year.