Dynasty League Updates

11/2/07



This space will be a semi-regular feature at FF Today and will look to explore, speculate, and keep people interested in up and comers in the NFL who may be or may not be well known in dynasty league circles. I'm not guaranteeing anyone to become the next star, but merely helping the reader to keep abreast of developments that could affect your dynasty league rosters this season and beyond and perhaps even help you discover unknowns who could become known quantities down the road.

The Passers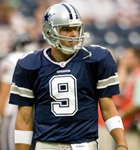 Tony Romo is staying in Dallas after signing a 6-year $67 million contract this week to play for the Cowboys. While it was likely inevitable, it is welcome news for his dynasty owners. Terrell Owens and Terry Glenn are aging, but the Cowboys have some nice young talent on offense in the form of Marion Barber III, Jason Witten, Patrick Clayton and Sam Hurd to surround Romo with for the next couple of years. Romo will likely enter next season as a top-5 QB in fantasy football circles.
The Kellen Clemens era will begin in Week 8 at the Meadowlands. The struggling New York Jets have named Clemens as their starting QB replacing veteran Chad Pennington, making Clemens a great add in dynasty leagues where he is not yet on a roster. The former Oregon Duck has a lot of Pennington's intangibles, but has a much stronger arm. This should open up the playbook for the Jets to attack downfield. The youngster has played well in preseason and was impressive in leading the Jets to a near comeback against a tough Baltimore defense in Week 2—foiled only by two Justin McCareins drops on sure TDs. He will be surrounded by better than average skill players in Thomas Jones, Leon Washington, Laveraneous Coles, Jerricho Cotchery, Chris Baker and Brad Smith and will likely throw a great deal given the poor team defense. The Jets coaching staff needs to evaluate the young QB to see if he's the future, so his opportunities will be plenty for a fantasy owner to keep him. He'll grow behind a young o-line and could be a surprise top 10 QB in 2008.
Will Brady Quinn owners see a return on their rookie draft investment in the near future? Derek Anderson has raised a lot of eyebrows in Cleveland this year turning the Browns into an offensive force and trails only Tom Brady in TD passes with 17. Anderson throws well and isn't afraid to get the ball to the Browns' two best weapons, Edwards and Winslow, even in tight coverage. Don't be surprised if the Browns follow the Chargers' lead and franchise Anderson for at least one year before turning the reigns over to their quarterback of the future.
Week 10 should see the start of the John Beck era in Miami following the bye week. Coach Cameron has been non-committal, but the 0-8 Dolphins have little to play for and might as well see what the rookie brings to the table while letting him gain valuable experience under center.


The Runners
If you read the last installment of this FFToday feature, you may remember that I told you to keep an eye on Green Bay's Ryan Grant. The former Notre Dame runner got his chance against the Denver Broncos after DeShawn Wynn left the game with a shoulder injury following his one carry, and just may stop the merry-go-round in the Packers' backfield. HC Mike McCarthy has already named Grant his Week 9 starter against Kansas City. Grant ran with reckless abandon Monday night and gained 104 yards, albeit against a poor run defense. While Grant is not quite as big as Brandon Jacobs, (he's 220 lbs.) he has the same upright and punishing style as the back he spent training camp with. The Packers have made due successfully with no name tough RBs like Edgar Bennett and Dorsey Levens in the past, so Grant could be a great add to your dynasty roster. If he continues his success in 2007, he may end up being featured in 2008.
The hardest name in the NFL to pronounce no longer belongs to T.J. Houshmanzadeh, now that the Houston Texans have activated Adimchinobe Echemandu from their practice squad. The former draft pick of the Browns also spent time on the Raiders bench and he was actually the first of a long line of talented backs to play for California—Arrington and Lynch followed in his footsteps. He has a great build for a RB at 5'11", 225 lbs. and showed a pretty nice combination of speed and vision while amassing 73 yards on 12 touches last week against a tough Chargers' defense. He has nice hands out of the backfield and even lined up at wide receiver in some games during his college career. With Ahman Green banged up and Ron Dayne proving ineffective, Echemandu could see some heavy work in the upcoming weeks. With Coach Kubiak being a disciple of Mike Shanahan, you know he would love to "create" the next big RB from out of nowhere.
Raiders' coach Lane Kiffen has stated Michael Bush should be removed from the PUP list and activated shortly. While he's not likely on any waiver wires, it will be interesting to see how much power he is able to run with after his long recovery from a serious broken leg. If he looks good down the stretch it's a pretty safe bet he'll be Oakland's starting back next season.
Shaun Alexander has looked all of his thirty years of age in 2007. Alexander is running as if he is afraid of getting hurt and its looking like the Hawks would be better off going in a different direction. Maurice Morris has shown that he is not capable of being a feature back and while the coaching staff seems to like Leonard Weaver and he has shown to be an elusive back, I don't think an aging Seattle team will hand Weaver the job in 2008, if Alexander is indeed put to pasture. My guess is that they sign one of the prominent free agent backs who will be available in 2008, a group which will include Chris Brown, Julius Jones, and Michael Turner.
Since we speculated earlier on the Cleveland QB situation for 2008, what of the RB situation? Jamal Lewis is only signed to a one year contract and except for a miraculous game against the Bengals, who field a JV defense, has not looked good at all. Jason Wright and Jerome Harrison seem much better suited for the Cleveland offense. Wright was the fill in starter for Lewis for a couple of games and put up over 100 total yards against New England and combined for 99 yards and a TD against Miami. Meanwhile, Harrison who was drafted out of Washington State last year has gained over 100 total yards in his last two contests coming off the bench. Wright likely occupies a roster spot on someone's team already. I'd take a chance on Harrison as he could be available in a lot of leagues and while he isn't huge at 5'10", 199 lbs. he runs with enough power and shiftiness to have success behind a young improved o-line, supported by one of the league's top passing games.

The Pass Catchers
Derek Hagan is starting to receive prominent looks in the Miami passing game and is starting to look like a capable #1 WR at the NFL level. Contrary to his reputation as having bad hands, he seems to catch the ball quite nicely away from his body and has very good body control and awareness. By now everyone knows that the Dolphins have sent Chris Chambers packing, but the presence of veteran Marty Booker and the fact that Miami spent an early first rounder on Ted Ginn, Jr. – who grabbed a pretty impressive touchdown reception in London - has left Hagan a little under the radar so far, as he has yet to put up gaudy numbers. If he's available, take a look.
Maurice Stovall, a prototype WR physically at 6'5", 222 lbs, finally got his chance, due to a Michael Clayton injury, and hauled in 5 catches for 47 yards. While not particularly fast, his tremendous height and leaping ability should make him a tough cover for most corners, especially in the red-zone - he caught 11 TDs during his senior year at Notre Dame. Stovall further makes up for his lack of high end speed with his route running skills and soft hands. Michael Clayton has still been unable to recover his rookie form and Galloway and Hilliard are getting close to AARP membership, so Stovall could play a big role for the 2008 Buccaneers.
Two second year WRs who are converted college QBs should be on your radar. St. Louis Ram Marques Hagans has been getting some playing time, with injuries to Isaac Bruce and Drew Bennett creating opportunities, and had a season high 5 catches for 74 yards in week 6. New York Jet Brad Smith who as a rookie was used mostly as a "slash" type player has moved past Justin McCareins on the depth chart and is being used as the #3 WR for the Jets. Smith should take advantage of Clemens' big arm and has shown great playmaking ability. He made a very nice leaping catch for a TD against the New York Giants in Week 5.
Rookie TE Brent Celek has been getting some time behind Matt Schoebel in the Philadelphia offense with LJ Smith being mostly out of the lineup for the Eagles. After catching 13 balls for 143 yards in the preseason, he has caught only 6 for 53 yards in the regular season but has gained valuable experience. LJ Smith is a FA this off-season and if the Eagles go into rebuilding mode and deal off McNabb they may just pass on resigning the oft injured Smith creating a role for Celek to be a big target for Kevin Kolb.