Dynasty League Updates

10/9/07



This space will be a semi-regular feature at FF Today and will look to explore, speculate, and keep people interested in up and comers in the NFL who may be or may not be well known in dynasty league circles. I'm not guaranteeing anyone to become the next star, but merely helping the reader to keep abreast of developments that could affect your dynasty league rosters this season and beyond and perhaps even help you discover unknowns who could become known quantities down the road.

The Passers

This offseason I wrote an article which labeled J.P. Losman as a good buy low candidate in dynasty leagues – my other quarterback candidate was Rex Grossman (Holy bad advice Batman, but please keep reading anyway). I thought J.P. had shown vast improvement in 2006 and had the moxie necessary to be the leader of an NFL offense. However, Losman regressed at the start of 2007 and really struggled in his first three starts, albeit against some very tough pass defenses. His week 3 injury opened the door for Trent Edwards who looked a little overmatched against New England but showed enough physical talent to leave one wondering if he could keep Losman at bay. In Week 4 against what has been a struggling New York Jets defense, the rookie showed that the cheap shot Losman took from Vince Wilfolk could be a blessing in disguise to the Buffalo franchise. Edwards showed incredible poise, arm strength and accuracy in his first NFL start. He threw for 224 yards and a TD (with an interception) and completed a remarkable 22 out of 28 passes. FF Today's Matt Waldman called him the second best QB in the 2007 draft class, and this week's performance was certainly a great start to having that that evaluation become a reality.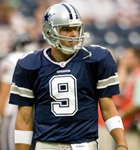 Tony Romo is making himself quite a bit of money with his play so far this season (despite last night's performance). It is well known that he entered this season without being offered an extension to his rookie contract and would therefore be auditioning in 2007 for the role of future franchise quarterback in Dallas. I think nearly 1,200 passing yards and 11 TDs to only 3 interceptions after 4 starts is getting owner Jerry Jones' attention. It is very likely that he'll end up staying in Dallas and at this point he has me convinced he can excel anywhere - as Terrell Owens was an afterthought on a day where Romo put up 339 yards and 3 TDs through the air (while also rushing for a TD) - but it still bears keeping an eye on his contract situation this offseason.
Could Kevin Kolb be starting in Philadelphia this season or at least by next season? Donovan McNabb looked like the old McNabb in week 3, but looked more like McCown during the other three weeks. The Eagles now sit at 1-3 and while rookie hater Andy Reid will be hesitant to make a move to Kolb, if the current trends continue it will get interesting in Philadelphia later in the season. McNabb continues to be a lightening rod for controversy and due to his injury recovery lacks the lateral movement that helped him buy time to make throws in the past. Kolb has already surpassed incumbent AJ Feely on the depth chart and there were rumors that the front office was looking to trade McNabb during this past offseason. McNabb may find himself leading another team and facing Kolb's Eagles somewhere down the road.

The Runners
What a mess the Packer's backfield has been. It's likely caused a huge headache for redraft and dynasty owners alike, but dynasty owners must also consider the long-term ramifications as well as the current season's conundrums when assessing carries in Green Bay. Rookie Brandon Jackson has struggled mightily and his carries have dwindled as a result. He lacks the ability to consistently run inside, and doesn't block well enough to help out on third downs. Right now he appears to be no more than a "change of pace" back at this level. DeShawn Wynn has at times looked like a decent prospect but probably lacks the breakaway speed and quickness to be a long-term feature back. I was impressed by the way he ran against the Giants in Week 2, as he showed some speed and used his size well, but I must admit his most impressive runs came after the Giants defense had clearly given up on that game. The nagging injuries which almost caused him to be a training camp casualty reared their head the following week when he pulled himself out of the San Diego game with a sprained ankle and he was less than impressive against a tough Minnesota run defense (2 ypc). Vernand Morency is back in the mix, but injuries have always been a concern with the former OSU Cowboy. He seems like the best bet to contribute this year, but his long term prospects aren't encouraging. Keep an eye on second year player Ryan Grant. The 220 lb. former Golden Domer had a nice college career splitting carries, followed by an impressive combine, but he missed the entire 2006 season with injury. He showed nice ability in the preseason for the New York Giants but the numbers game in NY forced a trade to Green Bay prior to the start of the season. He has impressed the coaching staff and could be next in line for carries if Morency doesn't make it all the way back. However, it's very likely that the future feature back in Green Bay isn't currently on this year's roster. Perhaps a Michael Turner signing is in the cards.
Brian Leonard got the opportunity to show his "leap" with Stephen Jackson tearing his groin (it hurts just writing that phrase). His stats were pedestrian in his first NFL start, but the Cowboys took it to St. Louis - as was expected by all but Isaac Bruce - limiting the rookie's chances in the running game and the Rams passing game continued its stagnant 2007. In what looks like a down season for the Rams, fellow rookie, and Saints castoff, Antonio Pittman might get the chance to showcase his abilities, at the expense of veteran Travis Minor, while Jackson remains sidelined in the upcoming weeks.
Deuce McAllister is now lost for the year in New Orleans, in what is quickly becoming a lost season in "Chocolate City". Pierre Thomas is a big bruising back from Illinois that impressed the coaching staff enough during training camp that the aforementioned third round pick Antonio Pittman was let go. While most assume journeyman Aaron Stecker will get the carries that don't go to Reggie Bush, don't be surprised if Sean Payton unleashes another "no-name" rookie on the NFL this season.
Former Florida Gator Earnest Graham has looked good in limited action in the past but now will be a bigger part of the offense in Tampa Bay. Injuries to Cadillac Williams and Michael Pittman have opened the door for Graham. Graham had two TDs and 75 yards on only 8 carries in week 3 and scored again in week 4. While he isn't the raw talent that Williams is, some guys just seem to get the job done when they are out on the field. This could be Graham's chance to secure a longer-term role in John Gruden's offense with Williams' career in doubt. Caddy's injury further creates room for former Alabama RB Kenneth Darby who was sent to the practice squad after a nice preseason, and is expected to be recalled by Tampa to provide depth. If Graham struggles in an expanded role, Darby could be the beneficiary if he shines during his limited opportunity. As is, look for Darby to see some spot third down duties in order to keep Graham fresh in his "feature" role.
Cedric Benson has not exactly seized the opportunity afforded to him by the Thomas Jones trade. He has averaged a paltry 3.2 yards per carry and has only found the endzone once in 2007. He looks sluggish running the ball and unlike last year does not seem to pick up yards after contact. Tiny rookie RB Garrett Wolfe may be able to spring some much needed life into a stagnant Bears offense that did not gain much from Rex Grossman's benching. Wolfe is signed to a six year rookie contract and the Bears may want to see if they have the next Warrick Dunn or next Quentin Griffith on their hands if their Super Bowl hangover continues.

The Pass Catchers
Shaun McDonald has seemingly passed Mike Furrey as the #3 WR in Detroit, at least in the boxscores, if not on the depth chart. He has already scored three times on the season and has caught at least 5 balls in all but one week. As long as Mad Mike Martz continues as the OC in Detroit (and there has been no talk of him ever landing another head coaching job), the #3 and/or #4 WR in the Lions offense should attract one's attention. McDonald seems to always be stuck behind impressive talents - in St. Louis he toiled behind Bruce, Holt and Curtis and now has to deal with Williams, Johnson and Furrey - but he's starting to make a name for himself in Detroit. By now he's been scooped up in almost all but the shallowest dynasty leagues, but you may want to see if he can be pried away cheaply by playing up his WR4 status.
John Madsen is a wide receiver who the Raiders are attempting to convert to TE and he has looked pretty good catching passes in the much improved Oakland offense. With rookie Zach Miller also performing relatively well, Madsen isn't worth a roster spot in most leagues yet, but keep an eye on him. Having TE status in some leagues gives a boost to his value and could really help out owners in a bind at TE. He should be able to create mismatches with his speed when he lines up at TE and could see some big gains with teams more concerned about the other weapons in Oaktown.
What's that, the Carolina Panthers have a legitimate fantasy TE? No, Wesley Walls has not left the couch to return to the field, but Jeff King has been a major contributor to the Panther's passing attack. With Steve Smith being the focus and no true #2 WR for Delhomme or Carr to turn to when Smith is covered, King has been a nice option in the middle of the field. He'd make a nice addition to your roster as a backup TE and could be a nice long-term solution as he improves his route running. It's possible that in a couple of years he could be in the mix with names like Witten, Winslow and Miller near the top of TE rankings.
Rookie Dwayne Bowe is getting all the hype in Kansas City as many are calling him the "2007 Marques Colston" but quietly Kris Wilson, who has been the heir apparent to Tony Gonzalez in KC for four years now, is starting to contribute in the passing game. Tony Gonzalez cannot play for ever, can he? Wilson makes a nice addition in leagues with very deep rosters as he could be a starting TE for your squad if Gonzalez went down this season and he has a nice long-term outlook. Its possible that Gonzalez could be a cap casualty in the near future if the Chiefs decide that its rebuilding time and they can't afford the high price tag attached to their aging declining TE at that point Wilson's value would sky rocket.