Nobody needs to be told starting Aaron Rodgers, Arian Foster, or Calvin Johnson is a good idea. Duh, right? You can't have studs at every position, though, unless you're in the shallowest of leagues. This is where the Shot Caller comes in. Need help deciding which bargain basement QB to use and which to ignore on Rodgers' bye week? Let's talk. Looking for solutions at running back because Foster is a game-time decision? Look no further. Need to know which of your unproven targets to start and which to sit since you ignored Megatron and went RB-QB-Gronkowski in your first three rounds? I'm your huckleberry. Past results may not guarantee future success, but I believe ignoring them entirely can ruin your Sundays in a hurry. Read on for a little history and, hopefully, a little sage advice.

Note: Fantasy points based on FF Today's default scoring system.
Bye Weeks: Baltimore, Buffalo, Cincinnati, Houston

Grab a Helmet

Brandon Weeden v. SD: I doubled down on Weeden in Week 7 and he didn't disappoint, tossing for 264 yards and a pair of TD strikes in the narrow defeat at Lucas Oil Stadium. The performance marked the sixth consecutive time he's notched more than 15 fantasy points (Week 2 through the present). Here's a short list of quarterbacks who have failed to sustain that same level of consistency in 2012: Aaron Rodgers, Cam Newton, Michael Vick, Robert Griffin III, Tony Romo, and Andrew Luck. Surprised? Granted, 15 points is more "serviceable" than "superb," but it's enough to get the job done when you're grinding through the bye weeks. Is Weeden on par with the aforementioned hurlers? Definitely not. Is he as far behind them as most people think? You already know how I'd answer that one. Let it ride with Cleveland's other, less celebrated rookie this Sunday against the Bolts.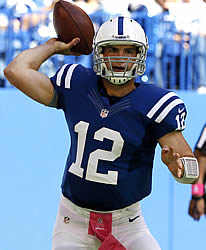 Good news for Luck: The Titans have allowed 16 passing TDs this season.

Andrew Luck @ TEN: Not that you'd rather have Weeden than Luck under center on a regular basis. Let's not get crazy here. The latter has a much higher ceiling. He throws the ball more often (though he's been less accurate so far). He's got better receivers. He's also uncannily adept when he tucks the leather and runs (TWO rushing touchdowns in last Sunday's victory). Add to all that a juicy matchup against the unusually permissive Tennessee defense this weekend and you've got the definite makings for a huge fantasy performance from Stanford's former great. Luck's certainly due for one of those as he hasn't thrown a touchdown pass in two consecutive starts. Expect at LEAST a couple of those in this matchup as the Titans are yielding more than two per contest thus far and 16 total on the year, tied for worst in the league with Washington and...

Sam Bradford v. NE (in London): …New England, Bradford's across-the-pond opponent for Week 8. I'm not sure how the NFL decides which teams to pit in these UK games, but if they were shooting for totally resistible force v. extremely moveable object, they couldn't have planned much better than Bradford v. the New England secondary. The former has struggled for most of the season, posting three TD-less performances and only two 20+-point fantasy efforts through seven games. Not to be outdone, the Pats are giving up nearly 300 passing yards per tilt in addition to those two-plus passing TDs per outing. So who wins this seeming battle of futility? Tom Brady and his explosive offense, of course. Oh, and anyone who owns Bradford, I suspect. After all, Mark Sanchez threw for 328 yards against the Pats' dubious stop unit last Sunday. Give the pride of Cherokee Nation a look.


Grab a Clipboard

Cam Newton @ CHI: Despite the fact I pegged him as a likely sophomore slumper back in August, I've only recommended a sit-down of Newton once this season. Naturally, that was the week he posted his best numbers of the season (v. Atlanta in Week 4) and also the only week in which he threw for multiple TDs. What's the moral to this story? Newton is definitely slumping (pat on the back) but you always run the risk of missing out on huge numbers if you opt to set him down (slap to the forehead). I think that's a risk worth taking again in Week 8, by the way, as the Panthers travel to the Windy City for a showdown with a very hot and very confident Bears team. The Chicago defense is making great quarterbacks look average and average quarterbacks look bad this season. I'm not sure which type Newton is on a week-in, week-out basis, so give him a ballcap and a headset if you've got some QB depth.

Brady Quinn v. OAK: We know which type Brady Quinn is (WELL below average) and the only real mystery is why Romeo Crennel doesn't see the same thing. Quinn got the surprise nod over a convalescing – but healthy enough – Matt Cassel for Week 8 and will face the Raiders in his second start as a Chief. Here's how that first one went against Tampa: very, very poorly (180 yards and two interceptions). Oddly, Crennel made a similar decision way back in 2008 when both he and Quinn were with Cleveland, tapping the former Golden Domer to make his very first NFL start in place of a struggling Derek Anderson. Quinn didn't win that one either and has, in fact, won only THREE games as an NFL starter in five-plus seasons. At this rate, he'll catch up with Brett Favre on the career wins list when he's about 390. Unless he's the only QB on your roster who's playing…and why is he on your roster again?

Josh Freeman @ MIN: Call me a contrarian (you wouldn't be the first) but I'm still not buying Freeman as an automatic start despite three excellent performances in a row. He's averaging just shy of 350 yards and more than a couple scores per game his last three contests and is coming off by far his best career outing, a 420-yard, three-touch explosion against the Saints (it could well have been four TDs). Nevertheless, he faces a Minnesota defense in Week 8 yielding just 6.4 yards per pass attempt this year, good for 8th in the league. The three opponents he just lit up – Washington, Kansas City, and New Orleans – rank 27th, 31st, and 32nd, respectively, in that same metric. Perhaps it's a chicken or the egg argument (are they bad because they faced Freeman or is he good because he faced them?) but I've got a hunch the big Buc hits a speed bump at the Metrodome on Thursday night. Sit him down if you have comparable options at the position.

Running Backs