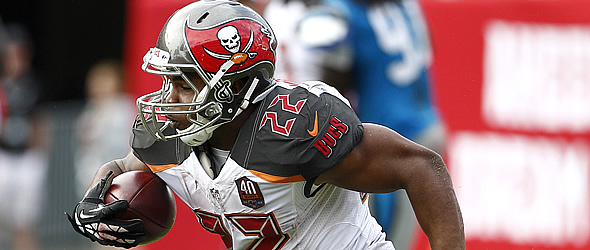 Fantasy owners expecting a repeat performance from Tampa's leading rusher may be disappointed.
QB Jameis Winston
(2015 QB Rank – No.13, 13.7 FPts/G)
Tampa Bay placed 22nd in the NFL for passing attempts in Dirk Koetter's first year as head coach last season. As the OC for three years prior in Atlanta, Koetter's offense never placed below eighth in that same category. History suggests that Koetter will ramp up the passing game, allowing Winston to have more opportunity to be a fantasy force in 2016. Winston is fresh off his first Pro Bowl selection and has come into camp lighter and hungry to take the next step. He already has a bona fide number one wide receiver in Mike Evans at his disposal and a healthy Charles Sims gives the team two quality dual threat options out of the backfield. Adding more fantasy appeal to Winston is the buzz surrounding the offense using more of the no-huddle this year. A faster pace would make sense considering the youthfulness of Winston's supporting cast. The FSU alum's ability to elude defenders cannot be ignored either. He won't be expected to lead the team in rushing like Cam Newton, yet his rushing capabilities should yield results similar to Aaron Rodgers. There are plenty of other established or flashier fantasy quarterbacks to choose from on draft day but the potential return on investing in the Bucs' second year signal caller is too much to overlook. He is currently being taken outside the top 15 at the position despite throwing for over 4,000 yards as a rookie and scoring a combined 28 touchdowns. Expect his draft stock to rise as the preseason moves along.
RB Doug Martin
(2015 RB Rank – No.6, 10.0 FPts/G)
Tampa Bay leaned on their rushing attack a year ago to reduce the pressure on their rookie quarterback and Doug Martin responded by finishing as the sixth most productive fantasy running back. His 288 carries were more than everyone not named Adrian Peterson. His effort was rewarded with a new contract extension that guarantees the 27-year old tailback $15 million. That being said, fantasy owners simply expecting a repeat performance from Tampa's leading rusher may be disappointed. The Bucs offense figures to become more balanced in 2016 and backup Charles Sims will have a significant role in an effort to help reduce the workload on their plow horse. Additionally, many investors may have lingering injury concerns after Martin's two-year dry spell prior to last year's rebound. Adding it all up leaves Martin's true fantasy value outside the top six rushers but not quite out of the position's top fifteen options.
RB Charles Sims
(2015 RB Rank – No.19, 7.4 FPts/G)
Tampa Bay was finally able to deploy Charles Sims on a regular basis after taking him in the third round two years ago. The results were impressive as he was able to post over 1000 combined yards from scrimmage with a handful of touchdowns. Once a unique type of player that was tougher to evaluate, guys like Sims are becoming more and more popular options for fantasy managers due to their mid-round price tags and upside potential in a landscape that saw only five running backs eclipse 250 carries in 2015. His role in the offense isn't limited to true backup duty but rather a versatile weapon to be deployed as needed. He should continue to develop into a Darren Sproles-esque talent for fantasy owners to exploit as a RB3/flex option regardless of whether Doug Martin is healthy. If others in your league want to cast him off due to Martin's new deal be ready to pounce on him in the middle rounds where he is almost assuredly going to return a profit in 2016.
RB Mike James
(2015 RB Rank – N/A)
James is hanging around due to the departure of Bobby Rainey as the team's third string runner. The team lost confidence in James due to ball control problems and eventually released him shortly after the 2015 season began. He eventually worked his way back onto the roster but he never saw the field. James will be amongst a rather unimpressive group of tailback options that includes Storm Johnson, Dan Vitale and undrafted free agent rookie Peyton Barber. Johnson has never proven himself as a capable backup in the NFL and makes this battle rather dull for fantasy purposes. A rookie sixth-rounder from Northwestern University, Vitale is slotted for a hybrid H-back type of role. Those types of players are extremely inconsistent and won't offer much promise to the fantasy community in 2016. Meanwhile, the five-foot eleven-inch rookie Barber could become a worthwhile project for the team to develop if he can make the team out of camp.
WR Mike Evans
(2015 WR Rank – No.28, 9.5 FPts/G)
Mike Evans was a relative fantasy bust in 2015 after finishing outside the top 25 at his position despite being taken as a borderline WR1. However, the underlying numbers suggest he continued to make strides in his second season as a pro and could have easily lived up to lofty expectations if not for a lack of touchdown catches. Although he did miss a couple of games and the number of drops (11) was concerning, his targets, receptions and receiving yards all increased from his rookie campaign as he produced like a WR1 in every other way. Evans remains the undisputed top receiving threat in this offense and should continue to see his target totals trend upward. The fantasy community continues to show strong interest in Evans and this offense by making the towering wideout the tenth receiver off the board. Those owners who feel his touchdowns will correct themselves will gladly snag him in the second round.
WR Vincent Jackson
(2015 WR Rank – No.66, 7.1 FPts/G)
Jackson fell off a cliff a season ago after playing in only ten contests and catching a paltry 33 receptions. He will be back to play opposite Mike Evans in Dirk Koetter's offense but the 33-year old veteran has seen his targets per game decrease over the past two years. Of course this coincides with the emergence of Mike Evans as the team's most dangerous offensive weapon on the outside. Nonetheless, there will be a sentimental value placed on Jackson in deeper formats as he can still be a quality flex option most weeks. The team has started to look for younger receiving options; however Jackson is entrenched in a starting role so long as he remains healthy throughout the year.
WR Donteea Dye
(2015 WR Rank – No.132, 2.3 FPts/G)
The Bucs have a slew of options to round out the depth chart at the receiver position and the final order isn't going to be decided until we get closer to the regular season. Donteea Dye got a long look towards the end of the 2015 season due to the time missed by Vincent Jackson. It is tough to take much stock in a young player playing on a bad team late in the season but the experience should give him a narrow edge at the outset of this battle. Louis Murphy is coming off an ACL injury and will be working his way back into the mix. Kenny Bell is yet another option vying for playing time in the slot after being selected in the fifth round of the 2015 draft. Nobody from this group looks destined to become a fantasy contributor yet the path to playing time may present itself if Jackson winds up back on the sidelines during the year.
TE Austin Seferian-Jenkins
(2015 TE Rank – No.29, 8.1 FPts/G)
Austin Seferian-Jenkins is one of several promising tight ends for fantasy owners to consider later in drafts. His inability to stay on the field for a full slate of games makes him a risky option as a TE1. As the offense continues to grow in its second year with Jameis Winston under center, there is a reasonable expectation that the Bucs will utilize their athletic tight end more effectively in the passing attack. This is especially true considering the team's lack of depth at the receiver position. Nevertheless, he has also been a source of frustration to the coaching staff which could lead to less playing time if he doesn't resolve his issues prior to the season. Keep an eye on his targets early on to get a better idea as to his potential upside. It has been awhile since the Bucs ran out a top twelve fantasy TE on a weekly basis but they just might do that if they can keep Sefarian-Jenkins healthy in 2016. Cameron Brate's presence is sign of the short leash being placed on ASJ.