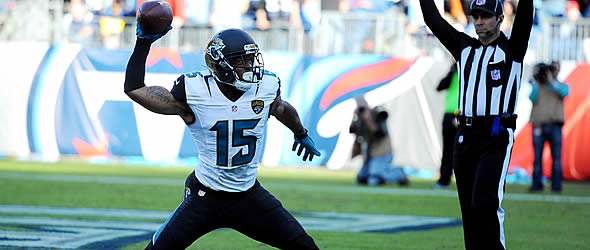 His TD total may suffer but Allen Robinson remains the most important player in Jacksonville's offense.
QB Blake Bortles
(2015 QB Rank – No.3, 25.3 FPts/G)
One of the absolute best values of the 2015 fantasy season, Blake Bortles showed obvious progress in his second year at the helm of the offense. His season was so good, narrowly finishing behind Tom Brady as fantasy's third best QB, that it is difficult expecting more improvement in 2016. In fact, regression seems almost inevitable when looking more closely at the situations that paved the way for Bortles to reach such lofty totals. After a year that saw the offense toss up 40 or more passes six times and its quarterback sacked a league leading 51 times, the team went out and bolstered the rushing game. Look for OC Greg Olsen to mix high-percentage passing routes with a more effective play-action scheme to leverage Allen Robinson's play-making ability down field. Any decrease in passing attempts will likely translate into a few less points this year but he the team should be more effective at moving the ball down field and creating scoring chances. He should be a solid QB1, but projecting another top five fantasy quarterback season from Bortles would be a bold move for 2016.
Chad Henne didn't hesitate to resign with the team after not playing a single down in 2015. At this point in his career he is more of a mentor than a true backup quarterback. Brandon Allen was drafted out of Arkansas and could develop into a worthwhile backup down the road.
RB T.J. Yeldon
(2015 RB Rank – No.28, 10.0 FPts/G)
The Jaguars believed T.J. Yeldon could finally give the team a running back capable of being a three-down workhorse after years of lackluster performances. Backing up their opinion, Yeldon averaged 15.2 carries and 3.8 targets per game per game as a rookie last season. If he hadn't missed four games due groin and knee injuries he would have finished as a low-end RB2 without scoring many touchdowns. Also helping Yeldon's cause was the team's flourishing passing attack. In 2014, the Jags averaged 16.9 first downs per game (29th in the NFL). That number improved to 19.6 in 2015 (20th) and another increase is likely as the offense's young core continues to improve. The more first downs the team can create, the more opportunities Yeldon will have to produce for his fantasy owners. Nonetheless, the team opted to bulk up its rushing game by signing Chris Ivory to five-year deal. It's hard to imagine the team pushing Yeldon out of a starting role after only one season. However, paying over six million dollars a year for a backup running back also seems out of place. Yeldon's touchdown upside is absolutely crushed with Ivory on the roster, but he showed last season he doesn't need to score to be an effective RB3 on weekly basis. If the two split carries, Yeldon will still rack up enough touches on passing downs and have a better shot at staying healthy for a full year to be a capable RB3 in PPR formats and FLEX option in most standard leagues. Nevertheless, this battle won't be settled until late in training camp which could easily change the forecast for each player. As an early eighth rounder in recent twelve-team drafts, Yeldon is going two rounds later than Ivory so the risk is certainly minimal for a guy who averaged over four yards per carry in his first year as a pro.
RB Chris Ivory
(2015 RB Rank – No.7, 11.8 FPts/G)
Despite Blake Bortles' ability to keep the team in games through the air last season, HC Gus Bradley knows a strong ground game is needed to have sustained success over the duration of a full NFL season. Establishing stronger depth at the running back position was an obvious area for upgrade this off season and the team responded by inking the 28 year-old former Jet and Saint Chris Ivory to a multi-year deal that covers what should be Ivory's prime years. The team was pleased with T.J. Yeldon's production in 2015 so the size of Ivory's role within the offense remains uncertain at the moment. His physical style provides more of a threat in short yardage and red zone packages. Those figuring on Ivory taking over as the predominant starter for touches may want to pull the reigns a bit. Until 2015, Ivory had never eclipsed the 200-carry mark. Additionally, over the final seven weeks of last year's regular season, Ivory only scored one touchdown while seeing over 15 touches just twice. If given the chance to ride the hot hand, Ivory will probably post a few big games but his overall value will be tied to whether he can consistently find the end zone.
RB Denard Robinson
(2015 RB Rank – No.71, 4.0 FPts/G)
After failing to inspire much confidence as a leading backup running back, Robinson will revert to being a versatile threat with only a minor role in the offense. He should be in the mix to handle kick return duties but doesn't bring enough upside to warrant a look unless injuries open the door for more opportunity. Beyond Robinson, the team doesn't have much to offer fantasy owners. Jonas Gray and Corey Grant are squarely on the roster bubble entering training camp.
WR Allen Robinson
(2015 WR Rank – No.4, 14.0 FPts/G)
Arguably the single most important player on Jacksonville's offense, Allen Robinson emerged as the "go to guy" whenever Jacksonville needed a big play. With nice size and speed, Robinson has all the skills necessary to sustain his elite production into 2016 and beyond. As the lead man for the Jags passing attack, he should be primed for another big year but his touchdown total may suffer do to the addition of RB Chris Ivory and better play from TE Julius Thomas. Even with a little regression Robinson's expected to continue to be one of the most consistent week-to-week wideouts across the league. Last season, the former Nittany Lion notched six 100-receiving-yard games and failed to produce double-digit fantasy points only four times. A minor hamstring injury popped up early this preseason so keep an eye out for any lingering effects once training camp begins. A lack of track record for him and his quarterback will make it tough for fantasy owners to make him a first rounder but he is fair game after the turn.
WR Allen Hurns
(2015 WR Rank – No.14, 10.9 FPts/G)
The Jags found a quality WR2 to play alongside budding superstar Allen Robinson and locked him into a four-year contract extension this off season. Not many players can turn 105 target seasons into double digit touchdowns but that is exactly what Allen Hurns was able to do in 2015. It would be a minor miracle if Hurns increases his role in an offense that is gearing up to run the ball more this season. Additionally, as a player who went undrafted just two years ago, Hurns may quickly become the third or fourth option in the passing game depending on how the team uses TE Julius Thomas and its running backs on third downs. Early ADP projections have been slow to digest the flukiness of his prior year stats, thus making him a reach as a fifth round selection in standard twelve-team formats.
WR Marqise Lee
(2015 WR Rank – No.110, 3.2 FPts/G)
Marqise Lee remains higher on talent than production. Injuries have prevented the former second round pick out of Southern Cal from reaching his potential but all indications are that he is fully healthy heading into training camp. He won't unseat Hurns or Robinson but could become a waiver wire gem if one of the starters missed a significant amount of time. Sophomore Rashad Greene and a band of other relative unknowns will battle for a roster spot or two behind the starters.
TE Julius Thomas
(2015 TE Rank – No.15, 6.3 FPts/G)
Julius Thomas never got going last year after a broken hand during the preseason play cost him the first four weeks of the regular season. He was still able to collect 80 targets on the year and had a better second half of the season. QB Blake Bortles met with Thomas over the off-season to try and figure out a way to get on the same page with his huge six-foot five-inch tight end. The injury risk and a deep tight end pool will still push Thomas towards the third wave of tight ends selected on draft day. Nonetheless, his prowess near the goal combined with a proactive approach by his quarterback to get him involved will have plenty of fantasy owners giving him a mulligan for a dismal 2015 campaign. Early reports form OTAs have already started to refuel the hype surrounding him and a healthy preseason should result in his ADP rising over the next few weeks. Marcedes Lewis re-upped with the team and will serve as Thomas' backup. Lewis' fantasy value is dormant after failing to catch at least 20 passes in each of the past two years.