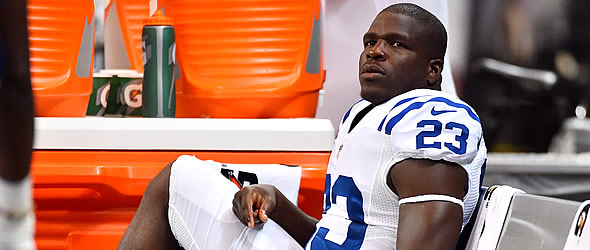 Is he an RB2 at 33 years old? Frank Gore has posted at least 250 carries in his last five seasons.
QB Andrew Luck
(2015 QB Rank – No. 27, 24.8 FPts/G)
Andrew Luck had a poor fantasy showing in 2015 due to injuries and an underperforming team. Nonetheless, the team is confident he can lead them to a championship and inked him to the largest deal in the history of one of the wealthiest sports on the globe. But the question remains, can Indy's face of the franchise return to the top of the quarterback rankings in 2016? In a relative down year, Luck's 24.8 fantasy points-per-game paced him alongside Russell Wilson and Carson Palmer as a clear cut top ten performer. Those choosing to support a full rebound from Luck this year, will see an offense that isn't fit to run the ball 30 times a game and quality options in the passing game. The interior line was reinforced when the team used its first round selection on the best center in the draft, Ryan Kelly. Simply put, the Colts will lean heavily on their quarterback's arm and legs to put points on the board.
On the outside, T.Y. Hilton leads a receiving corps that is young and emerging as one of the most explosive and dangerous in the league. The largest knock on Luck from a fantasy perspective is simply the influx of other talented quarterbacks to provide elite production. The evolution of the passing game within today's NFL has narrowed the gap between signal callers in the top three and those just outside of the top ten. The talent, scheme and weapons surrounding him give Luck a much higher ceiling than most fourth round draft picks so expect his ADP to rise slightly throughout the preseason.
RB Frank Gore
(2015 RB Rank – No. 11, 10.3 FPts/G)
Fantasy football is all about opportunity and Colts running back Frank Gore has a clearer path than many other running backs around the league. Time isn't on his side as he embarks on his twelfth year in the league at age 33 but he is easily the best rushing option on the team, including inside the red zone. The team was successful in keeping him effective and upright a year ago and optimistic owners should envision another 1,000 yards of total offense this season. The lack of quality options behind the veteran breathes more life into Gore's fantasy appeal but also gives the team more reason to be conservative with his usage. As the offense regains more consistency with a healthier Andrew Luck under center, Gore's scoring chances figure to improve to the point where he can finish as a mid-to-low-end RB2 in most formats. Still, the negative attributes associated with any veteran running back with over 2,000 NFL carries are present. A decline in his yards per carry (3.7 ypc) in 2015 wasn't helped by an underperforming offensive line but it also remains consistent with the typical career arc of running backs. Gore isn't likely to face-plant in 2016, but expecting another 250-carry season seems rather unlikely as well. Gore will be a boring pick that has a chance to be undervalued in drafts so look to gobble him up as a RB3 with low-end RB2 potential.
RB Robert Turbin
(2015 RB Rank – No. 90, 2.8 FPts/G)
A true lotto ticket for the 2016 fantasy season, Robert Turbin joins a Colts offense looking for redemption. Turbin was never able to distinguish himself as more than a backup while with Seattle and Dallas but he has another opportunity with Indianapolis, now entering his prime years. He has been productive in limited roles prior to joining the Colts and more of the same at the outset of the 2016 campaign is expected. Nevertheless, the team knows it cannot continue to lean so heavily on Frank Gore so Turbin will be given a good shot to earn more carries or even series or two each game. He is a moderate level handcuff and end game option for Gore owners assuming he holds off the limited competition during training camp.
RB Jordan Todman
(2015 RB Rank – No. 144, 2.2 FPts/G)
Jordan Todman gives the team a little more youthfulness for no huddle situations and passing downs but remains a long shot to provide any substantial fantasy contributions in 2016. Nevertheless his experience over the other options will likely give him the upper hand when cuts are made. Tyler Varga is an undrafted free agent holdover from 2015 that could sneak onto the roster with a quality showing during training camp. The dark horse to keep an eye on in the backup running back battle is Josh Ferguson, an undrafted free agent out of Illinois. He is a quick, open space runner in the mold of a Tavon Austin or Darren Sproles that would add another dynamic to the offense if he makes the cut.
WR T.Y. Hilton
(2015 WR Rank – No. 24, 8.9 FPts/G)
Coming off three straight seasons accruing over 1,000 yards receiving, T.Y. Hilton provides Andrew Luck with one of the best all-around wideouts in the league. He remains one of the more efficient pass catchers, piling up stats without elite target totals. The time missed by Luck hurt Hilton's overall production in 2015 but he shouldn't have any trouble returning quality WR1 value in 2016. He has never caught more than seven touchdowns so many fantasy managers will want to push him outside of their top 15 fantasy wide receivers. However, Hilton's receiving brethren are more explosive than ever before. Many receivers would see this as a slight decrease to their value, but having dynamic deep threats like Moncrief and Phillip Dorsett around will make it even tougher for defenses to flank the precise route running of Hilton. Reports regarding Hilton's motivation for the upcoming season from the team's OTAs have been glowing. If you believe that Andrew Luck is healthy and ready to regain his 2014 that saw him notch 40 passing touchdowns, you should also be buying into his favorite target where he is currently a small bargain as the 17th WR off the board.
WR Donte Moncrief
(2015 WR Rank – No. 38, 6.8 FPts/G)
Maturity not talent has been the barrier to Donte Moncrief's development as a pro. After seeing his role increase in each of his first two years in the NFL, Moncrief is expected to enter the year as the starter opposite T.Y. Hilton. His lightning fast start to the 2015 season included five touchdowns in seven games and put the league and Andre Johnson on notice. He will enter training camp recovering from surgery to alleviate turf toe but is already running and making cuts as he heads into training camp. Assuming he continues to recover without any setbacks and shows a nice chemistry with his quarterback, there isn't any reason that Moncrief can't earn a profit as a middle of the draft investment that performs like a top 50 player more often than not.
WR Phillip Dorsett
(2015 WR Rank – No. 107, 2.7 FPts/G)
Phillip Dorsett was not able to provide much help to the Colts or fantasy owners in his rookie season but that should change in 2016. He is third in the pecking order of receivers and has plenty of development ahead of him as a pro before even hoping to become a weekly fantasy starter. Nonetheless, he has "early days of Mike Wallace" speed that the Colts will want to get onto the field this season. Indy figures to feature more three receiver formations this year which should afford Dorsett just enough targets to be considered as a high risk, high reward flex option in deeper formats.
TE Dwayne Allen
(2015 TE Rank – No. 60, 1.4 FPts/G)
Indianapolis resigned Dwayne Allen and let Coby Fleener leave via free agency. The two moves leave the door wide open for the Colts offense to recapture the days when the team consistently produced one of fantasy's top tight ends. In order for the stars to align, Allen must hope the extra stretching he has incorporated into his off-season workouts will keep him healthy. Secondly, fantasy owners will need to track his target count closely. The lack of competition in what should be a very good passing game should yield career best target numbers for Allen (assuming a healthy season). The Colts targeted their TEs 128 times in 2015 and 168 times in 2014 yielding 82 and 98 catches respectively. If the former Clemson Tiger can score enough (6-8 TDs) he will provide TE1 numbers for next to nothing on draft day. Jack Doyle is a career backup type that could see an expanded role at some point considering Allen's injury history.