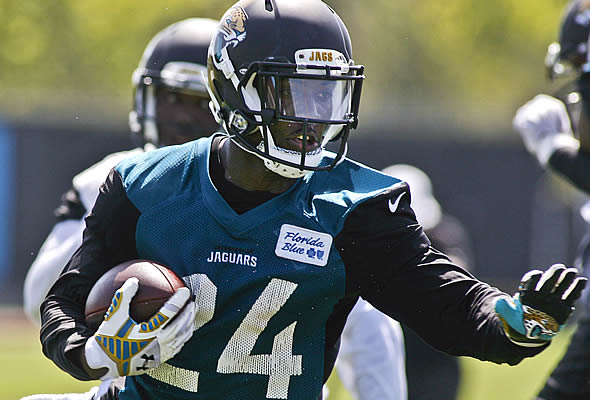 T.J Yeldon will need more consistency from the Jags offense in order to reach his fantasy potential.
QB Blake Bortles
(2014 QB Rank – No.21, 16.5 FPts/G)
Blake Bortles heads into the 2015 season as the undisputed starting quarterback but he will have to show more to convince fantasy owners he can guide them to a championship. The first quarterback selected in the 2014 draft surpassed a modest 250 yards passing in only three of his fourteen games played. His success will be determined by his ability to stay in the pocket and become a better pure passer first and a scrambler only when the play breaks down. The team continued to improve the personnel around Bortles in the off-season adding running back T.J. Yeldon through the draft and former Broncos tight end Julius Thomas in free agency. The continued development of a young receiving corps and backfield under new OC Greg Olsen will need to grow with Bortles for this offense to sustain any kind of worthwhile fantasy production in 2015.
Veteran Chad Henne remains with Jacksonville as the backup quarterback. With the team already expected to lean more heavily on the ground game, Henne would not be a viable option if asked to fill in for Bortles at any point of the season.
RB T.J. Yeldon
(2014 RB Rank – N/A)
Jacksonville is extremely high on their second round rookie from Alabama. With the front office and coaching staff already on his side, T.J. Yeldon has the inside track to the majority of carries for the Jaguars in 2015. New OC Greg Olsen wants to complement HC Gus Bradley's strong defense with a quality ground game. Doing so would take pressure off Blake Bortles and set up play action passes to its big receivers downfield. If Yeldon's advanced blocking skills translate into a starting role, it will be tough for fantasy owners to pass on a potential three-down running back in the RBBC era. However, Jacksonville has struggled mightily to produce a worthy fantasy running back since Maurice Jones-Drew's prime years. Adding further risk to Yeldon's fantasy star is the bevy of runners behind him on the depth chart and the bust rate of rookie fantasy backs.
RB Denard Robinson
(2014 RB Rank – No.34, 7.3 FPts/G)
Jacksonville loves what Denard Robinson brings to the table as a playmaker and change of pace running back. He finally produced in his second year after health issues caused him to miss most of his rookie campaign. He toted the rock 135 times and hauled in another 23 passes last season but probably won't see that many touches in 2015. The current plan calls for the former Michigan quarterback to see a handful of touches each game playing behind workhorse T.J. Yeldon. However, it wouldn't be surprising to see Robinson make it tough on the coaches with a strong preseason given his strong work ethic. Consequently, bargain hunters in deeper formats will want to keep an eye on this situation throughout the preseason.
RB Toby Gerhart
(2014 RB Rank – No.55, 4.5 FPts/G)
Toby Gerhart failed to deliver any kind of impact after being one of the main additions to the team a year ago. Suffering a foot injury in Week 1 to go along with mediocre blocking, he wasn't even a reliable option in short yardage situations. He'll be a depth piece heading into 2015 along with Storm Johnson who also failed to produce when given the opportunity. Jacksonville snagged former Raven Bernard Pierce off the waiver wire and added rookie free agent Corey Grant from Auburn during the off season. It seems Pierce has gone from a promising backup to journeyman within one calendar year. All of these guys should be motivated and the added competition will likely result in one of them taking a firm grip on the primary backup job.
WR Allen Robinson
(2014 WR Rank – No.69, 6.7 FPts/G)
The Jaguars entered 2014 with a question mark at the receiver position. Nagging injuries prior to and during the season delayed the development of promising youngsters like Allen Robinson. When healthy, Robinson showed fans and fantasy owners alike a glimpse of something special brewing in Jacksonville. Once Blake Bortles was inserted under center, Robinson averaged nine targets per game until his season was cut short with a foot injury. The injury appears to be behind him as he has been involved in camps early this off-season working with Blake Bortles and training with Larry Fitzgerald. The Robinson hype is growing in both NFL and fantasy circles but how much can he truly breakout? The Jaguars' offense and presence of Julius Thomas is more likely to prevent him from breaking into the top-25 of fantasy wideouts. That being said, he is among the more promising WR3/4 choices once the big names are off the board. The hype and energy surrounding Robinson is akin to that of DeAndre Hopkins a year ago. Although they are not the same type of player, Robinson enters 2015 as a potential breakout player.
WR Marqise Lee
(2014 WR Rank – No.92, 4.1 FPts/G)
The Jaguars' Marqise Lee has immense talent as a large target with great leaping, catching and body control ability. However, he is far from a polished receiver. More often than not, Blake Bortles was simply throwing the ball in Lee's general vicinity rather than hitting him in stride to make a play. Inconsistency will once again be the largest fantasy hurdle for anyone investing in the former Trojan on draft day. He did show improved performances with an increased workload after Allen Robinson went down late in the year. A knee injury has kept him out of OTAs early this preseason and further time away from the field will only allow other receivers to pass him on the depth chart.
WR Allen Hurns
(2014 WR Rank – No.44, 6.5 FPts/G)
Whether it was playing from behind, injuries or a combination of the two Allen Hurns ended up being one of the few consistently good players in Jacksonville's passing game during the 2014 campaign. He posted six touchdowns after being an undrafted free agent. Finding his home in the slot, Hurns may be the one player in the passing game to see his production slip the most this year. Added competition from TE Julius Thomas, potentially healthier years from others in the offense would result in a sharp decline in Hurns' targets. Nonetheless, he remains a name to monitor for fantasy purposes on a team with plenty of injury prone players at the position.
TE Julius Thomas
(2014 TE Rank – No.7, 10.1 FPts/G)
Emerging onto the scene in Denver as a true difference maker, Julius Thomas was signed to be a key weapon in the new Jags attack. The former Bronco will have an immediate impact in the red zone but his intangibles are perhaps of greater importance on a team that hasn't won too many football games in recent years. Thomas' fantasy stock takes a hit moving on from Peyton Manning who helped Thomas reach double-digit touchdowns in each of the past two seasons. This prowess near the goal should translate into optimal red zone targets even with the change of scenery. At only 26 years of age, Julius also carries some injury risk having dealt with ankle and knee injuries in the past. As the focal point of an offense destined to improve, Thomas' fantasy stock shouldn't be discounted too heavily with Bortles as his quarterback. Longtime Jag Mercedes Lewis and veteran Clay Harbor do not offer much fantasy appeal but should see time in running situations.