8/23/11



It's roll-up-your-sleeves time. The time when prepared fantasy owners separate themselves from lazy owners, when gems are unearthed and hunches from the offseason are manifested, when championship fantasy teams are built. It's the middle of your fantasy football draft, a place where 2010 stars such as Arian Foster, Michael Vick, Brandon Lloyd, Mike Wallace, and others were selected. Whether it's sheer luck or your devoted preparation, knowing who to target and when to pull the trigger are crucial to building a solid fantasy football team. Here are a few players I view as good value picks in the middle rounds in 2011.

Note: ADP based on a 12-team league.



ADP: 5.04

It's a crowed backfield for sure in New Orleans. Along with rookie Mark Ingram is veteran holdover Pierre Thomas and free agent acquisition Darren Sproles—to say nothing of Chris Ivory. And with that surplus of players, it could be difficult to pinpoint precisely who to target. I'm not going to use the lame excuse that the club will give a player every opportunity to be a star because they traded into the bottom of the NFL Draft's first round to get him. That sounds good, but it's a tired refrain indeed. How about this novel concept? Ingram will be the lead dog in the Saints' running game because…well…he's the best running back on the team. He's shifty, but not overly elusive. He's quick, but not lightning fast. He's got nice size, but he's far from being physically intimidating. The bottom line is Ingram is a really good running back who should fit nicely into what New Orleans is looking to do on offense. The shuffling game head coach Sean Payton employs with his skill players will frustrate owners for sure, but Ingram appears to be the one earmarked for goal-line duty, and perhaps even a third down or two during the course of a game. Ingram could easily finish the season with six to eight scores. He's a solid RB3 with potential to produce like a bottom-tier RB2.


ADP: 12.04

Overlooking Nate Burleson is easy when you consider that he plays opposite Calvin Johnson. But considering also that many predict Detroit's offense to surprise in 2011, Burleson should and will be higher on owners' radar come draft time. Burleson was quietly productive in 2010, having his best game (7 rec, 113 yrds, 1 TD) against the stingy New York Jets defense. He even had a stretch from Weeks 8 through 11 when he reeled in 25 catches—not bad when you consider Calvin Johnson had 26 during that same stretch. Even though protecting Matthew Stafford is the Lions' first priority, they may be forced to throw the football more often than they'd like. The running game dilemma hasn't been solved in…well, forever…and the loss of rookie running back Mikel Leshoure for the season doesn't help. So look for Detroit to make Burleson a relevant fantasy player this year, putting up decent numbers for a WR3.


ADP: 11.12

Now that Kyle Orton has proven to Denver's front office that he's their best option at quarterback in 2011, fantasy owners heading into their drafts should follow Denver's lead. Orton was one of fantasy football's most dynamic QBs during the first half of last season. Granted, that was with an offensive-minded, pass-happy head coach in Josh McDaniels. While new head coach John Fox has a reputation as a ground-and-pound kinda guy, Jake Delhomme somehow managed to be relevant in most fantasy circles during their time together in Carolina. I see Orton putting up similar numbers as last year—maybe not the 3,800 passing yards, but the 21 TD passes are attainable. Orton can be had as late as the 10th or 11th round.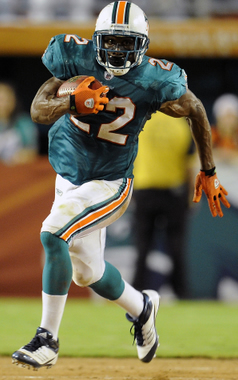 A viable RB3 for most fantasy teams .

ADP: 7.12
Reggie Bush's place on this list is not an overreaction to his play in the second preseason game. I was high on Bush as soon as his move to Miami was announced. In Miami, I think he will be counted on to do more than what he did in New Orleans. The Saints utilized every skill position player on the roster, limiting, to some degree, Bush's opportunities. Miami, meanwhile, doesn't have the luxury of that kind of depth. So Bush could consequently serve in some offensive alignments as the de facto WR2. Either in the slot or roaming out of the backfield, Bush will have his greatest value in PPR leagues. It's safe to assume that he will not have many goal-line opportunities, as rookie Daniel Thomas looks to secure that role. But I think Bush will have a renaissance of sorts in Miami and become a viable RB3 for many fantasy teams.


ADP: 6.08

If not for the unfortunate head injuries sustained last season and the fact that his quarterback is currently battling ailments of his own, Austin Collie would have been a top-15 preseason fantasy WR. Guaranteed. This guy was money last year for those lucky enough to pluck him off the waiver wire after that 11-catch, 163-yard, 1-TD season-opening game. Leading the league in receptions and receiving yards after three games was a shock to everybody, but that showed what this guy can do. The aforementioned issues, however, have affected his ADP to the extent that he's now a relative bargain. Assuming Peyton Manning returns to his former self, Collie should once again be a solid fantasy performer. Just don't select him too soon. He went in the seventh round of a 10-team league I play in, which is about where he should go. I would be a bit uneasy relying on him at this point as a WR2, but Collie should serve you well as a top-flight WR3 with tremendous upside—assuming, of course, he and his quarterback are healthy long-term.

ADP: 7.12
The Washington Redskins have huge questions at quarterback. That fact alone, though, shouldn't scare you from selecting the often undervalued Moss. There's not much help for Moss on the outside, and tight end Chris Cooley continues to have issues with his knee, although he contends he will be ready for Week 1. But Moss is Washington's lone ranger when it comes to quality wide receiver talent who can make things happen. Head coach Mike Shanahan's offense has traditionally produced good fantasy starters, although last year's version of the Redskins was a pretty bad representation of that ability. Moss's 7.12 ADP makes him a borderline WR2/WR3 prospect in 12-team leagues. You could do worse. Select Moss and expect the 32-year-old to give you good production.