Knowing Your League: Pt 2 - Initial Draft Preparation
8/3/04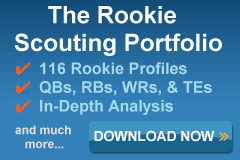 The "Gut Feeling" is often synonymous with a sense of desperation resulting from a lack of preparation. The Gut Check is a huge proponent of studying the numbers, but there's a point where one can place too much emphasis on the wrong information. This can result in the undervaluing or overlooking a player's potential. Therefore, The Weekly Gut Check is devoted to examining the frame of reference behind certain number-driven guidelines that fantasy football owners use to make decisions.

Although The Weekly Gut Check doesn't claim to be psychic, he does believe that he can dispel certain numbers biases and help you make the best choices for your team. We'll keep a running tally of The Weekly Gut Check's insights. This way you can gauge his views as something to seriously consider, or at least seriously consider running the opposite way as fast as you can!


---

The Gut Check is going to take you through his preparation for the re-draft league he described here last week. The steps listed below are more or less common to most long-time fantasy football enthusiasts:
Scouting Future Rookies

Staying Current

The NFL Draft

Initial Projections

Benchmarking

Update Projections

Benchmarking

Average Draft Position Research

Compiling A Draft List

Repeat steps 6-9, each week leading up to the draft
Before The Gut Check shares how he prepares in further detail, you'll need some perspective on the scoring system and his team's history in this league.
The ABFFL is a 25-round draft with these options for starting lineups:
1 QB, 2 RB, 4 WR, 1 TE, 1 Team Defense/Special Teams, 1 Kicker

1 QB, 1 RB, 5 WR, 1 TE, 1 Team Defense/Special Teams, 1 Kicker
Currently there's a proposal to change/get rid of these options and employ a 2 RB, 3 WR lineup.
The scoring system is as follows:

0.1 pt per 10 yards rushing (any offensive position)

0.1 pt per 20 yards passing (any offensive position)

0.1 pt per 10 yards receiving (any offensive position)

Bonus points at, and beyond 300 yards passing, 100 yards rushing, and 100 yards receiving—0.2 pts apply to players once they perform over these totals

6 pts per rushing and receiving touchdown

4 pts per passing touchdown

2 pts per rushing 2-point conversion

1 pt per passing 2-point conversion and 1pt per receiving

3 pts per FG with a 1 pt bonus for made FGs of 50 yards or more

Def/SP's receive full credit for safeties and tds. They receive bonuses for points allowed achievements.
The Gut Check is entering his ninth year in the AABFL. Yours Truly has made the playoffs every year with the exception of an ill-advised attempt to run a fantasy team on an island where he lacked a phone and getting Internet access was a costly and time-consuming adventure. The Gut Check's greatest claim to fame was becoming the first to win the league's Triple Crown of a league title, scoring title, and best record. Additionally, he's the only owner in the history of the league to ever win a championship without making a single trade or waiver wire transaction.
The Gut Check was originally a conservative drafter that religiously followed the Stud RB approach. As the years passed, his draft strategy has strayed from the norm, incorporating more risks and highly experimental strategies. Once he used the first four rounds to pick four wide receivers. Since the league started four wide receivers, he believed this against the grain approach with the last pick in the round could theoretically field him a dominant team. Although he fielded a competitive team, two of his four choices were lost for the season with knee injuries by game two and he discovered wide receiver depth was much easier to obtain in later rounds than running back depth.
The Gut Check's greatest strength is also his weakness, and that's his affection for drafting sleepers. The Gut Check is both proud and ashamed to say that he drafted Edgerrin James in his rookie year with the 11th pick overall. That's right, he has a pattern of boldly hitching his wagon to players too early when he could have taken a more conservative approach and still got the player. Slight reaches aren't bad strategies if you have good reason to believe the player is vastly undervalued, you only plan to make a very limited number of reaches in your draft, and ADP data dictates you won't land the player later.
But in the case of drafting Edgerrin James, this was a mammoth reach. While he's proud that he ultimately picked a player he believed would perform to the value he projected, he's ashamed he didn't take Marshall Faulk. Faulk was a player The Gut Check had in 1998, but he wasn't too confident in the Rams' star repeating his performance. Faulk just got traded in the off-season to a St. Louis organization that lost their starting quarterback the day before his draft. Watching their head coach crying, as he named a journeyman fresh off stints with the Arena League and NFL Europe as their replacement, wasn't exactly a confidence builder for Yours Truly.
However, The Gut Check had a good indication from mock drafts with some league members that James would have made it back to him at the end round three, so the best strategy would have been to take the more proven players. Fortunately Faulk, James, and George finished one, two, and three overall in RB fantasy points in 1999, but if The Gut Check trusted his ADP data, he would have been able to draft all three backs!
However, the Gut Check also has been known to pick some serious duds. For every Edgerrin James, Clinton Portis, Justin McCareins, or Chad Johnson drafted on their breakout year, he's also picked Michael Westbrook, Jeff George, and Cecil Collins. So The Gut Check is going to make a concerted effort to understand that the phrases "head case with potential," and "potential head case," can have the same meaning.

But the root of his problem is reaching for sleepers. Yours Truly gets so hyped on players, he makes too many reaches because he's fixated on drafting them—even if he is aware that he has a chance to get the player later. As a result, The Gut Check has reached for sleepers in places where he could have gotten them later and picked players of solid value earlier to build a strong team from top to bottom. Edgerrin James is a lucky example of this working out. In fact, drafting Edgerrin James this early and having it work out for him was probably the worst thing that could have happened to his recent draft strategies. More often than not, this tendency of The Gut Check's creates more problems that are the difference between being a competitive, playoff team and a dominant, champion.
Relying on un-tested or un-known players fosters a lot of second-guessing of whom to start on a weekly basis. This has led to some heart-breaking losses. One year that included a semi-final playoff loss because an un-drafted rookie, Fred Lane—a player The Gut Check actually drafted—couldn't score a touchdown against the Cowboys on four consecutive attempts! Yours Truly still experiences flashbacks, but he learned that in most cases, reaching for players—no matter how successful they become—denies you important depth. This depth safeguards your roster from injuries, creates more trade options to solidify holes in your line up, or keeps other rosters from being as competitive because you have bench players that are more productive than their starters.
So that's The Gut Check's story. As a way to hopefully safeguard against these problems and take his team back to the championship, The Gut Check will incorporate two aspects of draft preparation that has lacked the proper emphasis in his previous game plans: Benchmarking and ADP research.
First, let's examine what The Gut Check does prior to these steps that can refine a draft strategy.
Scouting Future Rookies
The Gut Check's draft preparation starts on Saturdays. While watching a college games, he keeps a journal handy to write down the names of the players he notices. Anything outstanding about that player—good or bad—goes in the book. Additionally, he tries to focus on two or three players in a game where he compiles more extensive notes. He pretends he's a scout watching film—except he doesn't have the luxury of a film room. Once the Gut Check buys a record-able DVD player or a TIVO system, watch out!
Although scouting reports from various Internet sites are a great resource, first-hand observation is a terrific supplement that can tip the scales on a player. The Gut Check has seen more than a few examples of player evaluations where descriptions of that player's strengths and weaknesses appear to be very different from what he saw. There can be plausible explanations for this. Even so, the beauty of compiling your own notes and comparing them to various reports on the same player helps you discover which evaluations to throw out. The Gut Check's Saturday "couch-scouting sessions" have yielded Brian Westbrook, Brandon Lloyd, and Byron Leftwich as players for him to keep an eye on, and not just take what's said about them at face value.
Staying Current
This is like working out three times a week or cleaning the house on a regular schedule. Working incrementally rather than cramming it into a short time, is the best way to maintain results. The Gut Check scans the news wires during the off-season leading up to the draft, and local newspaper sites that provide coverage of their team afterwards. Accessing player scouting websites and chat rooms helps you see how the general fantasy public feels about players or some piece of news that could impact others.
NFL Draft
The Gut Check watches the draft from beginning to end. In truth, it's because the draft is the football equivalent of methadone. For those of us in denial, we'll reason that the analysis provided from various sources on each player is enlightening. Truthfully, we're just obsessed. That said if Ron Jaworski ever decides to teach an NFL film study class, The Gut Check is scraping together whatever cash he needs to enroll and is hitching his way up to Philly. In fact, if anyone knows Peyton Manning, Priest Holmes or Ray Lewis, please volunteer The Gut Check's services as a live-in housekeeper or landscaper. He's willing to do this for a month or two in exchange for the chance to sit in on their home film study. He'll even bring a tent if they don't want him living in the house!
Initial Projections
Before the Compiler, The Gut Check created an Access Database to store his current year projections as well as previous years and their resulting fantasy points. Unfortunately, a virus did away with about five years worth of data. This is why The Gut Check always speaks in third person—it is not because he thinks he's a superstar athlete—he simply had a nervous breakdown after losing all his work.
Initial projections are like a first draft: sloppy, misguided, but hopefully filled with good ideas to develop in the revision process. Generally, Yours Truly will base much of his first projections upon the previous years stats. This is a good basis for most starters that played every game last year and are returning to the same team. Not all players are this fortunate, so there has to be other methods to create somewhat meaningful, initial projections.
Players that missed game last year due to injury
The Gut Check takes a player's final stats and calculates them on a per game basis. Then he projects these per game figures on an entire sixteen-week season. This generally has merit if the player has missed only a handful of game. If the player missed more than half the season, then it's best to look at his previous season, unless of course he's a rookie.
Rookies
If the rookie is the projected starter, then The Gut Check will use the starter's performance from the previous year as a baseline. If the rookie is not the starter, he'll use the backup's performance from the previous year. Sometimes, The Gut Check will project the player as a starter when the team hasn't anointed him as such. For example, rookies Kevin Jones and Julius Jones were both listed as starters in The Gut Check's initial projections.
Starters coming to new teams as the starter
Last year's stats and the stats of the player this starter is replacing are also considered for the baseline. The Gut Check's rating of Jeff Garcia is based on this concept.
Other good strategies to consider when creating one's projections include:
Comparing your previous year's projected total fantasy points with the actual results. You'll discover a lot. You could be good and projecting teams you know, or need improvement at a specific position. Regardless, it will become quickly apparent and prevent you from making the same mistakes.


Making an effort match the projected passing yards of a quarterback with the receiving yards of his backs and receivers. This helps develop realistic expectations for all players on the team. You'd be surprised how many people drastically over project a set of wide receivers, tight ends, and running backs to out-gain their starting quarterback's projected passing yards.
Project players as if they will be healthy for the entire season. This plays an important factor when tiers are created for one's draft list. If you think Michael Vick could be a top-three fantasy player when healthy, then it's wise to project him as such even if you don't believe he'll ever again finish a season. This gives you insight where others might rank Vick and help you make better value selections.
Creating projections on your own will yield some results that greatly differ from your peers. Some of these projections will be original ideas that are highly justifiable. Others will be just be flat-out certifiable. This is why it's important not to keep your projections vacuum-sealed until draft day. As mentioned earlier, The Gut Check has learned the hard way that "do it your self," doesn't have to be, "do it by yourself."
Benchmarking
A great way to test your projections is to compare them to some one else's that you both respect and tends to be more conservative in their approach. Since we don't want to reveal our projections to the competition, using the published projections is a good approach. The Gut Check decided to benchmark his initial projections with Mike Krueger's projections from the CheatSheet Compiler and compare them both to last year's actual performances, where applicable:

Gut Check vs. Krueger...
Player
Team
Bye
GC Pts
MK Pts
2003 Pts
Difference
PPG
Marvin Harrison
IND
6
226.5
210.9
187.2
-15.6
-0.98
Randy Moss
MIN
4
219
228.6
265.2
9.6
0.6
Torry Holt
STL
8
214
227.9
241.6
13.9
0.87
Terrell Owens
PHI
5
208
164.1
164.2
-43.9
-2.74
The table is an excerpt of this benchmarking process for each position. The difference column tracks the variance in points between Krueger's projections and Yours Truly. The 2003 fantasy points serves as a frame of reference that we'll use in a later example. PPG is the difference calculated in points per game.
There's quite a bit to see from this little exercise. It appears both The Gut Check and Krueger initially think Marvin Harrison will outperform his 2003 season. This could be something worth double-checking. If you believe the last year's performance was an indication that the Colt's secondary receivers are developing at a pace to take away Harrison's opportunities on a consistent basis, then you may want to reconsider projecting improvement. If you think the development of other weapons and the new coverage rules will only help Harrison, then there's nothing to change. Mike and Yours Truly have projected within 16 points of each other-or what amounts to 156 yards receiving—nothing that would place Harrison in a different tier.
On the other hand, Terrell Owens is a point of departure. Mike projects Owens, as an Eagle, will have similar production as his 2003 season as a Forty Niner. The Gut Check believes Owens will have a significantly better season catching passes from McNabb. This was a good reason for The Gut Check to reconsider his expectations. However, after looking at Owens' 2002 season, and factoring in McNabb is a more accurate deep ball quarterback, Yours Truly decided to keep his projections.
Because The Gut Check values Owens much higher than Mike, it's important that he looks at some ADP data on T.O. to see whether this difference could have a positive effect on his overall draft strategy. It appears that ADP's developed from a sample size of at least 120 drafts conducted last week on AntSports.com and XpertLeagues.com reveals that Owens' ADP is between 2.07 and 3.01. Theoretically, The Gut Check has a decent chance of grabbing two backs and a shot at Owens in round three if he's picking late. This type of information has more of an impact with players not widely considered top-tier talent already.
What about Randy Moss? Looks like Mike and The Gut Check both took a cautious approach to Moss due to the lingering foot injury. The Gut Check decided after reading more about the health of Moss' foot, that the injury shouldn't be much of a factor and decided to upgrade his projections to approach Moss' 2003 output.
Let's look at more complex examples:

More Examples...
ADP 1
ADP 2
Player
GC Pts
MK Pts
2003 Pts
Difference
PPG
4.12
5.02
Steve McNair
365.5
318.25
296.1
-47.25
-2.95
9.5
11.01
David Carr
285
219.85
163.75
-65.15
-4.07
7.1
8.1
Jake Plummer
284.5
231.15
207.65
-53.35
-3.33
10.4
9.1
Brad Johnson
264.8
277.8
298.15
13
0.81
Steve McNair is a good illustration of a situation where benchmarking helps you validate your homework. The Gut Check, has projected McNair as the second best quarterback in 2004, nearly seventy points better than his Co-MVP, 2003 season. Mike, while optimistic that McNair is going to improve on his numbers, isn't as optimistic. Since McNair started 14 games in 2003, The Gut Check decided to project McNair's stats if he played the entire season.

McNair's 2003 Season
G
PaComp
PaAtt
Comp%
PaYd
PaTD
Yds/Gm
TDs/Att
14
250
400
63%
3246
24
250
0.06
The Gut Check calculated passing yards per game and touchdowns per passing attempt as to begin his steps towards projecting a full season. It's important to note that McNair may have started 14 games, but he only played a brief part of that 14th game against Atlanta before aggravating the bone spur in his ankle. Taking this into account, The Gut Check calculated the passing yards per game from 13 games and rounded up to the nearest whole number. Multiplying McNair's yards per game by sixteen games yields exactly 4,000 yards (or five yards less than this if you didn't round up the yds per game).
The Gut Check also projected McNair's attempts per game at 13 games and came up with 31. This amounts to nearly 500 attempts in a complete season. Multiplying these projected 500 attempts with .06 touchdowns per attempt yields 30 touchdowns.
As a result of this work, The Gut Check actually increased McNair's projected yards and passing touchdowns on McNair. At the same time, he decided to decrease McNair's scores on the ground because he feels the Titans' quarterback will have a more productive back in Chris Brown at the goal line and as the passing game took off, his rushing totals decreased significantly. Considering McNair's ADP through July 31st from both sites, The Gut Check could actually get a bargain if his projections are correct and he waits for the Alcorn State alum 2-3 rounds after Manning (and in some cases) McNabb are going.
David Carr was an example where The Gut Check was overzealous in his attempt to project improvement. Based on the original projections, Carr was slated to throw 16 more touchdowns than in 2003, increase his passing yards per game by 80 yards, or some combination that equates to and increase of over 4 fantasy points per game than Mike.
After this comparison The Gut Check's initial projections seem a bit too optimistic. While The Gut Check likes David Carr's prospects next year, he doesn't foresee this type of explosion—he was really trying to calculate something that characterize a step forward rather than a giant leap. So, he checked out Carr's passing yards per game and projected what it would have been if he played the entire 2003 season.
The Gut Check calculated that his passing yards per game increased 3% from his rookie year. With another year under his belt Yours Truly projected a 9% improvement, which still places Carr way under the 3300 mark which The Gut Check originally rated the Texans' quarterback. Carr's tds per attempt in his rookie year where 1 td/49.3 attempts. It increased to 1TD/32.7 attempts—a very noticeable improvement—but not still two less (17) than originally thought (19). These changes dropped Carr six spots in The Gut Check's ratings—significant enough of a drop to force the Gut Check to think twice about making Carr a solid backup on his roster.
A similar result to re-evaluating Steve McNair's projections occurred with Jake Plummer. Both Mike and The Gut Check foresee a healthy Plummer easily surpassing his 2003 totals. But The Gut Check again is more optimistic. Maybe Mike projects Plummer more conservatively with a loss of McCaffrey, Sharpe, and Portis out of the backfield. This is definitely logical thinking, but one could argue that without Portis the Broncos may have to pass more often resulting in higher totals for the former Cardinal. Plummer averaged approximately 197 yards per game. The Gut Check recalculated the yardage, which gave Plummer nearly 200 more yards for the year. With Plummer's 2003 touchdown ratio 1 td /20 attempts, The Gut Check added one more touchdown after projecting the numbers to a full season. Interestingly enough, in Peter King's recent edition of MMQB, he actually said in his 10 Things I Think, I Think section of his column that he things Plummer could win MVP this year. That maybe a little too dramatic for The Gut Check, but in a way it is somewhat of a backhanded validation of his projections nonetheless.
Then there's Brad Johnson. The Gut Check has to admit he doesn't like Brad Johnson's style. As a result, it reflected in his initial projections. He doesn't know Mike's reasons for his projections, but many owners the Gut Check competes against, underrate Johnson because his style is not exciting. He's like Don Johnson's character in Tin Cup—the guy that never takes a chance but is always among the best. Gruden's offensive system is a good fit for Johnson, and his numbers should stay consistent from last year. That means I had to bump the Buccaneers quarterback from 19th to 15th to be more objective. In fact, Johnson's ADP is lower than this reasonably projected value-probably due to McCardell holding out and Keyshawn Johnson gone—but The Gut Check thinks he'll continue to deliver as a terrific bye week option, if not a solid starter.
Next week, The Gut Check shares his final steps leading up to draft day. This includes last-minute revisions of projections as needed, creating a draft list, analyzing the ADP data in greater detail with his tiers in place, and why there are some players he'll avoid drafting. He'll conclude his series in part IV with a breakdown of his league's draft. And just in time for those of you in leagues smart enough to draft as close to the season as possible, he'll name his first annual, All-Preseason Gut Check Team—a collection of the undervalued and overachievers that have a good chance of being steals in 2004.