A Pre-Free Agency/Pre-Draft Fantasy Outlook Of Offensive Units
12/9/04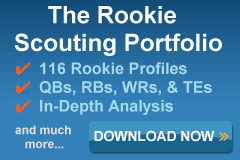 The "Gut Feeling" is often synonymous with a sense of desperation resulting from a lack of preparation. The Gut Check is a huge proponent of studying the numbers, but there's a point where one can place too much emphasis on the wrong information. This can result in the undervaluing or overlooking a player's potential. Therefore, The Weekly Gut Check is devoted to examining the frame of reference behind certain number-driven guidelines that fantasy football owners use to make decisions.

Although The Weekly Gut Check doesn't claim to be psychic, he does believe that he can dispel certain numbers biases and help you make the best choices for your team. We'll keep a running tally of The Weekly Gut Check's insights. This way you can gauge his views as something to seriously consider, or at least seriously consider running the opposite way as fast as you can!


---
First things first, The Gut Check has to admit his take on Shaun King was the Turkey of all Turkeys. In fact, Yours Truly originally sent the King article to Krueger labeled as the Turkey Day Special. It seems to The Gut Check that Dennis Green wasn't the only coach to lose his sanity while in the playoff hunt. Tom Coughlin's decision to start Manning was not the kind of message one sends to a team with a winning record under a quarterback that has effectively led the offense. Yours Truly is hoping for McCown to remain the Cardinals starter for the stretch run, because McCown and Fitzgerald seemed to be developing a nice rapport.
Plus, another owner dropped Fitzgerald in a showcase league (The Gut Check attempted to trade Plummer for Fitzgerald and a QB—either McNair or Garcia…Yours Truly has Donovan McNabb) after the King debacle and this owner scooped the rookie up (along with Keyshawn Johnson) for insurance down the stretch. Just some advice: it's human nature for owners to give up on a player when there's a major change to the offensive personnel and the results aren't promising—picking up a player while he's down can be a worthwhile gamble, because the situation can always revert back to what it was—and in the case of Testaverde with an explosive back in the lineup and McCown winding up as the best of Green's choices, that can turn out to be a good thing.
The Gut Check certainly lost out on his impatience. In his long-time re-draft league, he dropped Jason Witten (one of his last draft picks) during Daniel Graham's scoring streak and Marcus Robinson after a less than impressive showing at Philadelphia. These two moves ruined Yours Truly's seasons and vaulted another team into the playoffs. Timing is everything—and it's often better to attempt to deal players that you'll know you'll drop if no one is interested. Patience is a great option too—especially if you are high on a player's prospects. Mike MacGregor's mentioning of Brian Westbrook scoring 7 touchdowns in three games exemplifies this point.
At this point in the season, one-third of you are likely playoff bound and for the most part know which players you'll be using. The remaining two-thirds of you are done and if you are still checking out fantasy information, you're likely storing away nuggets of information for next season. This week The Gut Check is going to share his outlook on several teams' fantasy prospects heading into next year. He's not claiming expertise or has any inside information, this is just an opinion from someone that watches, reads, and thinks a lot about football—just like many of you.
On The Rise
Detroit Lions—Kevin Jones has shown in the last three games that he adds an explosive dimension to the running game that the Lions haven't had since Barry Sanders. Combine him with a healthy Roy Williams and Charles Rogers and suddenly Detroit looks like the media's 2005 version of the Jacksonville Jaguars—an improving team that could garner some magazine-selling predictions as a dark horse Super Bowl contender. The two areas that make one say, "hold up now," are quarterback and tight end. Neither position will dim the fantasy prospects of Jones, Williams, and Rogers because they will make the average QB look good. But this team has the potential to turn into an offensive powerhouse if they can get above average play out of their starting quarterback and acquire a tight end that can stay healthy (something Stephen Alexander hasn't done in consecutive years) and be a reliable threat in the passing game. The Gut Check views Jones, Rogers, and Williams as potential breakout candidates in 2005—in this exact order.
Williams' chronic ankle problems drop him down Yours Truly's list a bit. Generally, The Gut Check doesn't temper his outlook of a player due to potential injury. Brian Westbrook is a perfect example of a player most viewed as an injury risk—but as Yours Truly has stated before, Westbrook's college history wasn't riddled with on-field injuries, but off-field flukes that effected his performance. But Williams is different—he's had a history of ankle problems suffered in games that linger. This is a guy that could go either way. At his best, Williams plays like a combination of T.O. and Randy Moss. At his worst, he'll spend at least half his season at less than 70%.
Speaking of Westbrook's, Williams reminds The Gut Check of one of his all-time favorite fantasy busts: Michael Westbrook. Yours Truly has to admit that he thought Michael Westbrook was going to be a star in the NFL. He was the first of the 6-2+, 210-pound receivers with deep speed and running back skills with the ball. If you saw Westbrook in his first few years—when healthy—he flashed the skills that we later saw from Terrell Owens. Westbrook's injuries and interpersonal issues with teammates might have stunted his passion for the game he had the talent to be what T.O. is today. When The Gut Check looks at Williams, he sees a player that on one end could wind up as good or better than Owens, or find himself chronically injured and teasing fantasy owners like Michael Westbrook.
The Gut Check currently thinks the Lions will give Harrington one more chance, but it won't be unconditional support. You'll be able to gauge just how supportive the Lions are of Harrington by the type of QB they acquire in the off-season. If it's a late-first day/mid-round draft pick, the Lion's view of Harrington is still optimistic. If they acquire a former or current starter—Kitna, Warner, Brees, or Brad Johnson—Harrington will have to make a huge improvement to be the 2005 starter. Personally, The Gut Check would go for Brees or Kitna—two signal callers that have decent mobility, have shown leadership and class in the locker room, and respond well to coaching.
Cincinnati Bengals—Carson Palmer has steadily improved this year and he's operating without a full complement of skill players that he'll have next year. Chad Johnson's desire to be a great player has been well documented: sleeping in the team facility regularly so he can squeeze in extra film time; seeking out Jerry Rice for advice on improving his game; and setting high expectations for him self publicly. Yours Truly wouldn't be surprised if he and Palmer agree to spend extensive time working on their game together during the off season. It's worked for Manning and Harrison, and McNabb and Owens—this should become a trend among NFL quarterbacks and receivers.
Johnson aside, let's consider the rest of the receiving corps. T.J. Houshmanzadeh has proven since his rookie year that he's a reliable player. Based on the fact that he's been relegated to the bottom of the depth chart in deference to Peter Warrick and the potential of Kelley Washington, but just continues to find his way back in the lineup and make a big contribution reminds him of Ricky Proehl. Nonetheless, when Warrick returns and Washington has one more off-season under his belt, the Bengals should be capable of scoring at least 20 points per game on most teams. The keys will be the positions of TE and RB.
The Gut Check thinks Marvin Lewis envisions Chris Perry as the type of player that could excel out of a 1-back, 3-receiver set—recently the most productive formation in the NFL when a team has the correct personnel because it allows for the widest range of balanced play calling:
Colts: Harrison, Wayne, Stokely, Pollard, and James.

Packers: Walker, Driver, Ferguson, Franks, and Green.

Chargers: McCardell, Parker, Caldwell, Gates, and Tomlinson

Panthers (last year): Smith, Muhammad, Proehl, Mangum, and Davis/Foster.

Broncos: Smith, Lelie, Watts, Putzier, and Droughns.
The Gut Check could mention more, but you get the point. Each of these teams is as effective on the ground as through the air. All the backs are good receivers—some more prolific than others—and present opposing defenses with a lot to consider at the line of scrimmage when they see this formation.
The Bengals hope Chris Perry can develop into this type of option—something that Rudi Johnson doesn't offer them. Combine a more seasoned—Perry as a back that can handle 20-25 rushing/receiving opportunities with Johnson and Washington on the outside and Warrick in the middle, and this team could be a poor man's version of the Colts in the AFC North. The other key is finding a receiving threat at the tight end position—Matt Schobel has shown potential to be effective but nothing The Gut Check has seen indicates is a special receiver at the position. Although the level of talent at the skill positions seems a little less exciting than the Lions, The Gut Check thinks the Bengals offensive players a safer bet for the fantasy owner in 2005 and definitely a unit on the rise.
Washington Redskins—The Redskins have been synonymous with wasted offensive talent ever since Joe Gibbs left Washington the first time around, but The Gut Check believes the Hall of Fame coach will figure out a way to maximize his offensive talent in the off season. As much as the media pundits have criticized Gibbs for being too loyal to Mark Brunell, there should be more made of the fact that Gibbs has adjusted his approach to fit his talent—namely with the running game to better-suit Clinton Portis' talents in response to the feature back's constructive criticism of the running game.
Why is this so important? It's the glaring difference between a great NFL coach (Gibbs) and a great college coach (Spurrier). Both coaches were wildly successful with a specific offensive scheme. Spurrier did not make adjustments to his system to suit his players and performed poorly as an NFL coach. In the pros, it's important to match the system to the talent. This is why Stephen Davis produced like a dud under Spurrier but the very next year in Carolina he carried them to a Super Bowl. Gibbs on the other hand has already adjusted to Portis, which means he'll continue to evaluate his personnel and adjust to them in the off-season. This is what makes Gibbs great. While some coaches are great dictators that are effective—eventually most burn out (Parcells) or fail (Butch Davis), others demonstrate the rare ability to view players as worthwhile contributors to the strategy of the game and not just game pieces (Belicheck and Jimmy Johnson). Imagine the type of buy-in he's gotten from this team? They are valued for their experience and knowledge as much as their physical talent and given input into the improvement process. This is rare and that's why Gibbs' offensive unit in 2005 will field a vastly improved unit.
The Gut Check predicts a vertical passing game that will maximize the talents of a hopefully healthy Laveranues Coles and Rod Gardner. The Gut Check seriously believes Gibbs can make these two receivers a 1,000-yard tandem. The coach will install more plays that get Portis out on the corners and involved in the passing game. Chris Cooley has shown enough thus far to be considered a smart choice at TE—especially as a consolation for picking Shaun Taylor over Kellen Winslow II. Don't be surprised if Cooley becomes a productive red zone target. Other than Portis, the WRs, TE, and QB will be great, mid-round bargains in 2005.
Tennessee Titans—Jeff Fisher has consistently fielded one of the best-coached teams in football over the last 10 years. The Titan's 2004 performance has been a reflection of Fisher's coaching and the injuries that have decimated both sides of the ball. Tennessee was ahead in several games this year, only to falter in the second half—quite the opposite of Fisher-coached teams throughout his tenure:
Week 2: Led the Colts after the first half.

Week 3: Led the Jags after the 3rd quarter.

Week 10: Led the Bears after the 3rd quarter.

Week 12: Led the Texans after the 3rd quarter.

Week 13: Led the Colts after the first half.
This is a 4-8 team that could very well have been 9-3 if they were able to field a defense that wasn't missing two out of three starting linebackers, and three starters in the secondary. Fisher's a good enough coach to effectively game plan a strategy, but once an opposing team figures out the talent mismatches or when to exploit substitutes that wouldn't likely make the field if so much talent were already on IR, the tide turns. McNair's problems aside, the defense just isn't healthy enough to protect leads.
As Yours Truly mentioned least week, he doesn't believe McNair will retire after the season. Call it denial, but the prospects still look too good:
Chris Brown provides them the best ground threat they've had since Eddie George had a healthy season in 2000. George never had the Brown's ability to take it the distance, either.


Tyrone Calico should be healthy and tripled with an already proven Drew Bennett and Derrick Mason creates a dynamic passing game. If Calico is a question mark to get healthy, the Titans might be high enough in the draft to get a receiver of Braylon Edwards' caliber. It's conceivable the future rookie could make a solid impact as a 3rd option.


The defense will return to health and the young defensive line should improve—remember this is a team that stopped the Packers' offense and held the Colts to a respectable total, and neither teams' offense looked error-prone on those occasions.


Ben Troupe and Erron Kinney will combine to make a significant impact at the TE-spot. If Troupe can make the leap Calico appeared to make from his first preseason to the second, the Titans offense has the potential to be scary.
This team is talented and well coached to think it won't bounce back in a big way. From a fantasy perspective, you'll likely see very stratified opinions about McNair, Bennett, Calico, and Troupe. This will be the team at the beginning of 2005 training camp were you'll read an equal number of opinions that say these players are over valued or under valued.
The Core Pieces Are in Place, But Need More Help
Jacksonville Jaguars—Fred Taylor has a few more productive years, Bryon Leftwich is clearly on the rise, and Jimmy Smith proved he still a productive receiving threat. The missing link is Reggie Williams. The 1st round pick has had moments, but it appears to The Gut Check that he's still in the thinking stage of his NFL development. If Williams can progress past this phase before next season and begin to play more instinctively—therefore maximizing his size and athleticism—he'll take a ton of pressure off the three, core offensive threats.
It's clear Williams is still in the thinking stage. When he's open, he doesn't consistently catch easy balls—a product of concentration lapses from thinking too much on route running or reading a defense. When he catches a ball, he's often rounded off patterns or didn't run them to the correct length—limiting his yardage or creating a more difficult catch to make. Missing much of his rookie camp due to a contract hold out really hampered Williams' progress.
The Jaguars red zone scoring percentage is among the lowest in the league. A quality TE or the development of a big guy like Williams will do wonders towards improving their productivity. Although Jimmy Smith has proven capable, much of his yardage against better teams appears to come in the fourth quarter when Jacksonville his playing from behind and defenses are playing bit more conservative to prevent receivers from getting past them. Just look at the Detroit game. Jimmy Smith's touchdown pass was a route underneath the coverage that resulted in a score because of a perfectly placed ball in stride with the receiver, and more importantly, the safeties did not take the best angle on Smith. Otherwise, the Lions' secondary was initially positioned to allow the underneath stuff, but not the big play. Williams' improvement should place Smith in single coverage because a safety won't always be able to play on top of the veteran receiver if Williams commands more respect—thus providing Leftwich with more deep ball opportunities.
Bills—So many people are making the Bills out to be the second half kings of the NFL. Okay, the Gut Check buys into part of this story. McGahee looks impressive, Lee Evans is developing nicely, and Eric Moulds is still capable. But there's one nagging thing Yours Truly feels people aren't considering: Buffalo's schedule in the first half of the season versus the second half. Anyone else notice the overall caliber of their opponents' defenses is much worse in the second half of the season? Arizona, Seattle, and St. Louis are pretty bad—Cleveland, Cincinnati, and San Francisco are even worse (the Bills' opponents in the next three weeks). The Gut Check isn't buying the whole Drew Bledsoe renaissance just yet. Either way they go at QB, Yours Truly feels this position is pivotal in making this roster of skill players a fantasy owners' dream or just wishful thinking. McGahee should still be a favorite for 2005 with good reason. The rest depend on the QB play.
Navigate Carefully, Icebergs Ahead
Kansas City Chiefs—Green, Holmes, and Gonzalez are a great trio. But no one is scared of Eddie Kennison or Johnnie Morton. The Gut Check thinks the only reason the Chiefs aren't the AFC's version of the New York Giants of recent years is their great offensive line. The Chiefs will need to acquire a receiver in the open market or trade Larry Johnson. The Gut Check thinks a Johnson and Porter deal of some sort makes sense, although it would seem these rivals wouldn't be willing to aid each other—but with Al Davis, you never know…Otherwise, Kansas City will be looking to draft a WR and/or develop current prospects like Samie Parker—an under-sized, but underrated, rookie playmaker out of Oregon that caught his fair share of deep balls throughout his collegiate career.
Oakland Raiders—The Raiders have the raw materials, but they haven't converted the potential into performance. The first group of players have come up big time to time, but something always seems to get in the way such as quarterback play, lack of a running game, or lack of consistency: Jerry Porter, Doug Jolley, Ronald Curry, and Doug Gabriel all have shown the talent but just when you think they're having a coming out party, they disappear. The second group players are the raw talents that still haven't earned the right to be on the field consistently: Justin Fargas, Teyo Johnson, and rookies like Carlos Francis and Johnnie Morant are excellent examples of the Raiders targeting the athlete as a higher priority than the well-rounded football player.
It's just the two cents of Yours Truly that in today's NFL there isn't a lot of time and patience to wait for these guys to develop. It seems like the Raiders thrive on picking projects at the skill positions and it's costing them. Kerry Collins could be a steadying influence at quarterback if the odds continue to be in the favor of Rich Gannon retiring, but they still need a talented, every down back and make firm decisions on which players will be their go-to guys. Otherwise, it won't be wise for fantasy owners to load up on Raiders' offensive players early or often in next year's draft.
Seattle Seahawks—If the Seahawks don't keep Shaun Alexander or acquire an equally talented replacement—which will be difficult to do outside of the draft—this team will not only continue to frustrate fantasy owners, but also won't fool anyone into taking much of a chance on their players. There is at least one team—regardless of the sport—that plays up or down to the level of their opponent. The NFL has two: Seattle and New Orleans. Just look at the games they've lost to mediocre opponents…
Seattle's receiving corps most consistent threat is now Jerry Rice! The Gut Check hasn't forgotten about Darrell Jackson, either. Jackson seems to be regressing this year with a case of the drops that he acquired in the locker room. Let's not even start with Koren Robinson or Jerramy Stevens—two physical wonders that have shown they are capable, but haven't proven it where it counts for fantasy owners. If Alexander goes elsewhere, Darrell Jackson will be the sole reliable fantasy threat—and his numbers will decrease by sheer virtue of the lack of talent around him.
The Gut Check would like to give many thanks to Chris and Kevin at KCSP-610 Sports AM in Kansas City for both the opportunity to be an FFToday.com guest on your weekly fantasy segment during the season and for the slab of Fiorella's Jack Stack Barbecue Ribs, quart of hickory pit beans, original sauce, and all-purpose rub. Yours Truly received them in the mail last night—MacGregor (and anyone else that's curious and unknowledgeable to the shipment of perishable goods), they packed them in a cooler loaded down with dry ice.
Good luck this week!