Shaun King
11/25/04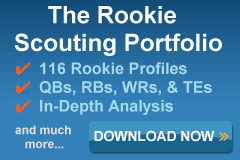 The "Gut Feeling" is often synonymous with a sense of desperation resulting from a lack of preparation. The Gut Check is a huge proponent of studying the numbers, but there's a point where one can place too much emphasis on the wrong information. This can result in the undervaluing or overlooking a player's potential. Therefore, The Weekly Gut Check is devoted to examining the frame of reference behind certain number-driven guidelines that fantasy football owners use to make decisions.

Although The Weekly Gut Check doesn't claim to be psychic, he does believe that he can dispel certain numbers biases and help you make the best choices for your team. We'll keep a running tally of The Weekly Gut Check's insights. This way you can gauge his views as something to seriously consider, or at least seriously consider running the opposite way as fast as you can!


---
Probably the biggest surprise of week 11 for The Gut Check was Dennis Green's decision to bench QB Josh McCown for his backup Shaun King. The Cardinals, entering the Carolina game with a 4-5 record, were clearly in contention for a playoff spot in the NFC. So the change at quarterback just as Anquan Bolden returned to the lineup and Larry Fitzgerald raised his level of production seemed like a crazy move. But to many, so did some of Green's other decisions as an NFL head coach:

Green Decisions
Year
Player
Comments
2002
Michael Bennett
The glorified track star developed and had nearly 1300 yards in his second season.
2000
Daunte Culpepper
Made C-Pep the starter in his second year with no playing time as a rookie and Jeff George had a statistcally great 12-game stretch the year before. Result: C-Pep takes the Vikes to the NFC championship game.
1999
Jeff George
Nearly 3000 yards and 23 tds in 12 games was a great fill-in for Cunningham
1999
Randy Moss
They already had dual 1,000-yard threats Cris Carter and Jake Reed. Why take a chance with your 1st round pick on "the next Lawrence Phillips?"
1998
Randall Cunningham
Talk about a reclamation project. He was working in a marble counter business before Denny called him. Result: 14 GS, 3704 yds, 34 tds!!!
1997
Brad Johnson
Dennis Green is much of the reason Johnson got an opportunity to show his skills.
Based on the fact this list includes personnel decision on four different quarterbacks, does it seem obvious where The Gut Check is heading with this? Is Yours Truly serious? Shaun King is an interesting-enough player this week (and possibly beyond) from a fantasy perspective to do a profile of his potential and an examination of Green's decision to bench McCown.
The Gut Check picked Shaun King as one of his Under The Radar selections in July:


The former Tulane star and Buccaneers starter has been the butt of many fantasy owners' jokes throughout the years. Yet the Gut Check thinks King is in the right situation to put up good numbers if Denny Green calls upon him and the Cardinals supporting cast improves as much as speculated. Remember, King played with enough poise to help the Buccaneers come oh so close to the Super Bowl in 1999. And if it weren't for an incomplete pass that inspired a rule change, King just might have been a more sought-after commodity. Of course, his horrible showing against Pittsburgh on Monday Night Football in 2002, put a damper on his prospects. A good game there, and it isn't inconceivable that King might have been in Carolina in 2003.

Of course, Carolina fans are probably very happy with Delhomme and feel there's good reason for the decision. Nonetheless, the Gut Check has a feeling that Denny Green views King as an under-appreciated quarterback that can be a productive player. McCown may be a sleeper pick for good reason in 2004, but King is lurking under the radar if he falters-and the Cardinals have enough talent at receiver for fantasy owners to take a chance on him as a waiver wire product if necessary.
The first question is whether McCown faltered in his starting role? Here are the third-year signal-caller's stats for 2004:

McCown in '04
Year
G
GS
Att
Comp
%
Yds
YPA
Lg
TD
INT
Rate
2004
9
9
251
143
57
1492
5.94
48
6
4
75.7

Again, it's not clear from the stats whether one can have a definitive answer to this question. McCown's td to interception ratio is on the positive end, but he certainly isn't prolific with scoring opportunities. It's not like McCown had a healthy receiving corps to start the season, but the same argument can be made for Trent Green. Although Emmitt Smith and Freddie Jones won't be mistaken for Priest Holmes and Tony Gonzalez at this point in their careers, both have been healthy and relatively productive. The Gut Check wants to break this down further.

McCown's 57% completion percentage is not very good. Considering Fitzgerald has been starting as an injured rookie, Boldin has been out, and Marcel Shipp—a better receiver out of the backfield than Smith—has been hurt, there are some arguments to be made in defense of his completion percentage and his paltry 5.94 yards per attempt. But The Gut Check likes to speculate at the frame of reference behind certain decisions. ESPN's Chris Mortensen mentioned on the air Monday night that Dennis Green planned to give McCown a two-month window of opportunity as the starter.

At first glance, this sounds like a coach making something up to defend a decision his fan base will question. The Gut Check—although prone to flights of naiveté—is buying this explanation. It's humorous that as football fans we can question the carousel-like nature in which most coaches in the NFL throw a quarterback into the line up one week and then yank him for someone else the next and this repeats itself until it seems like the coach is changing out guys by the quarter!

When this process occurs, which player is getting the most reps in practice? Which player gets the most focus in meetings with the coaching staff? How does a coaching staff effectively determine whether the player improves from week to week without consecutive game experience? Seriously, just think about your job. Were you trained well to do your job? Depending on your company and your boss you'll say yes or no (and depending on your talent and ability to be realistic with yourself you'll be right or wrong).

Dennis Green decided to take a more patient approach and suddenly people are questioning Green. It's understandable, since the Cardinals were 4-5 going into the weekend. But The Gut Check believes Green did something that few coaches really do: give a player a chance to prove his value with an extended audition. McCown got to start against a variety of defenses, demonstrate his ability to make in game and weekly adjustments, and get some time to grow in a new offensive system. It seems to The Gut Check that Green put a lot more thought into his decision on changing to King than many coaches have done in recent years. Another important factor to consider is that Green doesn't appear to be pressured from a financial perspective to play one quarterback over the other—which means Green has enjoyed greater freedom to fairly evaluate the situation.

So what did Green see from McCown that prompted his decision? The Gut Check did not get to watch many Cardinals games, but digging deeper into the stats supports some theories Yours Truly has about McCown:
Diminishing McCown
CAT
G
Att
Comp
%
Yds
YPA
TD
INT
1rst%
20+
Rate
ATTEMPTS 1-THROUGH-10
0
90
54
60
497
5.5
2
1
44.4
5
77.9
ATTEMPTS 11-THROUGH-20
0
88
52
59
565
6.4
1
1
46.2
7
77.1
ATTEMPTS 21-THROUGH-30
0
62
31
50
391
6.3
2
2
54.8
8
67.3
ATTEMPTS 31+
0
11
6
55
39
3.6
1
0
33.3
0
92.6

This table shows that McCown's completion percentage and quarterback rating diminishes with more attempts. This could point to McCown not doing a great job adjusting to the opposing defense as they adjust to him. The increased yards per attempt as his attempts increase, coupled with his decreasing completion percentage indicates a possible difficulty reading a completing intermediate and deep opportunities.

The next table supports that McCown seems to have difficulties in situations where opposing teams know he has to throw the ball.
McCown In The Clutch
CAT
G
Att
Comp
%
Yds
YPA
TD
INT
1rst%
20+
Rate
FIRST DOWN
0
80
52
65
463
5.8
3
1
26.9
6
87.7
SECOND DOWN
0
84
44
52
574
6.8
0
1
54.5
9
69.2
THIRD DOWN
0
84
46
55
427
5.1
2
2
60.9
4
66.9
FOURTH DOWN
0
3
1
33
28
9.3
1
0
100
1
108

Notice the dramatic difference in McCown's completion percentage on all downs in comparison to first down? Half of McCown's touchdown passes were from first-down plays—which probably points to catching the defense off guard, rather than just making a good read against decent coverage. The fact that the number of attempts for each down is about the same demonstrates the McCown has some difficulties making the throws when the offense really needs him to come through.

The final table on McCown is certainly an indictment of this previous point.
McCown... A Poised Leader?
CAT
G
Att
Comp
%
Yds
YPA
TD
INT
1rst%
20+
Rate
1ST QUARTER
0
56
33
59
311
5.6
1
1
48.5
4
72.8
2ND QUARTER
0
74
45
61
378
5.1
2
0
40
2
83.1
3RD QUARTER
0
48
30
63
355
7.4
0
1
46.7
6
76.3
4TH QUARTER
0
73
35
48
448
6.1
3
2
54.3
8
69.9
FOURTH QUARTER WITHIN 7
0
69
32
46
397
5.8
2
2
53.1
7
62.3
OVERTIME
0
0
0
---
0
---
0
0
---
0
---

McCown's quarterback rating declines with each quarter. These stats do not indicate a poised leader. McCown has had ten consecutive games to demonstrate what he can do and statistically, he doesn't look like he's progressing at the level Green expects from a starting quarterback.

Plus, the Gut Check figures Emmitt Smith—an all-time great—acts as a coach on the field for this offense. Unless Smith starts criticizing the switch to King, Yours Truly would believe the venerable RB has been able to provide helpful insight to Green in the decision-making process. The Gut Check knows that Smith is just a running back, but he's seen a quarterback make the progression from raw talent to unquestioned leader in Troy Aikman. Witnessing how this plays out in a huddle for more than a decade is valuable insight.

That leads The Gut Check to Shaun King. In the same segment from Chris Mortensen on ESPN, the reporter said Dennis Green always thought highly of King. Green had the former Buccaneer rated 4th among quarterbacks in the draft class of 1999. Here's a partial list of players Green would determine his ratings from at the position:
Daunte Culpepper

Donovan McNabb

Tim Couch

Akili Smith

Cade McNown

Matt Hasselbeck

Aaron Brooks
Other than Hasselbeck and Brooks, the rest were first-round picks. Considering that three of the five first-round picks aren't even in the league right now, it shows that the evaluation process for many teams is flawed, at best. What do Culpepper, McNabb, Hasselbeck, and Brooks have in common? Good arm strength, decent maneuverability in the pocket, height, and enough weight to endure punishment. What separates Culpepper and McNabb from the other two? Poise.
King doesn't have the height and weight combo, and his arm strength is average, but his greatest strength has been his poise. You don't take over the offensive leadership of a veteran playoff team and lead them that close to a Super Bowl without having confidence and sound decision-making. Tom Brady wasn't always as great a player has he's considered right now, and as a rookie filling in for an injured Bledsoe he was arguably one tuck-rule play away from being in the same position as Shaun King.
The Gut Check isn't saying King is as good as the two-time Super Bowl MVP, but he is making that point that small circumstances can dynamically opposing impacts on two players careers that seemed to begin in similar situations. It's interesting how both players had one play in a pivotal moment of a playoff game not only change the rules of the game, but drastically determine their careers moving forward.
Brady was drafted later than King and started with a coaching staff that believes in looking at players in more depth than their combine numbers. The Gut Check can't say the same about Tony Dungy's staff at Tampa Bay—although Dungy has been fairly astute in his personnel decisions with the defensive side of the ball. Brady has also shown that he's a very driven competitor so The Gut Check believes that if the Tuck Rule went the other way in that Oakland game and Drew Bledsoe somehow got his job back in New England, Brady wouldn't have gained weight like King did after his playoff season.
But to be fair to King, Brady got the job for two reasons: his play and Belicheck's view of Bledsoe as a player. Brady was Belicheck' and Pioli's guy and took advantage of the opportunity. Nor was it expected for the Patriots to be a Super Bowl contender when Brady took over. It's hard to say whether Rich McKay or Tony Dungy agreed on King's prospects and they knew they had a championship contender. Plus, King wasn't in an offense that took advantage of his talents. This was a run-first team that didn't adjust its philosophy enough to exploit what he can do. Belicheck and Charlie Weiss have been lauded for the last two years for doing just want the Buccaneers and many other teams won't: match the scheme with the players.
King reminds The Gut Check of Drew Brees. Both are poised, leaders that operated in wide-open offenses during their college careers. Neither was given a lot of time to develop and where hyped too early. Brees was given David Boston and King was given Keyshawn Johnson. Both receivers are known as highly talented, malcontents with a history of dividing a locker room. The year after both receivers came to these respective teams, management's view of both quarterbacks cooled considerably. Ironically, neither team did much to change from a run heavy offense to a more balanced scheme although both had quarterbacks that ran no-huddle and five receiver sets. Sound familiar?
Brees did all the extra things this season to step up his game and prove his coaching staff wrong. It stands to reason that Shaun King could very well have a similar opportunity. Dennis Green did make it a point to acquire King and promise him the shot at the starting job. But why not open the job up in training camp? Here's where The Gut Check buys into Green's plan. Why should Green open up the job, lose the confidence of McCown—a young player, and possibly divide the locker room with a limited evaluation period? Instead, Green kept King as the back up and gave McCown a full shot at the job with everyone on board and committed to his development. Now that McCown has had enough time for Green to make a well-informed evaluation, the coach can move to King and give a similar evaluation period with a quarterback that has had time to familiarize himself with the playbook.
Why did Green rate the former Buccaneer 4th among the class of NFL rookie QBs in 1999? King first came to prominent attention at Tulane when he led the Green Wave to a 12-0 record in 1998 and set an NCAA I-A mark with an efficiency rating of 183.3. Not only was King's 49 total touchdowns that year (38 passing and 11 rushing) a major reason for a season-ending, number seven ranking in the national polls, but he was also the first of a string of NFL prospects to come out of Tulane with Patrick Ramsay and J.P. Losman to follow. Tulane won't be mistaken for a big-time collegiate program, but neither was Alcorn State (McNair) nor Central Florida (Culpepper).
As a pro, King's stats were pretty good for his first two seasons of significant time as a starter:
Shaun King
Year
Team
G
GS
%
Yds
TDs
INTs
R-yds
R-Att
T-TD
FF Pts
1999
tam
6
5
60.96%
875
7
4
38
18
0
75.55
2000
tam
16
0
54.44%
2769
18
13
353
73
5
275.75
2001
tam
6
0
67.74%
210
0
1
-12
5
0
9.3

A nearly 61% completion percentage as a rookie—without Keyshawn Johnson demanding the ball—is impressive. So were a total of 23 combined touchdowns to 13 interceptions the following year in a very predictable offensive system. The last two years were under Gruden—and King had to learn a new system and got very limited time behind Brad Johnson, Rob Johnson, Joe Hamilton, and Chris Simms—three of them were clearly Gruden's guys.

Let's take one more look at the table where King threw more passing scores than interceptions. Yours Truly's conscience—the guy with 20/20 Hindsight—had a table and paragraph of commentary about Drew Brees back in week four that applies to King respect to TD/INT ratio:
2nd Year QBs
Last
First
Rookie
Year
Tm
G
Comp
Att
Pct
P Yd
P TD
INT
R Yd
R Att
R TD
Staubach
Roger
1969
1971
dal
13
126
211
59.72%
1882
15
4
343
41
2
Deberg
Steve
1978
1979
sfo
16
347
578
60.03%
3652
17
21
10
17
0
Fuller
Steve
1979
1980
kan
14
193
320
60.31%
2250
10
12
274
60
4
Montana
Joe
1979
1980
sfo
15
176
273
64.47%
1795
15
9
77
32
2
Simms
Phil
1979
1990
nyg
14
184
311
59.16%
2284
15
4
61
21
1
Eason
Tony
1983
1984
nwe
16
259
431
60.09%
3228
23
8
154
40
5
Marino
Dan
1983
1984
mia
16
362
564
64.18%
5084
48
17
-7
28
0
O'Brien
Ken
1984
1985
nyj
16
297
488
60.86%
3888
25
8
58
25
0
Kelly
Jim
1986
1987
buf
12
250
419
59.67%
2798
19
11
133
29
0
George
Jeff
1990
1991
clt
16
292
485
60.21%
2910
10
12
36
16
0
Favre
Brett
1991
1992
gnb
15
302
471
64.12%
3227
18
13
198
47
1
Johnson
Brad
1994
1996
min
12
195
311
62.70%
2258
17
10
90
34
1
Plummer
Jake
1997
1998
crd
16
324
547
59.23%
3737
17
20
217
51
4
Manning
Peyton
1998
1999
clt
16
331
533
62.10%
4135
26
15
73
35
2
Warner
Kurt
1998
1999
ram
16
325
499
65.13%
4353
41
13
92
23
1
Culpepper
Daunte
1999
2000
min
16
297
474
62.66%
3937
33
16
470
90
7
Garcia
Jeff
1999
2000
sfo
16
355
561
63.28%
4278
31
10
415
71
4
Couch
Tim
1999
2001
cle
16
272
454
59.91%
3040
17
21
128
38
0
Brady
Tom
2000
2001
nwe
15
264
413
63.92%
2843
18
12
43
36
0
Pennington
Chad
2000
2002
nyj
15
276
400
69.00%
3128
22
6
49
30
2
Brees
Drew
2001
2002
sdg
16
320
526
60.84%
3284
17
16
130
38
1
Bulger
Marc
2002
2003
ram
15
336
532
63.16%
3845
22
22
75
29
4


Notice the correlation among quarterbacks that threw more touchdowns than interceptions and were long-term starters in this league? Other than Brees, all fifteen of the players in this table with more scores than picks were undisputed starters for their team. Ten of those fourteen led their team to a Super Bowl at least once. Interestingly enough, the remaining quarterbacks with a higher pick-score ratio wound up as backups or disappointments: Jake Plummer, Jeff George, Tim Couch, Steve DeBerg, and Steve Fuller.

So in this respect, Shaun King falls into this category—and further indicates his potential remains untapped as a starting quarterback. Yes, King did throw three picks in his debut with the Cardinals. But Brees TD/INT ratio wasn't great last year, either. King did throw for 343 yards and The Gut Check is pretty sure the new Cardinals starter didn't get near the amount of practice reps that McCown got all season long to get ready. In many leagues, interceptions don't count so King could have some good yardage games down the stretch.

The Gut Check on King is to do what Coach Green has done: acquire him for cheap and give him some time in an offense that might be more suited to his talents. Boldin, Fitzgerald, and Freddie Jones are a big improvement from what King had in Tampa. Plus Emmitt Smith is a terrific pass blocker. Don't go overboard on the guy, but this is a great example of a small investment that won't be a huge waste if it doesn't' yield dividends. At the same time, the stats and Green's track record with quarterbacks are promising.

Happy Thanksgiving, and good luck this week!