Under The Radar
7/13/04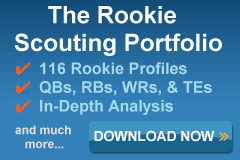 The "Gut Feeling" is often synonymous with a sense of desperation resulting from a lack of preparation. The Gut Check is a huge proponent of studying the numbers, but there's a point where one can place too much emphasis on the wrong information. This can result in the undervaluing or overlooking a player's potential. Therefore, The Weekly Gut Check is devoted to examining the frame of reference behind certain number-driven guidelines that fantasy football owners use to make decisions.

Although The Weekly Gut Check doesn't claim to be psychic, he does believe that he can dispel certain numbers biases and help you make the best choices for your team. We'll keep a running tally of The Weekly Gut Check's insights. This way you can gauge his views as something to seriously consider, or at least seriously consider running the opposite way as fast as you can!


---
Trying to predict the unpredictable-that's part of the draw. If you've played this game long enough, you've likely had at least one season where you spent hours compiling projections, studying draft positions, and keeping up with the training camps of nearly three dozen teams only to witness an owner ride the performance of a player-a player that came of nowhere-to a championship. These are players that can't be pinned down with the pre-draft analysis of our game because they entered the season without the history of stats, media hype, or both.
Don't think The Gut Check is talking about Priest Holmes or Terrell Davis-statistically speaking, they served notice at least a year prior to their breakout seasons. Nor can one say a player such as Daunte Culpepper or Edgerrin James were even a viable candidates. As surprising as each of their first seasons were as starters, James and Culpepper were 1st round picks that garnered a lot of attention.
No front-runners here. Like I said before, yours truly is referring to players so unknown, or written off before their opportunity came, they weren't considered sleepers leading up to their breakthrough seasons:

Under The Radar Alumni
Year
Pos
G
Player
Yds
TDs
Comments
1995
RB
16
Curtis Martin
1487
15
Third round draft pick that could be found on waiver wires at the beginning of the year.
1996
WR
16
Jimmy Smith
1244
7
An expansion team waiver wire project originally drafted by the Cowboys, waived after injury and then one game in Philly before hooking up with Jacksonville. Pretty distinguished start, huh?
1997
WR
16
Rod Smith
1180
12
Most of his action was seen on special teams leading up to 1997.
1998
WR
15
Ed McCaffery
1053
10
Prior (mediocre) stints with Giants and 49ers.
1999
QB
16
Kurt Warner
4353
41
Cut from Packers and stints in NFL Europe and Arena League.
1999
WR
16
Marcus Robinson
1400
9
4th round pick with a stint in NFL Europe.
1999
RB
14
Stephen Davis
1405
17
Seen as little more than a backup to Terry Allen and promising Skip Hicks…and the occasional punching bag for Michael Westbrook.
2000
RB
16
Mike Anderson
1487
15
Holding down the bench until Davis and Gary came to his rescue.
2001
RB
10
Dominic Rhodes
1104
9
Un-drafted and unknown until Edgerrin James went down.
2002
QB
7
Marc Bulger
1826
14
Cut by the Saints and Falcons and predicted to be a practice squad player behind Paul Justin and Joe Germaine.
2002
WR
16
Donald Driver
1064
9
A 4th year back up that snuck into the starting lineup by overshadowing a former rookie of the year (Terry Glenn) and two highly touted prospects (Ferguson and Walker).
2003
RB
14
Rudi Johnson
967
9
Seen as 3rd on the depth chart entering the season.
2003
RB
14
Domanick Davis
1031
8
Drafted as a 3rd down back behind Mack, Wells, Allen, and Hollings.
If an owner entered a season with even a decent draft, these players-either drafted late or acquired on the waiver wire-likely put many owners over the top in their league. On the surface, it's easy to write it off as luck. Seriously, how many owners in even the most competitive of leagues really saw this coming? Yet the savvy owner increases his odds of acquiring a player when he keeps tabs on those names under the radar. Owners draft a certain player late, hoping for "lightning to strike." It's a good way to look at it, because as low as the odds may be that it will happen, owners still do what they can to increase the possibility.
These are players commonly called super-sleepers, or players flying under the radar. The Gut Check likes the term under the radar, because the "radar" in our game is media exposure. Players that haven't appeared on anything but transaction blurbs at the tail end of sports pages, or news wire briefs since they were drafted (if drafted at all) are perfect examples of being under the radar.
Take a look at this chart again. It's worth noting only four of the thirteen players listed were rookies-and only one was even a 3rd round pick (Martin)-therefore, the hype factor is pretty low. Other than Ed McCaffrey, a player sporting a high touchdown total the year before, none of these players were sleepers entering the preseason.
Many owners define a sleeper as a player the general fantasy football public is aware of prior to the season. What separates a sleepers from the other relatively unknowns in the league is a higher probability that the player will have an opportunity to produce this year. Players under the radar could become sleepers, but lack the opportunity at the present time:


Mid-round draft picks not slated to contribute immediately.

Veterans buried on depth charts.

Waiver wire acquisitions.

Un-drafted free agents.

Alternate league standouts hoping to make a roster (AFL, CFL, & NFL-Europe).
Here is a list of players The Gut Check views as flying under the radar with training camp on the horizon. When the season begins most of these guys will likely be on the practice squad of their original team, with another team, or out of the league with hopes of getting another chance. Nonetheless, whether you use this list or make your own, it's good to keep tabs on some unknowns and their progress. In many cases, consider this a chance to do some scouting:
Running Backs
Jarrett Payton, Titans
Although he has name recognition, Payton lacks game recognition. When he got the opportunities this year at Miami, the Gut Check thinks he displayed the potential to be a quality pro. Why? Payton noticeably improved as the season progressed. He didn't look like much early on, but one has to consider his college career.
His dad-a man that physically, seemed as invulnerable a figure as sports could offer-died from disease that was as swift as it was unexpected, and if that's not enough, Jarrett Payton suffered two, non-football injuries that kept him off the field for a fair amount of his Miami career. Think about trying to get a shot at playing time when at less than one hundred percent healthy and the depth chart reads: James Jackson, Clinton Portis, Najeh Davenport, Willis McGahee, and Frank Gore.
That's why The Gut Check was impressed with Payton's improvement with each game. As Payton shook off the rust, yours truly saw a back with power, patience, and passing game skills. By the time Miami faced FSU in the Orange Bowl, Payton showed some speed that hadn't been apparent earlier in the season. If this doesn't illustrate that Payton just needs a healthy season or two to dedicate him self to football, then the Gut Check doesn't know what does. In mini-camp, Payton has proven to be highly dedicated, but he has a long way to go. His flexibility has been an early issue. Payton was one of the stiffest players the Titans' staff has ever seen-especially at tailback. This may be a counterintuitive argument in a sense, but the Gut Check feels this is a promising sign for the rookie. As Payton improves his physical approach as an athlete better results will follow, and that means Payton has a chance to be a much better pro than collegian. With Eddie George estimated to be 80% healthy, and future incumbent Chris Brown sporting a running style that lends to injury, Payton is worth keeping tabs on…
Troy Fleming, Titans
Fleming has been a favorite of many fantasy football forums this spring. He possesses an impressive size/speed combination, and was the subject of a glowing scouting report from Drew Boylhart of The Huddle Report.com (as was Payton). He's been compared physically to Shaun Bryson and stylistically to Curtis Martin. Although he's slated at fullback, many feel the former Volunteer has the skills to be a productive NFL halfback. If the injury bug strikes the Titans backfield, Fleming could get that shot as many are predicting he will.
Quincy Wilson, Falcons
See The Weekly Gut Check Volume 5.

Derrick Blaylock, Chiefs
Larry Johnson is widely considered the back of the future for Kansas City, but Blaylock did enough in 2003 to maintain his spot on the depth chart behind Priest Holmes. A fifth round pick out of Stephen F. Austin, Blaylock is similar to Holmes in height, weight, and receiving ability. What Blaylock has over Holmes is his blazing speed, but what he needs to develop is the vision and patience that makes Holmes a special runner. Dick Vermeil describes Blaylock as "…one of the tougher football players we have on our roster." The third year pro was a restricted free agent in the off-season and could have been signed for a 5th round pick. While it may be telling that Blaylock didn't sign anywhere, it's worth debating that early in Holmes' career, even after a 1,000-yard season in Baltimore, the Chiefs weren't convinced the AFC's leading TD rusher would be much more than a change of pace to Tony Richardson. Additionally, Holmes-as most of us know an un-drafted free agent-was holding down the backup role despite the presence of Jay Graham, a highly regarded, third round pick considered the Ravens' future in 1998. Entering the 2004 preseason, Blaylock is still holding onto the back up role after mini-camp, despite Johnson's noticeable improvement from his rookie year. Don't be surprised if Blaylock gets the nod over Johnson if Holmes gets hurt.

Dwone Hicks, Bears
Once a Heisman candidate, Hicks had a terrific career at MTSU. At 5-10, 225 lbs, Hicks is a power runner with vision, cutback ability, and a good initial burst through the hole. Entering his senior year, he was projected as a high as the 2nd round, but Hicks played his senior season with a bad knee, and the recovery time for his injury cost him the ability to do any running drills at the combine. Since he was a small school prospect, Hicks was initially subjected to a fair amount of criticism for his decision.
"Hey, there's only so many days in the spring, and I'm not traveling to Middle Tennessee State," said Casserly, in reference to Hicks not running the 40-yard dash, or participating in the Senior Bowl. "I doubt many offensive coordinators will go there, either." The only combine tests Hicks performed were the weight lifting categories, where he proved to be one of the strongest backs of his draft class. Unfortunately Hicks' attempt to delay running his 40-yard dash until his school workout ultimately cost him-Hicks was not drafted.

The Titans signed Hicks as a free agent and the back showed enough as a runner and receiver to initially make the team, beating out John Simon and Greg Comella in the process. "We're kind of betting on (what's to come) with him, but we feel there's a lot of potential there," said Titans coach Jeff Fisher. But due to injuries and needs at other positions, Tennessee waived Hicks and the rookie signed with Chicago before they could add him to the practice squad. Hicks, enters the Bears camp as likely the 4th or 5th back behind Thomas Jones, Anthony Thomas, Adrian Peterson, and possibly Brock Forsey-meaning he's either practice squad material or cut once again. Yet Thomas could be gone by the season opener and Peterson-although a decent sleeper candidate himself-doesn't appear to be a fit for the new offense. Hicks, is one of those unknown commodities that could move up quickly with a good camp-or be in NFL Europe next spring.

Reshard Lee, Cowboys
Although he spent his career backing up Dwone Hicks at Middle Tennessee State, Lee came out after his junior year. The un-drafted tailback displayed some impressive running ability in the 2003 Cowboys' preseason-power, speed, and vision-and was invited back to training camp for 2004. With Erik Bickerstaff injured, Troy Hambrick gone, and Aveion Cason likely a third down option, it's rumored the Cowboys will sign a veteran backup. But if Lee shows improvement with blocking and blitz pick ups, the Cowboys might feel comfortable going with what they got and that makes Reshard Lee a player to keep on your radar.
Skip Hicks, Bengals
Ironically Hicks, the heir apparent for the Terry Allen job in Washington when Stephen Davis was the third string player under the radar, is now fighting it out with Kenny Watson-another former Redksin-for the 3rd string rb spot on the Bengals' depth chart. Hicks has shown flashes of NFL productivity in the past, and if Johnson or Perry go down, he has the ability to have the type of renaissance that Lamar Smith experienced for one season as a Dolphin.

Robert Edwards, Free Agent
The former rookie of the year and come back player of the year was cut by the Dolphins in 2003, but Edwards still has the goal of becoming a feature back in the NFL. Considering the extent of his knee injury, most doubt Edwards, but The Gut Check wonders if NFL teams are just too cynical to give him a chance because at the conclusion of the 2004 draft, Andrea Kramer asked her NFL player panel to comment on players they felt NFL teams should acquire that weren't draft and Takeo Spikes chose to talk about Edwards instead of any rookies. Spikes had been working out with Edwards in the off-season. He claimed Edwards, looks as good as he did as a rookie and if an NFL team took a chance on him, they would find they had a player that could make a big impact.
The Gut Check isn't so optimistic about Edwards' chances. For starters, Edwards is about to turn 30. Secondly, Norv Turner had Edwards for a year as the offensive coordinator in Miami and he hasn't sought out Edwards when he sure appears to need an RB in Oakland. Additionally, the Raiders have brought in marginal performers of the likes of Troy Hambrick and Amos Zereoue. While there doesn't appear to be much sentiment that Takeo Spikes might know something, it's probably the age factor and injury history that has scared most teams off from making an investment on a player they figure will be around even as the season gets under way. So as the injuries pile up, Edwards could a call from someone down the line. From purely a fans perspective, The Gut Check hopes so-Edwards' determination is an inspiration and if Takeo Spikes is correct, then some team would have acquired an explosive, multi-purpose threat out of the backfield.
Wide Receiver
Doug Gabriel, Raiders
If you are a frequent off-season consumer of football information, Gabriel already qualifies as a sleeper after the amount of media focus generated about him (last month, both ESPN.com and CNNSI.com columnists have mentioned him as a guy to watch). For those of you not familiar with the name, Gabriel, a second year receiver out of University of Central Florida has the size and the type of build-up speed that can get him behind a defender.
According to scouts, Gabriel dropped easy passes and needed to learn how to act like a professional. He slipped to the second day of the draft and going to the Raiders was probably the best thing for his development, because Gabriel got to work with two of the better receivers ever to play the game. Gabriel showed some big-play ability during the preseason and after a year, the UCF product is the buzz of the Raiders' camp. Once seen as a raw version of Chad Johnson, Gabriel is apparently making a push for a starting job. The Gut Check has a hard time comparing Gabriel's game to Johnson's. Johnson is a burner and Gabriel, though fast enough to stretch the field on occasion, is bigger and more of a possession guy.
At this stage it's still doubtful that Gabriel will be a starter in 2004. Pre-camp speculation when running rampant-as it has with this player-needs to be viewed with a cooler eye. If Gabriel actually gets the job then we can conclude one of three things: either Tim Brown and/or Jerry Rice's play has declined sharply, one of these two players went down with an injury, or Gabriel is simply that promising. Any combination of possibilities still makes Gabriel a solid, a late round pick or target for the waiver wire.
Troy Edwards, Jaguars
After a promising rookie year, the former first round pick of the Steelers has been a fantasy bust for a few years. But Edwards looked pretty good in limited duty with Jacksonville, the third team of his career. The consensus opinion is Reggie Williams will take the starting role opposite Jimmy Smith. The Gut Check agrees, but have you ever noticed how rookies tend to wear down as the season progresses? Yours truly believes Reggie Williams will experience this too, and Troy Edwards will be the player taking up the slack. Even if this doesn't happen, he has the natural talent to be a dangerous slot receiver. If everything comes together, he could have a season like Az-Hakim did with the '99 Rams-36 receptions for 677 yards and 8 touchdowns. Edwards had 35 receptions for 487 yards, and 3 touchdowns in thirteen games last year. If Leftwich makes the jump that many second year quarterbacks do, then Edwards could benefit, even in the slot.
Kendrick Starling, Texans
Starling is an undrafted rookie out of San Jose State that has initially impressed the Houston coaching staff in mini-camp with his athleticism. Starling was the star of the JUCO circuit with a total of 111 receptions, 2305 yards, and 26 touchdowns in two years. He decided to attend Marshall after several higher profile schools sought him out. But Starling left Marshall, took a year off, and resurfaced at San Jose State where he didn't have performances that nearly matched his talent level. The 6-1, 194 lb. Starling has been compared to Randy Moss in terms of his athleticism, playmaking ability, and unfortunately, attitude. Since The Gut Check has never seen Starling play, he'd have to say that comparison is not fair to either player. Starling could very well turn out to be a great one, but if this happens then we all have to wonder what Starling did, or didn't do, to go un-drafted.
Most likely it has to do with Starling's approach to the game or his attitude off the field, because to put up the kind of JUCO stats he did, and then barely gain just a little over a third of the total yards at San Jose State raises some eyebrows. Any of the negatives attributed to Starling from The Gut Check are purely speculation because he hasn't seen much about the player other than the sound bites about attitude problems without any documentation to justify the label. Otherwise, the only two things The Gut Check can imagine other than attitude/off-field concerns is that Starling either had been playing with an injury or he's had difficulty picking up the mental part of the game and relied too much on his physical gifts-again, purely speculation.
One thing that can't be argued is Starling can flat-out run. He consistently timed at 4.4 or better and he supposedly ran a 4.38 at San Jose State's pro day on a grass field with cleats! Although his attitude has been called into question, Starling has shown on the field some tendencies to contradict this notion. Scouts point to a kick off return for a TD where Starling showed up on the film at two different points to make a key block for his teammate. This was from a return man that averaged over 28 yards per kick, so the Gut Check wonders if the "me-first attitude," isn't overblown. Speaking of those return averages, don't be surprised if Starling makes the team and sees time as a return man, giving incumbent J.J. Moses some competition. Based on the media profiles of Starling, this guy seems to be similar to Clarence Farmer, the un-drafted running back that signed with the Seahawks: All the talent in the world, but will only be able to capitalize on it when they can get that organ between their ears in stable, working order.
Frisman Jackson, Browns
The former Western Illinois quarterback is 6-4 and 213 lbs., and has been a pet project for the Browns staff for the past three years. Kevin Johnson is gone, Quincy Morgan is under pressure to produce this year, or he's likely gone. Dennis Northcutt has been seen as a slot receiver, and Andre Davis has shown flashes but hasn't broken out yet. Behind the scenes, Jackson has gone from practice squad fodder to getting time in games over the course of his development. If he continues to progress and the rest of the Browns staff underachieves for another year, Jackson could surprise.
Kassim Osgood, Chargers
A big, wide receiver with some success last year during limited playing time-13 receptions, 278 yards, and 2 touchdowns. That's a 21.4-yard per catch average-not bad for an un-drafted free agent! This is a player that compiled 108 receptions for 1552 yards at San Diego State-in one season! Why was he un-drafted? The 6-5, 215 pound Osgood ran a 4.7 forty and dropped a lot of balls at the combine. At the same time, his senior year stats at SDSU made him good enough to be 4th among all receivers nationally, so the guy must have decent hands and run good routes-because his teammate, J.R. Tolver, has over 1700 yards and was in the top 3, nationally. This lends some credence to the point that Osgood's draft stock plummet due to a bad day at the office. At Osgood's height, he has great potential to be a solid possession receiver and red zone threat. At the same time, that 4.7 number must not do Osgood justice, because a 21.4 yard per catch average off of 13 catches means the guy can get down field! Just like Brandon Lloyd, Osgood had a bad workout at the combine but it hurt him even more. Based on the inconsistencies with the receiver's draft status and on-field performance, the Gut Check thinks you should keep an eye on Osgood because the Chargers didn't make too many moves to shore up their receiver corps. Either this is just another sign the Chargers are as inept as the Manning family thinks they are, or the team feels Osgood is one of the best-kept secrets in the NFL. Doesn't hurt to see how it pans out and then make a move.
Ken-Yon Rambo, Jets
Many draft publications had Rambo projected as high as a 2nd round pick when he came out of Ohio State, but Rambo wound up going to the Raiders in the 7th round. Rambo has all the physical skills NFL coaches desire from a receiver, but he hasn't been consistent. In 2002 it appeared he might have a chance at a breakout season similar to Justin McCareins in 2003, but his promising summer didn't extend to the fall. Now he's a teammate of McCareins in New York, and as good a season as Santana Moss had, The Gut Check is going to keep his eye on a veteran like Rambo just in case Moss can't stay healthy for consecutive seasons. Playing with a better quarterback, Rambo could surprise.
JuJuan Dawson, Giants
The former Tulane standout had a nice opening day game as a Brown his rookie year, with 6 receptions, 83 yards, and a touchdown before missing the rest of the season with a broken collarbone. Not a fast receiver, Dawson strength is in the possession game where he runs excellent routes and shows nice hands. While at Tulane, Dawson spent a lot of time working out with Peyton Manning during the off-season. It was rumored Manning originally lobbied for the Colts to draft him. Although this makes a nice story, many media outlets echoed The Sporting News' assessment that Dawson was a major reach for round three.
Sure enough, Dawson didn't do much after his first career NFL game. After stints with the Colts and Texans, Dawson is now a Giant under former receivers coach Tom Coughlin. Although Chris Palmer has gotten rid of Dawson twice and the receiver didn't catch on with the team where the star QB lobbied for his selection in the draft, the Giants' situation could be worth a casual look-see. Dawson has some connection with the Manning family, due to the workouts at Tulane. Who knows, maybe Eli got a chance to throw with Dawson and Coughlin thought bringing in some familiar faces might help the younger Manning's development? One thing is for sure: Coughlin once had a receiver with a similar skill set and early career path. The player The Gut Check is referring to was a 2003 pro bowl wide out that spent four seasons in Cleveland as a back up and then went on to have six excellent seasons as one of the best possession receivers in the NFL-Keenan McCardell.
Walter Young, Panthers
Brandon Lloyd's teammate at Illinois is 6-5 and has a nice set of mitts. He's not a blazer, but he looked pretty good in limited preseason time as a rookie. Young reminds the Gut Check of Brian Finneran earlier in his career-a jump ball player that has potential to be a productive red zone threat. At this point in Finneran's career, that's nothing for fantasy owners to brag about but it could mean future opportunities when one considers Steve Smith has had one good year, Muhammad has been up and down throughout his career, Donald Hayes has bounced around three teams in three years, and the rest of the bench are rookies. If Young develops, he could make a move in Carolina.
Terrence Edwards, Falcons
Michael Vick asked Edwards to join the Falcons as an un-drafted free agent last year. Edwards has all the skill-based talent to be an NFL receiver, but his weight (he was as low as 168 lbs at a post season college all-star game) was a huge concern. Edwards has added more weight and this spring he has impressed the Falcons coaching staff and is in competition for at least the slot receiver position. Brian Finneran, Dez White, and Michael Jenkins will likely get the bulk of playing time, but it's never a guarantee. Remember, Donald Driver was buried on the depth chart in Green Bay entering 2002 when Terry Glenn, Javon Walker, Robert Ferguson, and even the possible return of Antonio Freeman seemed to have a greater likelihood to start-and star-in the Packers offense. With that in mind, Edwards could be a guy to keep an eye on during the preseason.
Germaine Crowell, Saints
If the NFL were Hollywood and The Gut Check were a screenwriter, Crowell would be the proposed 2004 sequel to the 2003 Marcus Robinson story. Crowell-coming off a 1300 yard, 7-touchdown season in 1999 with the Lions-couldn't finish a season for the next 4 years due to injuries. Now with the Saints, Crowell looks healthy and if he can make it through training camp, has a shot to be at least the #3 receiver for a prolific, New Orleans aerial game. Crowell was a talent, if he's healthy and Stallworth tweaks a hammy again, Aaron Brooks (and fantasy owners) won't miss a beat…
Quarterbacks
Joe Hamilton, Colts
Odds are that Peyton Manning will miss time at some point during his career, so the back up in the Colts offense could be an effective fantasy player. Joe Hamilton has a good shot at the back up job in 2004. A Heisman runner up to Ron Dayne (Remember The Gut Check likes the runner ups to the Heisman-see Larry Fitzgerald), Hamilton actually had a 163.4 quarterback rating at Ga. Tech during his senior year. The biggest risks about Hamilton have been his height and arm strength on deep throws. Before he went down with a torn ACL, Hamilton was lighting it up in NFL Europe in 2003. His excellent feel as a passer and presence in the huddle made him a favorite of Tony Dungy and Jon Gruden. Hamilton just wrapped up a season under Jay Gruden in the Arena League. f Manning goes down, Hamilton could put up some nice totals if he assumes the controls of such a dynamic offense. Although it would be hard to believe Hamilton will get the chance to audible like Manning, offensive coordinator Tom Moore would likely do a great job setting Hamilton up for success.
Ken Dorsey, 49ers
Dorsey will get a lot of reps while Rattay recovers from a torn groin. It's been fairly public knowledge that Dorsey, a 7th round pick, appears to be stronger of arm than originally given credit thanks to a pre-draft workout program where he added some weight to his frame. A natural leader and student of the game, Dorsey could easily surprise and keep the job if his arm strength has improved as much as the Niners say.
J.T. O'Sullivan, Saints
Not as well known as Davey, but he's a favorite of the Saints coaching staff. There's no reason why O'Sullivan, who led his team to the World Bowl, doesn't have a shot to beat out Todd Bouman as the Saints backup. Although Brooks has great physical skills, he's taken a lot of criticism for his lack of leadership. If Brooks falters or goes down, Sullivan's game could wind up keeping him on the field, because his leadership presence and decision making are what Brooks' detractors claim the Saints starter lacks.
Rohan Davey, Patriots
Davey could also fit into this category, but he received enough good publicity for his NFL Europe Championship run for many to already consider him a sleeper. Since there's no opportunity as of yet, the Gut Check still feels he qualifies as an under the radar player. Davey's physical build and skill sets have been compared roughly to Daunte Culpepper. As native of SEC country, the Gut Check agrees that the Patriot's third year backup, has the potential to be a terrific pocket passer, but the Jamaican-born QB is still learning the game. One of his biggest problems has been staying healthy enough to get the reps. Davey is a tough guy on the field that has displayed the tendency to hang in the pocket until the very last second before he makes the throw. Davey has progressed nicely in his first two years. Many are projecting Davey to get chance to be starter for another team when he becomes a free agent. Like Marc Bulger, Davey has a playoff-tested offense to make his adjustment easier if Tom Brady goes down for any length of time, and this makes him a name to keep on the tip of the tongue.
Shaun King, Cardinals
The former Tulane star and Buccaneers starter has been the butt of many fantasy owners' jokes throughout the years. Yet the Gut Check thinks King is in the right situation to put up good numbers if Denny Green calls upon him and the Cardinals supporting cast improves as much as speculated. Remember, King played with enough poise to help the Buccaneers come so close to the Super Bowl in 1999. And if it weren't for an incomplete pass that inspired a rule change, King just might have been a more sought-after commodity. Of course, his horrible showing against Pittsburgh on Monday Night Football in 2002, put a damper on his prospects. A good game there, and it isn't inconceivable that King might have been in Carolina in 2003.
Of course, Carolina fans are probably very happy with Delhomme and feel there's good reason for the decision. Nonetheless, the Gut Check has a feeling that Denny Green views King as an under-appreciated quarterback that can be a productive player. McCown may be a sleeper pick for good reason in 2004, but King is lurking under the radar if he falters-and the Cardinals have enough talent at receiver for fantasy owners to take a chance on him as a waiver wire product if necessary.