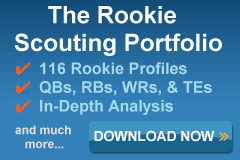 The "Gut Feeling" is often synonymous with a sense of desperation resulting from a lack of preparation. The Gut Check is a huge proponent of studying the numbers, but there's a point where one can place too much emphasis on the wrong information. This can result in the undervaluing or overlooking a player's potential. Therefore, The Weekly Gut Check is devoted to examining the frame of reference behind certain number-driven guidelines that fantasy football owners use to make decisions.

Although The Weekly Gut Check doesn't claim to be psychic, he does believe that he can dispel certain numbers biases and help you make the best choices for your team. We'll keep a running tally of The Weekly Gut Check's insights. This way you can gauge his views as something to seriously consider, or at least seriously consider running the opposite way as fast as you can!


---
Drafting is a craft because it requires technique and guile; planning and improvisation; art and science. Good owners generally get a feel for the process and learn how to work it to their advantage. Acquiring such a feel requires observation, analysis, and practice. The Gut Check can't help you practice yet (more on this in the coming year), but he can provide some observation and analysis. And what better way to do it than perform an autopsy on an average draft.

The average draft we'll use is actually a simulated draft based on ADP data from this time last year in a standard performance league format (the scoring system often used in the Gut Check's columns). The spots aren't exact to the ADP, but pretty close—generally within a round. The Gut Check left some team irregularities one might see in a common draft such as one team with three kickers or another roster with one team defense. The table is laid out to reflect a snake draft with positional color-coding.

| | | | | | | | | | | | |
| --- | --- | --- | --- | --- | --- | --- | --- | --- | --- | --- | --- |
| 1.01 | 1.02 | 1.03 | 1.04 | 1.05 | 1.06 | 1.07 | 1.08 | 1.09 | 1.10 | 1.11 | 1.12 |
| Tomlinson | Alexander | Holmes | James | McAllister | Manning | McGahee | D. Davis | C. Portis | K. Jones | R. Moss | J. Lewis |
| 2.12 | 2.11 | 2.10 | 2.09 | 2.08 | 2.07 | 2.06 | 2.05 | 2.04 | 2.03 | 2.02 | 2.01 |
| Jackson | L. Jordan | C. Johnson | Holt | Westbrook | T. Owens | Culpepper | R. Johnson | A. Green | C. Dillon | T. Barber | J. Jones |
| 3.01 | 3.02 | 3.03 | 3.04 | 3.05 | 3.06 | 3.07 | 3.08 | 3.09 | 3.10 | 3.11 | 3.12 |
| Harrison | J. Walker | C. Martin | T. Bell | J. Horn | Gonzalez | A. Johnson | R. Wayne | McNabb | A. Gates | C. Williams | H. Ward |
| 4.12 | 4.11 | 4.10 | 4.09 | 4.08 | 4.07 | 4.06 | 4.05 | 4.04 | 4.03 | 4.02 | 4.01 |
| J. Witten | M. Bulger | A. Boldin | Clayton | W. Dunn | M. Bennett | D. Foster | R. Williams | S. Smith | Arrington | D. Jackson | Burleson |
| 5.01 | 5.02 | 5.03 | 5.04 | 5.05 | 5.06 | 5.07 | 5.08 | 5.09 | 5.10 | 5.11 | 5.12 |
| D. Bennett | R. Brown | L. Johnson | T. Green | K. Collins | F. Taylor | J. Porter | D. Driver | L. Coles | Benson | L. Fitz. | Barlow |
| 6.12 | 6.11 | 6.10 | 6.09 | 6.08 | 6.07 | 6.06 | 6.05 | 6.04 | 6.03 | 6.02 | 6.01 |
| T. Henry | Crumpler | Branch | L. Suggs | T. Heap | J. Smith | I. Bruce | M. Vick | C. Brown | D. Staley | Shockey | B. Favre |
| 7.01 | 7.02 | 7.03 | 7.04 | 7.05 | 7.06 | 7.07 | 7.08 | 7.09 | 7.10 | 7.11 | 7.12 |
| Chambers | A. Lelie | M. Hassel. | D. Mason | Muhammad | T. Jones | Dal. Clark | L. Evans | Palmer | Plummer | T. Brady | J. Bettis |
| 8.12 | 8.11 | 8.10 | 8.09 | 8.08 | 8.07 | 8.06 | 8.05 | 8.04 | 8.03 | 8.02 | 8.01 |
| D. Brees | M. Moore | C. Rogers | R. Williams | Delhomme | R. Smith | A. Brooks | M. Faulk | E. Moulds | Stokley | Duckett | Burress |
| 9.01 | 9.02 | 9.03 | 9.04 | 9.05 | 9.06 | 9.07 | 9.08 | 9.09 | 9.10 | 9.11 | 9.12 |
| NE Def | McMichael | PIT Def | T.J. Housh | Kennison | Penning. | Bills Def | Johnson | Droughns | D. Carr | Stallworth | Griese |
| 10.12 | 10.11 | 10.10 | 10.09 | 10.08 | 10.07 | 10.06 | 10.05 | 10.04 | 10.03 | 10.02 | 10.01 |
| F. Gore | Car. Def | Warner | S. McNair | K. Colbert | A. Becht | S. Moss | Harrington | Toefield | L.J. Smith | Leftwich | Pittman |
| 11.01 | 11.02 | 11.03 | 11.04 | 11.05 | 11.06 | 11.07 | 11.08 | 11.09 | 11.10 | 11.11 | 11.12 |
| McCardell | M. Alstott | Campbell | Anderson | Eagles Def | E. Shelton | M. Vander. | C. Buckh. | J. Putzier | Edwards | B. Lloyd | Viniateri |
| 12.12 | 12.11 | 12.10 | 12.09 | 12.08 | 12.07 | 12.06 | 12.05 | 12.04 | 12.03 | 12.02 | 12.01 |
| J. Kelinssr | D. Akers | Finneran | McCareins | Davenport | Roethlis. | Blaylock | D. Jolley | S. Davis | K. Johnson | Atl Def | Chrebet |
| 13.01 | 13.02 | 13.03 | 13.04 | 13.05 | 13.06 | 13.07 | 13.08 | 13.09 | 13.10 | 13.11 | 13.12 |
| Lumsden | Schobel | K. Curtis | Bucs Def | M. Williams | Boerigter | A. Rnd el | D. Rhodes | MIN Def | E. Manning | Toomer | H. Miller |
| 14.12 | 14.11 | 14.10 | 14.09 | 14.08 | 14.07 | 14.06 | 14.05 | 14.04 | 14.03 | 14.02 | 14.01 |
| T. Taylor | M. Jones | J. Wilkins | G. Lewis | D. Bledsoe | A. Bryant | J. Wiggins | D. Givens | K. Boller | Jurevicius | J. Elam | C. Taylor |
| 15.01 | 15.02 | 15.03 | 15.04 | 15.05 | 15.06 | 15.07 | 15.08 | 15.09 | 15.10 | 15.11 | 15.12 |
| Losman | Cooley | S. Jankiow | Redskins | M. Robinson | CHI Def | Williamson | Grossman | R. Curry | M. Shipp | B. Jacobs | Jags Def |
| 16.12 | 16.11 | 16.10 | 16.09 | 16.08 | 16.07 | 16.06 | 16.05 | 16.04 | 16.03 | 16.02 | 16.01 |
| Graham | Jenkins | Caldwell | Kaeding | Dal. Def | C. Fason | Ramsey | Jets Def | Galloway | M. Stover | M. Pollard | Troupe |
| 17.01 | 17.02 | 17.03 | 17.04 | 17.05 | 17.06 | 17.07 | 17.08 | 17.09 | 17.10 | 17.11 | 17.12 |
| Nugent | Colts Def | S. Graham | M. Clarett | L. Tynes | J. Brown | Longwell | T. Glenn | J. Reed | Lions Def | D. Boston | M. Turner |
| 18.12 | 18.11 | 18.10 | 18.09 | 18.08 | 18.07 | 18.06 | 18.05 | 18.04 | 18.03 | 18.02 | 18.01 |
| S. Parker | M. Morris | R. Moats | M. Clayton | Pearman | R. White | Mia Def. | J. Kasay | P. Price | B. Watson | Engram | J. Hanson |
Most people approach the draft as if it were a two or three-part process. The Gut Check will break it down into three sections of six rounds: The Opening Rounds, the Mid-Rounds, and the Late Rounds. Yours truly will start with general observations that should naturally dictate a strategy depending on various situations that occurred in this mock draft.
The Opening Rounds (1-6 or the first third of your draft)
In this draft a little more than half of the teams selected two backs in the first two rounds. Based on the Gut Check's experience, this is a very true to life occurrence. Most fantasy owners like to utilize the Stud RB approach in their opening two rounds. By the end of round three, 10 out of 12 owners have two runners. Many people would just presume this means you should adopt the Stud RB strategy. Not necessarily. It's probably a good idea to plan to draft two backs within the first three rounds just due to the law of supply and demand (if your league scoring system and tendencies match this example draft, as many do), but merely following a rote strategy means you won't be paying attention to what is happening at the moment. This could mean you don't get the opportunity to make moves that set you up for success with future picks.
The team with picks 1.11 and 2.02 is a good example of a team that knew how to manipulate the opening rounds. First, the team didn't simply follow the run of backs going off the board. The team recognized they had the chance to select any receiver they wished for their team. This is a way of controlling the draft board because the owner gets to choose any receiver they desire, plus they possibly influence other teams to go with a receiver a little earlier than planned. If this happens, that new positional run gives this owner more opportunities to land a decent back in round three. In hindsight, this owner had injury issues with his first and third picks, but they were quality players and when healthy demonstrated a level of productivity that reflects some astute strategy in his drafting process.
It's important to note that good timing and understanding where positions historically go off the board are essential. Peyton Manning's ADP is a great example of a classic error that many owners committed last year. Manning came off a record-breaking season and most owners anticipated as good of a follow up from the Colts QB. Yet historically, QBs rarely if ever follow up a record-breaking season with the similar or better production. Manning's ADP was also abnormally high for a quarterback. While the Gut Check thought Manning would break the trend and continue his torrid pace, he never planned to draft Manning in the first round. In essence, Manning (and Culpepper) was a more logical pick in round three. If you understand your league tendencies or fantasy football tendencies from a more historical perspective, you won't have to contemplate taking Manning off the board so early. The chances he'll be worth such a pick are extremely small.
The opening rounds are generally good times to select these types of players for your team:
Starting Backs and an Off The Bench Contributor—

Generally, you're looking for two in the first three rounds, and likely three within the first six. Picking backs should be a regular occurrence throughout all three phases of the draft because of the injury factor, depth chart factor, and rookie factor. The injury factor includes players missing time or players that do a great job replacing an injured starter. Larry Johnson is a great example of an injury factor player from 2005. The depth chart factor occurs when an expected substitute wrests the starting job away from the starter. The Mike Anderson-Tatum Bell situation was a perfect example. Just note where each was drafted and you'll see how one was a huge steal and the other a relative bust. The rookie factor is obvious—first year backs have the highest likelihood of making a big fantasy impact of all the positions. J.J. Arrington, Cedric Benson and Ronnie Brown (in theory) were rookies where astute owners picked them as #3 backs for 2-back starting lineups. On the other hand, making a rookie a #2 RB is a higher risk. In this mock the owner not only made Cadillac Williams his #2 RB, but also failed to secure a #3 RB until much later in the draft.

Primary Fantasy Receivers—Depending on your draft position and the players off the board, you'll likely do well to grab 1-2 receivers within the first six rounds. The Gut Check defines a primary fantasy receiver as a player with a history of consistent production (2-3 years) in the areas of targets, receptions, yardage, and touchdowns. Some teams lack a primary fantasy receiver (Minnesota, Cleveland, and Tennessee), while others have players that are either inconsistent or more likely in decline in this respect (Houston has both in Andre Johnson and Eric Moulds). There are some valid arguments as to why (in most cases) you shouldn't pick two receivers within the first 2-3 rounds. First, the chances of you landing two quality runners diminishes after round three just due to the fact that 2/3-3/4 of the opening day starters will be off the board. There's really no complex strategy here—it's just a simple law of economics occurring in fantasy football. Second, you are more likely to find quality starters throughout the opening rounds, mid-rounds, and even the late rounds of the draft. Here's a count of starting quality receivers (that played enough to qualify) and their ADP from 2005:

Opening Rounds: Chad Johnson; Marvin Harrison; Torry Holt; Reggie Wayne; Hines Ward; Steve Smith; Anquan Boldin; Donald Driver; Larry Fitzgerald; and Jimmy Smith.


Mid-Rounds: Chris Chambers; Plaxico Burress; Rod Smith; T.J. Houshmandzadeh; Eddie Kennison; Donte Stallworth; Santana Moss and Keenan McCardell.


Late Rounds: Antonio Bryant; Joey Galloway; and Terry Glenn.

As it shakes out, 48% of the primary fantasy receivers came from the opening rounds, 38% from the mid-rounds, and 14% from the late rounds. Yet 72% of these receivers went off the board between rounds three and twelve and 57% of them after round four. Your league could be different, but based on the Gut Check's experiences in a variety of leagues this reflects a common tendency.

Elite Quarterbacks and/or Tight Ends—

There is usually a more dramatic difference between an elite runner/receiver and a starting quality runner/receiver than an elite and starting quality quarterback. There is a fairly healthy gap in points between the best tight end and the rest of the pack, but tight end is the lowest scoring of the offensive fantasy positions. So you're best off remaining cautious on selecting these players in the opening rounds. Historically, there are 1-2 elite quarterbacks and tight ends each season. But there still tends to be a gap between the best and the second best at these positions. Therefore, drafting a quarterback or tight end before round three is probably a reach. Then there's the question of accurately predicting the elite player. Peyton Manning would seem like a solid choice for quarterbacks due to his consistently high production, despite being a relative disappointment in 2005. On the other hand, is the best tight end Antonio Gates or Tony Gonzalez? Gates may seem like a no-brainer, but is the quarterback position stable enough for him to continue his run as the elite fantasy tight end? What about Jeremy Shockey, the #2 TE from 2005? Then there's Todd Heap or one of the up and coming young players. Get the point? The higher you grab a quarterback or tight end, the smaller your margin for error must be in order to have made the best decision.
The Mid-Rounds (7-12 or the second third of your draft)

If you follow the opening round tendencies then the mid-round phase is the point where you hope to grab a starting quarterback, fill out your starting lineup for receivers and tight ends, and grab quality depth at running back. The last point should not be understated—runners are obviously the position of greatest demand in the draft and that means there will be fewer quality players at this position available on the waiver wire.
You should be able to find a top ten starting quarterback between rounds 7-12. It's true you might want to go a round or two earlier to diminish your margin of error, but that depends whether you valued a specific quarterback over a second receiver, elite tight end, or promising #3 RB with great potential to make a huge impact (Larry Johnson last year, a top rookie this year). Thomas Jones, Jerome Bettis, and Mike Anderson were three starting quality backs that generally fell to the mid-rounds. Frank Gore, Ricky Williams, and Mewelde Moore were also options that provided good depth with some starting quality games throughout the season.
Quarterback is really the key position in this range of picks. If you didn't pick one of the top 2-3 signal callers in the first 3-4 rounds, then it's a good idea to focus on the position between rounds 5-12. Some of the better players at this position were mid-round picks in most leagues: Carson Palmer; Tom Brady; Mike Vick; Jake Delhomme; Drew Brees; and Kurt Warner were impact players relative to their position. Palmer and Brady were among the best fantasy players at their position. Warner had 3-4 week stretches where he carried many squads at just the right time. You also get a shot at quality depth in the form of players like Steve McNair, Jake Plummer, Byron Leftwich, Aaron Brooks, and Brian Griese.
This is really the ideal place to get a quality tight end (if not later), but it depends on the experience or tendencies of your league. The Gut Check has found more experienced owners tend to wait on drafting a tight end after the top two go off the board, but that changes when 1-2 less experienced owners with consecutive picks start a positional run. Despite this being the best time to get a decent TE, you shouldn't be overly concerned at this point. Compared to RBs, WRs, and QBs, you should have relatively more success with a late pick or a waiver wire tight end.
You'll also notice some of the better-rated defenses and kickers begin to go off the board at the bottom half of this phase (rounds 9-12 for this draft). These are positions where you should find starting quality players on the waiver wire if you don't land one in the late rounds. If you've done an incredible amount of research on these positions and feel like you want to take a player at this position in the mid-rounds, then more power to you. Still, The Gut Check finds it an expensive investment for the unpredictability of the position.
The mid-rounds (especially in the top portion of this phase) are also a great place to pick up players that inexplicably fell from grace. Let's say hypothetically that Stephen Jackson is suspended for a yet to be determined amount of games and your league lets him fall to you at round seven because at the time it's unknown the amount of time he'll miss. Considering the risk reward ratio, Jackson is a great bargain at this point because he's getting drafted at the same point as back up runners! You're even less likely to use these backups, so why not take a chance?
The Late Rounds (13-18 in this draft or the final third of another draft)

In addition to landing a starting kicker and defense—note the use of the singular rather than the plural for either position—this is the best place to gamble on young players you like and veterans coming off bad seasons. But why should you only pick one kicker or defense? Here's a common scenario that plays out in league after league.
First there's the draft, where at least 2-3 teams that select multiple kickers and defenses. While drafting two at each position is reasonable preparation for bye weeks or injuries, anything more is a reflection of inexperience. Yet, why not rely on most owners to be prepared and take advantage of this tendency? When these people are drafting positions with minimal upside, you are taking chances on players that could become high producers at the key positions (Joey Galloway, Terry Glenn, Samkon Gado, Antonio Bryant, and Bobby Engram come to mind for 2005). Plus, the two easiest positions to acquire as a throw-in player in a trade are team defenses and kickers!
Finally, which positions do owners usually drop in the early weeks when a wavier wire gem unearths itself? You betcha—kickers and defenses are among the first to go. So why waste your time selecting more than one of each when there are so many ways to easily acquire a good one after your draft? If anything, select a quality kicker/defense with as late of a bye week as possible so you can have some advance notice to acquire a better player at the position as you see how the first 6-7 weeks of production shakes out.
As you can see, this is really the place in your draft to go deep and hope you get lucky. The Gut Check Check can think of dozens of players that he's seen selected in the late rounds that practically carried a team. Kickers and defenses will not carry your team; they will only fortify a team that is already strong.
The best way to improve your drafting prowess is to practice. Hold a mock draft or get involved with more leagues. Track the results and refer to them when preparing for the following year. This is another great reason to use FF Today's Cheatsheet Compiler and Draft Buddy because you'll have both your results as well as ADP data to perform your own Draft Post-Mortem.
Crank Score Projections Update
The Gut Check has received a number of requests for updated Crank Projections. The Crank Score isn't going to be different due to the AVT format he's using as the basis. The only thing that will change is his rankings of players for each score. So for those of you that wish to take the risk and use his updated cheat sheet—good luck, because there are some big changes after week two of the preseason. He has a draft coming up this weekend, so as soon as he finishes his adjustments, he'll get them posted—mostly likely Monday. If you would like a list before then, email him on Friday and if they are ready, he might be able to send them to you—no promises. Unless you're meeting The Gut Check at the Dagger for the draft.
Meanwhile, some of the changes he's considering include Clinton Portis. Anita Marks of ESPN 1300 Baltimore had some very good points about this injury. She experienced a similar injury as a football player and mentioned that the ligament in the shoulder has really no elasticity. This means the injury permanently stretches the ligament, which creates a likelihood of recurrence. It's also not a one-week injury and she's speculating he probably can't lift his arm over his head at this point or for a while.
Another point Marks made about Portis is how this will effect his running style once he's "healthy enough to play." She astutely describes Portis as a runner that has excellent body lean—his pads are over his knees which allows him to stay low, deflect hits, and get extra yardage when a defender wraps up his legs or body. The shoulders and neck tend to be the sorest parts of a runner's body after a game because this is where the brunt of the punishment occurs. Portis could be more vulnerable to injury throughout 2006. In fact, he'll likely have to wear a harness to start the season.
So a partially dislocated shoulder makes Portis a greater risk to wear down this year. The Gut Check had Portis as his #2 RB overall—probably higher than most—although the injury isn't only a partial dislocation, it still knocks him down a bit. Yours Truly still believes the Redskins back has the potential to put on a show this year, but he's no longer as much of a lock to perform like a back in the upper half of the first round.
The Gut Check is also dropping the Raiders skill players. The offensive line looks horribly inexperienced at this point and this will have an adverse effect at each fantasy position until the unit gels. On the other hand, nudge Rams runner Stephen Jackson a bit higher up the list.
Look for a shake up with the quarterbacks. The Gut Check believes Drew Brees could have an Aaron Brooks-like year (without the mistakes) in New Orleans and Philip Rivers is slowly climbing the charts. Receivers will also see some changes—mainly T.O., Randy Moss, and Darrell Jackson on the way down and Horn, Wayne, and Steve Smith on the way up.