Crank Scores -
Part IV
8/4/06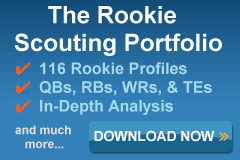 The "Gut Feeling" is often synonymous with a sense of desperation resulting from a lack of preparation. The Gut Check is a huge proponent of studying the numbers, but there's a point where one can place too much emphasis on the wrong information. This can result in the undervaluing or overlooking a player's potential. Therefore, The Weekly Gut Check is devoted to examining the frame of reference behind certain number-driven guidelines that fantasy football owners use to make decisions.

Although The Weekly Gut Check doesn't claim to be psychic, he does believe that he can dispel certain numbers biases and help you make the best choices for your team. We'll keep a running tally of The Weekly Gut Check's insights. This way you can gauge his views as something to seriously consider, or at least seriously consider running the opposite way as fast as you can!


---
Crank Scores will be the focus of a four-part series. Part I provided Crank Scores for standard scoring, 12-team leagues based on 2005 stats. Part II focused on Crank Scores from 2005 stats for 12-team leagues that score 1 point per reception. Part III incorporates a combination of two draft strategies to create projections. Part IV will be a more personalized projection incorporating Crank scores. For a detailed explanation of the Crank Score see Volume 40 and Matt Waldman's Draft Strategy article in the 2006 edition of Fantasy Pro Forecast now on sale at newsstands near you.
To end this series on Crank Scores, the Gut Check will provide his own initial projections. One reader suggested yours truly should use FFToday's current projections and run them through the Crank Score formula as a way of projecting 2006 stats. On the surface this seemed like a good idea, but The Gut Check would need to project weekly stats for every player to arrive at a predicted Crank Score. In comparison to the AVT method of projecting performance, there would be a much higher opportunity for error in the process. Still an idea worthy of consideration, but The Gut Check will have to examine it in more depth at a later date.
Another method that came to mind was to take the reverse approach to AVT—calculate the average Crank Score for each starter at every draft-able position, and determine a suitable score for said player. Initially, the idea here was to see how consistently each player maintained his score in a given range of years. But it doesn't take much to realize there aren't many players that consistently maintain their score year to year. The average length of a career as an NFL player is around 3 years. It's obviously longer for starters at the skill positions, but as much as determining the actual length sounds like a project worth pursuing, it's not a process to undertake here.
The reason the Gut Check chose to use the Average Value Theory as a basis for his projections stems from his 2005 Crank Projections. Yours truly was guilty of over-projecting the performance of starters—a common error among many fantasy owners new at player projections. While not new at projections it was the first year of the Crank Score. The Gut Check did a pretty accurate job of ranking some individual players within their position, but he needs to improve his accuracy on overall Crank value. Here are some examples:


2005 Review
Pos
Player
Projected Rank
Actual Rank
Projected Crank
Actual Crank
RB
Tiki Barber
3rd
2nd
75.95
67.91
RB
Ladainian Tomlinson
2nd
4th
81.24
55.67
RB
Chiefs Starter*
1st
3rd
105.13
66.8
RB
Domanick Davis
7th
7th
62.52
49.78
RB
Clinton Portis
10th
9th
56.32
45.78
RB
Cadillac Williams
17th
19th
42.42
19.82
RB
Rudi Johnson
18th
15th
40.57
31.89
QB
Donovan McNabb
2nd
2nd
69.76
54.55
QB
Marc Bulger
4th
3rd
59.86
54.3
QB
Drew Brees
11th
12th
46.84
25.67
QB
Matt Hasselbeck
17th
13th
41.51
24.68
WR
Terrell Owens
2nd
1st
61.11
75.77
WR
Chad Johnson
7th
7th
41.73
46.21
TE
Antonio Gates
1st
1st
35.52
29.48
TE
Jeremy Shockey
4th
2nd
21.02
19.81
TE
Alge Crumpler
5th
3rd
20.11
16.09
TE
Todd Heap
6th
4th
18.78
13.95
TE
Ben Troupe
10th
12th
14.95
4.11
*The Gut Check had Priest Holmes as the starter and top-ranked player, but had Larry Johnson at a 68.58 Crank Score—even as a backup. He was actually closer to reality with L.J. than Holmes.
This week, The Gut Check provides a more aggressive version of projections. Again, these will be fluid as the preseason progresses. Once again, yours truly is basing his scores off a 12-team league with a lineup of 1 QB, 2 RB, 3 WR, and 1 TE for a standard scoring league system: .1 point per yard rushing/receiving; .05 point per yard passing; 6 points per rushing/receiving touchdown; and 4 points per passing touchdown.
Last year, the Gut Check attempted to predict performance of rookies and second-year players with a variety of formulaic factors, but he's scaling down this approach for 2006. For starters, there were too many things that didn't allow for a solid sample size when comparing performance progressions from year to year. So consider this week's projections a combination a higher risk assessment of player performance. If you are less risk-adverse, the rankings from Part III of the series should be more suitable to your taste.


The Gut Check's 2006 Opening Week of Training Camp Crank Projections
QB
Player
Crank
ADP
RB
Player
Crank
ADP
WR
Player
Crank
ADP
TE
Player
Crank
ADP
1
P. Manning
73.24
2.02
1
L. Johnson
97.33
1.01
1
L. Fitzgerald
71.12
2.1
1
A. Gates
29.47
3.03
2
M. Bulger
68.2
6.05
2
C. Portis
73.3
1.04
2
T. Holt
59.78
2.07
2
T. Gonzalez
22.4
4.12
3
D. McNabb
55.77
6.02
3
Alexander
69.09
1.01
3
M. Harrison
55.92
2.11
3
J. Shockey
17.2
5.04
4
T. Brady
49.94
4.08
4
L. Tomlinson
62.74
1.02
4
T. Owens
54.23
2.03
4
T. Heap
15.35
5.1
5
C. Palmer
45.45
4.1
5
C. Williams
57.5
1.11
5
C. Johnson
53.7
2.05
5
J. Witten
13.26
7.04
6
K. Warner
40.3
8.01
6
L. Jordan
54.69
1.07
6
R. Moss
49.2
2.09
6
A. Crumpler
12.05
6.1
7
A. Brooks
38.67
8.1
7
E. James
53.98
1.06
7
A. Boldin
47.87
3.02
7
C. Cooley
11.73
7.1
8
D. Culpepper
36.87
6.02
8
T. Barber
51.99
1.05
8
S. Smith
41.05
2.01
8
R. McMichael
8.73
8.06
9
J. Delhomme
34.46
7.01
9
Westbrook
47.89
2.02
9
C. Chambers
39.92
3.06
9
L.J. Smith
7.78
9.04
10
D. Bledsoe
30.75
7.06
10
R. Brown
43.1
1.09
10
S. Moss
36.64
4.04
10
B. Watson
7.56
10.04
11
M. Hasselbeck
29.42
5.1
11
R. Johnson
38.24
1.1
11
J. Horn
35.04
5.02
11
H. Miller
6.42
10.04
12
D. Brees
28.72
9.05
12
S. Jackson
34.77
1.07
12
D. Mason
31.45
5.12
12
V. Davis
5.92
10.08
13
S. McNair
25.56
11.02
13
R. Bush
33.19
3.08
13
T.J Housh
30.75
5.08
13
K. Winslow
5.71
9.12
14
E. Manning
23.94
5.12
14
D. Foster
32.24
4.08
14
J. Galloway
27
6.04
14
B. Troupe
5.49
13.04
15
T. Green
22.76
8.1
15
K. Jones
31.71
2.11
15
D. Jackson
26.39
4.01
15
Dal. Clark
4.49
11.02
16
M. Brunell
21.68
12.02
16
J. Addai
31.11
4.09
16
H. Ward
26.25
3.09
16
Des. Clark
4.17
17
C. Simms
20.99
12.05
17
C. Benson
26.96
5.04
17
D. Driver
25.17
4.08
17
A. Smith
3.89
15.05
18
J. Plummer
18.09
8.12
18
C. Dillon
26.03
4.06
18
R. Wayne
24.43
3.07
18
M. Lewis
3.6
19
B. Favre
17.46
10.02
19
W. Dunn
23.86
4.03
19
R. Williams
23.9
3.12
19
J. Stevens
3.5
20
B. Leftwich
16.94
10.08
20
J. Lewis
23.35
3.02
20
A. Bryant
23.28
11.02
20
Z. Hilton
3.1
14.11
21
Roethlisberger
16.54
10.04
21
F. Gore
22.55
7.01
21
B. Lloyd
22.46
13.06
21
L. Pope
2.99
22
M. Vick
16.2
8.11
22
W. Parker
21.67
3.02
22
T. Glenn
22.07
9.12
22
J. Putzier
2.6
23
J. Kitna
15.67
11.08
23
F. Taylor
19.67
5.09
23
K. Robinson
21.59
8.11
23
J. Wiggins
2.2
13.12
24
B. Volek
14.61
14.05
24
A. Green
18.6
5.12
24
P. Burress
20.53
4.05
24
D. Graham
2.08
25
D. Carr
14.42
12.1
25
W. McGahee
17.02
2.04
25
R. Brown
19.91
7.04
25
E. Johnson
1.66
26
R. Grossman
13.97
26
R. Droughns
16.93
3.06
26
M. Jones
18.41
8.12
27
P. Rivers
9.64
13.12
27
J. Jones
16.24
2.11
27
L. Evans
17.78
6.11
28
K. Holcomb
7.95
28
C. Taylor
13.43
3.07
28
D. Branch
16.92
5.07
29
C. Frye
5.85
29
C.Brown
11.52
6.12
29
E. Kennison
16.23
8.11
30
B. Johnson
5.34
14.1
30
C. Martin
10.51
7.02
30
R. Smith
15.35
7.03
31
A. Smith
4.78
31
D. Williams
9.63
7.01
31
N. Burleson
14.75
7.09
32
C. Pennington
3.78
32
T. Jones
9.3
5.08
32
M. Muhammad
14.39
8.08
33
V. Morency
8.73
33
K. McCardell
13.88
10.1
34
M. Barber
8.09
8.1
34
J. Walker
13.7
5.01
35
T. Bell
7.73
3.12
35
A. Johnson
12.48
11.01
36
D. McAllister
6.24
5.07
36
D. Stallworth
12.08
9.11
Running Backs
Why does The Gut Check have Clinton Portis second, Carnell Williams fifth, and Reggie Bush thirteenth? Maybe the question should really be why yours truly has Shaun Alexander third, Edgerrin James seventh, and Tiki Barber eighth. Check out Tony San Nicolas' study on backs with heavy workloads and you'll see why these three backs aren't the locks as fantasy studs that many believe. The Gut Check used Tony's study as a basis for adjusting his initial projections on these three backs:

Adjustment For Heavy Workload RBs
RB
2005
% Change
Adj.
2006
S. Alexander
89.53
25%
22.38
67.15
T. Barber
67.91
35%
23.77
44.14
E. James
64.39
20%
12.88
51.51
The % Change column is the projected drop in production from these three players' 370-f/carry year in 2005. Note The Gut Check believes James will have the smallest decrease despite going to a new team with a lesser offensive line. This has to do with James history of consistency despite previous heavy workloads as noted in Tony's article and James' lower carry count than Barber and Alexander.
Despite the ardent supporters of Tiki Barber's skills, The Gut Check believes the New York Giant will not be a top-5 back in 2006. He should still remain a productive #1 back, but yours truly isn't convinced the Giants offense is going to make the jump to the elite NFL offenses. Plaxico Burress is not a multi-dimensional threat and Amani Toomer's career appears to have peaked a couple of years ago. This is why The Gut check doesn't see Eli Manning making that quantum leap in production. The Giants could win more games because there's no denying that Manning should be a better manager of the offense, but his weapons aren't on par with teams like St. Louis, Cincinnati, or Indianapolis.
Alexander's ranking as the third back overall isn't much of a slight to the top fantasy producer of 2005 when you examine the statistical odds (again see Tony's article) against him to repeat such a performance this year. The Seahawks' lead back is healthy and the centerpiece of a strong offense, so predicting doom and gloom despite what should be characterized as a coincidental trend of Madden Cover disasters is tough to do. In other words, Tony and yours truly are giving you another excuse not to select Alexander first.
That brings us to Portis as the second overall back in these projections. The Redskins star has a number of things going for him:
Consistently high production that doesn't surpass the f-carry threshold that constitutes a heavy workload.

Al Saunders taking over the offensive scheme his track record for getting huge years out of Marshall Faulk and Priest Holmes.

Portis is still on the ascent in terms of his athletic prime.

A strong defense under Greg Williams who coached defenses in Tennessee and Buffalo during the prime of Eddie George's career.

A run-blocking scheme more suited to Portis natural talents as a runner.
When you combine these factors with Portis having one of the strongest second half fantasy point differentials in recent history, it's difficult not to like his prospects for a big 2006.
While Portis' ranking seems plausible, what gives with the ranking of Cadillac Williams at number five? The Gut Check believes Williams has similar factors going for him as Portis:
Williams is a runner with excellent vision and gets stronger as the game progresses.

He's an improving receiver that is expected to eat more into Pittman's time in 3rd down situations.

The Buccaneers still have a good defense that gives the offense more opportunities.

Jon Gruden is one of the best offensive minds in the game and the addition of what appears to be a physically repentant David Boston, and a healthy Michael Clayton should make keying on Williams more difficult than many anticipate.
While many view Ronnie Brown as the more likely option to reach the elite tier of backs, the Gut Check believes Miami's offense is still a year away from making that step. A Culpepper miracle aside, Marty Booker is not the second receiver that is going to take enough pressure off Chris Chambers where the running game will be at the elite level. Yours truly believes Brown will have some excellent games and become a fine starting fantasy back, he won't have what Cadillac has going for him in 2006.
Reggie Bush at thirteen is also worth an explanation. Deuce McAllister is the incumbent, but even as of today the Saints runner is experiencing swelling and limps noticeably during practice. McAllister may be gutting it out, but pushing one's rehab too hard can result setbacks. Remember when Edgerrin James returned from his ACL tear? There were no reports of limping or swelling to the knee, and his performance was noticeably different than his healthier seasons (277 carries, 989 yards, and 2 rushing scores). The Gut Check doesn't like McAllister's chances if a great player like James couldn't make the comeback the Saints runner is predicting in 2006.
On the other hand, Reggie Bush is one of the more special backs to enter the league. If Marshall Faulk can enter the league and post 1282 yards on the ground, 11 scores, and 522 yards through the air with Jim Harbaugh at the helm, Bush has a strong chance to post similar stats for a Saints team that is more talented and well-coached (an early endorsement of Sean Payton's methods). The Gut Check has been saying this all off-season—believe the hype when it comes to Reggie Bush.
Minor Points
Kevin Jones at fifteen is a reflection of the good word from the Lions coaching staff coming out of camp. It's not so much an endorsement of the Lions new offense as Jones working hard in the off-season and demonstrating a level of improvement that has caught the eye of most observers. Frank Gore at twenty-one is a Gut Check favorite, and when you read more about Gore's growing example of leadership in the locker room and skill on the field, yours truly feels he's a great value.
Quarterbacks
The Gut Check flip-flopped McNabb and Bulger based on the fact that the St. Louis quarterback still has better all around weapons in the passing game, and should stay healthier in Scott Linehan's offensive system. Kurt Warner remains high on the list because of his stretch run in 2005 and Carson Palmer looks like he's on track to start the season opener. The Gut Check is a fantasy fan of Aaron Brooks this year because of Art Shell. Do not overlook the coaching change. Shell has demonstrated excellent leadership thus far. He's going to keep the philosophy simple, disciplined, and focused, which should suit Brooks strengths. The Raiders will be a team that dares you to beat them physically and they will develop a swagger with some success. The move to make WR Jerry Porter expendable and go with Doug Gabriel is going to pay big dividends for the chemistry and discipline of this team. Brooks in round eight will once again be a great value for fantasy owners looking for a quality starter.
Mike Vick has a low ranking of twenty-two and that has to do with his slow development as a passer and more pressure on the unproven Michael Jenkins and talented Roddy White with the reliable Brian Finneran gone for the year. It also has to do with the Gut Check expecting more production from signal callers like Simms, Brunell, and Plummer. It's difficult to figure out where to place Brunell on this list, but yours truly figures Brunell will play a role similar to Trent Green. Simms was impressive in the 2005 Wild Card loss to the 'Skins and if Jon Gruden can make Ty Detmer, Jeff George, and Rich Gannon better players, Simms should follow suit. Plummer was a better game manager during the season, but he wasn't as prolific. Expect this to change with the running game a bit more up in the air this season. Everyone seems to assume Denver will be back on track in 2006, but the Gut Check isn't buying it. Expect teams to force Plummer to beat them and have more success with this strategy. While it's possible the Jags offense will make strides, there are too many unproven skill players in significant roles. Leftwich should be a value play. The Gut Check believes if the offense clicks (and gets healthy), Leftwich could easily be a top 12 quarterback. You just don't have to reach for him.
McNair at thirteen is probably an admitted homer pick, but if you examine McNair's 2005 you'll notice when healthy he had some quality games despite the absence of a defense or veteran receivers. Now reunited with Derrick Mason, paired with pro bowl caliber TE Todd Heap, and a fast-rising receiver in Mark Clayton, McNair has a great opportunity to be at least as good as the Gut Check projected. If you stuck Brett Favre on Ravens, the Gut Check would have bumped up the longtime Packers QB into the top ten. This year, Favre has a lot of unproven players around him and yours truly is more inclined to believe this will mean a reprise of 2005's production.
Culpepper moves up significantly, because the Gut Check is beginning to open up to the idea that the Dolphins signal caller might have a miraculous recovery in him. It's still too early to put him among the list of top tier starters, but he may be worth reaching for if you know you can back him up with a guy like Brooks, or some of the other quarterbacks mentioned here. It's a huge risk-reward scenario, but some times you have to take the No Guts-No Glory approach.
Wide Receivers
Not many changes at the top of this list. The Gut Check had room for improvement with his projection of receivers last season. Then again, not many people placed Steve Smith, Santana Moss, Joey Galloway, or T.J. Houshmandzadeh at the top of their lists, either. Speaking of the Bengals' possession receiver, Houshmandzadeh moves his way close to #1 WR territory with Palmer looking good, Chris Henry in trouble, and the defense losing Odell Thurman for four games. Reggie Wayne may seem low to you, but he's tending to be a bit over projected in the Gut Check's opinion. While Addai and Rhodes should be adequate to good pass blockers, look for more success to come from the short to intermediate passing game. Wayne isn't the speedster of the receiving corps and less deep play action routes will affect his game the most. This doesn't mean Indy will abandon the deep play action pass, but replacing James as a blocker won't be easy. Plus, San Diego exploited some holes in the Colts pass protection scheme. It will be interesting to see if the offense has been able to address these issues.
Antonio Bryant and Brandon Lloyd continue to move up the list. Both players have been described as excellent talents but with poor attitudes. Bryant looks like he's maturing and he looks on track to have a true breakout season for a team that will likely need to lean on his play. Lloyd may not have matured, but he strikes the Gut Check as the type of player that will give a good team with strong leadership some additional swagger despite the fact he might have been a detriment to a developing organization without discipline. There's little doubt in the Gut Check's mind that Antwaan Randle El is the slot option, and Lloyd should be ready to take that next step as a fantasy receiver—especially seeing single coverage playing opposite Santana Moss. Based on these rankings versus the ADP, both Bryant and Lloyd should present great value to fantasy owners in drafts.
Plaxico Burress drops a few spots because yours truly believes in 2005 teams forced the Giants to throw. The oppositions wanted the Giants to show that Manning to Burress could beat them as often as getting the ball to Shockey or Barber. This year, the Gut Check believes Burress will have to prove he can still produce against match ups geared to stop him. He's also a bit nicked up early in the preseason. Leg/ankle injuries can be troublesome for longer periods of time than players let on to the media. Matt Jones also has a walking boot on his ankle and for big receivers like these two, that's not a good sign. The promising target drops a few notches until there's evidence he's healthy.
Tight Ends
Randy McMichael and L.J. Smith move up the list. Mike MacGregor is probably laughing right now if he reads this (the Gut Check traded LB Ian Gold, WR Bobby Engram, a 3rd round next year and a 3rd round pick in 2008 to Mr. Compiler for McMichael, RB Wali Lundy, and a 2007 3rd round pick in their Ironman 3 Dynasty League), but the move is predicated more so for the encouraging news on Daunte Culpepper. Smith moves up due to the fact McNabb will likely lean on him and RB Brian Westbrook in the short game. The Gut Check still likes Kellen Winslow II's progress but losses in the offensive line and Winslow's continued demonstration of cockiness without evidence of NFL production (it's expected to see a player confidence in himself, but after all he's been through his tendency to talk a little smack could be a minor red flag) lowers his expectations a bit more. Still, he's a great second TE that could easily out-perform your first pick.