The Weekly Gut Check - Vol. 64
Below The Radar Long Shot: 2006
6/27/06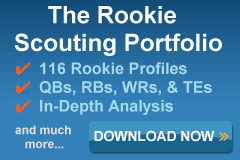 The "Gut Feeling" is often synonymous with a sense of desperation resulting from a lack of preparation. The Gut Check is a huge proponent of studying the numbers, but there's a point where one can place too much emphasis on the wrong information. This can result in the undervaluing or overlooking a player's potential. Therefore, The Weekly Gut Check is devoted to examining the frame of reference behind certain number-driven guidelines that fantasy football owners use to make decisions.

Although The Weekly Gut Check doesn't claim to be psychic, he does believe that he can dispel certain numbers biases and help you make the best choices for your team. We'll keep a running tally of The Weekly Gut Check's insights. This way you can gauge his views as something to seriously consider, or at least seriously consider running the opposite way as fast as you can!


---
Every year there is a player that stands out to The Gut Check as an underrated, underappreciated talent flying below the radar. Last year's pick was Titans RB Jarrett Payton. While Payton did make the roster and deliver a positive contribution in a game, his chances of surpassing Chris Brown, Lendale White, and Travis Henry on the depth chart are incredibly slim. Still, players like Payton could eventually turn into fantasy starters like Reuben Droughns or Samkon Gado.

This year's long shot candidate was a first round pick and a favorite of draftniks in 2004—WR Rashaun Woods. The Gut Check believes Woods was one of the most talented receivers in a star-studded class that included Larry Fitzgerald, Roy Williams, and Michael Clayton. For various reasons Woods didn't pan out in San Francisco, but The Gut Check will present a case as to why the recently acquired Charger will eventually succeed in the NFL.

The case will be built around Woods talent, extenuating circumstances in San Francisco, and the media's desire to find a reason for his slow development other than those circumstances. The Gut Check will also provide some historical examples of talented young players developing into fine pros with their second and third team. Fantasy owners often forget there is a difference between dropping a prospect from your team and completely writing off a player. Savvy owners keep their eyes (and mind) open to players that have the talent and opportunity to develop despite not doing it on everyone else's timeline.

The Gut Check has pointed out Woods' talent in a previous column in 2004. One of the main points was Woods was known as a polished receiver but not an elite athlete compared to the rest of the class. Woods did not have an amazing 40 time, but when you look at his work out numbers in comparison to the other top receivers in his draft class, you'll see why he was a first round pick:

Who's Explosive?
Prospect
Height
Shuttle
40 Time
Vertical
Michael Clayton
6'3"
4.15
4.54
32.5
Keary Colbert
5'10"
4.18
4.43
34
Lee Evans
5'10"
4.02
4.33
37
Larry Fitzgerald
6'2"
4.27
4.47
35
Michael Jenkins
6'4"
4.31
4.38
34
Darrius Watts
6'1"
4.18
4.43
35
Reggie Williams
6'3"
4.34
4.48
36
Roy Williams
6'2"
3.97
4.37
39.5
Rashaun Woods
6'2"
4.05
4.47
39

Scouts cite the ability to separate—quickness in and out of breaks--as one of the most important aspects of route running. The 20-yard shuttle is a good indicator of this explosiveness and Woods' time was one of the best. This is what has kept Jerry Rice and Keenan McCardell viable contributors late in their careers. Neither player was a speed guy, but they both could get deep because of their ability to gain separation.

Charger's GM AJ Smith acquired the venerable McCardell from the Buccaneers and has been a Woods fan since he was at Oklahoma State. You can read more about the Chargers take on their new receiver here.

So if Woods were so good in college, why didn't it work out with the 49ers? As The Gut Check mentioned in an article at the end of 2004, Woods failed to gain any chemistry with the 49er quarterbacks because he had a hamstring injury. The rookie spent more time in the training room than the practice field. Woods is also a humble, laid back guy from the country with the desire to become a professional bass fisherman one day. The media spent a lot of time making references to these facts as reasons for his lack of success. They questioned his commitment and passion for the game of football. No one questioned Keyshawn Johnson when he opened up a restaurant or Troy Vincent for his myriad of business activities. If Woods were late or missed practices, then it would have been a different story. This was not the case.

The fact remains that Woods will be working with his third coaching staff in as many years as an NFL player. Woods didn't get a lot of playing time as a rookie, constantly dealt with a rotation of quarterbacks that had marginal talent as NFL starters, and then had to learn a whole new terminology and system before even getting a chance to grow comfortable with the first playbook. In 2005, Woods was placed on injured reserve with a thumb injury that required surgery. It is not hard to imagine why Woods got off to a slow start as a pro.

The funny thing is critics of Woods, especially fantasy football owners, say he lacks enough speed and skills to get separation. When one considers Woods averaged 22 yards per catch and was still thinking his way through the game and working through an injury, this criticism doesn't make a lot of sense.

| | | | | | | | | | | |
| --- | --- | --- | --- | --- | --- | --- | --- | --- | --- | --- |
| Last | First | Year | Opp | Week | Rush Att | Rush Yd | Rec | Rec Yd | Total TDs | Fpts |
| Woods | Rashaun | 2004 | NE | 17 | 0 | 0 | 3 | 76 | 0 | 7.6 |
| Woods | Rashaun | 2004 | BUF | 16 | 0 | 0 | 1 | 17 | 0 | 1.7 |
| Woods | Rashaun | 2004 | TB | 11 | 0 | 0 | 1 | 32 | 0 | 3.2 |
| Woods | Rashaun | 2004 | STL | 4 | 0 | 0 | 2 | 35 | 1 | 9.5 |

The fact is most people like to attribute the problem to the player and not the system. Rashaun Woods was not one of Mike Nolan's players. He also didn't get much of a chance to prove he could be one of the coach's guys.

It's worth noting there are some quality receivers that didn't have much success with their first team, but eventually became solid-great contributors somewhere else:


| | | | | | | | | | |
| --- | --- | --- | --- | --- | --- | --- | --- | --- | --- |
| Last | First | Team | G | GS | Rookie Yr | Rec | Rec Yds | Rec TDs | Fpts |
| Mathis | Terance | NYJ | 16 | 1 | 1990 | 19 | 245 | 0 | 25 |
| Calloway | Chris | PIT | 16 | 2 | 1990 | 10 | 124 | 1 | 18 |
| McCaffrey | Ed | NYG | 16 | 0 | 1991 | 16 | 146 | 0 | 15 |
| Horn | Joe | KC | 10 | 0 | 1996 | 2 | 30 | 0 | 3 |
| McCardell | Keenan | CLE | 2 | 0 | 1992 | 1 | 8 | 0 | 0.8 |
| Thigpen | Yancey | SD | 4 | 1 | 1991 | 0 | 0 | 0 | 0 |
| Smith | Jimmy | DAL | 7 | 0 | 1992 | 0 | 0 | 0 | 0 |
| Jeffers | Patrick | DEN | 4 | 0 | 1996 | 0 | 0 | 0 | 0 |

After his 1993 season in New York where he had a career-high 352 yards receiving, Terance Mathis went to Atlanta, and had a 111-catch year for 1342 yards and 11 scores. Mathis had 3 more 1000-yard seasons in the next five years. Ed McCaffrey demonstrated a lot of promise in his second year as a Giant, but he never got a chance to develop into a valued starter until arriving to Denver in his fifth season. For the next five seasons after his arrival, McCaffrey never had fewer than 7 touchdowns and produced three, 1000-yard seasons.

Joe Horn spent four seasons as a reserve on the Chiefs. He had a 35-reception, 586-yard, 6-touchdown year in his final stint in KC, but was allowed to pursue free agency. Since Horn signed with the Saints, he's been among the most consistently productive receivers in football. Horn has 4 seasons out of 6 with at least 1200 yards and 8 scores. It's now a distant memory for several fantasy owners that thought Horn wouldn't amount to much after a fluke season in Kansas City.

Keenan McCardell's story is very similar to Horn's. Now one of the games' great possession receivers, McCardell had three non-descript seasons in Cleveland before a decent effort in his fourth campaign. Still, he was designated for the expansion draft. Jacksonville subsequently landed a receiver that had four 1000-yard seasons, and two 890-yard campaigns.

And The Gut Check can't go without mentioning McCardell's long-time running mate, Jimmy Smith. One of the great, unsung receivers in the league, Smith began his career in Dallas as a 2nd round pick but the Cowboys waived him after an injury. The Eagles then waived Smith the subsequent year. He only went on to have nine, 1000-yard seasons in the next ten years, including a 1600-yard effort in 1999.

The Gut Check thinks Woods is one of these talents that hasn't shown much within an impatient organization's timeframe, but landed on a team with a mentor (McCardell) and coach (James Lofton) that will bring the best out of him. The Gut Check has lauded the talents of receiving coach Jerry Sullivan when he was with the Cardinals, but outside of assisting the development of David Boston and pushing Arizona to draft Anquan Boldin, what has the coach done in Miami or San Francisco? Maybe Sullivan hasn't had the same quality of talent to develop in his last two jobs—at least in Woods' case the most talented player wasn't healthy enough to practice.

Woods competition for the spot opposite McCardell will be Vincent Jackson, Eric Parker, Kassim Osgood, and Malcolm Floyd. Look for Jackson and Woods to compete for situational time to start 2006, but with McCardell in the last stages of his career, and Parker's tendency to miss games, Woods has a shot to see significant time.

Here's another take on Woods The Gut Check found interesting back in 2004 from The Football Genius website. The writer is highly critical of several players that have been successful early I their career, but considering most talent analysts tend to make every player sound like there is a bust being made for him in Canton, it's refreshing. Plus, he has no problem with valuing players picked in the low rounds (or not drafted at all) over much higher picks.

One such player The Football Genius and The Gut Check agree upon that went undrafted, but we believe will turn out to be an excellent pro is Bowling Green's WR Charles Sharon. So far Sharon has been particularly impressive in Jacksonville's mini-camp where at worst, he'll land with another team with less receiving depth. Otherwise, The Gut Check believes Sharon could find himself the 4th or 5th receiver on the depth chart to start the season and work his way up from there. Sharon is a long shot, but The Gut Check saw similar things from Sharon as yours truly described here.