The Weekly Gut Check - Vol. 74
The 2006 All-Below The Radar Team
9/7/06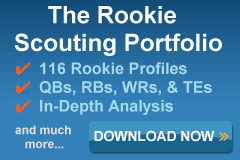 The "Gut Feeling" is often synonymous with a sense of desperation resulting from a lack of preparation. The Gut Check is a huge proponent of studying the numbers, but there's a point where one can place too much emphasis on the wrong information. This can result in the undervaluing or overlooking a player's potential. Therefore, The Weekly Gut Check is devoted to examining the frame of reference behind certain number-driven guidelines that fantasy football owners use to make decisions.

Although The Weekly Gut Check doesn't claim to be psychic, he does believe that he can dispel certain numbers biases and help you make the best choices for your team. We'll keep a running tally of The Weekly Gut Check's insights. This way you can gauge his views as something to seriously consider, or at least seriously consider running the opposite way as fast as you can!


---
Some journeys don't take the expected path to glory. The Gut Check was reminded of this truth over the weekend when he flew to Denver to attend his sister's wedding. His flight was filled with technical, logistical, and procedural delays—turning a 2.5-hour flight into an 8-hour grind. Fortunately, he was sitting next to Adam, a kid from Hudson, Ohio, who displayed an impressive amount of fantasy football acumen: Michael Vick's sub-par 2005 completion percentage; why Steve Smith is overvalued in most leagues right now; and a good argument for selecting Jason Hanson as your kicker. Adam, if you're reading this, I hope you had a good time at your family's wedding—and I hope you're dead wrong about Larry Johnson.

This got yours truly thinking about journeys where nothing seems to go right in the beginning, but once near completion, it turns out to be a rich experience. Some of these journeys related to fantasy football and the other related to an in-flight adventure the Gut check had at the age of 14—an experience few could pull off in today's environment within the commercial airline industry—at least not without receiving personal attention from the FBI and jail time. Before the Gut Check lists his lesser-known talents that just need an opportunity to be fantasy football stars in 2006, he'll tell you how he once successfully boarded a Boeing 727 headed for Atlanta, Georgia as a stowaway.

Several years ago, yours truly was on a plane bound from Denver to Atlanta when in mid-flight, Hartsfield International Airport closed due to fog. The flight was diverted to Huntsville, Alabama and the airline informed the crew that we'd have to remain in Alabama until the next morning. No big deal, except for the fact the Gut Check's dad accidentally left the airport with the Gut Check's ticket in his pocket. Most of you reading this remember a time when the term airport security was an oxymoron compared with today—these events occurred during a more innocent era.

This meant the Gut Check was left sitting in the Huntsville airport—a facility that's the size of a bus station in contrast to the Atlanta airport—too young to get a hotel room and without a ticket to prove he was on the flight in the first place! While the Huntsville airline employees were collecting boarding passes from the rest of the passengers, the airline staff in Atlanta was telling his mom that yours truly was not listed as a passenger on the flight. This inspired a classic, "who's got the kid" argument between his divorced parents which ended with the Gut Check's dad telling his freaked out, ex-wife, "unless he jumped out of the plane, he was on it!" This degenerated into a John Hughes movie moment when at the same time, yours truly was on a payphone unsuccessfully trying to call both of them as they were arguing about their kid's whereabouts.

Once he hung up the phone, he overheard a married couple deciding they were going to get their tickets back from the airline and board an stretch 727 with special radar equipment that was going to make an attempt to gain clearance to land from the Atlanta airport despite it being closed. If denied, they'd turn back for Huntsville. Now the Gut Check doesn't know much about commercial aircraft instrumentation from that time—he's just telling you what he overheard. The Gut Check decided to follow this couple's lead as they took off running toward the tarmac.

Yours truly boarded the plane and there was no flight attendant at the entrance of the plane. In fact, other than the married couple there was no one on this huge jet! It was about 2:30 or 3:00 am, but the absence of the flight attendant was key. The Gut Check made his way to the back of the plane and took a seat next to those now extinct, hanging closets with the curtains. About ten minutes later, maybe a dozen passengers board the plane, including an exhausted-looking flight attendant who begins collecting tickets.

This is where the young Gut Check did something that combined equal parts of foolishness, intelligence, and luck: Since all the other passengers were seated at the front of the aircraft yours truly slid down in his seat, waited for the flight attendant to turn her back to collect tickets, and hid in the hanging closet behind the curtain until the plane began to taxi down the runway for departure. Fortunately, the plane was designed where the flight attendant had one of those portable seats that came down from the wall and faced the cockpit. This gave the Gut Check time to climb out of the closet and into a seat as she took hers.

The flight arrived at a barren Hartsfield International Airport around 3:30-4:00 am and as the Gut Check walked off the plane, he smiled to the flight attendant. She grinned back a little confused (they take a passenger count before take off) and appeared as if she were rationalizing that she just miscounted passengers prior to departure. Needless to say, the phone conversation he had with his bewildered mom from the baggage claim was a most satisfying end to an adventure that he actually forgot about until the unfortunate events of 5 years ago.

So like the young Gut Check, there are several players that flew under the radar in this year's drafts but have the talent and potential opportunity to become waiver wire studs in 2006.

2006 All-Below The Radar Team
Offense
1st Team
2nd Team
QB
Trent Dilfer
Kelly Holcomb
RB
Verron Haynes
Quincy Wilson
RB
Cedric Cobbs
L. Suggs/S. Davis
WR
Johnnie Morant
Andre Davis
WR
Chris Henry
Devard Darling
WR
Marcus Robinson
Sam Hurd
TE
Ernie Conwell
Garrett Mills
Quarterbacks
Neither Alex Smith nor J.P. Losman have clearly established themselves as consistent playmakers. They have the promise (and big contracts) to have the starting jobs in San Francisco and Buffalo, but if either falters their backups have the experience and weapons to be productive fantasy quarterbacks.
Experienced Backups
Last
First
Year
Team
G
Pct
Pass Yds
Pass Tds
INT
Rush Yds
Rush Att
Rush Tds
FFpts
Dilfer
Trent
2005
cle
11
59.76%
2321
11
12
46
20
0
164.7
Holcomb
Kelly
2005
buf
10
67.39%
1509
10
8
11
18
1
122.6

These totals don't look especially impressive, but check out the completion percentages despite playing behind below average offensive lines and at best, average receiving corps. Holcomb got enough playing time to develop a rapport with Lee Evans (although Losman favored Evans more than Holcomb in 2005, Moulds is gone) and Antonio Bryant moves onto San Francisco with Dilfer in tow.

Along with dangerous deep threats, McGahee and Gore should provide more balance to the offenses and each quarterback needs this type of balance to thrive. Neither guy sounds like a potential stud, but Holcomb proved he could be a gunslinger with decent weapons in Cleveland and Dilfer will continuously play catch up on a 49ers squad that still lacks a sound defense.

Running Backs
Verron Haynes' running style reminded a lot of people at the University of Georgia of Jamal Anderson: a bigger back that runs with power but still has the movement of a smaller back at the line of scrimmage. Haynes is a 'tweener that has won more trust from the Steelers coaching staff in each of his first four years. It took Jamal Anderson three seasons to get a shot as a major contributor because of his 'tweener build and late round draft status. Willie Parker will get every chance to prove he's an every down back, but it's not out of the question he won't be able to carry the bulk of the rushing attack. There are several backs that had 1000-yard seasons but never approached the same totals again. Here's a brief list:

Never Again...
Year
Name
Yds
Best After
1993
Reggie Brooks
1063
368
1992
Barry Foster
1690
851
1995
Rashaan Salaam
1074
496
1997
Raymont Harris
1033
228
2000
Lamar Smith
1139
968
1994
Natrone Means
1350
883
1993
Leonard Russell
1088
713
1993
Erric Pegram
1185
813
1992
Reggie Cobb
1171
658
1996
Anthony Johnson
1120
358
Quincy Wilson was once one of the Gut Check's Below The Radar specials as a rookie with the Falcons in 2004. But the former West Virginia Mountaineer fumbled away his opportunity to be the #3 RB behind the talented backfield tandem of Warrick Dunn and T.J. Duckett. Cincinnati quickly signed Wilson to their practice squad. Now in his third season, Wilson finally got an opportunity when 2004 1st round pick, Chris Perry, was placed on injured reserve. The short, but powerful back led the NFL preseason with 217 yards and earned a roster spot.
It's not out of the realm of possibility that Wilson could do a fine job replacing Rudi Johnson if the starter goes down. Remember, Johnson was a 4th round pick who worked his way into a starting job when most thought Corey Dillon would remain the main ball carrier in Cincinnati for quite some time. Although Kenny Watson is also an option, it's more likely the Bengals consider him more of a third down, change of pace back. Even if Watson and Wilson were to share time in the event of a Johnson injury, Wilson would likely get the 1st and 2nd down carries in addition to attempts in the red zone.
Cedric Cobbs is possibly the most naturally talented runner of the three-headed Denver backfield. Once one of the most highly touted backs to come out of prep football, Cobbs displayed a mix of breathtaking vision and speed when he was healthy enough to see the field at Arkansas. Throw in the minor off-field troubles and Cobbs became an underachiever that saw his draft stock plummet. The Patriots hoped to steal Cobbs when they drafted him in the 4th round back in 2004, but Cobbs had nagging injuries that kept him out of practice. He also took too long to learn the playbook, which earned him a ticket out of New England.
Patriot fans understandably have a poor impression of Cobbs, but the Broncos decision to sign the runner is at least a validation of the player's talent. Maurice Clarett was a talented back when in shape and focused—Shanahan clearly hoped he landed a player that would make the most of his opportunity. Although this gamble failed, Cobbs is a similar talent but without the baggage. The former Razorback played well enough to make Ron Dayne expendable as well as make the race for the starting position a tight one. In Denver, he's considered a dark horse candidate to win the job. If he remains a backup, don't be surprised if Cobbs gets enough opportunities in the real season to earn more playing time.
Lee Suggs and Stephen Davis are both considered highly talented, but broken down backs. Suggs provided fantasy owners a bit of hope when he was traded to the Jets before failing his physical. On the surface, the failed physical adds more to the specter of Suggs as a brittle player, but there a couple of things about the nature and timing of the exam process that might be in the back's favor.
First, the Jets supposedly failed Suggs due to his surgically repaired knee. A knee that held up just fine when he was on an NFL playing field since he underwent the procedure as a junior at Virginia Tech. All of Suggs' injuries as a pro were not related to this knee. The Gut Check has two possible theories as to why New York failed Suggs and sent him back.
Remember, ESPN reported that the physical exam is a subjective process from team to team—one organization can fail a player where another might keep him. Intentionally or otherwise, this leaves the team room to have an "out" as they make a transaction. It would be silly to believe when an NFL organization is looking to make a deal for a specific position they aren't focused on solely one player—they are likely negotiating with at least a few other teams at the same time.
With this in mind, it's quite probable the Jets acted quickly on Suggs because the deal seemed good but during the consummation stages received a response from their initial floater on a back they liked even more—Kevan Barlow. The Gut Check speculates the Jets could have decided they were confident that they could land Barlow for a reasonable price and decided they could use the examination process as an "out" to renege on the Suggs deal. Considering what we often don't hear about the NFL wheeling and dealing until way after the fact, this is a reasonable possibility. Especially when you consider Nick Saban and the Dolphins who were scared of Drew Brees' injury, acquired Suggs off waivers. True, these are two completely different scenarios in terms of risk due to salary, injury, and position but there are certainly other capable backs Miami could have acquired off waivers. So just as the Dolphins shopped for the best fit at quarterback, they did the same when it came to a backup runner.
The other possibility could have to do with a player violating the NFL substance abuse policy. A first-time infraction is kept confidential, but it would still give a team cause to fail a player's physical. Suggs is considered a high character player, so this theory doesn't seem to fit as neatly to the Gut Check as the first. Of course either way, these are two possible reasons why Suggs was sent back to Cleveland. Due to the Jets explanation, other suitors of the back probably low-balled their offers with the knowledge that Suggs would likely be released with the last series of cuts.
If Ronnie Brown goes down, Suggs could become a hot commodity. He has breakaway speed, skills as a short yardage runner, and catches the ball well out of the backfield. The big if has been durability. Funny enough, most of his issues occurred away from the field or during the preseason. The neck issue from 2004 was a questionable one, as Suggs disputed the nature of the injury report and hinted that he wasn't one of Butch Davis' favorites.
Stephen Davis is regarded as a worn-out runner. He came off an 2004 injury to post some excellent fantasy totals early last season, but faded down the stretch due to another injury. Now fully recovered, Davis signed with the Rams and has looked good during initial practices with the team. His upside is probably similar to that of his Redskin predecessor, Terry Allen, a back that hung on longer than expected and served as a decent fantasy plug-in. Consider Davis as this kind of option if you are in a bind for a runner and Stephen Jackson goes down.
Wide Receivers
Johnnie Morant is one of those T.O. hopefuls: a big, fluid athlete that has the raw skills to become a valuable player as he learns the position. Morant was very raw out of Syracuse, but he has made enough strides for the Raiders to depart with Doug Gabriel. Jerry Porter and Ronald Curry should both be ahead of Morant, but Porter's behavior has him out of favor with the coaching staff and Curry is coming off Achilles tears to the same leg in consecutive seasons. Alvis Whitted has limited upside, so Morant might be a guy you want to look for when watching Raiders games early this season. If he starts earning time, he could be worth a pick sometime this year.
The Gut Check doesn't need to discuss Chris Henry's talent. The only reason the second year Bengal is on this list has to do with his multiple off-field infractions that have earned him a 4-game suspension. Henry has gone un-drafted in several fantasy leagues and should make a great week two or week three waiver wire addition if you suddenly find yourself thin at receiver. Although he's firmly entrenched as the #3 WR, the Bengals love using Henry on the outside and Houshmandzadeh in the slot. In the Bengals offense, Henry can still thrive in this situation as a cheap fill-in player for a fantasy owner.
Marcus Robinson should have been a late round pick in most leagues, but if you had an early or mid-August draft, he likely sits on your waiver wire right now. Despite his health issues early in his career, Robinson has stayed relatively durable in recent seasons and should see a lot of playing time as a deep threat and red zone option due to his long speed, height, and leaping ability.
Andre Davis is like a younger Marcus Robinson and has shown enough to be considered a viable outside threat if either Lee Evans or Peerless Price gets hurt. Price is also coming off three disappointing seasons with Atlanta and Dallas, so it's not out of the question that the returning Bill could underachieve once again and open the door for Davis during the season. Davis also has a good rapport with Kelly Holcomb when they spent time in Cleveland.
The Gut Check already discussed Sam Hurd and Devard Darling in Volume 72 of his column. Both are players that should be easily available on the waiver wire unless one of the starting receivers in Dallas or Baltimore gets hurt.
Tight Ends
Ernie Conwell is a pretty good tight end that has had decent moments between injuries in his NFL career. When healthy, he's an excellent short and intermediate option. Brees will be looking to the tight end in the Saints passing game, and as teams focus on Horn, McCallister, and Bush, Conwell should see a lot of single coverage. Don't be surprised if the Saints starter has a surprisingly good year. Many fantasy owners assumed Zach Hilton would be the starter, but he actually got cut last week. This means Conwell is probably sitting on your waiver wire.
Garrett Mills will be listed as a tight end, but he'll likely see time in New England as an H-back or fullback. The Patriots see him as player with Larry Centers' skills and hope to utilize him as such once Mills displays he's ready. The rookie out of Tulsa had a lackluster mini-camp but looked much more impressive when training camp and the preseason got underway. This is a player you can probably use to exploit your league's rules if he sees enough playing time at H-back to warrant a start as your tight end.