The Weekly Gut Check - Vol. 72
Bold Predictions
8/25/06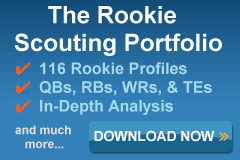 The "Gut Feeling" is often synonymous with a sense of desperation resulting from a lack of preparation. The Gut Check is a huge proponent of studying the numbers, but there's a point where one can place too much emphasis on the wrong information. This can result in the undervaluing or overlooking a player's potential. Therefore, The Weekly Gut Check is devoted to examining the frame of reference behind certain number-driven guidelines that fantasy football owners use to make decisions.

Although The Weekly Gut Check doesn't claim to be psychic, he does believe that he can dispel certain numbers biases and help you make the best choices for your team. We'll keep a running tally of The Weekly Gut Check's insights. This way you can gauge his views as something to seriously consider, or at least seriously consider running the opposite way as fast as you can!


---
After a week of drafts, the Gut Check is looking forward to this exercise in self-indulgence. Although yours truly doesn't claim to be psychic and he doesn't have an impressive, 50-variable program that cranks out accurate predictions (or makes soft drinks) on the scale of our resident FFToday Message Board seer, the Soilist (no kidding—his prediction of Brandon Stokley in 2004 is stuff of legend), the Gut Check has come close to the mark a few times. Here are some previous hits and misses from 2004-2005:



Hits (or close enough)



Kurt Warner will be a top-5 fantasy QB (2005)—He was down the stretch, but not all year. But that was good enough for a title.


Tatum Bell backs up Mike Anderson (2005)—Hit. The guy lacks starter quality vision as a runner and that is why Mike Bell is getting his chance in 2006.


Kyle Vanden Bosch is a sleeper at DE (2005)—Hit. Had a pro bowl season and was among the best ends in fantasy football.


Favorite Rookie: Ryan Moats (2005)—He was a hit down the stretch.
Close Calls
Draft Matt Jones in 2005—Weak hit. He had good moments, but he wasn't consistent enough to say it was a solid call.


Mewlede Moore is 2004's Domanick Davis—Very close call. He had moments, but Reuben Droughns got that honor.
Misses
Kelly Washington will have a breakout season (2005)—The Gut Check might as well have been in the Chiefs secondary trying to tackle Tiki Barber last fall on this one…


Heath Miller will lead the Steelers in TD receptions (2005)—Distant second to Hines Ward…


TE Alex Smith will be the most impressive rookie without the hype (2005)—Yours truly can't use the excuse he meant the 49ers QB…


Sean Jones leads CLE in tackles and becomes a stud (2005)—Miss.


Watch Alvin Pearman and Nehemiah Broughton (2005)—Near hit on the first, complete miss on the second.


Doug Gabriel unseats Jerry Rice by season's end (2004)—Miss, but he's about to unseat Jerry Porter—still that's about as impressive as unseating Jerry Lewis at this point.


Brian Westbrook wins NFC Offensive Player of the Year (2004)—Injury derailed a season where he was on his way…miss.


Duce Staley top 10 back (2004)—Injuries…
The Gut Check is batting .333 over this two-year period, but that's only good by baseball standards—a sport that needs to set the bar higher to compete with football. In other words, yours truly is only doing well if you view this as if he's sporting a 33% completion percentage on 4th down passes of 40+ yards. Don't worry, yours truly isn't even convincing him self with this argument. Then again, he's a little more encouraged that he went 5 for 9 in 2005—not a bad completion percentage for a 2nd year pro in a vertical stretch offense where screen passes and dump offs don't count in his favor.
With this as the backdrop, here is what the Gut Check is serving up for 2006. He has a feeling he's going to receive quite a few FF to The Groin Shots for some of these predictions. So why is it baseball players wear cups and football players don't?
Bruce Gradkowski Becomes The 2006 Fantasy Waiver Wire Darling By Week 8:
If you've never heard of the Bucs 6th round pick out of Toledo, you haven't been reading any of The Gut Check's columns prior to August. Jon Gruden loves this young quarterback for his mobility (runs a sub-4.5, 40-yard dash), accuracy, and leadership. Gradkowski reminds his new head coach of Rich Gannon.
Gradkowski didn't disappoint in his first preseason appearance—11 for 13 for 103(?) yards and 2 touchdowns—and delivered an 11 for 14, 193-yard 1 td, 1 int (off a tipped ball) effort in week two. Yeah, he faced second-team defenses but so did Jay Cutler, and he's getting accolades throughout the football media. No offense to the Broncos rookie—Yours truly has Cutler as the top rookie QB of the 2006 class—but The Gut Check thinks Gradkowski is the Marc Bulger/Tom Brady player of this group—a much better player than others graded him.
Gruden has come out and said that it will take a lot of screwing up on his part for Chris Simms to fail as a quarterback. Still, it only takes one play for the franchise to go a different route (just ask Drew Bledsoe, Kurt Warner, and Tommy Maddox). The Tampa offensive line is still a unit under construction. The run blocking should be fine, but the Bucs were among the worst dozen units in sacks allowed in 2005. Simms has some mobility, but he's known more for standing in the pocket to make the tough throw.
Personally, the Gut Check believes Simms has a chance to be special due to his arm and quiet mental toughness. But as strange as it sounds, Gradkowski could potentially wind up the better overall leader. The rookie has a reputation among his former teammates as a vocal leader who exuded the kind of charisma in the huddle reminiscent of what other players said of Montana. Gradkowski doesn't' have Simms arm, but he has the accuracy and mobility to be a special west coast quarterback. If the Bruce Gradkowski Cinderella story plays out in 2006, you heard it here first.
Marion Barber III Will Be A Viable Fantasy Starter By Week Six:
Bill Parcells is a big fan of Barber's game, one that is eerily similar to Curtis Martin's: excellent vision, decent burst, deceiving power and balance, and third down skills. Barber doesn't have Julius Jones speed, but Parcells used to call Martin "one week wonder," because the coach's former back lacked that game-breaking speed on any play and he enjoyed goading Martin to greater heights.
The Gut Check likes Barber for the same reasons and Julius Jones has been more a flash and dash performer that has been plagued with injuries thus far in his career. Parcells' patience is wearing with the bumps and bruises and Barber has looked excellent thus far in camp. Remember, this second-year back was able to remain the starter with Lawrence Maroney as his backfield mate at the University of Minnesota. Maroney is an undeniable and instinctive talent, but Barber routinely demonstrated he was more polished in all aspects of the game.
Barber will see significant time as the third down back and change of pace runner. One shouldn't presume Jones will only lose his job with any injury—Parcells is not afraid to shake up the lineup if he spots any gaps in performance. Jones has definitely been given a short hook in the past. This is why Barber is a good candidate to draft for the late rounds.
Devard Darling Becomes A Household Name As A Fantasy Receiver:
Three years ago, Darling was an underrated, rookie prospect out of Washington State that dropped in the draft due to fears about a possible heart condition that claimed his twin brother's life while they were at Florida State. Darling had no condition, but it still made teams skittish about him. As a player, Darling has good speed, toughness across the middle, and a penchant for making leaping, athletic downfield grabs.
Unfortunately, Darling suffered some minor injuries and had difficulties adjusting to the NFL in his two initial seasons with the Ravens. He has demonstrated signs of life in camp and has made the most of his opportunities. Last week, he posted a 100-yard game that included a score, acrobatic receptions, and versatility all over the field.
He'll likely be the third receiver to start the season. Mark Clayton is everyone's favorite as a late round sleeper and it's true he has the ability to be a 1000-yard receiver. Yet Clayton has some issues with his hamstring that have limited him throughout the preseason. While there have been rumors the Ravens might bring in a veteran receiver if Clayton continues to have problems, Darling knows the offense and it's a decent possibility he could play himself into a starting role. Steve McNair has never been afraid to show confidence in a young receiver. He made Justin McCareins a viable threat during his MVP campaign, and last year he regularly had to get the job done in Tennessee with a trio of rookies.
Steve McNair Will Be Among The Best Fantasy Bargains At Quarterback:
Yes, we all know he's a Gut Check favorite, but yours truly has been in 3 drafts in the last 4 days and McNair has been the equivalent of that dessert you've been saving room for at the end of a good meal. In two auction drafts among fantasy website writers, McNair was the guy several team were holding back funds to acquire in the late rounds. So the Gut Check isn't alone on this one.
The casual observer looks at McNair's stats last year and laughs at the fact he made the pro bowl. It was laughable that he was selected after much of the elected depth chart declined invitation, but McNair's play last year was not a joke. While his stats weren't more than mediocre, consider his receivers: not completely healthy, (Drew Bennett and Tyrone Calico) rookies (Roydell Williams and Courtney Roby), or both (Brandon Jones).
McNair is still one of the top passers in this league. From the standpoint of the Crank Score, the Raven's new starter actually had a high percentage of elite games. The main issue is his health and that's where most write him off as a fantasy pick. Potential goes both ways, but most fantasy owners see potential in youth. Sometimes you have to view potential from a different perspective—the potential to return to form.
McNair possesses a high level of this potential for several reasons. First and foremost, the guy can still play—in fact, from the mental part of the game McNair sees the field better than any rookie or second/third year quarterback not named Carson Palmer—and yours truly would debate Palmer is significantly better, if at all. Second, the former Titan is two years removed from major injury or nagging problems with his legs. While he won't be gaining 20-30 yards at a clip like he did in his youth, he'll be a dangerous option inside an opponent's 10-yard line as demonstrated in the Ravens-Giants preseason game where he carried two G-men across the pylon for a score.
Then there's the Ravens defense. This unit has a top-notch pass defense and the run defense should improve dramatically with the return of the 4-3 alignment. An overlooked aspect of the arrival of McNair and a healthier running game (Lewis and Musa Smith—great late round handcuff, he looks like the back the Ravens envisioned when they drafted him a few years ago) is that there should be fewer three-and-out offensive series that tire out the defense. This will allow the defense to be more aggressive and the Ravens offense to be more balanced because they won't have to play a one-dimensional game.
Speaking of the offense, McNair inherits an offensive line and receiving corps that is a significant upgrade from the 2005 Titans. Todd Heap has been one of the best tight ends in the NFL despite the fact he hasn't had a quarterback anywhere on par with his skill level. Derrick Mason and McNair (as highlighted in the Gut Check's pitch and catch combo study earlier this year) are one of the more productive tandems in recent years—and based on the preseason, they have picked up right where they left off in Tennessee. Mark Clayton is a promising second-year receiver that has already shown more ability than all three of the 2005 rookies McNair had as a Titan. And yours truly already mentioned Devard Darling. There should be fewer route mistakes, which means McNair won't need as much time to get rid of the football.
Jamal Lewis, Mike Anderson, and Musa Smith running behind a solid offensive line should make McNair's job much easier. Opposing defenses will need to respect the play action pass and both Anderson and Smith have shown receiving skills. McNair is known to spread the ball all over the field, so the backs should get a fair number of opportunities as the 3rd or 4th read on a play.
The Gut Check believes these factors make McNair a fantasy quarterback with the potential to throw 20-24 touchdowns, rush for 3-5 more, and gain 3400-3600 yards. These are fantasy starter stats for the price of a backup unless he gets his sternum crushed by a Mack Truck. Of course, that's basically what it took for him to be ineffective anyhow. Otherwise, you can count him to produce even if the team has to wheel McNair off the airplane like Hannibal Lecter in his scene with the Tennessee Senator in Silence of The Lambs. Get him after round 10 and you just might have the best veteran bargain for the 2006 fantasy season.
By Week 10, Sam Hurd Will Be The Cowboy's #2 WR And A Fantasy Playoff Surprise:
Yes it's true. You shouldn't draft rookie receivers and quarterbacks. Matthew Berry, ESPN's analyst, is dishing out good advice on fundamental strategy. But the Gut Check isn't talking about drafting free agent rookie Sam Hurd. He is only recommending you keep an eye on him as the Cowboys receiving corps deteriorates down the stretch. These are bold predictions mind you; not what appears sensible and well packaged for the masses.
The Terrell Owens situation is a ticking time bomb and this time the media is just as responsible for lighting the fuse as the peripatetic WR and his Miami-based mouthpiece. The Gut Check doesn't even care who is right or wrong in the situation—he's completely saturated when it comes this storyline.
The real story may have to do less with "hams" and more with hamstrings. T.O. probably did hurt his hammy. CNNSI's Peter King made a good point about this injury in his MMQBTE column. Owens has a good chance to re-aggravate this injury throughout the year—as it looks like he did again today as of writing this column. Combine this possibility with Terry Glenn's history of hammy strains and pulls, and suddenly the idea of the rookie out of Northern Illinois seeing time isn't out of the question.
The Gut Check rated Hurd among his top fifteen rookie receivers in the 2006 Rookie Scouting Portfolio despite the fact he went un-drafted. He labeled Hurd as a project with this brief write up in March:
Hurd was one of the most impressive receivers I saw on film this year. This doesn't make him a great NFL prospect, but it shows he knows how to play the game. He's tough over the middle and has a knack for getting deep. He catches the ball well with his hands, and is one of the more tenacious blockers at the position in this draft class. He has NFL size and now one on his college squad outworks him. His 40-yard and short shuttle times were unimpressive, but he has the body control, hands, and heart to work his way onto a roster.
Here's his game film checklist and profile. What's telling about the Cowboys view of Hurd is the fact he signed a 3-year contract despite the fact he was a street free agent. That's a little unusual, but Dallas obviously studied this guy and liked what they saw of him.
Judging from the first two pre-season games, the interim starter has looked very good and has shown exactly what yours truly described from his game film study. While everyone is talking about un-drafted rookie Hank Baskett, Sam Hurd could very well find himself in a starting role late this year where he delivers for a few weeks—important weeks for any contending fantasy squad or team on the bubble that needs some help on the waiver wire.