QB Josh Allen
(2020 QB Rank - No.1, 26.2 FPts/G)
Allen lived up to his 2020 preseason breakout hype with a monster season in which he posted career-highs across the board, including a 69% completion percentage, 4,544 passing yards, and 37 passing touchdowns. He also continued to be a dominant force on the ground, with eight rushing touchdowns and 421 rushing yards.
As you would expect, a breakout season of that magnitude catapulted Allen squarely into top-3 QB contention along with Mahomes and Kyler Murray. No longer is Allen an upside player you can get later in drafts. If you want Allen on your team, you are going to have to pay a premium and forgo other elite players at WR, RB, and TE in the first five rounds.
Those who predict negative regression for Allen will point to a significant jump in touchdown efficiency and completion percentage, with Allen going from a league average of 4.3% in 2019 to 6.5% in 2020. By comparison, Aaron Rodgers has a career TD rate of 6.3%, with fluctuations from 4.6 in 2019 to 9.1 in 2020. 6.5% is not impossible to repeat, but he would be in elite company to do it in back-to-back years.
The fact that the Bills did not bring in an elite free-agent running back or draft someone who poses a threat to Allenís rushing attempts in the red zone is positive regarding Allenís rushing outlook. Assuming he does regress somewhat in his touchdown passing efficiency, the stable rushing production will keep him within the top-5 at the position.
RB Devin Singletary
(2020 RB Rank - No.45, 7.5 FPts/G)
Singletary saw 621 snaps at running back compared to 403 for backfield mate Zack Moss in 2020, but he managed to turn that volume into just 687 rushing yards, 269 receiving yards, and only two touchdowns.
His yard-per-carry average dropped by nearly a full yard, and his fantasy points per game fell off about four points. Although he did technically average .1 more yards per carry than Moss, his pedestrian touchdown totals and the likely continuation of Allen working as the primary goal line ball carrier limits the upside of Singletary.
Another thing to consider before drafting Singletary is the fact that against the Colts in the Wild Card game, Moss was the primary back before leaving with an ankle injury. If that trend continues into 2021, Singletary is likely no more than a flex play in deeper leagues.
RB Zack Moss
(2020 RB Rank - No.45, 7.4 FPts/G)
Mossí rookie season would be described as a disappointing start mixed in with a few solid games. Nothing about his stats makes him look like a great running back, with a below-average yard-per-carry average on a pass-first team with a quarterback who takes most of the valuable goal line carries.
However, Moss does have some buzz heading into his second season for two reasons. First, the Bills did not sign a free agent running back or draft his replacement this spring. If the Buffalo front office was not happy with their running back stable, they had more than a few opportunities to upgrade.
Second, Moss saw a sizable increase in work down the stretch of the 2020 season and was the primary ball carrier against the Colts before suffering a leg injury. It is a small sample size, and we have been fooled before with late-season volume changes. But combined with the lack of change to the running back stable, this bodes well for Moss.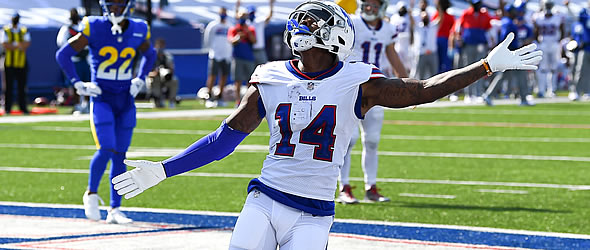 WR Stefon Diggs
(2019 WR Rank - No.3, 16.6 FPts/G)
Like his quarterback, Diggs posted career-highs across the board in 2020, with personal bests in targets, receptions, and receiving yards. He emerged as the alpha dog receiving option for a QB who took a massive step forward in efficiency and production.
Diggs was the best of both worlds for fantasy managers in 2020, as he delivered monster games at times while also providing top-8 consistency scores according to our Consistency Calculator. As you might expect, the 5th-round steal from the prior year is now a fringe first-round pick, depending on format.
No longer a steal, fantasy managers who desire to have Diggs on their roster will need to pay a mighty premium for his services, forgoing RBs ranked in the top-12 and elite tight ends like Travis Kelce.
Allenís breakout season was so beyond his career averages that some regression to the mean is likely, especially at his 6.5% TD rate. The regression could eat into the overall production of the receiving weapons on the team, but Diggs 166 targets and a league-best 127 are more than enough evidence to believe he will once again be the main target for Allen and among the top WRs in the league.
WR Emmanuel Sanders
(2020 WR Rank - No.45, 9.6 FPts/G)
Sanders joins his fifth team this season after signing a one-year, $6 million with the Bills in the offseason. The 34-year-old veteran will likely assume the role of the departed John Brown, who signed with the Raiders after a disappointing second season with Buffalo.
The 34-year-old receiver joins the Bills after an uneventful single season with New Orleans, in which he posted 61/726/5 in 14 games. Not great, but still serviceable in deeper leagues.
With the Bills, Sanders will likely be the third option in the passing game behind the alpha dog in Stefon Diggs and an underneath favorite of Allen in Cole Beasley. Second-year WR Gabriel Davis also flashed some impressive skills last season and could eat into the volume opportunity for Sanders.

Sanders will have a few big plays and could finish with a similar stat line that he delivered last season. But his pecking order on the team makes him a stretch to get 100 targets, making him more of a best-ball option.
WR Cole Beasley
(2020 WR Rank - No.36, 10.8 FPts/G)
For the second consecutive season, Cole Beasley topped 100 targets with the Bills, finishing just inside WR3 territory with 82/967/4. It was an impressive feat considering the addition of Stefon Diggs and the 166 targets he garnered from quarterback Josh Allen and the emergence of rookie Gabriel Davis.
There has been some chatter that Beasley could be a camp-cut casualty, but if he stays on the team, he should continue to be a solid PPR flex option for managers looking for some cheap volume later in drafts. Just donít expect too much touchdown volume from a guy who has never posted more than six touchdowns in any season.
WR Gabriel Davis
(2020 WR Rank - No.73, 7.5 FPts/G)
There is a ton to like about Davis as we head into the 2021 season. After all, it is an impressive feat to catch seven receiving touchdowns as a rookie, especially on an offense where he was the third or fourth option. If you just look at his stats, he would be someone many people were targeting as a young player poised to leap into top-24 status.
But we do not just draft by stats from the previous season, and Davis could be fools gold for anyone looking for a sleeper this season. First, Stefon Diggs posting just eight receiving touchdowns on 166 receptions is somewhat anomalous; leading us to believe that he should be closer to 11 based on that amount of volume.
Second, the team brought in veteran Emmanuel Sanders to fill the void left by John Brown. Sanders is not the player he once was, but he should eat into the overall target pie, and Davis is the likely one to have his pie share go down.
Lastly, Allen posted ridiculous increases in both efficiency and volume, with regression to the mean likely in his future. This does not mean that Allen will not be a top fantasy QB, but 37 passing touchdowns is hard to repeat.
For these reasons, we recommend not drinking the Kool-Aid on Davis and waiting to see if there are any changes to the WR corps before adding him off waivers after he is dropped.
TE Dawson Knox
(2020 TE Rank - No.32, 5.3 FPts/G)
Knox did take an incremental increase in targets per game and touchdowns scored, but the lack of usage of tight ends in the Bills passing game makes him a non-factor in all formats.
In addition, there have been rumors that the Eagles will ship Zach Ertz to the Bills when camp starts later in July. Either way, Knox is someone you should avoid at all costs.