Last season I wrote an article on the why the fantasy football writing community as a whole was incorrect on the ranking of Patrick Mahomes. The thesis of the article was pretty simple. If a quarterback has a running back ranked in the top 12, two wide receivers ranked in the top 30, and an elite tight end, that quarterback should be ranked well within the top 10 at the position.

Either we as an industry were wrong about the rankings of the Chiefs skill position players, or we were wrong about Mahomes. It could not be both.

As it turned out, the fantasy community was correct with the rankings of Kareem Hunt, Tyreek Hill, and Travis Kelce, but incorrect with the average ranking of Mahomes, who delivered the second-best fantasy season of all-time, behind only Peyton Manningís record-setting 2013 season.

Mahomes proved to be a fantasy cheat code in 2018, leading fantasy football owners to a championship with 494.1 fantasy points. He averaged 30.9 fantasy points per game, threw at least two passing touchdowns in all but one game, and finished the season with a consistency score of 88.77, over 20 points higher than Matt Ryanís 65.11. Not only was Mahomes by far the best quarterback in total points scored, but he was also the most consistent performer at the position by a wide margin.

In a record-setting season in which two players threw for over 5000 yards (Matt Ryan came up just 80 short to be the third), nine players threw for at least 30 passing touchdowns, and six quarterbacks completed 69% or more of their passes, Mahomes was still head and shoulders above the competition.

Despite this fact, the fantasy writing community is once again incorrect with its ranking of Patrick Mahomes and is doing their readers a disservice by ranking Mahomes outside the overall top 24.

I will examine multiple popular narratives used by the industry on why Mahomes should not be taken before the third round, dispel those arguments, and provide data on why taking Mahomes in the second round is the move that will win you a fantasy title in 2019.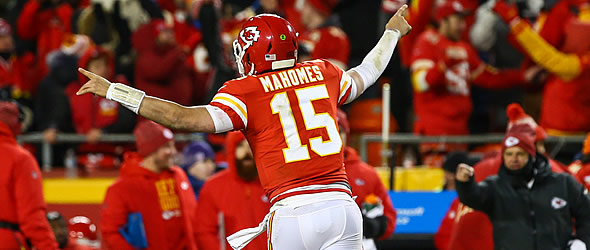 Regression
Mahomes is only one of three quarterbacks to throw for 5000 yards and 50 touchdowns in the history of the NFL. Tom Brady achieved the feat in 2007 with Randy Moss and the team going full scorched Earth after the spy-gate scandal and Peyton Manning set the NFL record of 55 passing touchdowns in 2013 with the Broncos posting a 13-3 record and a Super Bowl berth.
Both players saw a massive decrease in their production in the year following their breakout performance. Brady suffered a season-ending knee injury in 2008, and the dominance of the Randy Moss connection fizzled out after 2009. The first ballot hall of fame player would go on to have six more seasons of at least 30 passing touchdowns, but he would not come close to touching the 50-TD mark again.
Manning was already 37-years old and dealing with severe shoulder pain when he posted his ridiculous 55-TD performance. Manning would play one more full season, leading the Broncos to a win over the Panthers in the Super Bowl. Although he secured a second ring, the team often won in spite of Manning, who was a shell of his former self.
If Manning and Brady, two of the greatest to ever play the game, managed to tally only 39 passing touchdowns the season following their 50-touchdown year, then, of course, Patrick Mahomes will regress similarly, or so the narrative goes.
If it has never been done in the past, then it cannot be done in the future is a lazy way to evaluate players and teams.
Both Manning and Brady dealt with injuries, changes to their team, and were well into their 30ís when they joined the 50-TD club. Mahomes enters 2019 with the same coach and offensive scheme, the same offensive line, the same skill position players as the season prior. Also, the defense that the Chiefs look to put on the field could be even worse than the one that ranked 31st out of 32 teams last year. Like Matt Ryan last season and Drew Brees for most of his career with a lousy defense, Mahomes and the Kansas City offense will likely need to score a bunch of points to make up for the poor play by their defense.
At just 23-years of age, no other quarterback has entered the league with the physical and mental tools, the perfect offensive scheme, and the skill position players to succeed like Mahomes. Why do we assume, based on the play of aging players in the past, that Mahomes will follow suit with a season of less than 40 passing touchdowns?
No other quarterback in NFL history reached 50-touchdowns in their first full season. Is it that much of a stretch, considering everything is in place for him to have another good season, for Mahomes to reach 50 touchdowns again in 2019?
Opportunity Cost
For many fantasy analysts, the argument against taking Mahomes in the second round is not a knock on Mahomes as a player or his fantasy production, but rather the players you pass on in favor of taking a player at a position as deep as quarterback.
On face value, this argument does have merit, as there are many players going in the second round who could provide fantasy production at or greater than their draft cost. Like Todd Gurley in 2017, there is always the chance of a second-round pick finishing in the top-5 or leading the league in fantasy points.
But on the other side of the equation, there are always players taken in the first and second rounds who turn out to be busts and torpedo teams who mistakenly use early draft capital on a player like Leonard Fornette in 2018, or Jay Ajayi and the Eddy Lacyís of the world.
I went back and studied the Average Draft Position of the top 24 on Fantasy Football Calculator and compared it to end of season standings. I wanted to see how many first and second-round picks provide equal production to their draft cost.
What I found was somewhat eye-opening. In 2017, six of the players taken in the first round failed to deliver top 24 fantasy production, either because of injury or poor play. Five players taken in the second round also failed to deliver top-24 fantasy production, with some barely finishing in the top-100.
So in 2017, you had a 46% chance (11 of 24) of your first or second-round pick failing to give you points relative to their draft cost. Sure, the some of the players taken in the second round, like Todd Gurley, proved to be monsters for fantasy owners, but you had almost a 50-50 chance of selecting a guy who did not give you expected production.
The same data holds when evaluating last year. Ten players taken in the first two rounds failed to deliver top-24 point production, and many of them, including Dalvin Cook, Devonta Freeman, Leonard Fournette, and Rob Gronkowski failed to give top 70 output. Many of those players missed most or all of the season, effectively robbing their owners of a top pick and torpedoing their season.
Fantasy analysts often preach the concept of using the first two rounds of the draft to find safe, foundational WRs and RBs to build your roster. Yet year after year, nearly 50% of the players drafted in the top 24 either bust or donít live up to their expectations.
Why not use your first-round pick on a foundational skill position player and then use the second-round pick on the consensus No.1 QB in Mahomes. Historically, and even more so now with the leagueís emphasis on protecting the position, quarterbacks do not get injured at the same rate as running backs and wide receivers, so Mahomes carries less of an injury risk than the WRs and running backs you could take in the second round.
From a production standpoint, even if Mahomes does regress to 40 touchdowns, he still will finish the season as an elite quarterback and his consistent play over other streaming option will help mitigate the risk of dropping a single-digit week. If Mahomes does, in fact, continue at his pace near to what he did last season, he will once again be the No.1 player in fantasy by a wide margin.
Late-Round Quarterback
With upwards of 20 quarterbacks capable of being a fantasy football starter it makes sense to wait on a QB in most leagues. The difference in fantasy point per game production from the No.7 QB last season is just two fantasy points more than the 15th overall quarterback.
You will hear from multiple fantasy football writers and podcast hosts the benefits of streaming the position off the waiver wire, with over 40 QBs posting a QB1 performance in each of the last two seasons.
What if you play in a home league where most teams draft two quarterbacks, leaving few options on the waiver wire to stream? It is easy to say in August that you are fine choosing between an Andy Dalton or Jimmy Garoppolo start, but when it is five minutes before rosters lock and you are sweating a tough decision, wouldn't you rather have a player like Mahomes who is a must-start regardless of matchup?
Not only did Mahomes give owners 145 more fantasy points than the No.12 ranked QB in 2018, but he also provided an unparalleled level of consistent production. His 88.77 consistency score was the best in the league and the fifth-highest by a quarterback dating back to 2000. His highs were sky high, but even in his games in which he did not carry the team, he provided no less than 20.5 fantasy points.
You can find players late in drafts who can finish as a QB1. You can stream quarterbacks each week and hit gold on a few choice matchups. But you can just as easily choose the wrong streaming option, or take a gamble on a late-round guy like Josh Allen and get burned.
Late-round quarterback proponents will always go back to the notion of opportunity cost and the players you pass on in the second round to grab Mahomes. They will also hound you with the narrative that you can piece together a top-5 quarterback by streaming matchups.
I would argue that the nearly 50% chance a bust occurs in the first and second rounds is worth avoiding with a player like Mahomes who is safer and carries a much higher floor and a stratospheric ceiling. I would also say that streaming can result in hitting gold on a few weeks, but those hits on players often are overshadowed by bad choices and bad picks.
The Best is Yet to Come?
A question that I keep asking myself and something that I have posed to other people in the industry is why do we all assume that 50 passing touchdowns and 5000 yards are the best Mahomes will ever do? At just 23 years of age, he has more growing pains to endure and will no doubt become a more experienced and talented player.
When Colin Kaepernick took the league by storm in 2012 and 2013, he did so using his running ability and executed the run-option in a way that caught many teams off balance. Eventually, the league caught up and negated Kaepís legs to some extent, and he was exposed for the subpar passer and pure quarterback that he is.
Many assume that a similar thing will happen to Mahomes and the Chiefs. Opposing teams now have film on him, and they will draw up plays to shut him down. But the difference between Mahomes and Kaep are staggering. Not only is Mahomes one of the best deep-ball throwers and can throw on the run as well as Aaron Rodgers, but he was also rated as the highest-rated pocket passer in 2018.
He has an eidetic memory and can process information quickly like Rodgers and Alex Smith. He throws as well or better than anyone in the league on short and intermediate passes, his deep ball is deadly, and his legs give him the ability to scramble and extend plays.
Mahomes is blessed with the fastest wide receiving corps in the league, the top tight end, an above-average offensive line, and one of the best offensive minds in NFL history at head coach. Everything is in place for another year, and the team more dynamic with the additions of Mecole Hardman and Darwin Thompson.
The only plausible narrative is that we have never witnessed anything like Mahomes. We tend to be pessimistic as an industry and predict that amazing performances cannot be repeated because they didnít happen in the past.
We didnít have a first-year QB throw for 5000 yards and 50 touchdowns before Mahomes. So why is it that crazy to think he could be amazing again when all of the same factors are in place that made him so good last year?