It is important for fantasy owners to limit their recency bias when it comes to valuing players in the draft. The NFL is a fluid league that is significantly affected by coaching trends, rule changes, talent influxes, injuries, and other variables that can skew statistics from one year to the next.

For example, the 2017 season proved to be a dreadful year for fantasy wide receivers, with just two players scoring more than 10 touchdowns and only 13 players topped the 1,000-yard receiving plateau. The drought in production at the position followed a 2016 campaign in which five players scored at least 10 touchdowns and a whopping 23 players posted at least 1,000 yards.

As one would expect, many owners burned by wide receivers in 2017 who then opted to avoid using early draft capital in 2018 missed out on a resurgent 2018 year in which seven players reached double figures in TD receptions and 18 WRs reached 1k in receiving yards.

The moral of the story: Don't overreact to what happened in the previous season. Value players based on their skill, opportunity share, and situation, not what the league as a whole did in what may have been a fluky down year.

Here are my way too early WR rankings for 2019.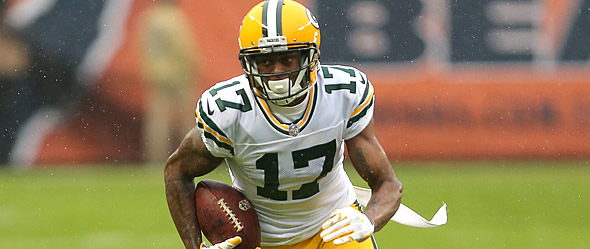 TD Machine: Davante Adams has scored double-digit touchdowns in three straight seasons.


1) Davante Adams, GB: Adams quietly delivered one of the most valuable fantasy seasons in history with regards to consistency in 2018. Adams scored a touchdown or reached 100 yards in 14 of 15 games last year, and in the one game where he didnít meet that benchmark, he posted eight catches for 81 yards. Over the past three seasons, only Antonio Brown has more touchdown receptions than Adams (36 to 35), and Adams posted those numbers with Rodgers missing most of 2017 with a broken collarbone.

2) DeAndre Hopkins, HOU: Hopkins has precisely what it takes to be an elite fantasy wide receiver. Not only does he have the best hands and body control in the league, but his 488 targets over the past three seasons are also No.1 in the NFL, and he is a favorite red zone target for Deshaun Watson. Regardless of who is throwing the ball or who lines up on the field with him, Hopkins has proven that he is an elite fantasy WR and should be ranked as such.

3) Michael Thomas, NO: While I do not think Thomas is an elite physical talent like Hopkins, Julio Jones, Odell Beckham Jr., or Tyreek Hill, he does have the most accurate quarterback in history throwing him the ball in one of the most potent offenses in the league. Thomas caught 124 balls for 1405 yards and 9 touchdowns on 147 targets last season, finishing has the No.7 WR in fantasy points per games. While I donít anticipate that he will ever get the elite target volume of Hopkins, Julio, or Beckham, he is so efficient that he does more with fewer targets than most studs (77% career catch rate).

4) Julio Jones, ATL: Jones drove fantasy owners nuts last season by failing to post a touchdown in his first seven games, only to lead the league in touchdown receptions in the final five weeks of the season. Despite the slow start, Jones finished fifth overall in fantasy points per game and continues to see elite target volume.

5) Tyreek Hill, KC: Count me in as one of the people who doubted that Hill would duplicate his breakout 2017 season. Hill posted career highs across the board in targets, catches, yards, touchdowns, and average yards per catch in route to ending the first overall in FFToday standard scoring. The only reason why I have Hill outside the top three is the fact that I donít anticipate Patrick Mahomes will post another 50 touchdown season, which could mean some negative touchdown regression for Hill.

6) Odell Beckham Jr., NYG: Nagging injuries limited Beckham to just 12 games in 2018. Although he was undoubtedly a disappointment for fantasy owners based on his draft capital, Beckham still reached 1000 yards and six touchdowns. His 16-game pace was still a respectable 1,402 yards and eight touchdowns. If healthy, OBJ could be a steal for owners in the second round this season.

7) JuJu Smith-Schuster, PIT: Assuming that Antonio Brown gets his way and is traded away from the Steelers, Smith-Schuster will slide into the alpha dog No.1 WR option for Big Ben. Is it possible that Smith-Schuster struggles outside against the No.1 cornerbacks for the opposing team? Sure, but it is also well within the range of possibilities that he gets more targets in the red zone and finishes with double-digit touchdowns for the first time in his career. If that does happen and he puts up similar catch and yardage totals, JuJu could lead the league in fantasy points at the WR position.

8) Antonio Brown, FA: Unless he goes to a favorable situation like San Francisco or Indianapolis, Mr. Big shot, Big head, or whatever he wants us to call him, will quickly learn that the grass is not always greener. His talent alone makes him a WR1 for fantasy, but the days of him going as an early first-round pick are likely gone.

9) Mike Evans, TB: Evans finished the season as the No.6 ranked wide receiver in fantasy points per game while setting a new career-high in receiving yards (1,572). Considering the drama in Tampa Bay and the quarterback roulette between Jameis Winston and Ryan Fitzpatrick, it is impressive that Evans was able to end with such impressive numbers. With Bruce Arians now at head coach and Winston the unquestioned starter, perhaps this will be the season where Evans breaks through and becomes a top-3 WR.

10) A.J. Green, CIN: For the second time in the last three seasons injuries cut short a promising season for A.J. Green. Although he has not reached double-figures in receiving touchdowns since 2015, Green is still one of the more gifted wide receivers in the league, and I am bullish on the Bengals from a fantasy perspective in 2019. Tyler Boyd is a solid No.2 option opposite Green, while Joe Mixon is on the brink of a breakout season. Dare I say that the Bengals and not the Steelers, will have the best offense in the AFC North this year?

11) T.Y. Hilton, IND: Hilton lacks the touchdown upside to ever be considered an elite fantasy wide receiver, but that does not mean he is not valuable as a low-end WR1 for an owner who drafts a running back in the first round. There is a ton to like about the direction of where the Colts are going, with Andrew Luck healthy, a talented and young offensive line, and a ton of cap space.

12) Kennan Allen, LAC: Like Hilton, Keenan Allen will never be able to put up elite WR numbers unless he makes drastic improvements in the touchdown department. Sure, his target volume is nice, and he has averaged 1275 yards over the past two seasons, but with Melvin Gordon, Hunter Henry, and Mike Williams stealing red zone looks, Allen will continue to be ranked as a low-end WR1 or high WR2.

Just missed the cut: Amari Cooper, Stefon Diggs, & Adam Thielen