Note: Salary amounts are DraftKings pricing
Quarterbacks
H2H/Cash - Drew Brees vs. Atlanta - $6,700
Drew Brees threw for 380 yards and three touchdowns in his first game back from the thumb injury, proving that the brace on his injured right thumb would not limit his ability to make throws and pick apart a bad pass defense like the Cardinals. Brees now has an even better matchup at home against a Falcons defense that is decimated once again by injuries and gives up the 5th-most points to quarterbacks.
Other options to consider - Jameis Winston vs. Arizona & Patrick Mahomes @ Tennessee
GPP - Kyler Murray @ Tampa Bay- $6,500
Murray has to be licking his chops when he watches the video of the Tampa Bay secondary. Only the Bengals and his own defense give up more fantasy points to opposing quarterbacks. This game has the makings of a shootout, and I want as much action as I can get in GPP. Kyler had been in a funk with two bad games against the Saints and the Giants before bouncing back with two touchdowns against San Francisco last week. I anticipate he will continue to produce excellent fantasy numbers, with a chance of posting a career-high in point this week at Tampa.
Other options to consider – Jacoby Brissett / Brian Hoyer vs. Miami & Sam Darnold vs. NY Giants
Fade - Aaron Rodgers vs. Carolina- $6,600
This call is based on snowy weather conditions in Green Bay, along with the fact that the Panthers give up the 5th-most points to running backs. The Packers will run early and often, with Aaron Jones having a big game and Aaron Rodgers delivering an ok, but not stellar fantasy performance.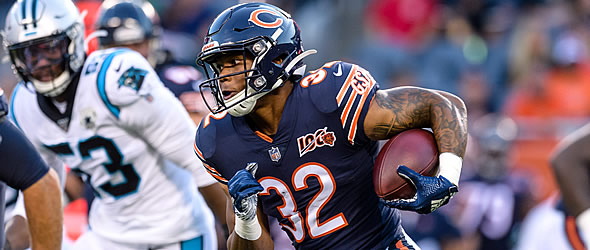 Running Backs
H2H/Cash - Aaron Jones vs. Carolina - $7,400
I recommend playing Jones for the same reason why I am fading Aaron Rodgers. It is going to be a cold, snowy day in Green Bay on Sunday afternoon, and the Packers are going to take advantage of the fact that the Panthers have allowed the most rushing touchdowns to running backs by running the ball early and often, especially in the red zone. Jones burned owners last week with a dud against the Chargers, and I look for him to bounce back strong this week in an above-average home matchup against Carolina.
Other options to consider - Jaylen Samuels vs. L.A. Rams & Marlon Mack vs. Miami
GPP - David Montgomery vs. Detroit - $5,300
Montgomery has back-to-back 20-point fantasy weeks and should post another monster game against a Lions defense that simply cannot stop the run. If Matt Nagy is smart, he will give the ball to Montgomery at least 25 times in this game, with the goal of limiting the number of possessions for Matthew Stafford and the number of throws his own quarterback needs to make.
Other options to consider - Devin Singletary @ Cleveland & Derrick Henry vs. Kansas City
Fade - Todd Gurley @ Pittsburgh - $6,100

As an owner of Gurley in season-long leagues, it pains me to say this, but he is not the player he once was, and he should be avoided in this matchup. Pittsburgh gives up the 5th-fewest points to running backs, and for some reason, Sean McVay has not gotten Gurley involved in the passing game this year.
Wide Receivers
H2H/Cash - Mike Evans vs. Arizona - $7,600
With 45 targets in his previous three games and back to back monster performances, you have to continue to ride Evans in DFS. I don't buy into the narrative that Patrick Peterson will shut him down. Just ask Michael Thomas what he thought of Peterson last week when he went off for 11/112/1. I anticipate this will be a floor for Evans, with 150/2 as a possible ceiling.
Other options to consider - Chris Godwin vs. Arizona & Cooper Kupp @ Pittsburgh
GPP - Christian Kirk @ Tampa Bay - $6,000
It is tough to run on the Bucs and beyond easy to beat Tampa Bay in the air. I plan on playing Kyler Murray in GPP and pairing him with the wide receiver on the Cardinals who I anticipate has the best upside. Larry Fitzgerald has the higher floor, but Kirk has a higher ceiling in what could be his breakout game.
Other options to consider - Jamison Crowder vs. the N.Y. Giants & Zach Pascal vs. Miami
Fade - Davante Adams vs. Carolina - $6,900
The targets were there for Adams in his return from turf toe, but the production did not follow, and Adams did not look like his old self. I am one of the biggest Adams apologists, but I think this game script, along with the weather, is going to limit his production this week against the Panthers.
Tight End
H2H/Cash - Jack Doyle vs. Miami - $3,600
The tight end position not attractive this week for players not willing to pay the premium for Travis Kelce. If you plan on punting the position as I do, I recommend targeting someone like Doyle, who has a nice matchup at home with the floor of around four targets for 40 yards. Hopefully, Doyle reaches pay dirt like he did last week against the Steelers.
Other options to consider - Travis Kelce vs. Tennessee
GPP - T.J. Hockenson @ Chicago - $3,900
I like Hockenson for two reasons. First, he is coming off a week with seven targets against Oakland, and it is difficult to pass to wide receivers when taking on the Bears. I am not very bullish on any tight ends this week, but I think the rookie has a chance to score this week in Chicago.
Other options to consider - Jared Cook vs. Atlanta
Fade – O.J. Howard vs. Arizona- $3,300

The temptation is there. It get it. The Cardinals give up the most points to tight ends, and Howard can be a beast at times. But he can just as easily goose you and ruin your week.
Defense & Special Teams
High Priced Option Worthy of the Cost: Ravens ($4,000) @ Cincinnati
Well Priced with Upside: Colts ($3,500) vs. Dolphins