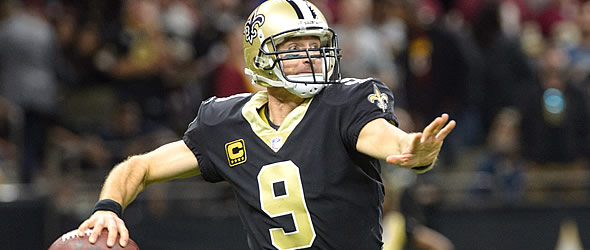 Brees' subpar performance in 2017 will push his fantasy value into bargain territory for 2018.


The 2017 New Orleans Saints became the first team since the inception of fantasy football to produce two top-six fantasy running backs in the same season, as rookie Alvin Kamara and veteran Mark Ingram combined to rush for 2976 yards and 20 rushing touchdowns while catching 140 passes for 1242 yards and five TDs.

Kamara and Ingram were a two-man wrecking crew for head coach Sean Payton, leading the Saints to an NFC South title and a playoff berth.

With offensive touches a finite commodity, the emergence of the New Orleans ground attack came at the expense of the passing game, as Drew Brees set career lows (as a Saint) in passing attempts, completions, yards, and passing touchdowns. Despite setting the NFL single-season completion record, the future first ballot hall of fame quarterback averaged just 20.1 fantasy points per game, placing him in a tie for 15th with Josh McCown of the New York Jets.

Last year marked the first time in ten seasons in which Brees failed to finish as a QB1 and the first time that Brees did not finish in the top five at his respective position. As one would expect, Brees is no longer ranked as a top three or four fantasy option heading into 2018, with a consensus ECR as the seventh quarterback off the board behind new fantasy darlings Deshaun Watson and Carson Wentz.

Although both Wentz and Watson are talented young players and part of the future youth movement of the NFL, fantasy owners who use early draft capital to select them before Brees might regret their decision.

The touchdown regression for Brees in the passing offense was a direct result of the ultra-efficient running game by Kamara and Ingram, along with a drastically improved defense that kept the Saints in games and did not force Brees to throw for nearly 700 passes like in 2016.

The defense looks to be as good if not better in 2018, and Payton will continue to lean on his potent ground attack. But there are a few factors that suggest Brees could have a bounce-back season and return to a top-5 fantasy option.

First, Micky Loomis and the New Orleans front office gave Brees a big-bodied wide receiver in Cam Meredith to make an already formidable receiving corps even stronger.

Another thing to consider is the historic fantasy season delivered by Kamara and the probability that he will regress somewhat in 2018. According to Scott Barrett of ProFootballFocus, there have been 2173 times since the NFL merger in which a player reached 100 carries in a season. Of the 2173 occurrences of at least 100 carries, Kamara's rookie campaign ranked first in fantasy points per touch and second in yards per touch all time. Lightning would need to strike twice for Kamara to keep up that level of efficiency in the run game, and defenses will now likely focus more effort on stopping the New Orleans rushing attack.

A regression in Kamara's rushing efficiency is likely, which could put more onus on Brees and the passing game as the Saints may not have as many big plays on the ground. Less efficient running leads to more passing downs for Brees, which in turn could lead to more passing yards and touchdowns.

Fantasy owners expecting Brees to return to his 2016 form when he threw for over 5200 yards and 37 touchdowns will be disappointed, as the New Orleans defense will not put Brees in a position to pass 673 times and the ground game is here to stay. But a return to 30-plus passing touchdowns and 4500 passing yards is well within reach should the running game come back down to Earth from historic levels and Sean Payton lean more on the passing game.

As I mentioned earlier, Brees is currently ranked behind Deshaun Watson and Carson Wentz, two young players who enter 2018 off of season-ending knee injuries that cut short stellar 2017 campaigns. Both players were impressive last year, ranking first and third overall in fantasy points per game, with Watson averaging nearly three points more per game than Russell Wilson, the second place finisher in 2017.

Watson excelled in big-time, high pressure throws downfield according to ProFootballFocus, yet he shrugged at throwing to open receivers from the pocket and was just average in PFF's traditional completion rankings. Watson carries a much higher ceiling than Brees and could undoubtedly finish as the No.1 fantasy quarterback, but a sophomore slump and questions surrounding his knee make him a questionable pick as the No. 4 quarterback off the board.

Entering his third season, Wentz does not carry the same sophomore slump questions that surround Watson, but he too is coming off a significant knee injury that could limit him in 2018.

Of the two young quarterbacks currently going ahead of Brees, Wentz is the one that I would feel most comfortable taking in the early rounds based on two seasons of solid production and the potent Eagles offense. But if Brees continues to fall in drafts and is available in the late six or early seventh round, he just might be one of the best quarterback values in 2018.