With many redraft leagues nearing their trade deadlines, this is an excellent time to make a strategic trade and give your team a boost for the stretch run. In addition, if you are in a dynasty league, now is a great time to either to re-set for next season if your team is struggling or get a boost for the playoff push. Here are some buy low and sell high ideas after Week 8.
Buy Low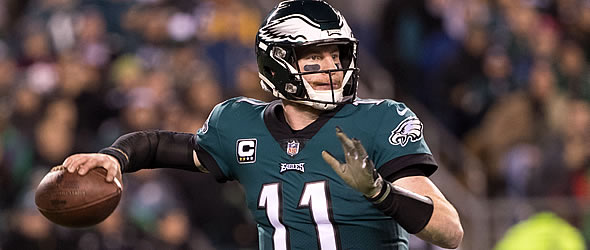 Owners are fed up with Wentz this year, as he has been inconsistent and the Eagles have rarely aired it out like many thought they would. But there are two reasons why Wentz is a great buy. First, he should be getting DeSean Jackson back soon, which changes the entire offense. The lack of a deep threat has hamstrung them in many ways. Second, his schedule for the Weeks 13-16, during the fantasy playoffs, is enticing: Dolphins, Giants, Redskins, Cowboys.
For all the talk about Kyle Allen remaining the starter for the Panthers, I donít see that happening. Newton is far more talented, and he has never had a group of skill-position players around him like he does now, with McCaffrey, two talented young wide receivers, and Greg Olsen. If you can get him for very cheap, he could also be a nice buy for the stretch run if you are weak at quarterback.
Guice is eligible to return from the IR in Week 11, and he is already practicing. The Redskinsí offensive line has been performing better lately, and Guice is far more talented than 2019 Adrian Peterson. He may turn out to be a decent flex play for a playoff team, and for dynasty he still has a bright future.
Many have been waiting for Miles Sanders to break out, and many will assume that happened in Week 8. It did not. Sanders received only 6 touches and played 18% of the snaps, as Howard remained their workhorse. If someone wants to sell Howard because they think they saw a changing of the guard, take advantage and ride Howard for the rest of the season as an RB2.
The underlying metrics are still in place for Woods, who played in virtually every snap in Week 8. Some may be scrambling to sell him after he has disappointed in back-to-back weeks, but his big games will come. He is a solid buy for the fantasy stretch run.
Hill only had an average game in Week 8 because Mahomes didnít play, but sometimes owners only play with their emotions. If someone is tired of waiting for the Hill explosion, itís a great time to buy.
Andrews had his worst game of the season in Week 7 (2-39) and then was on bye in Week 8. Sometimes this sort of gap between good games will make owners willing to deal a player. Throw some offers out for Andrews, as he has been a top-five option at tight end this year and that should continue.
Sell High
Of course Rodgers is one of the greats. But his back-to-back huge fantasy weeks will not last. In his next few games he plays the Panthers, 49ers, Bears, and Vikings Ė so sledding will be tougher.
As mentioned above, his stats from Week 8 are misleading, as he only played on 18% of snaps and simply hit on a big play. He is not following his blocks consistently, looking for the big play instead of taking what is there, which has led to Howard getting the vast majority of playing time and touches.
Colemanís huge four-touchdown game will certainly get some owners poking around to see if you will sell. While you should not sell him unless you get a premium, if someone is willing to pay as if he has broken out and is now a top end running back, there may be some value you can extract there. While Coleman is in a great offense and is very talented, he is still only playing about half the snaps in a system that likes to spread the ball around. Dalvin Cook and Christian McCaffrey he is not.
Jones has struggled for much of the year, compared to what his fantasy owners are used to. After a huge Week 8 where he had 10 receptions for 152 yards, it might be time to sell. The Falcons are going nowhere and seem intent on limiting Julioís snap count to around 75%. After his Week 9 bye, he faces the Panthers twice, the Saints twice, and the 49ers Ė all excellent defensive units. Although the Falcons will have to pass, Julio will typically be matched up with the top corner, making his path much more difficult.
What a first half for Hooper! It seems that everything fell into place for the young tight end, but I see the fun stopping in the second half of the season. In Week 9 he has a bye, and then over the final weeks he plays the Saints twice, the Panthers twice, and the 49ers – all in the top 8 defenses against tight ends this season. Sell now while his value is sky high.