Early July is really more for baseball and picnics and grilling and is too early to be drafting your fantasy football teams, but if your league insists on getting an early jump start to the NFL fantasy season, I'll keep trying to help you.

This week we are looking at the tight end position.

The tight end position is one where there are just two elite options. There are also handful of very good options and the rest of the starters are pretty close to one another. But their ADP numbers vary dramatically, therefore, finding values shouldn't be that hard.

Based on the experts here at FFToday, you will find the tight end projections for 2022 in the table below. When we match up the current ADP with our experts' expected production, we can see a number of solid value picks.

Let's start at the top.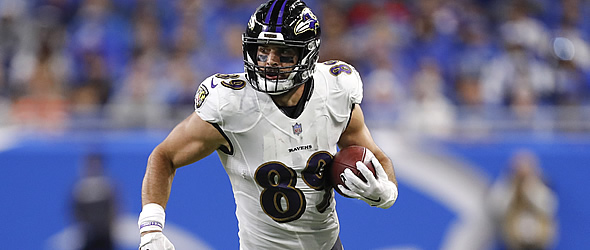 If you are in the market for one of the elites it will cost you. Pulling the trigger on Travis Kelce will cost you an early-second round pick … like Stefon Diggs (ADP 13.6) or CeeDee Lamb (15.3) or Joe Mixon (16.7). Meanwhile, based on our expectations, you can get the identical 15-point production a round later with Mark Andrews (ADP 22).
So the best option for an elite tight end, in July, is Andrews. Obviously, things can change before the regular season begins in nine weeks (like injuries to his QB, OL or himself), but in July that's the pick.
The second tier of tight ends should average between 11-12 fantasy points per week. And three of the four listed in this tier will cost you a fourth-round pick (George Kittle, Kyle Pitts and Darren Waller). However, why shouldn't you wait until the eighth round to get similar production? Instead of passing on a quality player such as DK Metcalf (ADP 35.4), Diontae Johnson (37.8) or James Conner (38.3) in the fourth round you can get similar production much later!
Dalton Schultz has an 82.2 ADP and will get you almost the same fantasy points as what other owners will spend with their fourth-round pick. (And this suggestion of a Dallas Cowboys player comes from a devoted Eagles fan so you know how much I must like this option). In fact, Schultz averaged 12.2 FPts/G in 2021, up from 9.3 points in 2020. That's a 31% increase in production while his targets only increased by 16.9%. Translation: he was much more efficient in 2021. Schultz has no challenge from the rest of his tight end room for playing time and the Cowboy's wide receiver room lost Amari Cooper (103 targets for 68-865-8) and Cedrick Wilson (61 targets for 45-602-6) while adding only journeyman James Washington (24-285-2) and rookie Jalen Tolbert. Schultz could easily lead this second tier.
Now, if you really want to wait on your tight end starter (I once won a league with Jim Kleinsasser as my starting tight end), consider the Chicago Bears' young tight end Cole Kmet as a high-value, late-day target. He'll be better than Kleinsasser ever was. A lot better!
In Kmet's second season he saw 93 targets which was second-best on the Bears behind Darnell Mooney, but 27 targets ahead of the other starting wideout (Allen Robinson) and more than double any other Bears wide receiver. Kmet finished 21st in total fantasy points last season and 24th in FPts/G. but consider … he did this without scoring a single touchdown. Kmet's backup tight ends Jimmy Graham and Jesse James totaled four scores in 2021, however neither is on the Bears' current roster. Also, consider that Kmet led the Bears in red zone targets last season (12) two more than even Mooney, but only six were deemed "catchable" and he caught five of those six passes. He just didn't get into the end zone. We are all expecting improved quarterback play from Justin Fields in his second season. By comparison, Noah Fant had 12 red zone targets last season, from Teddy Bridgewater and Drew Lock, and scored four times. Austin Hooper had three touchdowns from Baker Mayfield on 11 red zone targets. The touchdowns will eventually come for Kmet and he'll only cost you a 15th-round selection.
So there you have it, three tight end options for you with the best value for their tiers. Choose Mark Andrews if you want an elite tight end, Dalton Schultz for the best second-tier value option and Cole Kmet if you are bargain shopping.