Week 17 is a completely different "animal" from the first 16 weeks of the season. It's because you first have to figure out the motivation for your players this week. Is it to avoid injury and get ready for the playoffs? Is it for a 2020 contract? Is he not playing at all because for him the season is already over? Are his bags packed and tee times set? Those are questions that must be answered.

Truths

"We swallow greedily any lie that flatters us, but we sip only little by little at a truth we find bitter." - Denis Diderot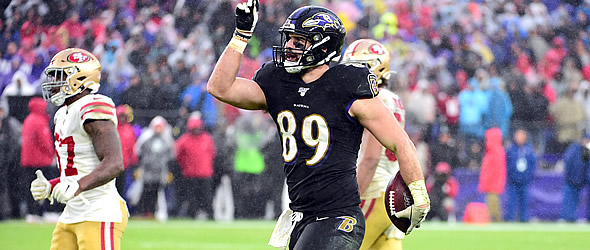 1) Two AFC playoff teams are locked in to their positions and therefore unlikely to play their key starters.
Absolutely true. Donít expect any Baltimore Ravens and Buffalo Bills skill position players to see the field. That means if Lamar Jackson has carried you to the top of the mountain, you better have a good backup plan. Same for Mark Ingram, Mark Andrews and Josh Allen.
2) Teams who have been recently eliminated are the hardest to predict.
Cleveland Browns, Indianapolis Colts, Jacksonville Jaguars, Denver Broncos, Los Angeles Chargers, New York Jets, Miami Dolphins, Cincinnati Bengals, Los Angeles Rams, Chicago Bears, Tampa Bay Buccaneers, Carolina Panthers, Arizona Cardinals, Atlanta Falcons, Detroit Lions, New York Giants and Washington Redskins all have been eliminated from playoff contention, but some will still play hard. Usually, contenders who just recently had dreams of winning a Super Bowl ring dashed, come out flat, while guys who have been out of it for weeks and are still playing hard continue to play hard to the final whistle. For that reason be fearful of depending on the Rams, Bears, Jaguars and Chargers. And continue to believe in the Dolphins, Falcons and New York Giants.
3) The Patriots have become a run-first team and its working.
True. They may have the GOAT under center, but itís obvious that New England is going to depend on the running game to win this postseason. They have averaged 139.3 ypg on the ground over the past month. That means itís time to have confidence in Sony Michel, who has cracked 100 yards from scrimmage in two straight games. Remember how Michel dominated the playoffs last season with 336 yards and six touchdowns? History is about to repeat itself.
4) Carson Wentz has played his best ball the past three games.
True. Wentz ranks seventh in fantasy points (24.5) over the past three games and heís doing it by throwing to Greg Ward, Dallas Goedert, Zach Ertz (cracked rib) and running back Miles Sanders. You have to give props to Doug Pederson for developing a passing game that works with the limited receiving talent.
5) Breshad Perriman has been everything you hoped he would be, but beware of Week 17.
True. Perriman has moved up the charts as a replacement for Mike Evans and then Chris Godwin. He has posted four consecutive double-digit points, but the fast-improving Atlanta Falcons pass defense is ranked second in fantasy points allowed to opposing wideouts over the past three games. They havenít given up a 100-yard receiver since Week 11 and that includes a Week 12 date with record-setting Michael Thomas (6-48-0).
Lies
"Never argue with someone who believes their own lies." - Anonymous
1) Marshawn Lynch will be a viable running back option.
Sorry, no. This weekend will be a warmup for the playoffs, but there is no way Lynch gets the workload to produce enough for fantasy ownersí satisfaction. He hasnít played since October 2018. Heís not going to be in ďplayingĒ shape. Itís a Russell Wilson game.
2) Ryan Fitzpatrick is not a viable replacement for Lamar Jackson.
No one can replace Lamar, but Fitzpatrick is playable in Week 17. Sure, he is playing the Patriots, but Fitzpatrick isnít in awe of them because heís played them so many times. Although heís just 2-10 in a dozen games, heís averaging 260.3 ypg passing and has thrown 20 touchdown passes. Heíll certainly outperform Jacksonís replacement - Robert Griffin III. Fitzpatrick is averaging 27.3 FPts/G over his last three starts and heís only 31-percent owned.
3) The Ramsí Cooper Kupp is still a must start.
Kupp has been living off touchdown catches for the past month. In reality, heís been bad since his 220-yard games against Cincinnati. He hasnít cracked 65 yards in seven games and been saved by scoring one touchdown in each of the last four contests. Heís averaging 5.3 targets, 4.1 receptions and 38.6 yards over the past seven games.
4) Odell Beckham Jr. is a superstar.
In the media, perhaps, but in reality heís averaging 12.4 FPts/G which is only good enough for 38th place among wideouts. Heís seen enough targets to be much higher (127 targets is 11th overall), but his three touchdowns is tied for the fewest in a season for the six-year veteran. And in 2017 when he scored just three times he only played four games.
5) Josh Jacobs is easily the best rookie running back this season.
He does have the best overall statistics in 2019 (14.9 FPts/G), but the improvement of Miles Sanders over the course of the season makes this a two-horse race. Sanders is averaging 14.0 FPts/G this season, but over the past five games heís exploded for 21.2 FPts/G. Thatís No. 6 overall during that span.