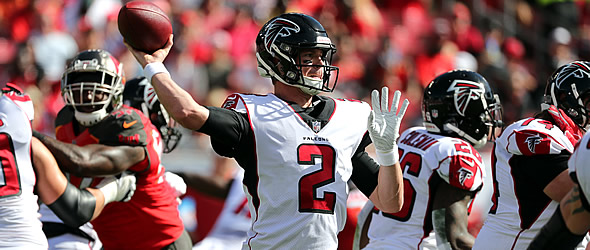 Kansas City second-year quarterback Patrick Mahomes (30.9 FPts/G) received all the media hype and attention in 2018 for good reason. In every fantasy leagues I won last year, he was my quarterback. Ben Roethlisberger (26.3 FPts/G) finished second (for those who started at least 10 games) behind Mahomes and he too was frequently in the news because of his arm and his mouth. But rather quietly, Matt Ryan (4,923-35-7) finished third and 2019 will be his year to shine.

Here's why.

Reason No. 1 – Both Mahomes (5,097-50-12) and Roethlisberger (5,129-34-16) will produce significantly less in 2019. Mahomes is sure to be missing his No. 1 target and favorite receiver, Tyreek Hill (87-1,479-12), who led the league in FPts/G at 15.1 for a large portion of the season due to off-the-field issues. His receiving corps; Travis Kelce at tight end, Sammy Watkins and rookie Mecole Hardman doesn't sound nearly as dangerous or explosive without the "home run" threat from Hill.

For Roethlisberger, he will be without superstar wideout Antonio Brown (104-1,297-15) for the first time since 2011 (he wasn't a superstar in his 2010 rookie season). Brown was second to Hill in FPts/G at a 14.6 last year. Now he's in Oakland. We know JuJu Smith-Schuster (111-1,426-7) can perform when all defensive eyes are on Brown, but what we don't know is if Smith-Schuster can be as productive in a "starring role." And who will take over as No. 2? James Washington (16-217-1)? Eli Rogers (12-79-0)? Or perhaps Toledo rookie Diontae Johnson? Until we know their No. 2 wideout can produce, Big Ben's numbers are likely to take a big hit.

Reason No. 2 – In Atlanta, the Falcons will bring back their receiving corps in tact; superstar Julio Jones (113-1,676-8), possession guy Mohamed Sanu (66-838-4), youngster Calvin Ridley (64-821-10) and tight end Austin Hooper (71-660-4). Jones has produced at least 1,400 yards in five consecutive seasons and there is no reason to think he can't do it again in 2019. Sanu's yardage total was the best of his career, but it wasn't anything that he can't reproduce. Rookie Ridley exploded onto the scene with 264 yards and six touchdowns in a three-game stretch early in the season (games 2-4) but can certainly be more consistent throughout 2019.

Reason No. 3 – Falcons' management has made a concerted effort to give Ryan (26.0 FPts/G) even more time to throw by using its first two picks in the 2019 draft on the OL (Chris Lindstrom and Kaleb McGary). They were a decent line in 2018 with Football Outsiders ranking them 14th in pass protection while Pro Football Focus ranked them fifth in pass efficiency yielding 148 pressures in 676 pass-blocking snaps, but if Ryan is going to throw the ball close to 700 times again it's imperative to keep him upright and healthy. These additions should help.

Reason No. 4 – With the running back tandem of Devonta Freeman and Tevin Coleman reduced to Freeman and Ito Smith (who is returning from a knee scope in the offseason), Atlanta will not want to overuse Freeman. Which likely means the Atlanta offense will likely be dropping back more than the 676 times they did in 2018.

Reason No. 5 – Opposing defenses in their division weren't good against the pass. That shouldn't change much in 2019. Division opponents, Carolina, Tampa Bay and New Orleans yielded 96 touchdown passes and 12,300 passing yards last season. All four teams in the division, including the Falcons, ranked in the bottom 10 for QB fantasy points allowed per game (Atlanta 25.8, New Orleans 25.2, Tampa Bay 24.6 and Carolina 22.9). Meaning at least six shootouts for the Falcons. Add in games against subpar pass defenses in Houston (17th), San Francisco (19th) and Philadelphia (ranked 24th) and Ryan has a favorable matchup in over half his games.

Given these five reasons, Ryan should be better than both Mahomes and Roethlisberger.

He should also be better than Indianapolis' Andrew Luck, who finished fourth in 2018. The improvement of running back Marlon Mack will take a toll on Luck's fantasy production. In fact, it already did last season! In 2018, when Mack had a big day, Luck's numbers dropped significantly. In the five games when Mack produced at least 100 yards rushing, Luck's production dropped from 26.4 FPts/G to 21.9 FPts/G. Mack is the undisputed No. 1 guy in Indy as they didn't do much to bolster their running back depth in the offseason. They didn't draft a running back and added only journeyman Spencer Ware to Nyheim Hines and Jordan Wilkins.

Deshaun Watson is also talented enough to lead the fantasy world in scoring … should he be able to stay healthy for all 16 games. Right now, that seems unlikely based on past history. He managed seven games in his rookie season and while he played all 16 last season he took a beating. After overcoming his ACL injury from 2017, he dealt with shoulder and chest injuries last season. The chest injury was so bad that in Week 7 the Texans wouldn't let him on a plane, instead sending him on a 12-hour bus ride to Jacksonville. Watson was sacked a league-high 62 times in 2019. He also rushed 99 times. That's a lot of hits. My concern (read skepticism) for his ability to stay healthy and produce for 16 games means not believing he can outscore Ryan for the season.

Could someone else possibly jump up and have a "career year"? Aaron Rodgers is capable (if he can find a time machine to go back to 2011,) Carson Wentz could reproduce his MVP-type 13 games from 2017 for a full season or rising star Baker Mayfield could pull a "Mahomes", but I like Ryan's odds over all of them.