This piece isn't for the fantasy owner with a top-three draft position, who can select an elite running back without issues … like Saquon Barkley, Alvin Kamara or Christian McCaffrey. No, this analysis is directed toward those who will have to choose a top running back with "flaws." These flaws come in a number of forms, but the three primary areas are: injury recovery concerns, shared playing time and contract issue fallout.
Injury Recovery Concerns
Todd Gurley, Los Angeles Rams – His arthritic knee turned the 2018 early season elite back into a part-time participant by the end of the season and into the playoffs. It makes him a huge question mark for 2019 and a high-risk, high-reward gamble on Draft Day. Which "Todd Gurley" will show up in Week 1 and if it's the "good" Gurley will he still be there in Week 14 when the fantasy playoffs begin? At least you don't have to use a No.1 overall pick to get him this season as all the health questions have significantly lowered his ADP (13.8) making him a second-round option. However, with Malcolm Brown re-signed as Gurley's backup (at a hefty $3.25 million price tag) and youngster Darrell Henderson looking like a third-down receiving option, it appears the Rams plan is to lighten the load, preserving him for the playoffs … the NFL playoffs, not your fantasy playoffs. In a recent "expert" draft I participated in, Gurley went 13th overall.
Derrius Guice, Washington – A second-round selection out of LSU in 2018, Guice was expected to revive the Redskins running game until an August ACL injury prematurely ended his season before it began. Washington brought in Adrian Peterson for the short-term and he ran OK, but Guice is the future and he's back. Expect the workload division to be fairly even early on until Guice proves he can handle more of the work. By the fantasy playoffs he and his 75.4 ADP may turn out to be a bargain, but it's still a gamble that he stays healthy (already suffered a hamstring injury in July) and wins the job outright. Low risk-high reward option.
Jerick McKinnon, San Francisco – McKinnon was brought in as a free agent last season, but didn't play a single down after injuring an ACL just before Week 1. He was activated from the PUP list this week, but will find a tough road to becoming the feature back in San Francisco. In fact, fantasy owners are choosing Tevin Coleman (ADP 62) well ahead of him. McKinnon's likely to end up reprising the receiving back roll he played in Minnesota making even the 118.4 ADP too high.
Playing Time Concerns
Tevin Coleman, San Francisco – As we just wrote, it appears that Coleman has the most direct route to the starting 49ers running back job, but even that doesn't assure his fantasy value. This team is deep at the position with Matt Breida, Jeffery Wilson (calf), Raheem Mostert and of course McKinnon. Breida, in particular, showed to be an explosive option who averaged 5.3 yards per carry and 9.7 yards per reception. It's likely that Coleman, McKinnon and Breida will all see significant time on the field and based on a three-way RBBC, I'd rather take my shot with Breida (ADP 149.6) as a very low risk-high reward option.
Nick Chubb, Cleveland – Actually, I love what Chubb brings to the field and until Kareem Hunt returns from his eight-game suspension Chubb is a solid RB1. The question obviously becomes what is the workload split in Week 10 and into the fantasy playoffs? Chubb's 19.3 ADP puts him at the end of the second round and in my last draft he actually went as the third pick of the third round with Hunt going as the first pick of the ninth round. That seems like "fair market value" for eight weeks of elite production and there is always the possibility that he is so good that Hunt ends up in a slightly smaller role (70/30).
Sony Michel, New England – I laughed the other day when I saw a report that Sony Michel was "beating man coverage as a pass catcher." The league could allow him to use glue on his hands to catch the ball easier and he'd still be behind James White and Rex Burkhead in passing situations. C'mon, it's Bill Belichick we are talking about here and he's the president of the "I believe in the RBBC" fan club. Michel will get the first two downs (one if it is second-and-long), then take a seat. His ceiling is 100+ yards and a touchdown, but he also produced eight games of 63-yards-or-less and no scores last season. Like all Patriots running backs, Michel comes with risk.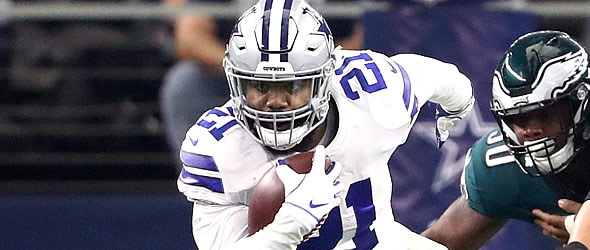 Contract Issue Fallout
Le'Veon Bell, New York Jets – Bell should certainly be rested after sitting out 2018 when the Steelers tried to franchise him for a second consecutive season and he said no. He's now running behind a much weaker offensive line in New York (ranked 28th by PFF) which means Bell might have to touch the ball the 500 times he volunteered to do, to get equal results. Obviously that won't happen. In 1979 John Riggins sat out a season and when he came back in 1981 his yardage dropped 40-percent though he increased his scoring. Riggins, however, was one-dimensional, while Bell is a lower risk option because he's so versatile. When Bell sat out training camp and the preseason in 2017, it had no effect on his production. In fact, he improved on his 2016 numbers (see chart below). End of the first round is where he belongs, so his 7.5 ADP might be a little high, but not by much.
Melvin Gordon, Los Angeles Chargers – Melvin Gordon (ADP 24.3) doesn't want to play for his "paltry" $5.6 million and while it's hard for me to have sympathy while making my "massive" writing salary, he IS underpaid based on his past performance. Gordon ranked third in points-per-game among running backs in standard leagues and fifth in PPR leagues. And while there seems to be a hardening of their negotiating positions, Gordon will eventually play this season, in Los Angeles. Even more important for fantasy owners, backup Austin Ekeler is a clear-cut handcuff who has produced for the Chargers when asked in the past. Drafting Gordon and Ekeler in combination is a low-risk option.
Ezekiel Elliott, Dallas – While Ezekiel Elliott is vacationing in Cabo, waiting for his agent and Jerry Jones to get a deal done, fantasy owners have to deal with the unknown. Based on the chart below, running backs who hold out end up producing 36-percent less yardage and 43-percent less touchdowns. Some of that is due to slow starts after missing training camp and some due to injury. The problem in Dallas is there is no clear-cut handcuff to take Elliott where he belongs if he were in camp … top-five. Is Darius Jackson or the newly-signed Alfred Morris the backup? Or would they share the workload making neither a viable option? I have faith that Dallas will get Elliott signed, but unless it's before the third week of camp I can't draft him at his 4.3 ADP.

RB Production Following A Holdout
Player
Tm
Pos
Previous
Scrim Yds
TDs
Holdout
Scrim Yds
TDs
Le'Veon Bell
NYJ
RB
2017
(1946)
(11)
2019
?
?
Le'Veon Bell
PIT
RB
2016
1884
9
2017
1946
11
M. Jones-Drew
JAC
RB
2011
1980
11
2012
500
2
Chris Johnson
TEN
RB
2010
1609
12
2011
1465
4
Steven Jackson
STL
RB
2007
1273
6
2008
1421
8
Larry Johnson
KC
RB
2006
2199
19
2007
745
4
Corey Dillon
CIN
RB
1999
1490
6
2000
1593
7
Jamal Anderson
ATL
RB
1998
2165
16
1999
93
0
Emmitt Smith
DAL
RB
1992
2048
19
1993
1900
10
Eric Dickerson
IND
RB
1989
1522
8
1990
769
4
Eric Dickerson
LA
RB
1984
2244
14
1985
1360
12
John Riggins
WAS
RB
1979
1319
12
1981
773
13
Totals
19733
132
12565
75