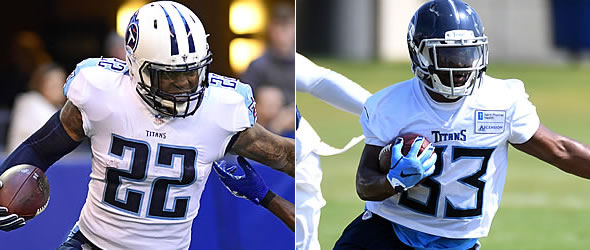 Fantasy owners will have a lot of RBBC decisions to make including Henry or Lewis in Tennessee.
What's the hardest decision to make on Draft Day? No, it's not choosing between Todd Gurley and Le'Veon Bell. It's not Aaron Rodgers or Tom Brady. You can't go wrong either way. No, the hardest decision in fantasy is deciding which back in a running-back-by-committee situation to choose.
Choose correctly and if your guy emerges from the pack to dominate, you could come away with a huge bargain that will carry you to a title. Choose wrong and you could be beating yourself up for the next 17 weeks.
That's where I come in. I'm here to help you make the tough choices. Let's get right to it.
Atlanta – Devonta Freeman, Tevin Coleman
Freeman is still the No. 1 guy here, both in salary and opportunity, but the trend is heading in the wrong direction. Freeman's touches the past three seasons were: 337, 281 and 232. Meanwhile Coleman's have increased from 89 to 149 to 183. Freeman's FPts/G is also trending down (16.5, 14.5 and 11.9). Freeman is still the back to own first, but it's getting closer. Coleman is a viable RB2 in larger leagues and a perfect handcuff.
Baltimore – Alex Collins, Javorius Allen
Collins came out of nowhere last season (actually he came from Seattle after he was cut) and he's become the back to have for 2018. He averaged 16.7 rushing attempts over the final nine games last season and barring a return from the ashes of troubled Kenneth Dixon, Collins should be a solid RB2.
Cleveland – Carlos Hyde, Duke Johnson, Nick Chubb
Throw out struggling rookie Chubb, who as a second-round pick, will certainly make the roster, but is clearly third on the depth chart. Johnson should get the majority of the backfield receptions (though Hyde did catch 59 balls last season in San Francisco), but doesn't run more than a couple times a game which leaves Hyde the early down work and goal line and is the only viable fantasy option, though not more than a low-level RB2.
Denver – Devontae Booker, Royce Freeman
As the veteran, Booker has been getting the starts in preseason, though both guys have run with the first team. Freeman has been the choice of fantasy owners due to his likely being the better red-zone option at 238 lbs., but he's not a big part of the passing game. Both guys should be low-end RB2 options with Freeman getting the slight edge here.
Detroit – Kerryon Johnson, LeGarrette Blount, Theo Riddick
The Lions traded up to get Johnson and he's the one guy on their roster who can both run the ball and catch the ball. He's limited, however, by Riddick's catching ability and Blount's red-zone prowess. Still, I like Johnson to rack up the yards "between the 20s" and is the only option.
Green Bay – Jamaal Williams, Ty Montgomery, Aaron Jones
Williams averaged almost 18 carries a game over the final eight of 2017, but averaged less than 4.0 ypc in seven of them. With Jones suspended for the first two games, Williams could be viable to start the season, but Montgomery should be the third-down and two-minute drill guy. Barring injuries, Williams is the only back to roster here.
Indianapolis – Marlon Mack, Nyheim Hines, Jordan Wilkins, and Robert Turbin (suspended)
Mack is dealing with a hamstring issue, but long-term, he gets the first shot at being the starter ahead of the two rookies Hines and Wilkins. Hines has shown fumbling issues in preseason (four times in two games) which will quickly get you in the coach's doghouse, so Wilkins should end up as the backup for Mack.
Miami – Kenyan Drake, Frank Gore
Drake flashed big-time in the second half of last season and while 35-year-old Gore should see a decent percentage of the workload, the youngster is the future and the one to have on your roster. In Indianapolis last season, Gore saw the eighth-most rushing attempts (261), yet still couldn't produce a double-digit fantasy average (9.0) and ranked 26th among running backs. He'll see half that many carries in 2018.
Minnesota – Dalvin Cook, Latavius Murray
Cook is obviously the guy with the most talent and PPR league owners should love him now that he will see all of Jerick McKinnon's targets and receptions. However, coming off an ACL injury, the Vikings will likely give Murray a decent rushing workload to protect their second-year star and possibly the goal line work. Cook is an RB1 and make Murray an RB3.
New England – Rex Burkhead, Sony Michel, James White, Mike Gillislee
The horror and confusion that is the Patriots backfield every season should continue. My first suggestion is to stay away, stay far away and let someone else deal with the headache. But if you must, Burkhead showed last season he can be part of the passing game and with the team's issues at wideout that could be an important factor. Still, he's a RB3.
New Orleans – Alvin Kamara, Mark Ingram (suspended)
Yes, Kamara should come out of the gate quickly given the four-game suspension to Ingram, but you should expect some regression from his 6.1 ypc of last season and 13 touchdowns on 202 touches and that's worrisome. He'll cost you a high price as he's being selected in the mid-first round (ADP 6.4 overall) which is too high for a guy who shared the backfield last season and will again when Ingram returns in Week 5.
New York Jets – Bilal Powell, Isaiah Crowell
Both Powell and Crowell showed some flashes in 2016, but neither did enough in 2017 to make fantasy owners happy. They should see similar workloads this season as both can run and catch the ball, but neither has grabbed control of the situation. The offensive line in front of them is one of the worst in the league. This is likely a "go with the hot hand" situation and so avoid it at all costs.
Oakland – Marshawn Lynch, Doug Martin
It took about half the season before Lynch looked like a running back again after missing all of 2016. Still, the Raiders brought in Doug Martin, who Coach Gruden seems to hold in high regard. I'm not sure why, since he's averaged 2.9 ypc over the past two seasons. Stick with Lynch.
Seattle – Chris Carson, Rashaad Penny
With the rookie Penny sidelined after hand surgery, Carson has grabbed the opportunity and become the primary running back in Seattle. Of course, given the fact that they haven't produced a viable fantasy option at that position since 2014 (Lynch) is concerning. The Seahawks OL is still a mess and ranked 30th by Pro Football Focus. Another situation to stay away from unless desperate.
Tampa Bay – Peyton Barber, Ronald Jones
The Bucs jettisoned Martin and spent a high draft choice on Jones, but Barber has emerged as the starter, at least for now. A below average line and the likelihood that Jones will get a 40-50% of the workload by the end of the season makes it tough to expect much from either back. To start the season, however, Barber is the choice.
Tennessee – Derrick Henry, Dion Lewis
Henry was a boom or bust guy last season and that could continue this season. He'll be the lead back, but it's possible the talented Lewis could lead the backfield in yards from scrimmage because of his excellent pass-receiving skills. Both players should end up as viable RB2 backs, though Lewis might be the better value considering he is being selected two rounds below Henry.
Washington – Adrian Peterson, Chris Thompson
The just-signed Peterson likely still has a little bit left in the tank, but Thompson is the guy to own here. "AP" was always a physical specimen and might have a few moments, if the OL can stay healthy, but he can't do it week-in and week-out anymore. Thompson is an elite receiver for a running back and coach Jay Gruden figures to use him often.


---
Steve Schwarz served as the fantasy sports editor of The Sports Network and is the 2014 FSWA Football Writer of the Year.