It's very late on Draft Day, you're tired, maybe hungry, might even have the start of Excedrin headache No. 21 (thanks Zeke) and you just want to finish the final three picks and go home. You are tempted to simply choose the highest rated player on your pre-draft printed fantasy list, then select your defense and kicker and go to sleep.

STOP!

I have a handful of deep, deep sleepers who might help you at some point in the season. They probably won't do much in Week 1, but they are high-upside, low-cost gambles.

To qualify as a "deep sleeper" a player must be ranked at 175-or-lower on my list. Using Fantasyfootballcalculator as my guide, here are six players who could surprise you.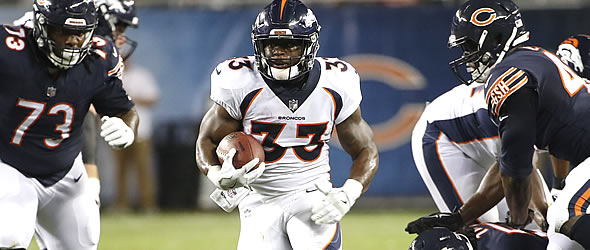 C.J Anderson, Jamaal Charles? Meh. The rookie RB in Denver could be a league difference maker.


No.175) WR Robby Anderson, New York Jets – Where else can you find a No. 1 receiver at this point in your draft? The Jets will have the worst offense in the league this season, but garbage-time points count just as much as first quarter points. Anderson could still be a viable option … at least for as long as fragile Josh McCown stays upright.

No.180) WR Kevin White, Chicago – With the injury to Cameron Meredith, either White or Kendall Wright will step up to fill the void (sorry Victor Cruz fans). White is the more explosive of the two, he just hasn't been able to stay healthy over his first two seasons (two different leg injuries limited him to just four of 32 games). Late picks aren't for choosing a possession receiver like Wright, who might get you four catches for 35 yards, it's for catching lightning in a bottle. When originally drafted, White was compared to an Andre Johnson type.

No.184) WR Travis Benjamin, Los Angeles Chargers – Sure, the Bolts have a lot of wideouts on their roster, but they always seem to get injured. Already this season first-round pick Mike Williams is sidelined, Tyrell Williams is dealing with a groin injury and sat out last week's opening day dress rehearsal and Dontrelle Inman has offseason core muscle surgery. Star wideout Keenan Allen has played just nine games the past two seasons. Benjamin is a legitimate deep threat, who owns a career 15.1 ypc average, with 10-of-17 touchdown catches over 30 yards.

No.192) RB James Conner, Pittsburgh – The history of star running backs holding out during training camp and them playing 16 games at an elite level is not long. More often there is a drop off in production and almost as often there is an injury. Examples of this are; Eric Dickerson (1990), Jamal Anderson (1999), Larry Johnson (2007), Steven Jackson (2008), Chris Johnson (2011) and Maurice Jones-Drew (2012). Le'Veon Bell is expected to report on Sept. 1 thereby missing all of this year's training camp and preseason. Conner may have secured the backup role with a good exhibition season and is worth a late-round flier.

No.197) QB DeShone Kizer, Cleveland – Now that the Browns have declared Kizer their opening day starter, he's worth adding late in your draft. The team is going to give him ample opportunity to succeed, seeing as how the other less-than-desirable options are Brock Osweiler and Cody Kessler. The Browns have an improved offensive line, a solid running back (Isaiah Crowell) and decent pass catchers (Kenny Britt, Corey Coleman and Duke Johnson). Plus, unless their defense is significantly improved (unlikely), they are going to need to score a lot of points just to be competitive. In two-QB leagues, he's a No. 3 QB with upside.

No.204) RB De'Angelo Henderson, Denver – The Broncos haven't had a 1,000-yard rusher since 2013, the year Knowshon Moreno came out of nowhere to produce great numbers. Starter C.J. Anderson has never done it or for that matter played in all 16 games in a season. The current options behind Anderson are; old and fragile Jamaal Charles (might not make the 53-man roster), Devontae Booker (injured wrist) and the rookie Henderson. The Coastal Carolina running back will have to learn to hold on to the football, but his 4.48 speed has brought some excitement to a bland running back group. If he gets a chance, Henderson might just be the next surprise.

---
Steve Schwarz served as the fantasy sports editor of The Sports Network and is the 2014 FSWA Football Writer of the Year.