Note: Top 12 clipped from Doug's Top 200 Big Board for PPR leagues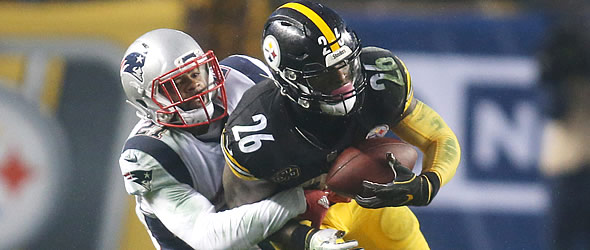 Le'Veon Bell is a fantasy force but there are reasons to be concerned about his 2018 production.


Let me be clear: if I have the good fortune of picking inside the top four in a handful of drafts, I will take Le'Veon Bell at least once because I want to have at least one share of all the top backs if at possible. But I have laid out the case against him multiple times over the last two months and I don't imagine my opinion is going to change. His supporters will claim Bell keeps himself in phenomenal shape and logged 400-plus touches in 15 games last year despite missing the entire preseason, so he can do it again this year. Some may even mention he should be entering the prime of his career at age 26 and doesn't have the wear-and-tear of other feature backs his age since he has missed 18 regular-season games over the first five years of his career due to suspension or injury.



Now the case against Bell:

I have cited the following multiple times at FFToday and in other publications, but I'll expand a bit on it here. Since 2000, there have been 16 instances (Bell will make it 17) in which a back saw 400-plus touches one year and played the next. Fifteen of the 16 failed to match or exceed what they did the previous year and the average drop-off was 110 touches, 796 total yards and 7.4 touchdowns! For those that care about such things, those backs averaged 0.7 yards per carry less than the previous year. Think about that for a second. If Bell experiences a similar decline, he will finish with 296 touches, 1,152 total yards and four TDs. (That is comparable to what C.J. Anderson did last year as the overall RB18.) Let's say he beats the odds and regresses only half as much as the average: 351 touches, 1,548 total yards and seven scores - almost the equivalent of what LeSean McCoy did on his way to an RB7 finish in 2017. Worthy of a first-round pick in fantasy? Sure. No. 1 overall? No.

Of course, there's more. While he did average 4.5 yards per attempt in December, he was at 3.9 YPC on 251 carries through the end of November, leading to his most inefficient season (4.0 YPC) since he was a rookie in 2013 (3.5). His longest run on 321 attempts was 27 yards. The only play-caller he's ever known in Pittsburgh (Todd Haley) now in Cleveland, leaving first-time NFL offensive coordinator Randy Fichtner to call the shots. Bell is skipping training camp and the preseason for the second straight season. His team has declined to give him a long-term extension two times in as many years. Owners can choose to see the positive in some of the negatives I have pointed out, but I also have him down for eight yellow matchups as well - many of which would be red if not for his unique talents and heavy volume. I think I have briefly touched on enough reasons for concern to give owners some pause and make the case for Bell being the riskiest pick in the first round this summer.



---
Doug Orth has written for FF Today since 2006 and been featured in USA Today's Fantasy Football Preview magazine since 2010. He hosted USA Today's hour-long, pre-kickoff fantasy football internet chat every Sunday in 2012-13 and appears as a guest analyst on a number of national sports radio shows, including Sirius XM's "Fantasy Drive". Doug is also a member of the Fantasy Sports Writers Association.