I celebrate Thanksgiving late…there, I said it. While others give thanks for all their blessings in late November, I typically wait until late December. Perhaps I like to consolidate my holidays so the final two weeks of every year are special.

Of course, I'm kidding about 99% of what I just said. The shred of truth that exists in the above paragraph is that I've regularly had reason to be thankful in late December when at least one of my big money-league teams has advanced to the championship game. (I don't care what anyone says, Christmas is always a little better when you know you will have a little more going into the bank than you have coming out of it…) Despite landing the last pick in a 12-team draft and spending it on C.J. Spiller, I was able to overcome another slow start – a common theme for my money-league teams in recent years – defeat the top two scoring teams in my league over the last two weeks and make it to this point. As much as I believe fantasy football is about skill, it is not lost on me that I was quite fortunate to get through the last two games in that league.

I'm also proud to announce that FF Today is in its fourth straight championship game in The Huddle Expert Auction League (formerly known as the SOFA Auction League) – a run unparalleled in its nine-year history – and aiming for its first repeat. This year has been easier than most in some respects because I was able to land Peyton Manning and Jamaal Charles, which helped overshadow my loss of Julio Jones. Still, Steven Jackson and Shane Vereen spent large amounts of time on my IR list and I needed Julian Edelman to step up in order to get to this point – further proving that the road to a championship is rarely ever easy.

In my opinion, good/great fantasy football analysts build their reputation/make their money on their ability to look into to the future (or at least they should) and predict what will happen with a fair amount of accuracy. In that respect, fantasy analysts are like stockbrokers with the obvious difference being that fantasy analysts are focused on delivering results by the end of the year only (as opposed to long-term). By the time we reach Week 16 each season, however, there is very little advice to provide to owners outside of start/sit and add/drop questions. Trades are no longer an issue and success ultimately boils down to whether or not the players on your roster have better matchups that week than your opponent.

Therefore, I regularly use the final Blitz column of every season to set the table for the following season. While the Blitz will take a long vacation after this week, I will return after a personal bye week – in which I will watch a lot of college bowl games – to bring you "Road to the Super Bowl". After that, it will only be a short time before I will begin analyzing prospects for the NFL Draft. In fact, most of the next two months will be spent clearing out my DVR watching or re-watching some of the most prominent games of the college football season. I have been pleasantly surprised to say the least about a number of very good draft-eligible running back prospects this year, which could lead to a bit of a rebirth at the position after an underrated class featuring the likes of Giovani Bernard, Le'Veon Bell, Eddie Lacy, Zac Stacy and Andre Ellington all made impacts this season.

Of course, there will be plenty of time to discuss the next wave of talent joining the NFL over the next four-plus months (remember, the draft is in May this year!). Until then, I'd like to focus my time and energy on the veteran players that figure to be on the wish lists of fantasy owners in 2014. Obviously, much will change between now and the summer as coaches and coordinators come and go, free agency stirs the pot and the draft adds playmakers to teams needing one more player to make everything click. Still, I find it helpful to establish some sense of how I would rank each position now to get a bit of a head start on next season.

2014 Top 12 Fantasy Quarterbacks

1. Peyton Manning
2. Drew Brees
3. Aaron Rodgers
4. Nick Foles
5. Matthew Stafford
6. Matt Ryan
7. Cam Newton
8. Philip Rivers
9. Russell Wilson
10. Andrew Luck
11. Robert Griffin III
12. Tom Brady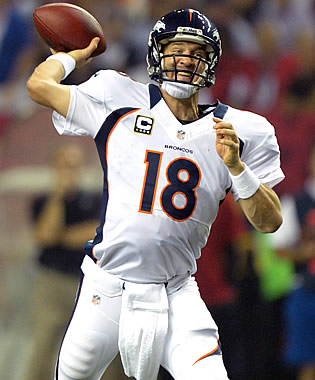 Peyton Manning: The numbers speak for themselves.
Analysis: There's really very little to discuss with the top three signal-callers. Knock Manning all you want for his overplayed inability to produce in the cold or postseason, but I have no problem with placing my faith each week in the most prepared player to take the field in NFL history, especially with the caliber of weapons he has around him. Brees is the only other quarterback I consider to be an "unfair advantage" most weeks in fantasy. Unlike Manning, he will enter the offseason with some questions (such as the contract status of TE Jimmy Graham as well as the inconsistent roles of Marques Colston and Darren Sproles), but few players can save an owners' week like he can. Rodgers' season has obviously been wrecked by his collarbone injury, but it may end up making him something of a value pick next summer. The emergence of Eddie Lacy will probably lead to some disappointing games from time to time and Rodgers cannot be expected to run as much as he did in his 20s going forward. With that said, his status as a top-three quarterback isn't likely to change for a while.
One of my offseason homework assignments will be to figure out just how high Foles' fantasy ceiling is. He has obviously learned how to take care of the football and operates in an offense that will give him every chance to be a superstar, but one could make the argument he has faced one decent secondary since his rise to prominence. There's virtually no chance I'll rank him higher than fourth, although it wouldn't surprise me if he plays to that level with a full offseason to prepare as the starter. As this month has shown, Stafford isn't a top-five quarterback in reality yet. What he has working in his favor is all the arm talent one could hope for, volume and a lot of skill-position talent surrounding him. I doubt Detroit changes its pass-heavy approach even if it makes a coaching change in the offseason; what we do know is that Calvin Johnson and Reggie Bush aren't going anywhere. Considering what happened around him, Ryan impressed me a lot this year. Even when the Falcons' offense was expected to flat-line after the loss of Julio Jones, he was still able to produce somewhat respectable numbers with Harry Douglas as his lead receiver. If Atlanta can get anything close to a full season from each member of its supporting cast in 2014 and make some upgrades up front, Ryan may be ready to take another step up in OC Dirk Koetter's offense and set career highs in passing yards and touchdowns yet again.
Newton's fantasy numbers have declined each year since his rookie season, but he is becoming a more complete quarterback despite the fact that Greg Olsen and a declining Steve Smith are his top weapons. It appears Carolina wants to keep him in the 8-10 carry/game range, thus capping his contributions as a runner. With that said, adding a playmaking receiver in the offseason would probably move him up ahead of Foles. Rivers gave us glimpses that he still had "it" in him with several solid games in 2012, but most of us were guilty of believing he had lost the ability to be an every-week starter. Let Rivers' 2013 season serve as a reminder that more great quarterbacks tend to fall off due to a declining supporting cast than an erosion of skills. Keenan Allen and Danny Woodhead were obvious upgrades over what the team had in recent seasons. It's a shame we only got to see less than one game of what Wilson could do with Percy Harvin as his top receiver. Regardless, the Seahawks' quarterback has still thrived in Harvin's absence and with a number of injuries to his offensive line. Seattle's offensive approach may cap his fantasy ceiling for the foreseeable future, but Wilson's place as a top 10 quarterback – in reality and in fantasy – is pretty solid.
The final three quarterbacks I will discuss are more speculative ranks than anything. The Colts have to address their offensive line in the offseason. Assuming they do so, we can expect Trent Richardson to make teams fear the running game. Once that happens, Luck could thrive with the return of Reggie Wayne. Even if Wayne is less than the receiver we remember when he returns, he'll join a cast of rapidly-improving players such as T.Y. Hilton, Coby Fleener and Da'Rick Rogers that should threaten defenses – especially with an improved rushing attack. I think the fantasy world wanted to believe in RG3, but most of us knew placing our faith in him would be a severe risk. Offseason changes figure to affect him as much as any quarterback on this list, but one has to think that we will see much more of the exciting athleticism he displayed in 2014 than what he could give us in 2013. I have little doubt he'll be yet another value pick next summer, but a lot will depend on who is running the offense in Washington. Stay tuned…I struggled with Brady over Tony Romo for the final spot, but there will come a day where a Cowboys will actually commit to the run, which will help to lower Romo's somewhat-inflated numbers. I don't expect Rob Gronkowski to return in peak form if/when he makes it back from his knee surgery, but Brady did enough this year with all the chaos surrounding him at the skill positions to be considered a back-end QB1 in 2014, particularly since he'll have another offseason to work with rookies Kenbrell Thompkins and Aaron Dobson.
2014 Top 12 PPR Fantasy Running Backs
1. Jamaal Charles
2. Adrian Peterson
3. LeSean McCoy
4. Matt Forte
5. Eddie Lacy
6. Doug Martin
7. Giovani Bernard
8. Le'Veon Bell
9. Marshawn Lynch
10. Reggie Bush
11. Zac Stacy
12. DeMarco Murray
Analysis: The complaints from fantasy owners about HC Andy Reid's usage (or lack thereof) of his running backs have pretty much faded with Charles, who should enjoy a nice two-year run near the top of PPR draft boards. He's a near lock for over 100 total yards per week and the years of managing Charles' workload have been replaced by a coach able to run him just enough and utilize him heavily in the passing game. Thankfully, Peterson doesn't turn 30 until March 2015. And I must confess: I am done doubting him because he's proven he is just made differently than the rest of us are. With expected improvements at quarterback and offensive coordinator likely coming, Peterson may be ready to take another run at 1,800-2,000 rushing yards next season. McCoy gets a slight edge over Forte here because McCoy should just be starting to hit his prime now. It is hard to find fault with either player and both should be solid bets for 2,000 total yards with little to no threat of a goal-line vulture.
It gets a bit trickier after the top four, but Lacy might as well be the new-and-improved version of Ryan Grant in Green Bay. The long-term health concerns will probably continue to be a worry for another year or two, but he has been something special since returning from his concussion scare in Week 2. Critics can knock Martin all they want and suggest that Mike James and Bobby Rainey have exposed him as an "average" back, but his pre-injury production looks a little better now when one considers most of it came against the Jets, Patriots (pre-Vince Wilfork injury), Cardinals and Eagles – each of which have established themselves as pretty good – if not elite – run defenses. Trusting a Bengals' running back is always hard for me to do, although one has to think Bernard's workload will increase in 2014. How (much) Cincinnati was going to use the rookie was always my biggest concern with him, but I tend to believe he'll exceed 200 carries and 60 catches next year – assuming good health – which will make him a healthier version of Reggie Bush. Bell may lack the sizzle of most of the other names above him, but his all-around game and durability (based on his lengthier college resume) in an offense that will feature him should make Bell a reliable RB1 for the foreseeable future.
Lynch isn't merely a one-dimensional player, although that seems to be underutilized as a receiver more often than not in Seattle. "Beast Mode" is a threat to begin breaking down sooner than later given his physical running style, but I don't think it is too much to ask his 27-year-old body (turns 28 in April) to absorb one more year of punishment before his inevitable decline begins. If I could trust Bush to stay healthy for 16 games, I would have no problem putting him in the top five. However, he has those durability issues to deal with as well as a pretty good backfield partner in Joique Bell to contend with now, making him a slightly riskier option than everyone else above him. It's hard for me to buy into Stacy as a solid long-term investment mostly because I feel as if the Rams want to build their offense around Sam Bradford. With that said, I'm not going to hold that belief against him since he is easily capable of continuing his second-half surge into next season behind an improved offensive line. St. Louis is on the verge of building a very good defense and may just end up playing smash-mouth offensive football and let the defense win the majority of games in the same kind of way Seattle and San Francisco do. As much as the Cowboys get slammed for their inability to stick with the run, it says a lot about Murray that he is as consistent as he is in PPR formats in regards to posting double-digit fantasy totals. Whether HC Jason Garrett, OC Bill Callahan or someone else is calling plays in 2014, I think it is fair to say owner Jerry Jones will continue to make it a priority to emphasize the running game going forward. Murray's biggest crime is that he has yet to make it through a full season, but what he has accomplished statistically since the bye week is what he is capable of doing over a full season if his body (and the play-calling) would just let it happen.
2014 Top 12 PPR Fantasy Wide Receivers
1. Calvin Johnson
2. Josh Gordon
3. A.J. Green
4. Demaryius Thomas
5. Dez Bryant
6. Julio Jones
7. Antonio Brown
8. Brandon Marshall
9. Randall Cobb
10. Keenan Allen
11. DeSean Jackson
12. Wes Welker
Analysis: Before we begin, let me give you an idea of the depth that exists now at this position. The following names are among those that did not make the list: Pierre Garcon, Victor Cruz, Jordy Nelson, Larry Fitzgerald, Alshon Jeffery and Vincent Jackson. Any (and probably all) of those players can make a strong case to be included, meaning fantasy owners that want to go receiver-heavy early in drafts next summer could potentially land three WR1-caliber players. Owners who want to snag the top running backs and quarterbacks should also fare well with the likes of Cobb, Allen, Jackson or Welker in the third round or after. The way it looks now, owners have only themselves to blame if they don't have at least one WR1-caliber option on all of their teams next season
Some owners are claiming that Johnson is no longer the top receiver in fantasy. As far as I'm concerned, any 6-5, 235-pound receiver with speed that averages about 12 targets/ game with a quarterback who looks for him in every situation is a pretty safe bet to finish at or near the top of the rankings at his position every year. Gordon is posting Megatron-like numbers and an athletic freak in his own right, but let's wait and see if he can get through the offseason with his nose clean first before we call him the next great thing. Also consider that Gordon will likely be playing with a rookie quarterback next year too. Much like I said about Peterson above, I'm done doubting Green as well. Due to the limitations of Andy Dalton, the Bengals aren't able to fully utilize all of Green's skills and he is still on track for 100 catches, 1,400 yards and 9-10 touchdowns. Thomas is the fourth "are-you-kidding-me" receiver on this list and probably would be the most likely candidate to challenge Megatron for top honors if he didn't have to share so many targets with so many other great receivers/tight ends. If Eric Decker leaves via free agency this spring, Thomas probably moves up to No. 2 on this list.
I initially had Jones over Bryant, but I'll opt for the healthy receiver over the one that is undergoing foot surgery for the second time in about three years. Jones and Bryant are just as capable as Gordon, Green and Thomas to challenge Johnson for the top spot, meaning the elite receiver pool is ridiculously deep. With the exception of Week 3, Brown spent the first half of the season avoiding the end zone – just as he had for most of his NFL career. That no longer appears to be the case, so as the unquestioned top target in a short-passing offense with superior run-after-catch skills, Brown could string together several 100-catch seasons. The emergence of Jeffery pretty much cements Marshall as a top 5-8 option for as long as his skill set remains where it is right now. Jay Cutler will probably always rely on Marshall a bit more than Jeffery in crunch time, but the seed has been firmly planted in the defense's mind that Jeffery can take the game over at any point. Jeffery will overtake Marshall as the top option sometime in the near future, however, perhaps in 2015.
With the emergence of so many receivers this season, Cobb is almost certain to fall back to the pack a bit in the minds of some drafters because was injured so early in the season. Don't let him slip past you. Regardless of whether or not Green Bay chooses to run a bit more often than we have become accustomed to in recent years, I highly doubt it will come at the expense of Cobb. The third-year wideout has a floor around 80 catches and will get used on running plays from time to time, so he is unlikely to disappoint very often on a week-to-week basis – especially with Aaron Rodgers as his quarterback. Since his coming-out party in Week 5, Allen's points-per-game average is 10th at his position in PPR formats. His targets are a bit lower than one might expect from someone with his production, but that should change as Antonio Gates becomes less and less of a factor in the Chargers' offense and the Chargers spend a full offseason building their playbook around the idea that Allen is their top option in the passing game. Jackson (as in DeSean) knew he was going to be pretty much the only show in town in the Eagles' passing game once Jeremy Maclin was lost to a knee injury during the summer. However, it is the consistency he has shown in fantasy leagues that has impressed me the most. I do worry about his ability to maintain that consistency once the team either adds a suitable second receiver or brings back Maclin, but I doubt Jackson gives up the top receiver job in Philadelphia any time soon. Welker's current fantasy season may have come to a screeching halt, but that doesn't discount what he did prior to suffering two concussions in four weeks. Denver should be an offensive juggernaut again next year – with or without Decker – so his numbers are unlikely to fall, even if he is more of an injury risk now than he was before.
2014 Top 12 PPR Fantasy Tight Ends
1. Jimmy Graham
2. Julius Thomas
3. Vernon Davis
4. Jordan Cameron
5. Dennis Pitta
6. Rob Gronkowski
7. Charles Clay
8. Jason Witten
9. Greg Olsen
10. Jordan Reed
11. Kyle Rudolph
12. Antonio Gates
Analysis: To give each of you some perspective of the difference that exists between Graham and every other tight end, consider that Graham was shut out of one game (Week 7) and kept in check in another (Week 15). Despite those two off-games and his foot injury, he would rank fifth among receivers in total points. No other tight end is within 65 total points of him and only six are within 100. That is a weekly matchup advantage if there ever was one. The discrepancy between Graham and everyone else is due in large part to the two games Thomas missed in Weeks 12 and 13. Thomas finally stayed healthy long enough to utilize his incredible skill set and appears to be the only tight end relatively close to being in Graham's league as a fantasy property. In an offense that features so many great options, it says a lot that Thomas is Manning's first option on a number of throws. Davis' production will likely be capped for as long as the 49ers remain a run-heavy team and Colin Kaepernick remains primarily a one-read quarterback. While his reception total will probably always be lower than we think it should be, his rare big-play ability goes a long way in making up for it.
Given his situation and the likelihood that it improves next season, Cameron is very likely to be the second-best tight end in fantasy next season (he's actually still second in total points despite being nearly invisible for most of the second half of the season). He showed us what he was capable of in September with a quarterback in Brian Hoyer who was willing to trust him to make plays as opposed to one who waits until he is open and targets him in garbage time (Jason Campbell). With Josh Gordon emerging as one of the most dangerous weapons in football, Cameron could easily sustain the level of production he enjoyed early in the season for a longer period of time in 2014, particularly since he will likely be playing with a rookie quarterback. I suspect Pitta will be undervalued by casual drafters and slightly overvalued in more competitive leagues due to his possession-receiver status on a bad offensive team. With that said, finding players at this position with 70+ catch and 6-8 touchdown upside is a pretty difficult thing to do. It will be hard to trust Gronkowski over the next year or two, although it will take only one year of health for owners to make him a first- or second-round pick all over again. The No. 6 spot seems about right since I suspect we will be able to count on consistent and solid production from the first five and not as much from the players ranked below Gronkowski.
When the Dolphins let Clay be a major part of the gameplan, he produces. However, if we have learned anything this year about Miami, it might be that OC Mike Sherman doesn't necessarily believe in utilizing his best players on a weekly basis (see Lamar Miller). Regardless, Clay is enough of a Swiss-army knife to be a plus in fantasy lineup most weeks. It's hard to imagine that Witten is on track to set a career high in touchdowns and is something of a disappointment in fantasy, but the truth is that he has been an average tight end for most of the season. Although he will still be useful from time to time, I'm not sure owners can view him as a rock-solid TE1 option anymore. Olsen appears to have overtaken Steve Smith as Cam Newton's top target – at least since midseason – which has obviously made him a more consistent fantasy option each week. I'm pretty sure Olsen's current production is his ceiling, however, so don't expect him to become an elite fantasy option in 2014.
Reed is a bit of a mystery now since his concussion symptoms have lingered. From a talent perspective, he's a less troubled version of Aaron Hernandez. Assuming HC Mike Shanahan returns (or a like-minded offensive coach takes his place), I think it is fair to project Reed for Hernandez-like numbers. If his concussion is not an issue by the time the Redskins get to training camp, Reed probably moves up to No. 7 on this list. More than any other player I have discussed to this point at any position, Rudolph stands a great chance of slipping until the late rounds of fantasy drafts next summer. However, he is as likely as Cameron to get a quarterback upgrade in the offseason. Rudolph has top-five talent, so it is simply a matter of finding a quarterback capable of allowing him to use it all over the field and not just in the red zone. Are we beginning to see the slow yet inevitable decline of Gates this season? He has one touchdown since Week 4 while Keenan Allen and Danny Woodhead appear to be Philip Rivers' primary reads inside the 20 now. I still believe he will remain a part of San Diego's offense for the next year or two, but Ladarius Green figures to continue eating into his production in 2014 – meaning he probably cannot be viewed as an every-week starter anymore.

------------------------------

Since this is the last Blitz of the season, I'd like to take a moment to say thanks for the e-mails, compliments and kind words many of you have shared with me this season. Good luck to you this weekend. Have a blessed holiday season!
Suggestions, comments, about the article or fantasy football in general? E-mail me or follow me on Twitter.

---
Doug Orth has written for FF Today since 2006 and appeared in USA Today's Fantasy Football Preview magazine in 2010 and 2011. He is also the host of USA Today's hour-long, pre-kickoff fantasy football internet chat every Sunday. Doug regularly appears as a fantasy football analyst on Sirius XM's "Fantasy Drive" and for 106.7 The Fan (WJFK – Washington, D.C). He is also a member of the Fantasy Sports Writers Association.