All Out Blitz: Volume 52




10/25/12



Aggressiveness is a characteristic that tends to reward fantasy owners more times than not. In the NFL, an offensive line will sometimes hold up long enough to give the quarterback enough time to beat man coverage down the field and make the defense look foolish against a fierce pass rush. More often than not, though, when a defense brings the heat and forces the action, crisis management becomes the name of the game for the opposing team.

In that same vein, I hope to apply that same kind of pressure to the owners in all of my leagues by beating my opponents to the punch in regards to personnel moves. Sometimes, reaching a conclusion about a player too quickly results in making a bad situation worse. However, coming to a correct conclusion two weeks or two minutes quicker than your opponents is considered foresight and can often lead to fantasy championships.

Fantasy owners can be a uneasy lot, knowing that one two-or-three-game losing streak can wreak irreparable damage to his/her team's chances to make a visit to the fantasy postseason. But just as it is in the NFL and in life, it's hard to land the big prize by playing scared. Thus, I will strive each week to help each of you become a smart blitzer, so to speak.


---
I am always amazed how quickly the trade deadline comes in my money leagues. While many owners have the luxury of trading all season long if they want, there are those less fortunate souls like me who must arrive at a decision about a player without having all the information we would like to have available to us. For example:

- On one of my money-league teams, I have been trying to deal Steven Jackson for some time. It is no secret he is giving up more carries to Daryl Richardson than anyone could have expected. With that said, I see a possible opening to deal him now with Demarco Murray's status in limbo. Unfortunately, there are other factors that I must consider, such as the possibility that my new RB1 (Trent Richardson) may not play or, at the very least, perform as he had prior to his rib injury for three more weeks. Am I comfortable enough with Pierre Thomas and Doug Martin in the meantime should Richardson decide to heal up through Cleveland's bye and Murray miss another week or two…or more?

I'll be the first to admit that having no official timetable yet on Murray's injury concerns me, but I also have a pretty good feeling that Jackson will not be the reason I win a championship this season in that league. Conversely, I believe a healthy Murray could. Thus, what looks like an overly risky deal on my end at first becomes a little bit more reasonable when one looks at it from a different perspective.

Ultimately, these are the kinds of decisions almost all fantasy owners are forced to make around this time of the year. And that's not a bad thing; sometimes, you have to make an educated guess based on the available information at the time and take a leap of faith. Other times, you get rewarded for the deals you don't make.

Speaking of information, it is my job to provide each of you with as much of it as I can to help you make those important decisions for your team. Entering my third week of watching every game, I have made a noticeable tweak to the layout of this column. As you can tell, I've decided to highlight two (or in some rare cases, three) main storylines that fantasy owners – dynasty, keeper or redraft – should consider going forward and discuss those at length. Let's get started:

Seahawks-Niners
Kendall Hunter – Future fantasy RB1

How did the Seahawks blank Vernon Davis?
Fantasy implications: Frank Gore isn't riding off into the sunset yet, but when his inevitable fade comes – be it later this year or next – Hunter is ready to at least accept an Ahmad Bradshaw-like lead-back role in this offense. Although not quite to the extent of David Wilson, Hunter simply plays at a different speed than everyone else on the field. Consider me one of those people who do not buy into the popular notion that Hunter will always be a change-of-pace option. With or without Gore on my dynasty/keeper league roster, Hunter is someone I would start targeting aggressively.
The few times Alex Smith wasn't running for his life or throwing to Michael Crabtree or Gore, Davis was drawing a fair amount of bracket coverage. But his biggest problem in this game was the gameplan. Most of Smith's throws came at the top of his three-step drop and Davis does most of his damage down the field. Typically, those two things do not go together, so when combined with Seattle's pass rush, everything conspired to contribute to Davis' slow day. But perhaps the biggest issue with Davis the last couple of games has been Smith's sprained middle finger on his throwing hand, which has almost certainly impacted his accuracy and confidence in throwing to Davis over the middle of the field. Feel free to use Davis' last four games as your argument as to why you shouldn't have to give up much in a trade when attempting to snag him from his current owner. I've seen nothing to make me believe Davis isn't going to return to the elite form he showed us late last season and early in 2012.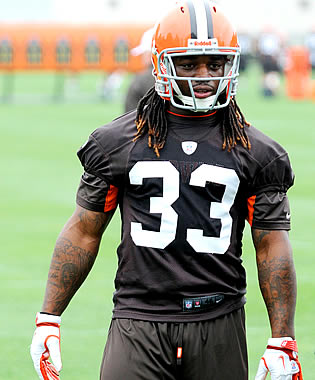 Richardson's rib injury is limiting his effectiveness.
Browns-Colts
Trent Richardson – Benched with cause

Andrew Luck may not be RG3, but that's fine by me
Fantasy implications: Richardson talked himself into being ready for this game, but it became apparent after taking a shot on the right side of his body from 310-pound NT Antonio Johnson on the Browns' first offensive play that he wasn't going to be the same player we've become accustomed to this season. The most telling run may have been his carry on second-and-goal from the Colts 1-yard line to begin the second quarter when he opted to stretch a run to the left instead of hitting the hole like I've seen him do several times already this season. In his postgame comments, Richardson stated his injury was "worse than people think", which suggested to me it was on his mind anytime he had the option of running inside. With that said, OC (and interim HC) Bruce Arians did him no favors by seemingly calling every one of his runs to the left side, thereby exposing the right side of his body to the defense.
Let's be clear about one thing: Robert Griffin III is a phenomenal athlete, which may actually have contributed to the perception that Luck isn't. Luck ran 957 yards in three years at Stanford and posted similar workout numbers to Cam Newton at the NFL Combine, so anyone surprised by his 103 yards and three touchdowns on the ground through six games really shouldn't be. In a perfect world, Indianapolis wouldn't need to count on him to finish drives with his legs, but his offensive line and running backs are works in progress, to say the least. The Luck vs. RG3 debate should be alive and well in dynasty circles for years to come as both players have certainly met, if not exceeded, the unrealistic expectations they entered the league with this season. While Griffin has certainly entrenched himself as a QB1 already, Luck is still best considered a matchup-based starter at best. But given the fact that most of his supporting cast right now is from his draft class, the fact Luck is being considered a matchup-based starter is pretty high praise.
Saints-Bucs
Just because he's a big back doesn't mean he's a goal-line back

The Bucs' pass defense is really THAT bad
Fantasy implications: While it is commendable that coaches have found a way to include bigger backs like LeGarrette Blount into the gameplan by using them in goal-line situations, I'd venture to say that logic proves to be flawed just as often as it works out. Exhibit 1A was the Bucs' foray into the red zone midway through the third quarter of this game when Blount was asked to convert a one-yard run on three straight opportunities and failed each time. Not surprisingly, Tampa Bay resorted to a Josh Freeman bootleg on fourth down that failed and ultimately cost the Bucs a chance to win this game. While bulk does provide more power in theory and should allow a runner to break arm tackles at the goal line, inserting a player like Blount over Doug Martin actually limits an offense's options and makes it even more important that the offensive line not allow penetration because Blount isn't going to make anyone miss or beat any defender to the pylon. Even with a quick turnaround this week, expect HC Greg Schiano to reconsider his goal-line strategy, meaning Martin should resume his early-season role as the every-down back.
Eli Manning showed us that Tampa Bay's pass defense is below average in Week 2 when he shredded it for 295 yards and two TDs in the second half alone. In this contest, Drew Brees upped the ante, going for 314 yards and four TDs in the first half without the services of Jimmy Graham. Considering the Saints' defense is about as dreadful, this should be a subtle hint to owners that targeting NFC South pass defenses during the fantasy playoffs is a good idea. Lucky for you, I have those teams for you right here: Carolina (which just lost CB Chris Gamble for the season) will face the Falcons, Chargers and Raiders. New Orleans will meet the Giants, Bucs and Cowboys. And finally, the Bucs will entertain the Eagles, Saints and Rams. Thank me now or live in regret later.
Cowboys-Panthers
Want to fix Cam Newton? Spread out the defense

Let Cam stretch the field
Fantasy implications: Let me first say that when a team commits about $90 million to three running backs in a little over a year and then can't run the ball, there's a severe disconnect between the front office and the coaching staff. While we can only wonder if management could have landed a Pierre Garcon-type talent in free agency this year as opposed to signing DeAngelo Williams to a ridiculous contract last year, the fact of the matter is that Newton is still a young pup learning how to be a quarterback in this league as defenses begin to learn him. The one part of his game they cannot take away is his ability as a ball carrier, which is why it may not be a bad idea for OC Rob Chudzinski to use a four-wide set as his base formation until Carolina lands a suitable complement to Steve Smith. My idea would involve featuring Smith and TE Greg Olsen in the slot, but would make life easier for Newton in a few ways: 1) because Newton is such a viable run threat and possesses such a huge arm, defenses cannot both load the box AND give help to Smith; 2) with no more than six men in the box, Newton (and whichever back joins him in the backfield) would only need to beat one man to break a big run on a fairly regular basis and 3) spreading out the defense typically makes a mobile quarterback's reads easier because defenses have to respect the play-fake. In no way am I suggesting the Panthers abandon the run, I am simply presenting an idea that opens up the run game so Newton can be nearly impossible to defend once again.
Continuing the Cam theme, there are a handful of metrics that I like to use to verify what I see on film: passes by direction and the accompanying QB rating that goes along with it. Why those two stats? If you watch enough of a team's games and get to know its personnel as a result, you can start drawing some solid conclusions as to what might be holding back the offense when it struggles in the passing game. On throws of 20+ yards this season, Newton's rating is 80.7. While that number is unremarkable, the biggest problem is that he has a mere 22 attempts of 20+ yards, which is less than one per quarter (which tells us he's not stretching the field vertically). More telling, however, are his attempts to the left side of the field where Smith usually lines up. On those throws, Newton's rating is 120.3. In addition to spreading the field horizontally as I suggested above, the Panthers need to utilize Smith and Louis Murphy much more down the field, much like they did when Newton was posting huge passing numbers in his first two games as a rookie last season. I'd be stunned if Carolina doesn't come back to that gameplan sooner than later. Life will be tough for Newton for at least one more week (Chicago in Week 8) but the schedule eases up after that. Hang tight with Cam; I believe that he'll reward fantasy owners in the end.
Ravens-Texans
Meet the new old Joe Flacco – The Return of the Jekyll & Hyde QB

Ravens offense: please give Ray Rice the ball
Fantasy implications: For the most part, I thought Flacco had moved past his whole home-road issues. In his second and third seasons as a pro (2009 and 2010), Flacco was substantially better at home than he was on the road. In 2011, there was very little difference between his actual numbers and QB rating regardless of home vs. away. In 2012, we are seeing his most extreme home vs. road splits yet as he has passed for 1,271 yards, seven TDs and two interceptions, all while completing 68% of his passes in four home games (good for a 106.6 QB rating). In three road games, his numbers are: 566 yards, two TDs, four INTs and 50% completion (55.9 QB rating). By now, we all know the quarterback receives too much of the credit when all is going well and too much of the blame when it is not, but those numbers are troublesome for fantasy owners. Normally, I'd suggest that owners play the matchups when it comes to non-elite QBs – of which there are mostly good ones for Flacco down the stretch – but the Ravens QB is giving us plenty of reason to start him at home and sit him on the road, regardless of opponent.
Let's do a short recap of the Ravens' first four drives that ultimately led to their early 16-3 deficit in this game: first drive – 1) four called passes, three runs; 2) three called passes; 3) two called passes, one run and 4) one called pass, one run. Obviously, there is very little mystery as to which drive produced the three points. But the bigger issue is that through one-plus quarter of an important game, Baltimore went three series calling a total of two run plays, one of which went to FB Vonta Leach. In other words, Rice saw four carries and no targets in the passing game through four drives. Now it may seem a bit harsh to criticize the play-calling in a situation like this, but an offense's best player – especially when he is a running back – cannot average just one touch per series when the game is still in doubt. Rice boosted his PPR numbers a bit with three short catches on the Ravens' final drive, but for the day, he had just 14 touches on Baltimore's 12 offensive drives. As is the case seemingly every year, expect more reliance on Rice down the stretch as the Ravens use the bye to access their team, now without many of its key defensive pieces.
Titans-Bills
Chris Johnson – The reward for holding him this long…make him someone else's problem

The resistible force and the movable object
Fantasy implications: These two entries are going to be relatively short because I've already discussed them in length already in previous columns. The first of those subjects involves Johnson, who is now in the good graces of owners again. But as I have stated a time or two, owners now have a three-week window to sell Johnson and the opportunity isn't going to get any better than now coming off a huge game. After the Colts in Week 8, the Titans' schedule lines up like this: Chicago in Week 9, Miami in Week 10, a bye in Week 11, Jacksonville in Week 12 and Houston in Week 13. So, over the course of five weeks, Johnson has one possible plus-matchup. Jamie Harper is the clear goal-line back, meaning Johnson's chances for saving a bad day rushing with a cheap score are slim. Over the last two-plus weeks, I have moved CJ for Matt Forte (who I would also advise you to trade this week or next if he is your RB1) and in a deal to get Trent Richardson and Doug Martin in another league. I have no regrets about either trade and think my teams will benefit as a result. My problems have less to do with Johnson and more to do with his team, just as I have said all along. Aim high and see if you can't snag yourself a RB like LeSean McCoy or someone of that ilk who owners may be a bit down on because he isn't matching last season's production.
The final score was only slightly reflective how pathetic the Bills and Titans' run defenses were on Sunday. The Titans averaged 5.5 yards/pass play and the Bills averaged 6.0, both numbers which were dwarfed by the yards/rush (Titans 7.3; Bills 6.9). By my count, 26 total offensive plays gained more than 10 yards while several other plays netted at least nine. In other words, about one of every four plays in this game was a relatively big play. The long and short of all this: the Titans have a problem they probably can't fix this season: tackling. The Bills have a problem they can fix this season: effort. Examples of both were glaring in this game, so until we see signs of change from one or both teams, just about every player facing either defense is a good start in fantasy.
Packers-Rams
Randall Cobb: emerging fantasy superstar

Is Chris Givens carving himself out a Josh Gordon-like role?

The beginning of the end for Alex Green?
Fantasy implications: It comes as little surprise to me that as soon as the Packers lost Cedric Benson, they would need to lean more on Cobb as an extension of the running game. I also don't believe it is a coincidence that in the two full games Benson has missed, Green Bay has put together its two best scoring performances of the season. The biggest reason for that change is the breathtaking ability of Cobb, who is a big play waiting to happen and incredibly versatile. His presence makes it impossible for defenses to play soft because he is just as likely to turn a five-yard hitch into a score as he is a 40-yard post pattern. Some have suggested that Cobb's role will shrink as soon as Greg Jennings returns, but the player I think would be most affected is James Jones. Regardless, it is getting harder to deny that Cobb, at the very least, is a poor man's Percy Harvin. Green Bay would be foolish to diminish his role.
A bit player through three weeks, Givens has produced an NFL-best four plays of 40+ yards over the last four games. While Brandon Gibson has proven to be Sam Bradford's favorite target in the absence of Danny Amendola, Givens has been every bit as valuable. Like Gordon in Cleveland, opponents have yet to adjust to the game-breaking speed of the rookie and he has made them pay. But his signature play from this game was not a fly route but rather a quick screen that he took 50 yards (and could have easily gone 80 had he been a bit more patient). With Brian Quick still taking his time adjusting to the NFL, it is Givens who is proving he deserves attention in fantasy leagues now. I suspect that once Amendola returns – which the Rams believe may come as soon as Week 10 – it will be Gibson and not Givens who sees their fantasy stock drop. If you doubt me, consider this fact: Givens has produced more 50+ yard plays in four weeks (four) than the entire Rams' team produced from 2009-2011 combined (three).
One week after telling the world Green had proven his ability to carry the "full load", HC Mike McCarthy voiced his displeasure with his running back's inability to turn "one- and two-yard runs" against the Rams into "three-, four- or five-yard runs". In fact, 14 of his 20 carries went for two yards or less. Therefore, we might be on the verge of another shift in the Packers' backfield and about to witness James Starks' chance to recapture some semblance of fantasy value. Despite his long injury history, Starks has been my clear-cut choice for feature-back duties in this offense all along. Whether he gets his shot in Week 8 or not vs. the Jags is largely up to Green's ability to produce on his first few carries. While we could see more Cobb in the backfield as well, he would probably only take on 3-4 carries at most. Starks was the Packers' choice as the bellcow running back in the offseason and now that he is past his turf toe, he may get a shot to prove he is the right choice after all.
Redskins-Giants
David Wilson back on the sidelines

Want to make an elite athlete look even better…put him in space
Fantasy implications: As an undisciplined runner with blocking issues in an offense centered around Eli Manning, the most Wilson and his owners could have hoped from him was serving as the complementary back in a 60-40 workload split with Ahmad Bradshaw. With that said, it struck me as a bit odd the Giants saw fit to give him zero carries in a game where the team averaged 3.4 YPC. Maybe the call was made to teach Wilson a bit of humility after he made comments earlier in the week proclaiming himself a future Hall of Famer. The Giants aren't a team that isn't forced to play rookies to compensate for poor drafting or free agent selections, so they can afford to teach the kid a lesson now and not have to pay for it in the loss column. There is no doubt he is insanely talented and explosive and we have to believe New York is doing its best to manage that as well as teach him how to be a pro. Regardless of his lack of offensive action in Week 7, he is still one of my favorite roster stashes and someone who could save your season before or during the fantasy playoffs.
I have to admit the biggest differences after watching Carolina and Washington play on the same day are: 1) the Redskins do not rely on Griffin near as much as the Panthers do Cam Newton and 2) Griffin almost always has a lot of space to work with. Despite what fantasy owners think of HC Mike Shanahan's revolving-door approach at the running back position, opponents know they must honor the run when they play against his teams. When the run game starts clicking, defenses must react to it, which often opens up big holes in the middle of the field when Griffin fakes the zone read or down the field when he bootlegs after executing a fake on a stretch play. Griffin helps himself by being a more fundamentally sound passer than Newton, but many of Griffin's throws are easy by NFL standards because Shanahan does such a fine job of making defenses defend everything. I still have my doubts RG3 and/or Alfred Morris will stay healthy all season long, but until they succumb to injury, owners can continue starting each player every week.
Cardinals-Vikings
Adrian Peterson is a freak of nature…and almost 100%

"Hyphen" is better than what people give him credit for
Fantasy implications: Watching Peterson run against the Cardinals was almost breathtaking. Forget for a second that he is currently the No. 3 RB in fantasy football and instead focus on the fact that he suffered one of the more devastating knee injuries we have seen a running back take in recent memory less than a year ago. While others were claiming he was back to form in Week 1, I suggested he was roughly 75%. Now I estimate he is about 90% and that is only because I haven't seen him break out into a full sprint yet or make any of his violent cuts he used to make in order to break out into the open. I don't regret the draft grade I gave him in August for a second because, quite frankly, this kind of recovery is off the charts. As far as his fantasy owners are concerned, I expect his numbers going forward to be a bit short of vintage Peterson because the schedule is daunting and I still don't see 100% AP yet, but not so much where his owners need to be overly concerned. After all, if ACL and MCL tears can't stop this guy from producing, what will?
LaRod Stephens-Howling (or "Hyphen" as some people call him) is one of several players currently in the NFL who could be considered a poor man's Darren Sproles. William Powell played better last week because he was allowed to run outside – accentuating his skill set – and received better blocking. This week, Hyphen essentially received the same kind of outside runs and good blocking Powell benefited from once Powell got himself in the doghouse after fumbling on the Cardinals' first kickoff return. While this 100-yard rushing performance will end up being much more the exception than the rule, understand that his ability to perform like this is not in question, but rather the ability to accept any kind of regular heavy workload at his size. Overlooking the fact that Arizona faces a difficult schedule for any running back, understand the team will likely utilize a "hot hand" approach – whether or not it makes sense to do so – until Beanie Wells returns, making both Powell and "Hyphen" dicey plays every week.
Jets-Patriots
Make room for Shane Vereen?

Jeremy Kerley is the Jets' new WR1

We've been here before with Brandon Lloyd
Fantasy implications: I don't think there is much debate that Stevan Ridley is the best RB the Patriots have right now, but that doesn't mean he is going to be featured for the rest of the season (if he ever was…more on that in a second). At least in Bill Belichick's eyes, Vereen will earn himself more playing time if he simply stays healthy and not as other players get hurt (like Brandon Bolden). Surprisingly, Ridley has been on the field for just 44.9% of the team's snaps this season, which leaves the door open for two backs (presumably Danny Woodhead and Vereen, if he can stay healthy) to split what amounts to about 40-45 snaps per game since Vereen is a bigger, stronger and younger version of Woodhead. It isn't out of the realm of possibility that Vereen also makes Woodhead something of an afterthought and comes close to splitting snaps with Ridley. In no way am I promising a smooth ride here, but given how Belichick feels about Vereen's intelligence and versatility, the second-year RB is finally worth an add in most PPR leagues.
Despite limited snaps and opportunities last year, Mark Sanchez found Kerley when he was on the field, so with all the turnover and inconsistency in New York this year, it is no wonder that a good route runner with dependable hands has emerged from the pack. Stephen Hill's once again proved he has a long way to go while Jason Hill and Chaz Schilens are bit players at best. Meanwhile, Kerley has posted two very serviceable fantasy games over the last three weeks since Santonio Holmes' injury, with the only poor game coming against the Colts when they really didn't need the passing game. In that time, he torched Houston on a deep route and burned New England on a few corner routes. Considering he was pegged as a 5-9 slot receiver, it is a pretty big deal that he is getting his yards down the field as well as over the middle. That kind of use leads to consistency, which is something we all hope to get from our receivers in fantasy.
After his one-catch, eight-yard performance against the Jets last week, we began to hear the talk again that Lloyd is disappointing fantasy owners. Let me tell you this right now: if the Lloyd owner in your league feels that way, take his/her "problem" off of his/her hands. The "disappointing" Lloyd is still on pace for 80 catches and has seen at least seven targets in all but one game, so it is a good bet his 11.6 YPC will pick up a bit in the coming weeks with matchups against the Bills (Week 10), Colts (Week 11) and Dolphins (Week 13). For the most part, Lloyd is a downfield receiver in this offense and that role is prone to a down game or two given the fact those throws are lower-percentage attempts. I'll admit I'm surprised by the low touchdown total (one), but it hasn't been for a lack of trying as it seems he is the victim of a spectacular defensive play each time he attempts to make a play in the end zone. Yet again in this game – despite being credited with three drops – Lloyd was the target for Tom Brady on a deep shot that could have won the game in regulation for the Patriots. Keep playing Lloyd; it will pay off in a big way.
Jaguars-Raiders
From starter to bum to second-half standout?

Darren McFadden – bad scheme, bad blocking or diminishing talent?
Fantasy implications: Without a doubt, the biggest story to come out of this game was the foot injury suffered by Maurice Jones-Drew and what it means in fantasy going forward. At this point, all we think we know right now is that he avoided the dreaded Lisfranc injury and will miss multiple weeks. Rather than speculate whether that means three weeks or the rest of the season, what we do know is that Rashad Jennings is now a valuable fantasy property once again. While his present and future owners have every right to be excited about his workload in MJD's absence, they have a right to be concerned that Jennings could only muster a shade over two yards/carry against a defense that gave up huge games to Willis McGahee and Reggie Bush already this season. With a few exceptions, Jacksonville's run schedule looks promising for fantasy owners, but owners obviously cannot count on seven catches and 58 yards in the passing game from Jennings each week. Jennings is a good player, but his upside is probably capped as a mid-RB2 while MJD is out.
There has been much made about Oakland's conversion to a zone-blocking scheme this year. The Raiders said they installed some gap plays during the bye to complement the zone runs they have been calling for McFadden in hopes that he could find the same kind of success he experienced last season. The problem I see is this: Oakland seems to be calling a lot of inside zone runs and very few outside zone runs (the ones OC Greg Knapp saw Houston use so effectively in his short time as an assistant there). Combined with poor blocking – or a slow transition to the new scheme – McFadden's YPC is current at a career-low 3.1. Reports of McFadden's demise as an explosive runner are premature simply because we've only had one chance to see him truly explode (his big touchdown run in Week 3). The Raiders' schedule and McFadden's talent level suggest this is a hold situation for fantasy owners as volume alone will help his fantasy owners stay afloat. When things begin to "click" later this year – which I believe they will – his owners will want him around.
Steelers-Bengals
I don't care if Ike Taylor played his best game of the year, a healthy A.J. Green should never end a game with one catch

"They are who we thought they were…and we let them off the hook."
Fantasy implications: Most football people believe that Taylor played his first good game of the season in this game, but in what seemed to be a theme in the last two games of this week, an offense simply cannot allow its freakish talent to be shut down. Much like Calvin Johnson, defenses don't go into a week anymore thinking they will stop Green near as much as they simply hope to contain him. On the other hand, it is the offense's responsibility to move its most important chess piece around and change up his routes enough to where defenses simply can't stop everything he runs. One of many reasons why players like Green and Johnson should rarely ever have one-catch games is because their catch radius is nearly as high as it is wide. Quarterbacks have a larger margin for error and forced throws aren't necessarily bad throws when the receiver is clearly the only one who can make a play on it. Let's hope the Bengals use their bye week to remember (or learn) that concept and apply it to fantasy's former top receiver.
I'm using the famous Dennis Green quote to discuss the Bengals' feeble offensive attempts against a Pittsburgh defense that, quite frankly, isn't very good (especially without Troy Polamalu). BenJarvus Green-Ellis had 42 yards on eight carries on Cincinnati's first drive alone. Somehow, "Law Firm" carried the ball only 10 more times despite the fact the Bengals never trailed by more than seven points and led for the majority of the game. Between abandoning the running game Cincinnati is supposedly so stubborn in establishing and not making Green a priority on offense, it is little wonder why the Bengals are on a three-game losing streak with all those setbacks coming against teams with losing records. As I stated last week, Cincinnati has a long history of not maximizing its on-field talent. How does this relate to fantasy? During the fantasy playoffs, the Bengals face Dallas, Philadelphia and Pittsburgh. Seeing as how this offense performed against the Steelers already, how can we have much confidence the Bengals will thrive against those talented NFC East defenses that just happen to have cornerbacks who can match up well to Green and stop the run? I'm not suggesting it is time to sell all of your Bengals, but if you hold them, just don't expect the likes of Andy Dalton, Green-Ellis or Green to match their first-half production.
Lions-Bears
The 2012 version of Matthew Stafford is a lemon

Sometimes, simple is beautiful
Fantasy implications: Let's get one thing straight right away: Detroit has faced a number of good pass defenses this year, so it is not unthinkable that Stafford has lost some confidence along the way. The irony, though, is that his mechanics this year are almost on par with his opposite number in this game, Jay Cutler. Stafford, like Cutler, has reason to believe in his arm, but instead of stepping into his throws – as I saw him do many times last year – I see a lot of bad footwork and fade-away throws. Instead of throwing the ball all over the lot like it did last year, Detroit has decided to do what its opponents want it to do – run the ball. And we've seen the results. While I cannot say for certain that Stafford is offended by this change of philosophy, he is sure playing like it. Although zone defense should force the Lions to drive the field methodically, it isn't as if they lack players who cannot take advantage of that coverage. But the bigger problem here is that we can't pretend this is a new development; Stafford beat zone coverage a number of times last year en route to 5,000+ yards and 40+ TDs. The good news is that the schedule lightens up, but Stafford didn't exactly light up the one weak defense he faced this season (Tennessee in Week 3). Johnson will eventually get his numbers simply because he will have plenty of opportunities, but Stafford's fantasy stock isn't going to improve until he corrects his fundamentals and Detroit remembers what it does well.
This entry is simply a nod to the Bears' defense, which mix in just enough other defenses to say it isn't strictly a Cover-2 defense. For the most part, however, Chicago is a Cover-2 defense that typically gets pressure with its front four, leaving the incredible athletes they have on the back end to swarm to the ball when quarterbacks are forced to unload the ball quickly. When paired with a good offense, it can make for a lethal combination for opponents. Besides remaining healthy so far, the reason the defense is so much better than last year is because it is almost always playing with the lead. In other words, if an undisciplined offense like Detroit's doesn't jump out on the Bears early, the offense will struggle. But the one aspect that separates Chicago from so many other defenses is its ability to create turnovers. Unlike other teams who just talk about doing it, you can actually watch Chicago play on TV and see how hard it must work at it. Whether it is Charles Tillman punching the ball out of a receiver's hands or Brian Urlacher sticking his shoulder into running back's arm, you can just tell how much of a priority this coaching staff places on forcing turnovers. I can't speak as to whether or not the Bears will remain fantasy's best defense because of some of their remaining opponents, but there is no doubt they will remain elite as long as they stay healthy.

Suggestions, comments, musings about the article or fantasy football in general? E-mail me or follow me on Twitter.

---
Doug Orth has written for FF Today since 2006, appeared in USA Today's Fantasy Football Preview magazine in each of the last two seasons and served as a weekly fantasy football analyst for 106.7 The Fan (WJFK – Washington, D.C). He is also a member of the Fantasy Sports Writers Association.