All Out Blitz: Volume 49




10/4/12



Aggressiveness is a characteristic that tends to reward fantasy owners more times than not. In the NFL, an offensive line will sometimes hold up long enough to give the quarterback enough time to beat man coverage down the field and make the defense look foolish against a fierce pass rush. More often than not, though, when a defense brings the heat and forces the action, crisis management becomes the name of the game for the opposing team.

In that same vein, I hope to apply that same kind of pressure to the owners in all of my leagues by beating my opponents to the punch in regards to personnel moves. Sometimes, reaching a conclusion about a player too quickly results in making a bad situation worse. However, coming to a correct conclusion two weeks or two minutes quicker than your opponents is considered foresight and can often lead to fantasy championships.

Fantasy owners can be a uneasy lot, knowing that one two-or-three-game losing streak can wreak irreparable damage to his/her team's chances to make a visit to the fantasy postseason. But just as it is in the NFL and in life, it's hard to land the big prize by playing scared. Thus, I will strive each week to help each of you become a smart blitzer, so to speak.


---
NFL coaches are fond of saying how they like to break down the regular season into four four-game segments. At the end of each quarter, they not only like to be at least .500, but also to have a fair gauge on what players are going to carry the team's momentum into the next part of the season.

Using that same logic in this week's column, it seems logical to take a look into the next quarter of the season. Most fantasy leagues have a trade deadline around midseason, which means a good goal for the next quarter of the season is to set your team up with as many assets as possible so that you are a popular owner at that time. As an added benefit, I'll provide an abbreviated schedule using the same matchup-based color-coding that I did during the preseason in order to give you a handy guide on the immediate future of your players or the ones you wish to acquire/deal.

One important note: while I will use the fantasy strength of schedule tool available on the FF Today site to help guide this process, I will add the "common sense" element that I used during the preseason to adjust rankings this tool cannot account for, such as the loss of Darrelle Revis (and how it impacts the Jets' defense) or how the athleticism of Cam Newton somewhat negates how difficult the most trying of matchups can be. Also understand that I updated the color-coded matchups using the information we have gathered so far. For example, the Jets' pass defense goes from red for many WR1s to green with the loss of Revis.

Let's revisit the color-coding system before we start:

Red – A very difficult matchup. For lower-level players, a red matchup means they should not be used in fantasy that week. For a second- or third-tier player, drop your expectations for them at least one grade that week (i.e. from WR2 to WR3). For elite players, expect them to perform one level lower than their usual status (i.e. RB1 performs like a RB2).

Yellow – Keep expectations fairly low in this matchup. For lower-level players, a yellow matchup is a borderline start at best. For a second- or third-tier player, they can probably overcome the matchup if things fall right. For the elite players, expect slightly better than average production.

Grey – Basically, this matchup is one that could go either way. In some cases, I just don't feel like I have a good feel yet for this defense. Generally speaking, these matchups are winnable matchups for all levels of players.

Green – It doesn't get much better than this. For non-elite players, the stage is basically set for said player to exploit the matchup. For the elite player, this matchup should produce special numbers.


While last year's historic passing numbers were probably too much to ask for again, three of the top five quarterbacks (Aaron Rodgers, Tom Brady and Matthew Stafford) on this list are suffering a bit because it seems each team has decided to be more balanced on offense in 2012. On the other hand, three other quarterbacks (Matt Ryan, Robert Griffin III and Joe Flacco) have been asked to be the centerpiece of their respective offenses and it is showing in the results so far. Of the six aforementioned quarterbacks, I'm probably the most concerned about Stafford and Griffin (more on those two in a second).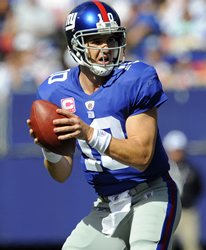 Eli Manning is the 10th ranked fantasy QB with 23.6 FPts/G.
QBs I wouldn't mind acquiring over the next month: Ryan, Tony Romo, Eli Manning, Christian Ponder, Andrew Luck and Ben Roethlisberger. While the Ryan owner probably isn't going to give him up all that easy, it may not take a fortune to wrestle any of the other signal-callers away from their current owners. One of the reasons I mention Manning in this group is because his stock doesn't figure to increase for however long Hakeem Nicks may be out. However, it is about time we realize the Giants are very deep at a number of positions, so the loss of Nicks isn't going to cripple this offense like it might on other teams. (We have already seen the likes of Ramses Barden and Domenik Hixon fill in nicely over the past two weeks in his absence.) Manning may not command the same kind of respect in fantasy circles that Rodgers, Brady and Drew Brees do, but that doesn't mean he isn't going to match them point for point in most weeks. Ponder has a pretty nice schedule going forward, a deep threat (albeit inconsistent one) in Jerome Simpson, a red-zone beast in Kyle Rudolph and an all-purpose weapon in Percy Harvin. I'm still waiting for OC Bill Musgrave to mess this thing up, but so far, so good. Luck is another pretty easy recommendation when you combine his talent and upcoming schedule. The fact that he has already served his bye week is just icing on the cake. Roethlisberger might just have the easiest remaining schedule of any quarterback. With no semblance of a running game in Pittsburgh and a talented cast of receivers, the likelihood that he posts huge numbers on a regular basis is fairly high.
QBs I would consider dealing away over the next month: Stafford, Philip Rivers (probably as soon as next week), Griffin and Ryan Fitzpatrick. Because this list includes two top-10 quarterbacks entering this season and two top-10 quarterbacks after four weeks, an explanation is warranted. Stafford's first quarter bothers me for the simple fact that he seems to be forcing the ball to Nate Burleson and Brandon Pettigrew. As ineffective as Pettigrew is after the catch, there is no rational explanation why he has only eight fewer targets than Calvin Johnson. Furthermore, there is no good reason in my mind why a volume runner like Mikel LeShoure is commanding so much respect from the coaching staff when he is one of the few non-explosive players on the field. (Unsurprisingly, I could say the same thing about Cedric Benson and Green Bay.) The reason I mention LeShoure is simply because with no breakaway threat in the running game – opponents actually had to fear Kevin Smith – defending the pass becomes that much easier.
Rivers was a borderline top-10 QB this summer, but there isn't a great deal to like in the San Diego offense right now (at least until Vincent Brown returns). Robert Meachem isn't getting open or being targeted and the Chargers have quickly become a team that will need to run the ball well and play defense in order to have much success, a far cry from what San Diego has been in recent years. Griffin scares me because I doubt his ability to stay healthy with the punishment he takes on a weekly basis and because he will begin a stretch of opponents in the coming weeks that feature elite pass rushers and/or difficult schemes for a rookie to prepare for. Fitzpatrick is off to another splendid start, but I have serious doubts about him putting up huge numbers against the Niners and Cardinals over the next two weeks. While he starred in fantasy last week, Fitzpatrick already has two 3+ interception games this season and is tied for the league lead in that category. Just as bad, he isn't even completing 60% of his passes in what is typically a quick-hitting short-passing game. Lastly, much of his production has come either in garbage time or against the weakest of defenses, both of which are trends fantasy owners should not rely on. Last but not least, he is notorious for fading in the second half of the season.
Likely free agent players to keep an eye on over the next quarter: Tim Tebow, Jets; Chad Henne, Jaguars.

Much as I tried to do in the quarterback section and will try to do in the two other position groupings, I will avoid the obvious players. If you own Foster, Rice and McCoy, I don't see much of a reason why you would deal any of them away unless you are trading them for one another. Once we get past the top three, however, it gets a bit more interesting.
RBs I wouldn't mind acquiring over the next month: Ryan Mathews, Matt Forte, Reggie Bush, Doug Martin and Cedric Benson. I'm not going to spend a lot of time on here because, in a lot of these cases, I identified a talented back that may not quite be living up to his draft status due to quality of opponent or injury. Even if somehow Jackie Battle steals the goal-line role from Mathews on a more permanent basis, the latter's all-purpose game will keep his fantasy value afloat, especially in PPR leagues. Forte is the modern-day Tiki Barber in that while he is removed from the game at the goal line, he is almost always going to be good for double-digit fantasy points regardless of the opponent. He was hardly impressive in the MNF game against the Cowboys, but I'll take 4.0 YPC from a player in his return from injury when I didn't expect to make it back before his team's bye. It will get better, probably starting this week against the poor run defense of the Jags. Bush has a chance to come out of this next quarter with fantasy "experts" touting him as the next elite RB. While his numbers are somewhat inflated thanks to a huge game against Oakland, the rest of his schedule lays out beautifully outside of a rough three-week stretch from Weeks 12-14.
Owners seem to be souring on Martin a bit after a pair of average rushing performances over the last two weeks, but if anything can cure a running game's ills, it might be the defenses of the Chiefs, Saints and Raiders over three of the next four games. Benson's name in this section is not only a shock to you, but to me as well. I must acknowledge that I never thought the Packers would ride a volume RB this long and continue to believe he is the answer. Despite the fact that a good chunk of his fantasy value is coming out of the passing game and he offers no big-play potential in a big-play offense (3.6 YPC; 11-yard run is his longest on 64 carries), Green Bay believes he is helping the cause and the team wants to get him more carries. The reason he is on the good list is his schedule, which features three teams he should post his usual 60-80 rushing and 20 receiving yards against.
RBs I would consider dealing away over the next month: Darren McFadden, Maurice Jones-Drew, Alfred Morris, Frank Gore, Ahmad Bradshaw. Let me first state that I want to be more excited than I am about McFadden, but Oakland's defense is awful – which may diminish D-Mac's running workload – and, since the opener, the Raiders seem intent on giving his passing-game touches to Mike Goodson and Marcel Reese. (I'll admit it is hard to put him in this category, but with his injury history, he's trending the wrong way.) While there are still bright days ahead for MJD owners, I'm looking ahead to the fantasy playoffs where he will likely struggle against Miami and New England. While his all-around game will keep him in low-end RB1 territory, a number of his upcoming opponents also have potent offenses which may force Jacksonville to abandon the run. While that didn't exactly stop MJD last year, I wouldn't want to count on the same thing happening again this season. My view on Morris is simple – he's a big, strong back who has done as much as we would expect from a Mike Shanahan RB. Could a more talented runner do more against the relatively light run schedule Washington has faced? Certainly. Considering the rookie has one catch to his credit through four games, he needs a big workload to stay relevant and the loss of key defenders like Brian Orakpo may force Washington to pass earlier than it has needed to up to this point. Although Evan Royster doesn't offer incredible upside, he is an all-purpose back who could easily unseat Morris at any time. (In other words, if you manage to pull off a trade like the Morris-Ponder for Brees-Lamar Miller deal that just went down in one of my leagues, trade Morris.)
Gore is an easy "sell" recommendation for me for multiple reasons: 1) he faded badly as the season wore on in 2011; 2) Kendall Hunter is a tempting option for HC Jim Harbaugh and 3) Brandon Jacobs could easily steal Gore's goal-line looks in the next week or two. Furthermore, I'm not exactly crazy about their fantasy playoff schedule (Miami, New England and Seattle all rank among the top eight against the run). Bradshaw has similar factors working against him, including the preseason rookie sensation David Wilson and recent waiver-wire darling Andre Brown. The main difference is that unlike Gore, there is a fairly real chance that one of the two aforementioned Giants could emerge as the lead back before the end of the season.
Likely free agent players to keep an eye on over the next quarter: Evan Royster, Redskins; Lamar Miller, Dolphins; James Starks, Packers; David Wilson, Giants; Ronnie Hillman, Broncos; William Powell, Cardinals.

As the historic passing numbers have taken a hit over the first quarter of the season due to adjustments defenses have made and the replacement referees' enforcement of pass interference, it stands to reason that some of the receivers that lit it up in 2011 have been struggling to find the end zone this season. But as the offenses readjust and the regular officials get re-acclimated to the game, expect the numbers to spike a bit over the next 4-6 weeks.
WRs I wouldn't mind acquiring over the next month: Julio Jones, Percy Harvin, Vincent Jackson/Mike Williams, Mike Wallace/Antonio Brown, Nate Washington/Kendall Wright, Randall Cobb and Domenik Hixon/Ramses Barden. Jones is an easy trade target as owners thought they were getting the numbers he gave them in Week 1 every week. Defenses have been scheming to take away Jones lately and that fact has been reflected in the boost of Roddy White's numbers. Jones, who is dealing with some kind of hand laceration, will be fine as a fantasy WR1 going forward as the two Atlanta receivers continue to one-up each other in fantasy. It's going to be hard to acquire Harvin, but he'll probably make it worth your while if you do with his upcoming slate. With the Bucs' bye coming up, now is a great time to invest in Tampa Bay receivers. While I do expect HC Greg Schiano to make the running game the focus in the off week, the matchups are simply too good for Jackson and Williams the next two weeks. While the conservative offense will cap their potential somewhat, good games for both players against the Chiefs and Saints may be enough to convince another owner to ride the "hot hand" and deal for one or both wideouts at the deadline.
Wallace has stepped up in a big way so far, but no one should be expecting him to continue on his 16-TD pace. Still, the upcoming matchups are too much to ignore as he looks primed for a career year. As far as Antonio Brown is concerned, this week and next may be your last chance to buy him at a reasonable price. To be fair, he's already producing like a top-end WR2 in PPR, but after Week 5, the Steelers go on a long run of opponents that can be exploited in the passing game. The Titans' combo of receivers may be a surprise to some on here, but as Kenny Britt continues to drive owners crazy with his inability to stay on the field, Washington keeps making big plays – I think the return of Matt Hasselbeck helps him immensely – and Wright is seeing a ton of targets regardless of the quarterback. I mention Cobb here because HC Mike McCarthy stated in late September that he watched every snap Darren Sproles took last year to come up with some ideas on how to get Cobb the ball. I don't need to tell you that coaches don't go to that kind of work simply to kill time. He may not be consistent for a while yet, but he is too talented not to be a regular fantasy starter in the near future.
Lastly, the Giants' combo of Hixon and Barden is one to consider if for no other reason than Tom Coughlin's response to how concerned he was about Nicks' recovery from the knee injury he suffered in Week 2. I highly doubt either Hixon or Barden will make the dramatic in-season leap Victor Cruz did last season, but it is a good bet Manning will make the man opposite him fantasy relevant in Nicks' absence. Short-term, Hixon is the better add simply because he appears to be ahead of Barden on the depth chart, but his durability is a huge question mark. Thus, I like Barden as the better long-term add if Nicks is forced to miss significant time.
WRs I would consider dealing away over the next month: Dez Bryant, Steve Smith (CAR), Torrey Smith, Wes Welker and Nate Burleson/Titus Young. Bryant simply doesn't get it. I wish I knew why he doesn't get it, but it is clear to me (and apparently Romo) that he has progressed very little – if at all – above the shoulders as a receiver in his two-plus years in Dallas despite numerous reports to the contrary. He has the talent that makes you want to keep giving him another chance, but his mental mistakes often make Romo look worse than he really is. At this point, I would be more than just a little concerned that Smith hasn't reached the end zone yet. Although he scored in only one of his first four games last season, his targets are significantly lower now than at the same time last year despite fantasy-friendly matchups against the Saints and Giants thus far.
I am hesitant to put Torrey Smith here simply because he has pretty smooth sailing after the bye, so let's call his inclusion on this list more of "expect less from him over the next month" than a straight trade-him-away recommendation. However we want to spin it, though, expectations need to be kept in check from Weeks 6-8. Speaking of the Ravens, Anquan Boldin's value is probably as high as it is going to get right now after last Thursday's 131-yard explosion. With the emergence of Dennis Pitta in the slot and red zone, the two avenues that I thought Boldin had for steady production going into the season have been mostly negated.
Welker is another difficult name to include here for the simple fact that he produces like crazy when he plays. However, we've already seen the Patriots' plan for this season and it did not seem to include Welker when everyone is healthy. New England already had a pretty good idea of what Welker was about going into the season and it chose to cut his snaps anyway, so I don't expect a couple of good games now to change its mind. Once Aaron Hernandez and Julian Edelman return, I expect Welker's role will be limited once again. Maybe Young is only going to be a second-half-of-the-season kind of receiver. Whatever the case, Burleson's value is maxed out as far as I'm concerned and the immediate road ahead doesn't look promising either. Calvin Johnson will see a plethora of targets regardless of the opponent, but I fear Burleson will get squeezed as each of the Lions' next three opponents have the personnel to check him and Young. I still am rather high on Young having a big impact this season, but he needs to ride the bench in fantasy for the foreseeable future.
Likely free agent players to keep an eye on over the next quarter: T.J. Graham, Bills; Travis Benjamin, Browns; Ryan Broyles, Lions; Jonathan Baldwin, Chiefs; Julian Edelman, Patriots; Damaris Johnson, Eagles.

Apparently, Tony Gonzalez still isn't quite ready to pass the torch over to the young bucks at his position quite yet. Somewhat amazingly, he has seven fewer targets but two more catches than Jimmy Graham to this point. However, the bigger stories once you get past the top four TEs are the returns to fantasy prominence by Owen Daniels and Heath Miller and the emergence of players like Martellus Bennett and Dennis Pitta. In PPR leagues, there are an astounding 18 tight ends averaging at least 10 points.
TEs I wouldn't mind acquiring over the next month: Antonio Gates, Aaron Hernandez, Jason Witten, Kyle Rudolph and Heath Miller. As tempting as it is to give up on Gates, I urge you to give him a few more weeks. Week 1 was ruined by a rib injury, which caused him to miss Week 2. In Week 4, Gates was brilliant for a half, only to see his fantasy day go to waste when San Diego changed up its game plan to protect its big lead over the Chiefs. Hernandez is still likely a week or two from returning, but don't forget how much of a matchup nightmare he is when healthy. Perhaps you may be able to talk the Witten owner into believing the MNF game was the exception and not the rule, but I have maintained since the quick return from his spleen injury that September might serve as his preseason. While the flow of the Bears game had much to do with his 13-catch performance, there's little doubt in my mind that his hands are back.
Rudolph is likely already locked into many starting lineups, but the Vikings' upcoming schedule is surprisingly favorable for the passing game. Rudolph is easily Christian Ponder's favorite option in the red zone, making it very likely that Week 4 is one of the few bumps in the road his owners will experience. Much like Rudolph, Miller's schedule is one fantasy owners can/should take advantage of in the coming weeks. Combine that with the fact that Roethlisberger openly admitted his desire of sending his tight end to the Pro Bowl this season and it is enough for me to ride him for the foreseeable future.
TEs I would consider dealing away over the next month: Jermichael Finley, Brandon Pettigrew and Greg Olsen. I must have really caught lightning in a bottle during the 2009 season with Finley, who I dealt for that year near the trade deadline en route to a big money-league championship. Like Dez Bryant above, his talent makes you want to keep plugging him into your lineup, but his production is consistently underwhelming. With five targets (and four catches) in three consecutive games, he's nearing matchup-TE status. Pettigrew has long been an extension of Detroit's often-feeble attempt to establish a ground game. Like Cedric Benson or Mikel LeShoure, he is a "volume player" that offers little big-play ability and ball-security issues. At some point, I would hope Detroit will recognize his limitations and reduce his role. Obviously, the major reason I don't like him going forward is because of the difficult schedule. I include Olsen in this group because of the matchups that lie in front of him, but if Carolina continues to move him around the formation like it has recently, then consider this "recommendation" moot.
Likely free agent players to keep an eye on over the next quarter: Jordan Cameron, Browns; Anthony Fasano, Dolphins
Suggestions, comments, musings about the article or fantasy football in general? E-mail me or follow me on Twitter.

---
Doug Orth has written for FF Today since 2006, appeared in USA Today's Fantasy Football Preview magazine in each of the last two seasons and served as a weekly fantasy football analyst for 106.7 The Fan (WJFK – Washington, D.C). He is also a member of the Fantasy Sports Writers Association.